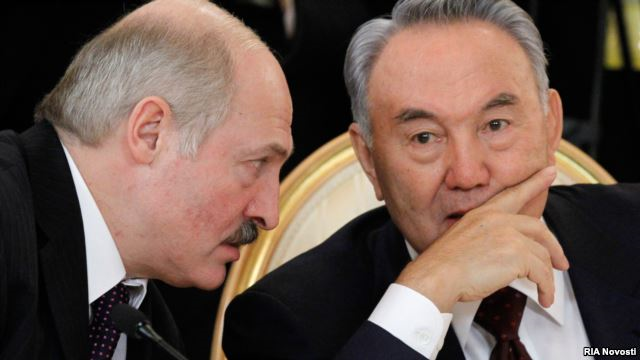 The fact that the presidents of Belarus and Kazakhstan, Alexander Lukashenko and Nursultan Nazarbayev, have decided to visit Kyiv on the eve of the meeting of the Supreme Eurasian Council in the Russian capital — in other words before a meeting with Putin — is in itself a serious signal. A few months — or rather weeks — ago this joint action would have been hard even to imagine. Lukashenko has been trying desperately  to maneuver between the necessity of remaining in Putin's good graces while at the same time not quarreling with Ukraine. Nazarbayev has never even sought any balance. During the Crimean crisis US President Barack Obama and other Western leaders phoned the Kazakh president. Many seemed to think that Nazarbayev could persuade Putin not to make an irreparable mistake. But the president of Kazakhstan not only made no attempt to influence his insane neighbor but actually supported Putin.
Understanding dawned on the leaders of Russia's allies as they realized that Putin would not stop at Crimea or even at the occupation of a part of the Donbas. Furthermore, Putin has demonstrated blatant contempt for his allies. Both Lukashenko and Nazarbayev learned about Russia's so-called "food anti-sanctions" on TV. Since that time there have been constant conflicts among the member countries of the Customs Union. In one instance Russia limits the import of Belarusian products because it decides they are really European goods,  in another it bans transits from Belarus to Kazakhstan.
When Western sanctions first began to be felt and the price of oil began to drop, Lukashenko and Nazarbayev were visibly worried. Lukashenko initiated a careful dialogue with the West. Nazarbayev actually organized Putin's recent meeting with French President François Hollande, evidently hoping for a compromise. But the crash of the Russian ruble changed everything. The very model of cooperation between Belarus and Kazakhstan and Russia has been destroyed. For Lukashenko, it is clear that Russia will no longer feed him. And Nazarbayev, certainly, has fewer problems, but that is true only so far. Besides, he cannot be certain that in his attempts to salvage his popularity Putin will not send "green men" to northern Kazakhstan.
The visits to Kyiv by Lukashenko and Nazarbayev demonstrate that Putin's two partners want to establish stability and peace in the post-Soviet space. If Putin shows himself incapable of understanding that, then any post-Soviet integration, even in its present form, will come to an end.