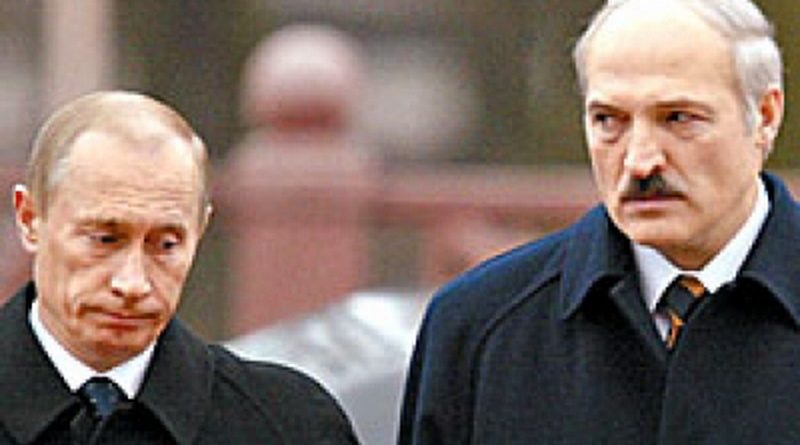 Putin and Lukashenka 
Russians already now are "considering scenarios of a so-called 'transit of power' in Belarus" in the parliamentary and presidential elections slated for 2019 and 2020 and "will try to interfere … in order to bring to power someone who will be able to completely fulfill [Moscow's] strategic interests," Arseny Sivitsky says.
Moscow has taken that decision, the director of the Minsk Center for Strategic and Foreign Policy Studies continues, because what Minsk expected from the union state between the two countries and what Moscow wants means that that structure has suffered a complete collapse.
Vladimir Putin almost from the very beginning "rejected the idea of an equal partnership between the two countries," the only arrangement Alyaksandr Lukashenka was prepared to live with; and instead, the Kremlin leader has in fact "proposed the variant of an incorporation of Belarus into the Russian Federation."
According to Sivitsky, Moscow's views on the idea of a united state including Belarus and Russia had a major impact on the Russian-Ukrainian conflict.
Russia's "aggression against Ukraine showed that Russia was ready to begin a war even with a fraternal people if this corresponded to the strategic goals of Russian elites."
Lukashenka has certainly read the handwriting on the wall, even if he continues on some occasions to use the vocabulary reflecting his earlier hopes.
At the same time, however, the Minsk expert says, "Belarus as before remains very important for the Kremlin because it is a unique buffer and the shortest path for a corridor to Kaliningrad," the Russian exclave.
"Consequently, the Kremlin can't allow that Belarus will pass out from under its control."
From Moscow's point of view, "the ideal variant would be the transformation of Belarus into a completely subservient satellite which would fulfill everything that they want in the Kremlin." Lukashenka whatever else is not going to play that role. And so the Kremlin is planning for regime change and plans to interfere in the elections to advance it.
Read More:
Tags: Alexander Lukashenko / Alyaksandr Lukashenka, Belarus, Belarusianization, International, Minsk, Moscow, Putin, re-Sovietization, Russia, Russia-Belarus relations, Russian meddling