This project is run as a private initiative under the auspices of the KRYLA Ukrainian Volunteer Association  [http://kryla.org.ua/].  We are also on Facebook.
KRYLA was originally founded to help disabled children, but its Charter allows for other humanitarian projects. This Aid Project aims to provide assistance and support to combat units deployed in Donetsk and Luhansk Oblasts and to wounded servicemen and volunteer soldiers.
Military and tactical supplies purchased and delivered to combat units to date include:  portable radio transmitters, radio broadcaster/receiver, protective goggles, remote contacts for sighting laser or illuminator, military wear, boots, bulletproof vests, basic medicines, thermal underwear, mattresses, blankets, heating stoves, sleeping bags, food products … (some pics below)
Goods and supplies are purchased directly from manufacturers or legal importers. A volunteer driver then delivers them to the unit and we receive acknowledgement from the commander or the relevant recipient.
Direct fund raising implemented in Ukraine, Canada and France so far….
Volunteers and organizations all over Ukraine have been helping the Ukrainian Army and volunteer battalions since the beginning of this tragic war.
Our contribution is but a drop in the ocean…
We first started when everyone in Ukraine realized that the Ukrainian Army was destitute, in all meanings of the word. Hundreds of civic organizations, private groups, students' collectives, on-the-job teams, etc. sprang up and buckled down to work… collecting funds, gathering products, material and donations and delivering them to the war zone.
We initially focused on providing basic military needs – goggles, night vision devices, radio transmitters, medical supplies, boots and camouflage suits, etc. that were requested by military commanders and units stationed in Donetsk and Luhansk Oblasts.  The supplies were then delivered directly to the ATO zone by volunteer drivers where "our brigade" was stationed …
Photos of the combat zone…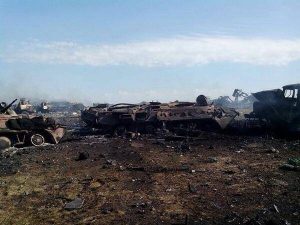 These were the front-line fighters we were supporting…
Tragically, at the end of August 2014, the entire brigade was surrounded and wiped out by pro-Russian terrorists in Donetsk Oblast.  Only two men survived…
Here is Sasha's  story (one of many):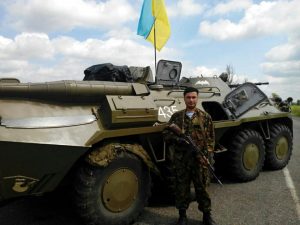 Sasha is a career soldier. He took part in military offensives that liberated most of the strategic towns and villages in Donetsk Oblast. He was first stationed in Crimea, and then his brigade was deployed immediately to Donetsk and Luhansk Oblasts. In mid-July 2014, Sasha was stationed in Krasnodon (Luhansk Oblast). His unit was surrounded and came under heavy artillery fire. A mine exploded very close to Sasha and he lost consciousness. He awoke with severe acoustic trauma.  In late August 2014, in Chervona Zorya (Donetsk Oblast), Sasha's brigade was surrounded by pro-Russian forces. All but two members of the brigade were killed.  Sasha suffered further damage to his inner ear and loss of hearing. He was transported to a hospital in Vinnytsia, and then to the Kyiv Central Military Hospital.
Here is Sasha's diagnosis:
Cryptogenic epilepsy seizure first appeared on 26.09.2014. Vegetative state (absence of responsiveness and awareness) after seizures. Chronic cochlear neuritis (loss of hearing). Acoustic trauma (injury to the inner ear). Chronic gall bladder inflammation. Psychological trauma, combat and operational stress.
We visited Sasha at the Kyiv Central Military Hospital, where the wards are overflowing with wounded and maimed young soldiers from the ATO zone. The hospital struggles to cope with the high numbers of war-wounded and lack of supplies. In our discussions with doctors and nurses (in Kyiv and Lviv), they emphasized:
"We desperately need hospital materials like mattresses, blankets, pillows and bedding… and laundry soaps and detergents… and crutches and wheelchairs".
Ask a Woman to Take Action … and She'll Do So!
Three women –  Yaroslava Tokar, Olha Stahorskaya and Christine Eliashevsky-Chraibi  – met late October 2014,  pooled their financial donations, and purchased and delivered pillows, blankets, bedding to the Kyiv Central Military Hospital…
Yes, that day was productive. Although news from the front was not uplifting, we were able to fall asleep with a smile and a sense of promise. Of course, we were also glad to get together and chat … not to gossip, but to brainstorm about further actions and initiatives.
Thank you, ladies, and onwards!
Pillows, blankets and bedding delivered to Kyiv Central Military Hospital in November, 2014
KYIV MILITARY HOSPITAL
If you want to honour and support our wounded soldiers, please consider donating to our private initiative. Your generous gift will help us purchase much-needed hospital materials and supplies that will benefit soldiers directly. We are working directly with the Kyiv and Lviv Military Hospitals.
Our funds and your donations in Lviv will be coordinated by Vasyl Halamai, civil and Maidan activist, currently employed in Lviv Social Services (tel: +380 0976895445)
 In Ukraine
To donate, please contact:
Yaroslava Tokar (Kyiv):  +38 0677282928
e-mail: [email protected]
Christine Eliashevsky-Chraibi (Lviv):  +38 0963935924
e-mail: [email protected]
 You can donate directly to Yaroslava's account (please specify HUHS):   Privatbank card #4149625801507227
In France:
Please send your donations and your email to my address (please specify HUHS):
Christine Chraibi
5 quai du Maroc
68330 Huningue
e-mail: [email protected]
In Canada and US:
Please send your donation and your email address to my sister's address (please specify HUHS):
Lydia Replansky
25 Sparrow Way
Ottawa, Ont.
K1V 9H4
Tel: 613. 738. 0849 / e-mail: [email protected]
Please note:  If you reside outside Ukraine, we have set up a transparent transfer system that includes no commissions or logistics fees. Unfortunately, we are not able to issue income tax receipts for your donations.  A full report with photos will be published and emailed after each major purchase and delivery.
Thank you! Slava Ukrayini! Heroyam Slava!
Дякуємо! Слава Україні! Героям Слава!