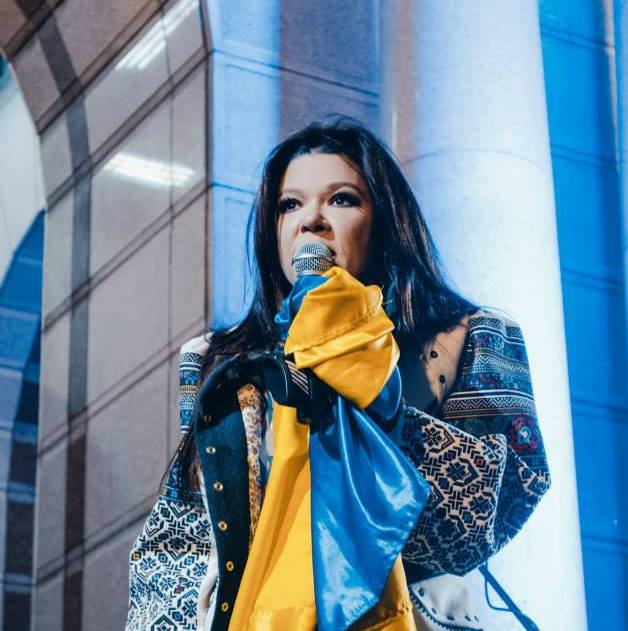 One year after the beginning of the Euromaidan protests Ruslana stood again underneath the big column on Kyiv's Independent Square to mark the anniversary and to sing the Ukrainian national anthem. The winner of the Eurovision Song Contest became a symbol, a voice of the citizen's movement. For one year she has given hardly any concerts. Now the charismatic singer is coming to Munich, Germany, for a single concert.
Multi-talented Ruslana is not only a powerful singer, dancer, pianist and orchestra conductor, but also composer and producer of her songs. In addition humanitarian and social commitment have always been an affair of the heart for her. Since the beginning of the Euromaidan mass protests in November 2013 Ruslana had been at the forefront. For months she spent almost every night from midnight until dawn on Kyiv's Independence Square, serving as an inspiration for the nightly protesters. Later she travelled the world to meet with politicians of the highest profile to encourage international support for her country. She was honoured with the Woman of Courage Award presented by First Lady Michele Obama. Several times she travelled to the ATO area to help releasing captured Ukrainian soldiers. With her charitable foundation she is supporting refugees from Eastern Ukraine.
The night from 29th to 30th November 2014 Ruslana will spend underneath the column on Maidan to commemorate the night one year ago when the special police unit Berkut dispersed peaceful students with batons, and Ruslana managed to take refuge with several hundreds of them in the nearby St. Michael's Monastery.
Because of her tireless commitment for peace, the unity, and an EU future of her country she has given almost no concerts for a whole year. On 10th April 2015 Ruslana is going to rock Munich. The rare opportunity to experience the exceptional artist live one should not miss.
More information: www.ruslana.de
Facebook event: https://www.facebook.com/events/1514981532075013/
Tags: EuroMaidan, Germany, Politics, Ruslana