Never Again!
Kharkiv, Then and Now:
In the 1930's, the USSR artificially orchestrated a famine in the land of Ukraine in retaliation for Ukraine's resistance to collectivization (giving up their rights, belongings, and land to domineering Russia). After exporting most of the grain and seed from an abundant Ukraine harvest, the Soviets even went into civilians' homes and confiscated bread that was hidden.  Estimates of deaths due directly or indirectly from these actions go up to 10 million.  The conversation following is an excerpt from an interview in 1933 with a 9-year old girl:
"Where do you live?"
"Nowhere."
"Where are your parents?"
"They died."
"Where did they die?"
"In Chernihiv."
"How did they die?"
"There was nothing to eat."
"Where did you spend the night?"
"In an empty cart behind a fence."
"Do you want to become a communist?"
"No, I want to die and be with mother."
Kharkiv is near the border with Russia in the northeast of Ukraine.  It is the second largest city in Ukraine and was the first capital of the USSR.  Originally founded as a result of a fight for independence in the 17th Century, their spirit still reigns. In March and April of this year Russian terrorists made several attempts to invade Kharkiv through coercive and propagandized protests, attempting to create a supposed "Kharkov People's Republic" by occupying the Kharkiv regional state administration building.  Both attempts were thwarted, though more than 50 pro-Ukrainians were severely beaten.  Freedom sustained.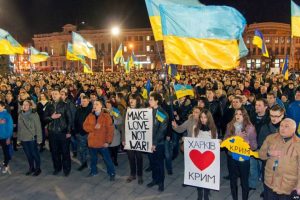 The struggle continues on Kharkiv's Freedom Square. Once again, thousands of Ukrainian patriots in Kharkiv publicly protested for their beautiful country's freedom on September 8th, 2014, toppling the 28-foot bronze Lenin statue by sawing through one of Lenin's legs and then using cables and to pull him off his pedestal.
Formerly named "Dzerzhinsky Square" after the founder of the pre-KGB Bolshevik secret police, Kharkiv's Freedom Square is the 8th largest city center in all of Europe.  This important landmark was aptly renamed Freedom Square upon Ukraine's independence from Russia.
Now the blue and yellow Ukrainian flag flies free on the exiled-Lenin's pedestal.  Never again!
Slava Ukrayini! Heroyam slava!
You can read more about the Holodomor here and here.
Kharkiv's Freedom Square webcam