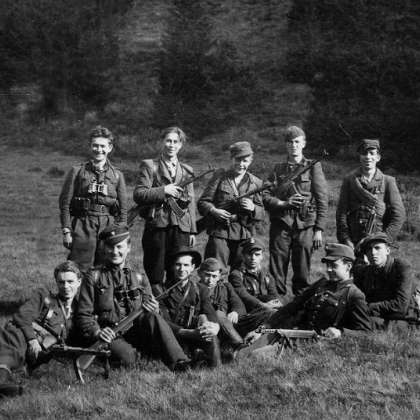 Interview with historian and Director of the Stepan Bandera Museum Yaroslav Koretchuk who presents his book Natives of Nadnipryanshchyna in the UPA: In 1941, organized patriotic OUN [1] groups travelled throughout Ukraine, distributing leaflets and agitating for Ukrainian statehood; they were supported by many locals in Hadnipryanshchyna  (territory on either side of the middle course of the Dnipro River).
Yaroslav Koretchuk: This book is a martyrology and biography of soldiers that were born in Nadnipryanshchyna. Our museum has visitors from all regions of Ukraine. When we explain to them that the struggle for Ukraine's freedom also took place in their region and that their compatriots also participated in the UPA [2] and OUN underground, they are very surprised: "What? We never heard that before! Nobody ever told us anything about that." I then had the idea of writing biographies of men from Central, Eastern and Southern Ukraine who fought in the UPA. But, that wasn't my only motive…
Secondly, I wanted to demonstrate that the Ukrainian liberation movement in the mid-twentieth century was a unifying and unified phenomenon – Ukrainians from all over the country adhered and took part.
Thirdly, I wanted to counter the old Soviet myth that still prevails today… that all the banderites originated from Western Ukraine. To eliminate this myth, we started collecting biographies, searching the archives, publications, documents, and regional literature. We collected 776 biographies in Luhansk, Donetsk and other regions. Unfortunately, we couldn't find any natives from Crimea.
Anastasiya Bahalika: I know that quite a few UPA veterans lived in Crimea before it was occupied and annexed by Russia.
Yaroslav Koretchuk: We know about one Crimean, but he's an ethnic Russian. We focused on finding and documenting Ukrainians who'd fought in the UPA because other researchers are currently studying the activities of foreign nationals in the Ukrainian underground movement. There were many Tatars in the UPA, but it's difficult to prove they were Crimean Tatars due to lack of materials. We didn't take such data into consideration as we don't want to fool our readers. I think another book will be published in 2017; it will recount the stories of Ukrainians from Crimea who fought in the UPA.
Tetiana Kurmanova: How many natives of Luhansk and Donetsk Oblasts fought in the UPA?
Yaroslav Koretchuk: In this book, we present 14 biographies of Donetsk-born partisans and 13 biographies of Luhansk-born partisans. There are some very unique figures among them.
One of them is Ivan Kulyk, call sign "Siryy" (Grey), who operated in Ivano-Frankivsk Oblast. He joined the UPA in 1943, commanded a sotnya (military unit of 100 men), and held other military positions. He later became district commander of the OUN in Kolomyya. We have 40 photographs from this period. Kulyk died in 1951 in Ivano-Frankivsk Oblast. He was born in the village of Hrabove, Shakhtyarsky Raion, Donetsk Oblast.
The fact that there were short periods when a free Ukrainian state actually existed, the idea and dream of statehood and independence spread quickly among young Ukrainians. Despite the fact that during the 1920s and 1930s the Soviet propaganda machine managed to indoctrinate many citizens and destroy most resistance, Ukrainians across the country harboured the dream of an independent Ukrainian state. So, the ideals of the UPA were welcomed by many. Given the brutal Soviet repressions of the 1930s, very few people spoke openly about Ukraine; most political discussions were held in private, behind closed doors.
In 1941, the OUN organized group of patriots and activists who travelled to almost all the corners of Ukraine, distributing leaflets and agitating for Ukrainian statehood; many residents of Central Ukraine actively supported them.
Tetiana Kurmanova: Is it true that former officers of the Soviet army held command positions in the ranks of the UPA?
Yaroslav Koretchuk: Yes. Over 20% of the command posts in the ranks of the UPA were occupied by locals from these territories. In 1943, when Soviet troops advanced towards Ukraine, people massively escaped to the forests to join the UPA, and the UPA High Command knew that they lacked ranking officers. In Western Ukraine, local residents (from Halychyna or Volyn) were not allowed to rise to the rank of officer in the Polish army. Many former commanders or soldiers of the Red Army resided in Western Ukraine; they had experienced the Soviet-Finnish and the German-Soviet wars. Most of them had attended military schools in the Red Army.
The UPA command was aware of this, and that's why a large percentage of the high command posts (unit commanders – 500-600 soldiers, and commanders of sotnyas – 120-130 men) were occupied by the former Red Army soldiers.
About 70% of the UPA fighters from Central Ukraine had fought with the Red Army or the Soviet partisans. Many of these soldiers had been captured by the Germans. Many managed to escape; others were liberated by UPA soldiers that attacked German prisoner-of-war camps. In the end, most of the Red Army soldiers remained with the UPA.
More than 120 men originated from Sumy Oblast, and 114 from Chernihiv. In 1942, the German authorities established their government in these areas, but they couldn't control them. There were 1-2 German representatives in each raion (district), but a so-called Ukrainian police force was recruited among locals to keep law and order.
In 1943, the men who were in this police force realized that the Soviets would never forgive them for working with the Germans, and began retreating with the German army. Many got as far as Western Ukraine and stayed there. I know of several cases of former police officers joining the UPA. They were mainly born in Chernihiv and Sumy Oblasts.
Anastasiya Bahalika: Is it true that UPA soldiers fought in the Donbas?
Yaroslav Koretchuk: I can't confirm anything for Donetsk Oblast. We must distinguish between the OUN underground and UPA military units. OUN was a non-governmental organization that stood for Ukrainian statehood. The first UPA units were composed exclusively of OUN members, but eventually many other persons joined. As for UPA units, we have recorded cases in various regions of Central Ukraine (Kholodny Yar, Uman, Vinnytsia, Zhytomyr, and the right bank of Kyiv Oblast).
In 1949, OUN troops were stationed in the rest of Ukraine (Sumy and Chernihiv Oblasts). They were also armed, and fought in groups of 3-7 people. However, they focused more on propaganda and disseminating ideas of Ukraine as an independent unified state. OUN underground units operated in Donetsk Oblast in 1942-1943.
Anastasiya Bahalika: What was the ultimate fate of these UPA soldiers?
Yaroslav Koretchuk: Fearing reprisals and torture, most of them terminated their own life as they didn't want to fall into the hands of the NKVD or betray their comrades. A small percentage were wounded or captured. As most of them were in the UPA and were captured with weapons, they were sentenced to 25 years of hard labour. Even during the time of Khrushchev they were regarded as dangerous; not one was pardoned and they all served their full terms. Many didn't return from prison or the camps. The majority of UPA soldiers died in the armed struggle against the Soviets.
[1] OUN (Organization of Ukrainian Nationalists) was a political organization created in 1929 by Yevhen Konovalets and other leaders, operating mostly in Western Ukraine. OUN members sought to infiltrate political parties, universities and other political structures and institutions. OUN's strategy to achieve Ukrainian independence included guerilla warfare and violent attacks against foreign and domestic enemies, particularly Poland and Russia. OUN's goals were to protect the Ukrainian population from repression, drive out the occupying powers, and set up a government representing all regions and Ukrainian social groups.
[2] UPA (Ukrainian Insurgent Army) was a nationalist partisan formation that engaged in a series of guerrilla conflicts during WW2 against Nazi Germany, the Soviet Union, and Poland. The insurgent army arose out of separate militant formations of the OUN, other militant national-patriotic units, and mobilization of local population. The political leadership belonged to the Stepan Bandera faction. Stepan Bandera (1909-1959) was murdered in Munich by KGB assassin Bohdan Stashynsky, who acted on the orders of Soviet KGB head Aleksandr Shelepin and Soviet premier Nikita Khrushchev.
Tags: History, Ukraine, Ukrainian statehood, UPA and OUN