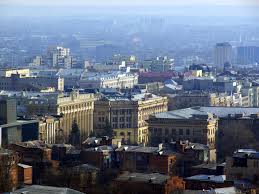 Ukraine's Security Service (SBU)  has arrested the individuals suspected of involvement in the explosion at the Stina (Wall) pub in Kharkiv, the SBU press service has reported on its website, November 17.
According to the SBU statement, Valentyn Nalyvaichenko , the head of the Security Service of Ukraine, has informed President Petro Poroshenko that the SBU, in cooperation with the Interior Ministry and the prosecutors of the Kharkiv Oblast, has neutralized a sizable terrorist and intelligence group involved in acts of terrorism and sabotage on the territory of Kharkiv and the Kharkiv Oblast, in particular the bomb blast at the Stina (Wall) pub in Kharkiv.
Twelve individuals have been arrested, including two leaders, the SBU reports, noting that  this was a particularly dangerous terrorist and intelligence group. SBU officers  found and seized AK 74 automatic weapons and ammunition, RGD-5 grenades, VOG-25 detonators, and seven landmines with the markings of Russian manufacturers, which are prohibited by the Ottawa Anti-Personnel Mine Ban Convention of 1997.
According to SBU adviser Markian Lubkivskyi, "the use of these mines is an anti-human act. During the wars on the territory of former Yugoslavia, children frequently suffered from these and similar mines. People who were blown up by these mines either died or were crippled for life."
The SBU counterintelligence has determined that this terrorist group was part of a large network of terrorist groups created, financed, and directed by the special services of the Russian Federation that were intended to destabilize the region.
"The vast majority of the terrorists had undergone extensive training and education on the territory of the Russian Federation, especially in Tambov, where they received special training in explosives, sniper techniques, and target shooting," Lubkivskyi said.  "Electronic media seized from the group contained training materials provided by their instructors. The detainees were planning other terrorist acts, which were prevented by the coordinated efforts of Ukrainian intelligence services and law enforcement."
The detainees were directly involved in the bomb blasts at the Kharkiv pub Stina, during which visitors suffered serious injuries, the bombing on the bridge near the Britannia club, and numerous other attempted terrorist acts. One suspect, in particular, had in his possession a video report on these terrorist acts. The terrorists were also planning a massive armed attack on one of the checkpoints on the border between the Kharkiv and Donetsk oblasts, the SBU reported.
Search and investigative operations are ongoing.
Tags: Kharkiv, News, Russian state terrorism, SBU