A wave of social protests caught Donetsk and Luhansk oblasts, which are being controlled by illegal armed formations. In Yenakiyevo mothers demanded social support for children, and in Sverdlovsk the popular assembly announced that 64 people had died of hunger. According to local volunteer, there is enough food in stores, however the people have no money to buy it.
Young mothers, pensioners, women who take care of children or disabled parents – these are the main participants of social protests in the cities of Donbas which are being controlled by pro-Russian mercenaries. These protests started throughout the past few days. People call them 'hungry protests' or 'women's rebellions.' Women and children came forth, as they are convinced that pro-Russian mercenaries will not shoot at them.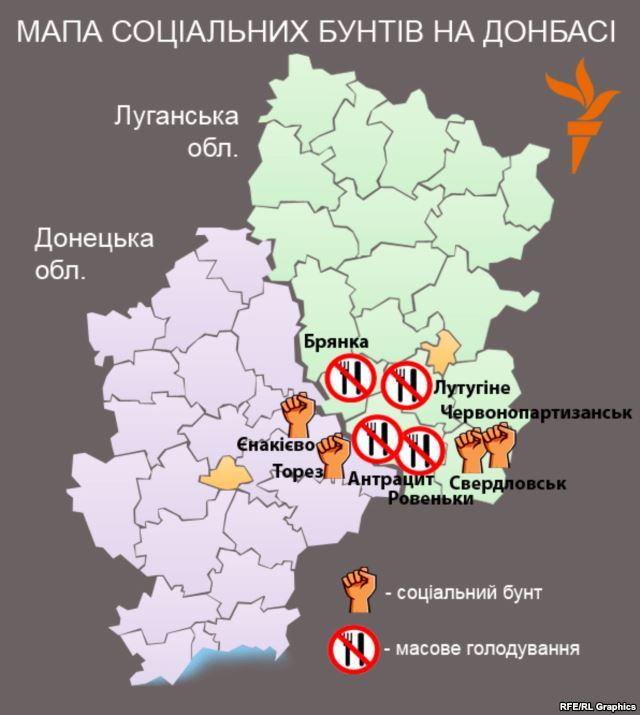 Donetsk volunteer from civil organization Responsible Citizens Enrique Mendez says that while in Donetsk people receive aid from Rinat Akhmetov's fund and at a small number of distribution points for Russian humanitarian aid, in small towns of Donbas the situation is much worse.
"It seems they managed to solve the problem with food distribution at a mass scale. Akhmetov's Fund helped a lot. I live next to a distribution point of food packages from the humanitarian headquarters of this fund, I see the gigantic lines there each day, so really, a big number of people get this assistance. But there are small towns like Torez, Shakhtarsk, which this assistance does not reach. This problem is much worse. To be honest, I don't understand very well how the humanitarian assistance from Russia is distributed," the volunteer says.
Journalist: in Chervonopartyzansk 64 people dies of hunger
The main reason for social protests is the lack of social support, pensions, salaries the representatives of 'LNR' and 'DNR' had promised after the Ukrainian side suspended them, and hunger.
According to a Luhansk journalist, the popular assembly in Chervonopartyzansk on November 16 announced that 64 people had died of hunger, the oldest person was 95 years old. According to eyewitnesses, the so-called 'commissioner' of the town promised to the citizens that they would sell the humanitarian assistance they received from Russia and the money would be given to the people.
This is not the first time such machinations happen with Russian humanitarian assistance. "Pavel Dremov, the leader of cossacks in Stakhaniv, who are subordinate to Nikolay Kozitsyn, the leader of the 'Don Army,' stated at a meeting that Igor Plotnitsky ('the head of the Council of Ministers of LNR' – ed.) manipulated humanitarian aid. Something is given out, but it is almost nothing," said the Luhansk journalist.
The protest wave was supported in neighboring Sverdlovsk. On November 17, a mass protest started in which, according to witnesses, about 2000 people had participated. The people gathered in front of the city executive committee. According to informator.lg.ua correspondent, the separatists in Sverdlovsk, which are there called 'rebels,' took the people's side and started fighting against Russian cossacks, and during the meeting, the banner Sverdlovsk is Ukraine appeared, the people asked the Russian mercenaries to leave the city.
According to informator.lg.ua journalist, deaths of hunger were also documented in Rovenky, there is information that people are hungry in Lutuhine, Bryantsy, Horlivka. The biggest threat is to elderly, sick people who have no opportunity to leave the occupied territories for free Ukraine and re-register for pensions, as the Ukrainian government demands.
The situation in Antratsyt is also difficult. This city is controlled by the so-called 'Great Don Army.'
Women in Yenakiyevo: "How do we explain to the children that there is nothing to eat?"
On November 17, a 'female' social protest happen in Yenakiyevo of Donetsk oblast. The mothers came to demand social support for children to the local 'government.' They were indignant that in Donetsk the 'DNR' had issued social support, and they have nothing to feed to their children.
On Tuesday the mothers and pensioners in Torez protested as well. Their demands and problems are identical.
Putin exemplifies Chechnya
Russian President Vladimir Putin blames the Ukrainian government for creating conditions for social protests.
"Remember our tragic events in the Caucasus, even on the worst days, months and years, we can say that we never stopped financing the Chechen Republic, we issued regular pensions and social dues, as well as budget subsidies. This looked somewhat foolish at first glance but we did it on account of moral obligations to the people. This played its positive part," stated Putin.
Donetsk journalist, blogger Denys Kazansky thinks that pro-Russian mercenaries are fully responsible for hunger and lack of social welfare.
"Poland once had Auschwitz, but Poland is not responsible for it. Kyiv had Baby Yar, where Nazis killed thousands of Jews. This is not Ukraine's fault and the USSR was not responsible for these crimes. The same way there is not an occupied territory where government was taken over by mercenaries. They completely abolished Ukrainian laws, tore down Ukrainian flags and coat-of-arms. Accordingly, they are the only ones responsible for what is happening there," the journalist thinks.
He is convinced that there is a threat of armed invasion of pro-Russian forces with Russia's support and encouragement of other Ukrainian territories outside of the ones they control today, it is dangerous for the rest of the country to create a rear for them.
"When you know that you have hungry people in the rear, for which you cannot provide by yourself and you know that if you take another city, the people will be hungry there as well, because all social support will stop there, the terrorist will think: is it worth going to Zaporizhya or Kharkiv or not, because he will understand that he cannot support them either," notes Denys Kazansky.
As such, for the first time since Holodomor in 1932-1933 and the post-war hunger of 1945-1947, there are instances of mass deaths of hunger in Ukraine.
Donetsk volunteer from civil organization Responsible Citizens Enrique Mendez emphasizes that there is enough food for sale, but the people simply ended up in a situation when the stores have everything they need, but they have no money to buy it.
He is convinced that the Ukrainian government should find an effective mechanism to pay pensions, in particular to disabled elderly people who have no physical opportunity to leave the occupied territories.