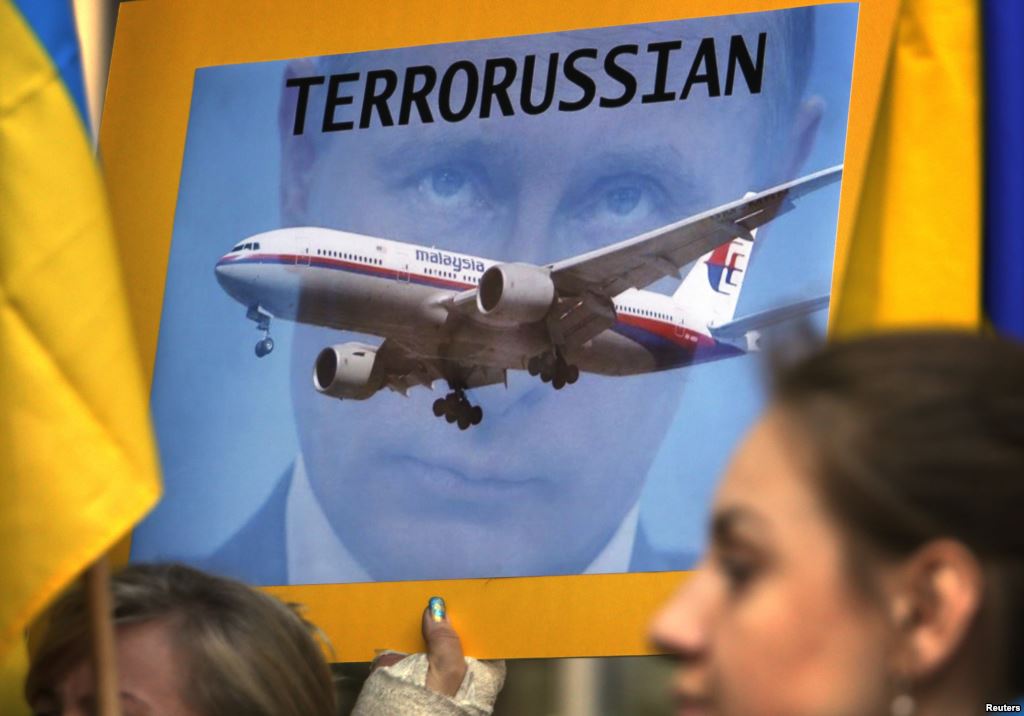 Russia's TV Channel One has broadcast a fake satellite image that supposedly proves that the Malaysia Airlines aircraft was shot down by a Ukrainian fighter jet.  This "news" was announced by one of the most inveterate liars of Russian television broadcasting — Mikhail Leontyev  — and was instantly featured on the leading news sites in Russia. But in just a few minutes it became clear that TV Channel One had lied in the most petty and inept fashion. As background for the propaganda photos, a Google satellite image was used that dated from 2012. A cloud formation of characteristic shape is clearly visible on one of the fragments. Furthermore, the forgers had not finished doctoring the SU-27 that was most likely depicted in the photograph but which was by no means the MiG-29. Even the time indicated on the TV Channel One photograph was clearly 1:19:47 UTC. But the Boeing crashed at about 1:00 pm that time.
The question is why did the Russian propagandists need such a clumsy lie? The answer is simple — for the television audience that believes every word uttered by TV Channel One and its announcers. The Russian government fears the official announcement of the results of the investigation of the Boeing air disaster because it knows perfectly well who is really to blame for the destruction of people. Significantly, the fake image was broadcast shortly after the Australian Prime Minister Tony Abbott demanded that Russian President Putin apologize for the crash and pay financial compensation to the families of the victims.
When the materials of the official investigation are announced, Moscow will remind Russians that the Russian Union of Engineers has been investigating the disaster for a long time and has determined the guilty — the Ukrainian authorities. Of course, this will not lead to the cancellation of sanctions, and the economic situation in Russia will not improve. However, the majority of Vladimir Putin's worshipers will know that the Boeing was brought down in order to punish the poor Russians. And this was done by the vile Ukrainians at the direction of Washington. TV Channel One had already reported this long before the release of the investigation results. Therefore, everything is clear.
Mikhail Leontyev  knows what he is doing.
Tags: Malaysia Airlines crash, Portnikov, Russian disinformation, Russian TV