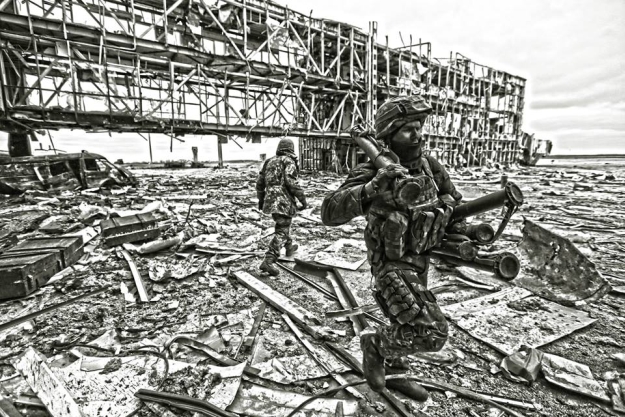 When will war end? Today, nobody knows. But even is an unknown deus ex machina ends the armed conflict tomorrow, returning to civilian life will be long and painful.
War has managed to establish itself on our soil and become rooted in Ukrainian society.
It changed everyone: politicians, businessmen, soldiers, intellectuals, laymen.
It changed those who ardently strived for changed and those who categorically refused to change.
It remade millions of people to suit its taste. And only time will tell how reversible these changes are.
PEOPLE OF STRENGTH
2014 has shown that real strength is not in money, not in truth and not even in Newtons. Strength is in machine guns and grenade launchers, in tanks and armored carriers, in Grads and portable missile complexes.
We are getting used to living by the heritage of Mayakovsky and Mao, wherein there is no place for words, and guns bring about power. No matter how many loud speeches were made in the past months, the deciding factor has always been the armed population.
The warriors of revolution, the green men, ATO heroes – they were the ones who created Ukraine's contemporary history. In February, in March, in April, in the streets of Kyiv and at Crimean roadblocks, near Sloviansk and in Donetsk airport.
The people of strength have not only changed the fate of the country, but their own fate, too. Weapons became the most effective social lift throughout all the years of Ukrainian independence.
Even a year ago nobody would have believed that football fans would become national heroes, and the Donetsk lumpen would instill fear in well-off citizens. But now everything is different. And the people who felt strong due to war will never return to their former marginal state. They have no way back – the only way is forward. How far?
In DNR-LNR the way of force has reached its end. The gunman is the new master of Donbas, and now he can do anything. In the rest of Ukraine the situation remains unclear. Though the political weight of the combatants increases, we have not reached the point of having our own Mkhedrioni. However, it is a profitable thing to do.
PEOPLE OF GOVERNMENT
The lengthy war continues to unnerve the residence of the hills of Pechersk (district in central Kyiv where most government administrations are located – tr.). As opposed to neighboring Russia, in Ukraine the government has never had a sacred halo, and now its authority has fallen even more. The guys in expensive suits are forced to fight for real influence which is slipping between their fingers and going to the guys in camouflage.
Today our political elite is reminiscent of an assembly under the supervision of sailor Zheleznyak. The fools have not yet adapted to new reality, and they continue to push as usual, as if there is no sailor next to them. But the smart ones understand the seriousness of their circumstances and do everything in their power not to bore the sailor and make him disperse the assembly.
The people of government who compete with people of strength have only one way our: constantly outrun them. Before Ukraine follows the guys with weapons, the people should be given a good alternative.
Instead of yet another Maidan – early parliamentary elections.
Instead of real radicals – operetta party members. Instead of military coups – ATO heroes in electoral lists.
Instead of Lynch courts and death by firing squad – the lustration law.
Instead of revolutionary justice – some hint at reforms.
'Living in a new way' for the Ukrainian government is not saying no to corruption or nepotism, but the miracle of maneuvering and smarts. If you want to live, you have to know how to twist around. It is enough to hesitate once, and the political class will be forever carried off-stage. And the imaginary 'Kyiv junta' may be replaced by the real Donetsk or Luhansk junta.
PEOPLE OF MONEY
Until recently Ukraine was considered the kingdom of the golden calf, where money decides everything. In 2014 it was discovered that money which is not backed by harsh and brave strength means nothing.
For example, the richest Ukrainian and, until recently, the king of Donbas who did not catch up with the rapid events and who became a VIP refugee. Together with Rinat Akhmetov, other masters of the territory full of crunchy bills who have lost any influence on the situation, have gone to Banderite Kyiv.
If the owners of money fled warring Donbas, money flees warring Ukraine. Obviously, money likes quiet, and our sinful world has never yet been so unpredictable and shaky. Usually only one type of money survives in such an atmosphere: quick and risky.
War solved the long Ukrainian argument between immediate profit and investments into the future. Now there is nothing to argue about.
In a warring country money is made here and now: on weapon trade, army supplies, contraband, financial speculation, theft of budget funds. Any long-term investments simply lose sense. This is the reality, which cannot be decorated by any talk of liberal economic reforms.
Unfortunately, it is much easier to scare money away than to placate it. And, whenever war does end, the business world in Ukraine will continue living for one day – today, – for a long time. As tomorrow may not come.
THE PEOPLE OF DREAMS
The progressive public was crushed by an incomprehensible flow of worries, disappointments, spiritual uplifts and cognitive dissonances.
For many years we have dreamed to beat Ukrainian passivity and uninvolvement. We believed that the future was in our hands. We hoped that one day Ukrainians would show themselves and lead the country to flourish.
And the long-awaited moment came. In 2014 Ukraine saw courageous revolutionaries, noble volunteers, brave hearts from the ATO zone. So much true heroism! So much patriotism and self-sacrifice! So much self-organization, mutual help and unity!
Alas, we lost Crimea, the military situation in Donbas is not beneficial for us, and our economy is on the brink of collapsing. The Ukrainian crisis is deepening despite all the efforts. And meanwhile some idyllic country like Brunei and Qatar are flourishing effortlessly.
They were simply lucky to have been born on a comfortable oil pillow. And they will allways be more attractive than Ukraine – like a carefree young man from a well-off family is more attractive than a head-fast loser, who has been forced to combat poverty and illness since childhood. Unfair? Of course. But this is life and not a book on morality.
The war in 2014 ruined our favorite myth that any dream is attainable and everything depends on our efforts. Unfortunately, not any dream, and not everything. Circumstances that are out of our control frequently decide everything.
After Euromaidan we found out that we will be unable to start peaceful reforms because Russia doesn't want them. It is impossible to agree with the Kremlin with acceptable terms, and we have to fight.
It is impossible to counter Putin alone, and we have to try for the West's help. And the West so far does not meet our hopes and does not give us the help we expect. And so forth…
But we will not stop dreaming and trying, right?