Russian mercenaries in Ukraine earned RUB 120,000 per month (approximately UAH 55,000, or $2,000)
The Security Service of Ukraine (SBU) recently unveiled a sensational report – the operation in Crimea, the shooting down of an IL-76 above Luhansk Airport, and the capture of Debaltseve, a crucial railway hub that Russian-separatist forces wrestled from the Ukrainian army in the winter of 2015  – were all done with the participation of a Russian Private Military Company called Wagner. Wagner is President Putin's private army, used in places where no laws exist.
His name was Illya Sagaidak. A former border guard, he had retired into the reserve, and now worked as a security guard for a local politician. But a different side of Illya fought in Syria. In 2017 Illya's body ended up in the morgue of a Russian military hospital in Rostov. As his cause of death, the coroner wrote "acute heart failure." Russian military coroners had written dozens of similar false diagnoses, but the soldier's heart had begun to fail on the territory of Ukraine, and it failed him utterly later on, in the oil fields near Palmyra.
The deceased's surname is not marked on official casualty rolls of the Russian Ministry of Defense, because he fought and died as part of a secret, private army.
In his own time, the head of the Starooskol district, Aleksandr Hniedykh, pinned a medal for courage on the mother of yet another deceased – Aleksandr Karchenkov.
The district's local news states that Aleksandr died under contract service liberating the Syrian town of Palmyra. But one document attests otherwise. Aleksandr was a mercenary in a private military company. In a job application, which fell into the hands of a Russian journalist, the 45-year old unemployed Oleksander had listed his skills (a judo trainer), and his hobbies – "I love to solve puzzles with my family." Then he gave his agreement that the private military service could examine his friends, emails and personal life.
Special Forces Colonel Dmytro Utkin – call-sign "Wagner" – is the commander of the mercenary company. It was as part of this army that Illia and Oleksandr fought and died. In 2016 a photo briefly emerged on the internet in which Utkin appeared together with Russian President Vladimir Putin. All who saw it treated it like proof that Putin has a state army, and his own private army. An army for all circumstances – even a sudden palace rebellion.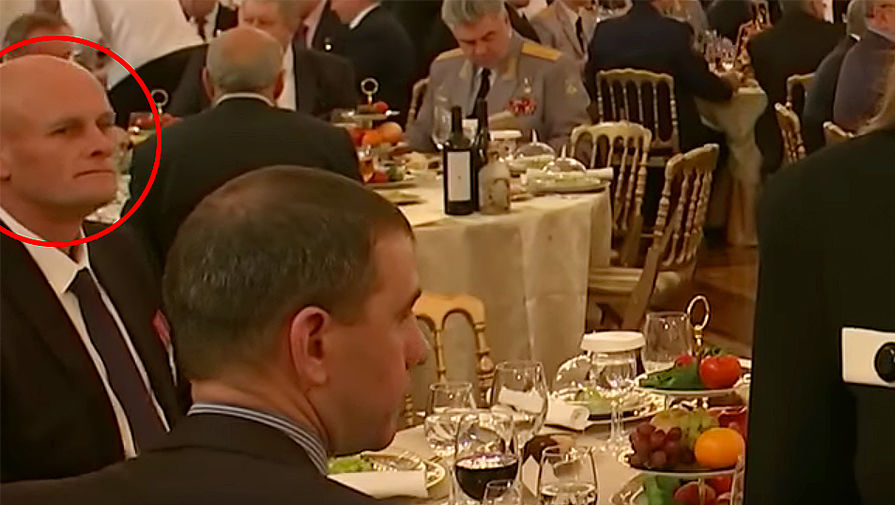 Ed: According to the Ukrainian investigative community
InformNapalm
, Utkin first fought in Syria on the side of President Bashar al-Assad as part of the Russian mercenary group
Slavic Corps
.  After suffering a defeat from the rebel forces, the Slavic Corps returned to Moscow and its leadership was sentenced to prison: mercenaryism is formally illegal in Russia. Upon returning to Russia, Utkin departed to Ukraine, heading his own group of mercenaries. Its name, Wagner, comes after Richard Wagner, a favorite composer of Adolf Hitler, for whom Utkin allegedly holds affection. The Slavic Corps veterans were seen both in the Crimea in February 2014 and then in Donbas, where they fought alongside Russian militants. According to the Russian media, the Wagner squad could have been involved in the killing of several warlords of the so-called "Luhansk People's Republic." 
Russian journalist Denys Korotkov since 2013 has reported on the Wagner private army, gradually gathering together the terrible truth. Mercenaries in Ukraine were paid 120,000 rubles per month (approximately $2,000 USD). In Syria, Wagner operatives are paid double that. Denys first unveiled personal applications of Wagner operatives, stating that he had nearly 2,000 of such documents. After publishing his investigation on the Saint Petersburg site "Fontanka," the journalist's address and other personal information appeared online. He received threats.
On 7 October, the head of the Security Service of Ukraine Vasyl Hrytsak unveiled a sensational investigation into the part Wagner played in the majority of Russian military operations on Ukrainian soil from 2014 to 2015, beginning with the occupation of Crimea. The Wagner company, according to the information provided by the SBU and published by Russian journalists, consists of between 2,000 and 5,000 well-trained professional soldiers, as well as tanks, howitzers, and Multiple Launch Rocket Systems. They train in a special, secret training ground in Rostov Oblast. According to Russian journalists, Dmytro Utkin answers to only one person: the businessman Yevhen Prihozhyn, who is Putin's restaurateur. Appart from restaurants, Prihozhyn is connected to entities which secured a monopoly on provisions for the Russian army, and also with firms which defend Syrian oil and gas extraction. Prihozhyn takes for himself a quarter of the extracted fuel.
Recently, relations between the Russian Ministry of Defense and the Wagner private army have steeply declined. Information has appeared about the bad situation with armaments and payment delays for the mercenaries, and the wounded men of Wagner company are no longer flown back to Rostov on military airplanes, but in the baggage compartments of passenger jets. For Oleksandr Karchenkov, who loved to solve puzzles with his family, this puzzle cannot be solved. It cannot be solved for either the restaurateur Prihozhyn or Wagner's commander Utkin – a private army which hides itself in the shadows, but the deluge of information about this private military company may mark the beginning of its end.
Wagner is only one of many private military companies waging war in the Donbas. For a detailed investigation of them all, see this piece by InformNapalm:
Private Military Companies in Russia: Carrying Out Criminal Orders of the Kremlin
.
Read also: