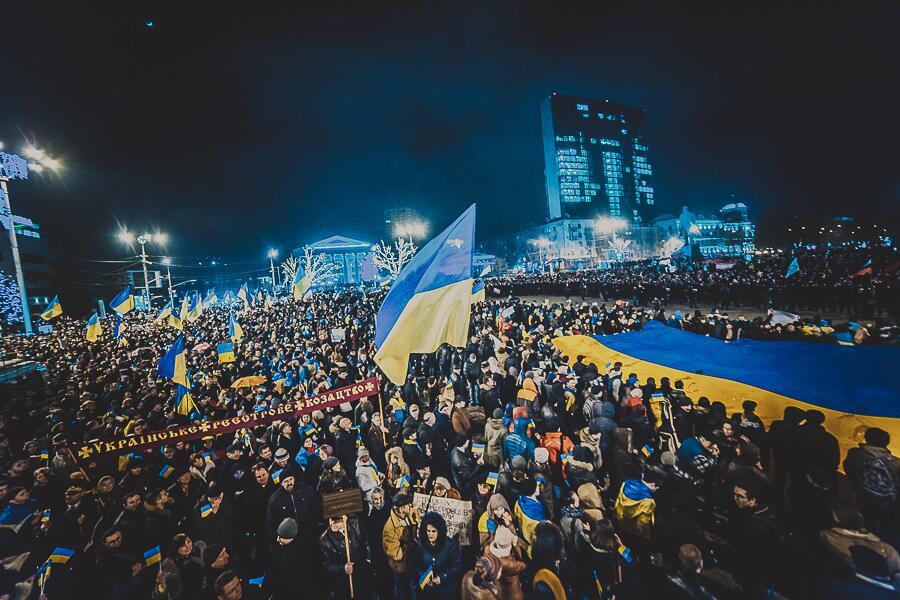 The speech by Donetsk professor and writer Olena Stiazhkina during the TEDx Kyiv 2014 conference, November 1, caught the attention of hundreds of listeners. The Soda Magazine is presenting the full text of this speech about Donbas, its gods, and words that mean nothing.
As I was going out on the stage, the video director asked me "Should I leave just this photo for you, the one from Maidan?" I answered: " Leave this photo, but it is not Maidan; it is Donetsk, Ukraine."
There are a few basic points that I want to emphasize before speaking today of the voices from the war zone. Here, this is Donetsk (points to the photo) and this is Ukraine. And Donbas is also Ukraine. This is not simply my wish. This is from the polls, which in March and even in April and in May always showed the same result — 65-67% of the residents indicated their wish to live in Ukraine. Around a third chose the Soviet Union, Russia, DNR.
The second point I want to emphasize is that the Donetsk and Luhansk oblasts — are the Ukrainian village, and this has always been the case. A Ukrainian-speaking, Ukrainian village. Even Holodomor did not destroy this village. These are European cities. At least they used to be. Right now Donetsk is more similar to a raped woman than to a European city, where there is shame, shame, self-sacrifice and reluctance to think about all this. I want to speak of the voices, the ones that we supposedly have not heard but which, ostensibly, have now become so very audible.
What are these voices? Who are these people? Who is screaming so loudly? Who are these 20% who are participating in the armed groups of the Russian Federation? There is no civil war there, we understand that. This is Russia's war against Ukraine. But 20% of the local population is there, of course. Who are these people? Franz Boas, the mid-twentieth-century American sociologist and anthropologist, has put forward a very interesting hypothesis, which by and large has been confirmed: the same society can live in different chronological periods at the same time. This means that some people, provisionally, are living in a post-modern society, and others, for example, in a system of traditional values.
And so, that voice that we hear now and whose meaning we cannot understand is the voice of an economic system that appropriates. It is the voice, to use the terminology of Engels, of an economic system that produces nothing and perceives the outside world as nature that is hostile, that may or may not give. Here a sewer manhole is food similar to a banana. A cemetery fence and the metal equipment in factories — all this can be cut down and sold. There is and cannot be any question of ownership nor any meaning of ownership. Nature gives, we take, we do not steal. Who can restrict us if there are no property rights? The one who is stronger. The leader. After all, he is a policeman. If we share with the leader and bring him offerings, our hunt will be successful. There is no tomorrow here, as such; there is no thought of the future. If the day has been lived, and well, then we will live some more. Perhaps we will die, but there is no thought of death either. This is a hostile world — there is nature, there are other enemies, but there is absolutely no self-perception. Here the question "who am I ?" does not exist. And the answer to that question does not exist either.
There are gods here — the leaders, the police, prosecutors, judges who forced their way up. Certain gods even reach the level of president. They all belong to an economic system that only acquires. They cannot be bothered with questions of conscience or morality. This is a different way of mastering territory. Gods can vary,  but it is clear that they are not good. The situation is the same exactly as in ancient Greece. There is no way Zeus can be called a good god. The same is true here: vile, cunning, drunken, disgusting, but gods. Therefore, offerings must be made, they must be voted for and then they will grin from posters and then, certainly, there will be peace and tomorrow the hunting will be very successful. But perhaps it will not be successful.Well, then it means the gods were angry and it will be necessary to give  more and more.
This world has its own "golden age." As does any age that appropriates. In this "golden age" there were miners and metallurgists. And a supreme leader — Quetzalcoatl (god-creator of the world for the Aztecs) sat in the Kremlin; he was severe, horribly severe. But then everything was good, and prison also is a good place. Because you are fed there, and you can live there. In the end, it is warm there. Not all remember this "golden age"; it has become legendary now. During the "golden age" there was the Great Victory, sacred and delivered completely, in semantic terms. It is much like the Titanomachy (in Greek mythology, epic battle between Olympic gods and Titans, lesser divine beings – Ed.) where no one is concerned if Thetis was right or not in siding with Zeus, or how the Hecatonshires suffered ( the giants who helped defeat the Titans — Ed.). Altogether, too bad for them. The Battle of the Titans is when "our people" conquered "the others," the fascists. How young we were then and how we demolished them!
But this "golden age" has ended. We have been thrown out of paradise. And children are working in the pits — those holes in the ground where they get coal. Without any protective equipment. The coal is then sold. This is the same nature that must be tamed by the system that appropriates. Industrial paganism, pits, children in the earth. Denys Kazansky, a remarkable Donetsk journalist, said that if you look at the landscape of the Donetsk and Luhansk oblasts from a plane, it resembles lunar craters. These are the pits. You would think it impossible to live this way. But this is how people live.
And then it happens that the second coming of Quetzalcoatl has sent in gods with wonderful new supplies of food. War, too, but first of all, food. This is because when a tank has finished its work, it will become scrap. You tell me: but no, tanks are not made of metal that can be taken for scrap. But you know that. They will find that out as well, but through experience, and not right away, not quickly. It turns out that the tank also has parts that can be taken for scrap. When they shot down planes, people also took the planes for scrap. This is food. The gods have brought the food and this is wonderful. You can eat.
Is it possible to win here? Can an alien god become ours? For the merciful, no. Because no one has seen any goodness here. No one here believes in goodness (we're still talking about that 20%). No one could recognize this goodness. There is a story that has become a legend in this war. In June one of the smaller mining towns that had not been captured by the Russian Federation was being protected by a Ukrainian army checkpoint. Each night this checkpoint was shelled from different buildings — sometimes by mortars, sometimes by machine guns. One of the Ukrainian soldiers, a local, said: "I will solve this problem." He created a gallows and positioned it on the square near the checkpoint. In the morning, local residents brought kasha, varenyky, and sausages to the checkpoint and said "Well, guys, you didn't tell us. Are you the new authorities?" Then the local man asked "Guys, should we remove the gallows?" They discussed it among themselves and said "No, let it stand; then we can feast." So, first the gallows, then the school. This is how an alien god can arrive here.
There is a question, a theory, that is mentioned constantly, that frozen, hungry people will realize that things were good with Ukraine and they will return. No. Their lives were not good. They lived very poorly. And the way they live now, they can live indefinitely. Tanks — food, why not? And furthermore, the question arises, should we help those who do not want to save themselves, who are content? Tanks vary a bit, and manholes differ from bananas — they are not self-replicating. Therefore, there will be expansion — the weapons are there and there is sufficient experience to seize something in a neighboring oblast and then to exploit, appropriate and sell in the same fashion.
But this world will kill the Ukrainian village. It is already killing the patriots. And this world is killing and will kill its own children, who will grow up as Mowgli (feral child, protagonist of Rudyard Kipling's The Jungle Book — Ed.)
What can be done and can anything be done? I think so. There are two important factors: words and people.
First, the words. Let us realize that certain words that mean nothing should disappear from our active vocabulary. The word "Donbas" means nothing. When we say "Donbas," we should consider that we are reading the poem of Yuz Aleshkovsky: "Live for a thousand years, comrade Stalin, even if I need to croak in the taiga, but there will be more iron and steel per capita in the country." If we still measure what we are doing in terms of iron and steel, then Donbas — yes, then coal and all the rest. But no, this is not how we are measuring our present movement and our present life. And the other terminology we need to remove from our vocabulary is "grandparents fought" and "Great Victory." This is something that should never happen again. War is death, death, death, and death again. It is not a soccer game. It is not "us" against "them." It always is, at first, and then in the end it is death. At least these two phrases should be removed from the language, not to be used again.
The second item is also very important, in my view. I never thought I would utter these words, but I will utter them just the same: this land needs positive colonization, peaceful colonization. This is exactly how these lands were developed. First, at the end of the eighteenth century, there was Charles Gascoigne, then John Hughes, Le Ple, Lache. These were people who came here to develop coal and metal and who brought the grid plan method for building cities. Degtyarev, the first secretary of the Donetsk regional committee of the Communist Party of Ukraine, understood in the '60s that this would not work and that intelligentsia was needed. Then the professors, actors, and scientists were lured here, and they created this world that made Donetsk more or less a European city.
In conclusion, I want to say the following. Jewish prayers end with the saying "Till we meet in Jerusalem." And for many thousands of years this is how Jews ended their prayers. I want to say to all the people of the Donetsk and Luhansk oblasts and to those Ukrainians who not only want to love Ukraine but who also want to do something for her: "Till we meet in Donetsk." Donbas will not return to Ukraine, because Donbas does not exist. This will be Ukraine or nothing. Till we meet in Donetsk.
Note:
Olena Stiazhkina is a Russian-language writer and a history professor at the Donetsk National University, who has been studying the cultural processes in the Donbas. She was awarded the "Russian Prize" for literature in the short story category for the literary cycle A Single Talent. In her acceptance speech in Moscow in April 2014, she stressed that the Russian language does not need military protection in Ukraine and that Ukraine cannot be destroyed because "to kill Ukraine means to kill me, a Russian, and others, also Russians."
Transcription by Yuliya Sosnovska
Tags: Donbas, Donetsk, Featured, Olena Stiazhkina, Soviet mentality