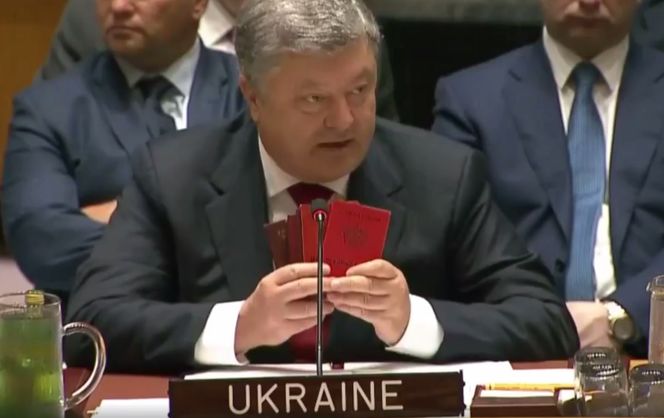 Ukrainian President Poroshenko shows military IDs of Russian officers captured in Donbas. Photo: screenshot from video 
Speaking
at the United Nations Security Council debate on the Reform of the UN Peacekeeping on 20 September 2017, Ukrainian President Petro Poroshenko showed the military IDs of Russian servicemen captured in Ukraine's Donbas, where a conflict between Russian proxy forces and the Ukrainian army is dragging into its fourth year, and reiterated his call to send UN peacekeepers to the region.
Poroshenko stressed that there is undeniable proof of Russian involvement in the conflict as he showed the military IDs:
"The Russia's mantra that 'we are not there' does not hold water. There are undeniable facts that Russia creates, leads, controls and sponsors terrorists operating in Donbas. This is more evidence – these are IDs of Russian officers and soldiers, some of them are in Ukrainian prisons, for their illegal actions on the occupation of Ukrainian land."
The incident with IDs was picked up by the witty @Ukraine twitter account run by Poroshenko's press officer and team.
Hey @Russia guess your guys lost their military IDs in Donbas… again. Pulling out of Ukraine might be a solution #UNGA pic.twitter.com/hVDkhKAlLb

— Ukraine / Україна (@Ukraine) September 20, 2017
The Ukrainian President said that the three-year-long Russia's aggression has cost Ukraine over 10 thousand people killed, about 25,000 wounded and about 1.8 million internally displaced and reminded that in spring 2015 Ukraine officially requested the President of the Security Council to deploy a UN peacekeeping operation to Ukraine.
Since then, the situation hasn't improved, Poroshenko said, and repeated this request:
"Despite repeated cease-fire initiatives, ordinary people continue to suffer. The Human Rights Monitoring Mission in Ukraine recorded 161 conflict-related civilian casualties in the period from mid-May to August 2017, with 26 deaths and 135 injuries. […] People's rights to life, liberty, freedom of speech, freedom of conscience continue to be violated on a daily basis. They can be killed for going to a wrong church, speaking a wrong language – or just disagreeing. If tragedy on this scale doesn't warrant UN peace presence, then what does?!"
The path to peace, he stressed, must include the withdrawal of all foreign military personnel, mercenaries, and their weapons and equipment from Ukraine, as well as securing Ukraine's control over the Ukrainian-Russian state border to prevent Russian troops, arms, equipment, and mercenaries from infiltrating into Donbas.
A UN peacekeeping operation should restore Ukraine's control over its territory rather than freeze the conflict and cement the occupation, he said, offering veiled criticism over Russia's recent draft of a resolution on a peacekeeping mission to Ukraine, after several years of blocking Ukraine's proposals.
Here is a video recording of Petro Poroshenko speaking about a UN peacekeeping mission in Donbas at a press meeting at the UNSC debate:
According to Russia's resolution, the UN mission should focus solely on providing security for the OSCE officials and operate on the contact line between Ukraine's forces and the militias of the Russian proxy self-proclaimed "Donetsk and Luhansk People's Republics." It was welcomed by German Foreign Minister Sigmar Gabriel, who said that the deployment of UN peacekeepers could become the first major step towards lifting anti-Russian sanctions. According to him, implementation of this proposal could even lay the foundation for a "new period of détente" in relations between Europe and Russia. Ukraine's plan, however, envisions peacekeepers to be situated everywhere in Donbas, including the border currently uncontrolled by Ukraine, and that they not be of Russian origin.
Read also:
Tags: Donbas, News, Petro Poroshenko, Russia, UN, UN peacekeepers, UNSC