von Anton Shekhovtsov auf seinem Blog, 1. November 2014 (Aktualisiert 3.11. 19:00)
Die "Donezker Volksrepublik (DNR) und die "Luhansker Volksrepublik" (LNR), Organisationen, die von den Ukrainischen Behörden als terroristisch bezeichnet werden, werden am Sonntag, den 2.November in den Gebieten, die sie mit der Hilfe der russischen Armee besetzen, "Parlamentswahlen" abhalten.
Diese Wahlen werden weithin als illegal und illegitim angesehen, und UN-Generalsekratär Ban Ki-Moon beklagte "den Plan bewaffeneter Rebellengruppen in der Ostukraine, am 2. November unter Bruch von Verfassung und nationalen Gesetzen ihre eigenen 'Wahlen' abzuhalten" und fügte hinzu, "dass diese 'Wahlen' die Vereinbarungen von Minsk ernsthaft unterminieren, "die dringend vollständig in Kraft gesetzt werden" müssten.
Trotzdem wird gesagt, dass der Kreml willens sei, diese "Wahlen" anzuerkennen und damit wiederum den Rat der UN in den Wind zu schlagen, ganz abgesehen davon, dass sich Russland damit über die Gesetze der Ukraine hinwegsetzt, in die Russland im Februar-März 2014 einmarschiert ist. Die DNR/LNR-Wahlen werden weder von der EU noch von den Vereinigten Staaten anerkannt werden, die Russland wegen Unterminierens der ukrainischen Unabhängigkeit und Selbstbestimmung mit weiteren Sanktionen drohen.
Genau wie bereits zuvor wird der Kreml Marionetten-"Wahlbeobachter" einsetzen, die die von den Terroristen abgehaltenen Wahlen "beobachten" und legitimieren. Hinweise legen nahe, dass zwei "Wahlbeobachtungsorganisationen" damit beauftragt wurden, eine "Wahlbeoabachtungsmission" für die DNR/LNR einzurichten: Die "Eurasische Beobachtungsstelle für Demokratie und Wahlen, Eurasian Observatory of Democracy and Elections (EODE)", die von dem belgischen Faschisten Luc Michel betrieben wird, und das "Europäische Zentrum für Geopolitische Analyse (European Centre for Geopolitical Analysis (ECGA)", das der polnische, rechtsextreme Politiker Mateusz Piskorski betreibt. Beide sind der Außenpolitik des Kreml seit 2005-2006 zu Diensten.
Und am 3. November 2014 können die Namen der folgenden internationalen "Beobachter" bekanntgegeben werden (jetzt 39 statt der zum Zeitpunkt der Abfassung des Artikel bekannten 17 Namen):
Wie meine Analyse der Bewegungen dieser internationalen "Wahlbeobachter" zeigt, sind sie in Donezk aus Moskau kommend über Rostow-am-Don angekommen. Das bedeutet, dass sie alle illegal in die Ukraine eingereist sind und somit wegen illegalen Grenzübertritts belangt werden könnten.
Die Pressekonferenz der internationalen "Beobachter" im Donbas am 1. November 2014. Dritter von rechts (grünes Hemd) Ewald Stadler. Foto: Alec Luhn
Wie der in Moskau stationierte Journalist Alec Luhn auf seinem twitter-account schreibt, schlugen die "Beobachter" auf ihrer Pressekonferenz im Donbas vor, die "Vereinigung für Sicherheit und Zusammenarbeit in Europa, Association for Security and Cooperation in Europe (ASCE)" zur gründen, doch dann schlug Stadler den Namen "Agentur für Sicherheit und Zusammenarbeit in Europa, Agency for Security and Cooperation in Europe (ASCE)" vor. Dieser Name nimmt offensichtlich Bezug auf die Organisation für Sicherheit und Zusammenarbeit in Europa (OSZE), Organisation for Security and Cooperation in Europe (OSCE)", eine internationale Organisation, die insbesondere auch Wahlen in verschiedenen Weltgegenden beobachtet. Weil sie Wahlen objektiv und unabhängig beobachtet, wird sie sowohl von EODE und ECGA als auch von den russischen Behörden gehasst.
Während sie die Beobachtermissionen der OSZE konstant schlecht reden und versuchen, sie in Misskredit zu bringen, präsentieren die russischen Staatsmedien jedoch Fake-"Wahlbeobachter" als Mitglieder der OSZE. So behauptete der russische Fernsehsender "Rossiya 24" im März 2014, der berüchtigte russische Faschist Michel sei der "Organisator der OSZE-Beobachtermission" für das illegale "Referendum" in der ukrainíschen Autonomen Republik Krim", die danach von Russland annektiert wurde.
Die gewollt-imposante Präsentation von Michel für die russischsprachigen Zuschauer enthüllt das, sogar in einem generell antiwestlichen Kontext hohe Ansehen der OSZE.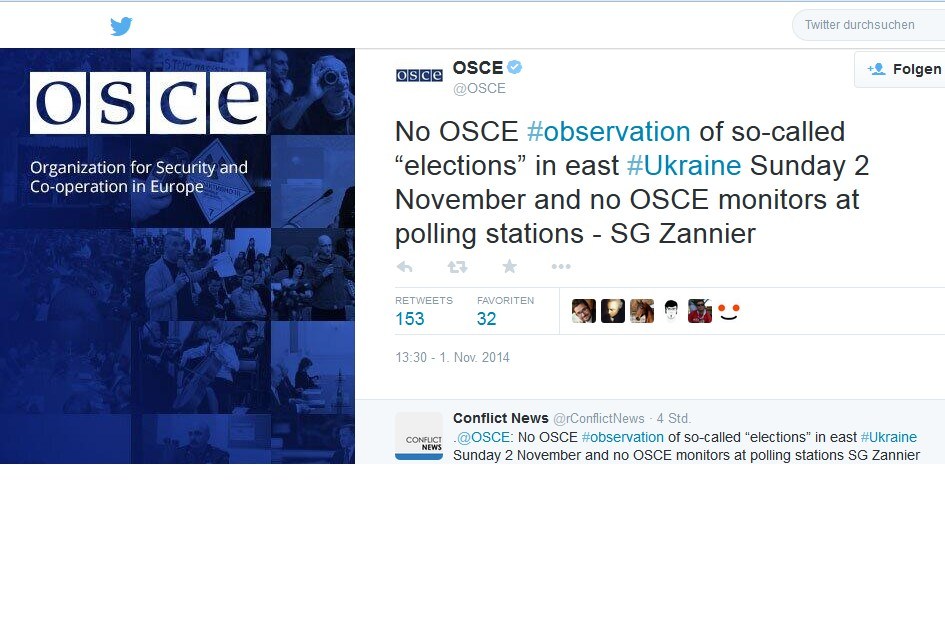 Die für den 2. November geplanten "Wahlen" sind möglicherweise der Beginn einer neuen Offensive der DNR/LNR-Extremisten gegen die ukrainischen Streitkräfte. Es muss auch mit der Möglichkeit einer false flag-Operation gegen "Beobachter" oder Menschen in "Wahllokalen" gerechnet werden.
Einige von ihnen könnten von (pro-)Russischen Extremisten , angezogen mit ukrainischen Uniformen, getötet werden, um die Ukraine in Misskredit zu bringen und/oder die internationale Aufmerksamkeit weg von den illegitimen "Wahlen" zur Ermordung von "Wahlbeobachtern" oder "Wählern" zu lenken. Die Chancen für solche Operationen sind zwar gering, aber ausgeschlossen sind sie nicht.
Autor: Anton Shekhovtsov
Quelle: Blog
Übersetzung: Euromaidan Press auf Deutsch