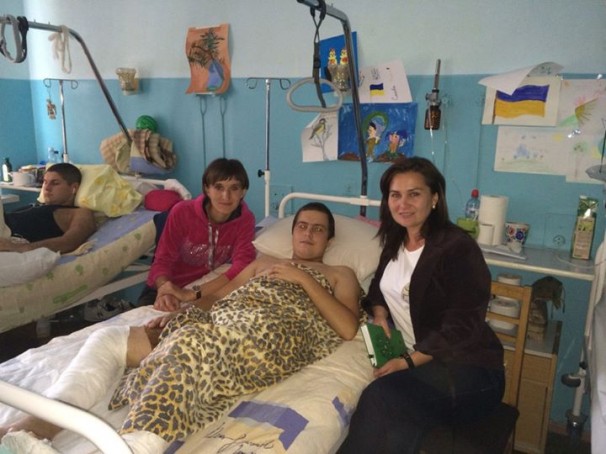 This is just another incredible story of a young commander from Volyn oblast who escaped from one hell to another, wounded and bleeding… but survived! He was able to save himself.
Volunteer worker Sokolova tells the story:
Mykola Bulik is 22 years old, a junior sergeant, tank commander with the 51st Special Armoured Brigade. He doesn't need anything! Just read his amazing story.
The Ilovaisk cauldron of hell, August 29. The brigade was ambushed under heavy shelling … Mykola was with his friends, Dmytruk (now in Lutsk hospital) and Vyshyvany (now in Lviv hospital).
Mykola was wounded, unconscious. When he came to, he was alone… in a black field, a small village glimmering on the horizon. He looked at his legs – the left one was hanging, an open fracture; the right one was shattered, a 10 by 4cm fragment was lodged in it…he pulled it out himself … No first-aid kit, no bandages and no medicine. He wound his pants tightly around his wound and started crawling towards the village, towards people.
He crawled on his hands for two days, with no food or water. He was gravely wounded …
When Mykola was about 100 meters from the village, he saw a trailer and some people. They didn't come up to him, but called in some Russian soldiers. Five Russian soldiers from the 61st Brigade approached Mykola, gave him some bandages and, thank God, left him there – hopeless situation!!
So, he wrapped the bandages around his hands and crawled up the nearby hill – it was probably the last chance for his comrades to see him …
They saw him! On August 31, Red Cross members were scouring the fields looking for wounded soldiers; they found close to 30 servicemen. And, they found our Mykola! They drove him to the field hospital, and from there to Dnipropetrovsk.
After three days, doctors were able to peel the pants from Mykola's wounds. On September 1, he was evacuated to Kyiv where he underwent surgery and skin grafts, the bones in his legs were re-set. The bandages and dressings were changed daily under anesthesia. Another two weeks went by in hospital. Then, Mykola was sent away for complex rehabilitation treatment …
Natalochka, his wife, sits nearby. Mykola's dream is to see and embrace his son Vladyk (1 year 7 months) whom he hasn't seen for four months.
Mykola is alive – this is indeed a miracle!
Just another story of an ordinary soldier from Volyn oblast.