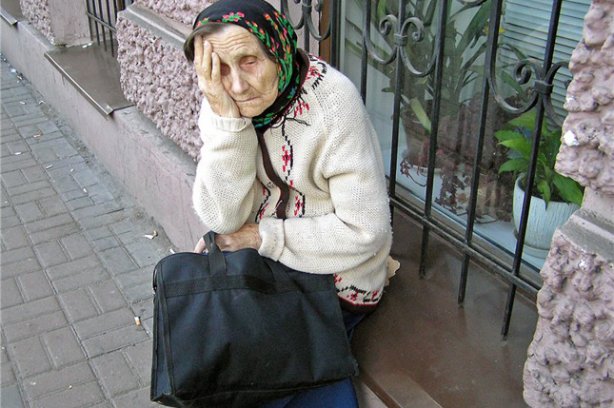 Yes, the second Chernobyl has happened in Donbas. Thousands of lives melted in its reactor. Those who volunteered or were ordered to eliminate the effects of the disaster. And those who caused it by negligence or by conviction. All this time the wind has been blowing around the world a cloud of fear, grief and hatred that rose into the sky.  One of the latest inventions in the world's defense, which has been successfully implemented by our rescuer and commander in chief, was a law-sarcophagus hastily put together in the Kremlin. About a special order regarding local self-governance in certain areas of Donetsk and Luhansk oblasts.
It's worthwhile to argue and be indignant about a document that was in the end essentially forced on us by the head of state. Who are the main guarantors and signatories? Besides the weak-in- the-knees Verkhovna Rada? If it's Putin and Poroshenko, then why we are still hearing the howitzers and not the applause? Are we going to be attacked again or not anymore? What's going on with our borders in general? Our state border has been crossed by Russian tanks going to work every day for over six months. The authorities are still getting ready to start the joint monitoring. Even though one governor already stated to the entire country that the required towers can be placed in an hour and can capture all incursions in real time.
People, what is going on? And what's with the "certain areas of Donetsk and Luhansk oblasts"? The ATO zone is not demarcated. It's being stretched in every direction and rocked by artillery. As our President told us, during just the period of the ceasefire 17 servicemen have been killed. And about the same number of local residents. What's going on with the status of these territories? The current masters stated directly that they have nothing to do with the Minsk accords, or the law. Even if they considered themselves to be the unnamed DNR or LNR, or the occupiers, they've won. And it is possible that someday they may count this document as a basis for future economic agreements. If their "high council" would agree to it. The keyword is economic agreements.
Please, don't get excited about "why Ukraine should restore the zone that is being controlled by the bandits". Calm down. Ukraine stopped feeding them some time ago. Unlike Russia and Yanukovych, who are feeding Chechen fighters and "Pskov paratroopers". Three million Ukrainian citizens, who have been forced by our authorities into the "separate territories" of Donbas, haven't been supported by them since July. They haven't had pensions or salaries in two months.
So, when Arseniy Yatseniuk says that the Cabinet of Ministers isn't going to legalize the fighters and will only start to finance the reconstruction programs after the territories become "ours", he isn't kidding. The electorate should believe the leader of the "People's Front". And people should think about who we are after this. And remember the bell that has tolled for a long time.
Too many layers, interests, lives collided… but the main problem is to properly and honestly identify what happened. War. Aggressor. Occupation of parts of territories. With all the consequences that follow. Martial Law and cancellation of the elections.
Only from these key definitions can the authorities have an honest conversation with themselves, with Ukraine and with those people who ended up in the war zone. In the harsh dialog with them (what can be harsher than "you started it, now deal with it"), authorities kept dragging their feet and taking breaks. And we are not talking about the information war that was lost to Russia with concepts like "banderites" and "right sector extremists" imposed on Donbas. We are talking about a real desire of "banderites" to have an honest conversation with their fellow citizens and to help. But! The humanitarian corridor from Sloviansk was opened only on the sixtieth day of the open fighting for the town. Humanitarian help for Luhansk's started only on the same day when Putin's convoy showed up. The state headquarters for the displaced, which can provide real help, only opened after the second month and thousands of displaced people. Restoring the infrastructure in the liberated cities started only after it became clear who will inherit the factories. These are scary words. What other words could we use when two and half month after the liberation of Sloviansk, no funds have been allocated from the state budget for it's rehabilitation, the same with other Donbas cities.
According to the deputy head of the Donetsk State Administration, Olena Petriaieva, employees of higher education institutions, schools, pre-schools, hospitals, libraries, and utilities haven't been paid for over two months. The same with pensions.
For some reason financial transfers are blocked in the ATO zone, even though State Bank branches are working. People are ready to stand in line for five hours to get their money. They are even ready to travel to neighboring towns to do that. I couldn't get an answer to this question from madam Slyuz, the head of the State Treasury. I tried writing and calling but it seems she is not ready to draw fire on herself or get her boss in trouble.
In the meantime, hospitals, orphanages, childcare and elder care facilities are left without financing. Not everyone managed to evacuate. Children and the elderly are without food and medicine. For over two months! A similar situation with social services. Thousands of people left without support.
Another growing problem is with the people who are now returning into the war zone because they are tired of living without knowing what's going on. They are having trouble finding work and housing. There are lines at checkpoints. People are going back home. To DNR and LNR.
Tags: Donbas, Donbas war (2014-present)