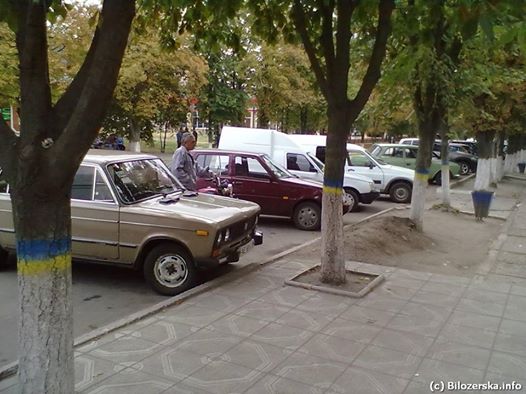 By Olena Bilozerkska
Olena Bilozerska is a well-known Kyiv  journalist who is now a fighter with the women's corp of the Right Sector volunteer battalion.
"I am often told that I should write a book after the war ends. Well, I need to survive the war first. And second, to be honest, I don't have a clear idea yet about what such a book could possibly be about.We truly live in a parallel universe compared with the life I left behind in Kyiv, complete with its own rhythm of daily life. It seems far too ordinary in its own way to write about it. It becomes so mundane in fact that I have to force myself to find subjects that make interesting photography. For example, there is graffiti on the doors to our rooms that I pass several times a day. Intellectually, I get the concept that all of this is historic and worth recording. I understand, but lack the emotional motivation.On the other hand, there really is no time to wait for a better occasion during which to write this hypothetical book. I need to be writing now about what is happening in the country. I do have some time these days, and so I will share a few thoughts while here at base camp. We are on training exercises, and no one really can predict how long we will be in this routine, and especially what will happen next.
It is common knowledge that the Ukrainian people themselves are supplying both the Ukrainian army and the volunteer Ukrainian military formations with much of what they need. I am not referring to the system of taxation that goes toward the armed forces of the country, but rather a very direct support with money and materiel. Individuals provide financial resources, along with a wide array of products and items such as bullet proof vests. Then volunteers offer their vehicles to transport all this outpouring of goodwill from the smallest of Ukrainian villages, often at great physical risk to their own lives.
I would like to give you a glimpse into the subjective experience of receiving this generosity from our point of view, beyond what it means to see the steady stream of supply vehicles coming and going from our bases.
There is a small village along the border of Dnipropetrovsk and Donetsk oblasts. Just as in Kyiv and all throughout the country, you will find many flags flying in this village, as well as blue and yellow painted in prominent locations. Imagine us arriving in town, more like bandits than soldiers because we lack the proper legal status as a recognized military formation. I am armed with a weapon, dressed like a hunter in a uniform sent by Ukrainians in the Diaspora. I wear heavy old boots that I bought eight years ago. (I never had the time get anything else when the vehicle sent for me arrived; so I train in these clumsy things). I would never have dreamt that I would live to see the day when I would be wearing such boots through "hell and high water" and into war. And who would have thought that the winter clothing I bought to get me through the cold months of the Maidan would be used again in a war zone….
So we are in this town, and stop at a store to buy a watch. The clerk is pleasant enough, and by all appearances the owner, with another younger employee. And they recognize me. They don't associate me with being a journalist, but from seeing me on the internet from videos about the Ukrainian Volunteer Corps. It turns out that people are watching these videos. On another occasion Dmytro Yarosh had been in their store, so they took pictures with him and invited him to come back again. They joke that they forgot to ask him for his business card. We had such a nice conversation with them. Before we left we bought a watch that was worth 140 hryvnia, but they sold it to us for 90. "This is my way of supporting those at the front," the owner explained. "I won't regret the loss of money, and besides it would be more important for the soldiers to have socks."
Then we find the local bazaar, and shop for various little items such as light bulbs and shoe polish. The vendors sell us everything at a big discount. There is an old man standing at the corner. He is in uniform, looking dignified even at his age. He is armed. There are two young men in uniform with him, also carrying weapons. He looks at me, then greets me with a tip of his hat, while the young men salute me. "Who are they?" I ask. "They are our local defense." The same response comes from those driving vehicles, honking their horns in welcome. Some of the civilian drivers wave at us, eager to show their support. "Good day. I am on your side." When soldiers from the army pass by we likewise salute each other.
Now of course with all this good there must be a little bad. I need a haircut, as my hair is a mess. I find a small place, which isn't busy, with three older hair dressers inside. They take one look at my uniform and say (in Russian), "I'm sorry my dear, but we can't help you, we work by appointment only, and we're all booked." It seems more likely to me that someone had warned them not to help us.
I had visions of holding my ground, sitting down in a barber's chair, placing my handgun on my lap and asking politely, "Kindly cut my hair." But in the interest of not making a scene, I simply left the shop.
The next place I entered had the appearance of being much more expensive. It was called "Beauty Salon". The girls who worked there were much younger and more welcoming. They had no problem with me as a customer, and in fact only charged me half the price for my haircut.
That was the common denominator of the day: everywhere we bought what we needed at a discount….And the question heard most often wherever we went: Do you think they will advance this far?" To which we insistently replied, "No they won't. Not if we can help it."
The overwhelming majority of people in this little town are Russian speakers. From where they live you can almost see the terrorists in action. So tell me, what are they doing differently, why such a fundamental disparity between life in this town compared with life just a few kilometres to the east? It's the same country. The main distinction is that here they refused entry to Putin's armed bandits, while down the road the idiots let them in.
---
Source and Photo:  Facebook page of Olena Bilozerksa, Translated from Ukrainian by Jeffrey D. Stephaniuk
Tags: Donbas