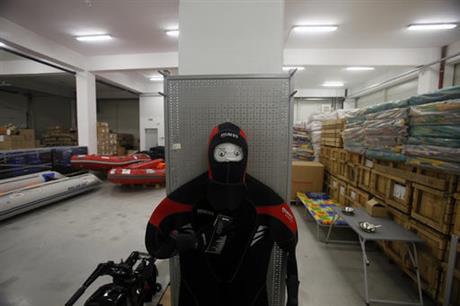 "Russian-Serbian Humanitarian Center" near an airport in the town of Nis, Serbia. (AP Photo/Darko Vojinovic) 
A few weeks ago the Associated Press published a widely syndicated article about a Russian 'spy base' located near the airport adjacent to the second largest city in Serbia, Nis (Nish).
"In the command room there are large surveillance screens, in the warehouse rescue equipment; an unfinished gray concrete building serves as a training site. Is this a Russian-run disaster relief center in Serbia as Moscow claims, or is it an outpost for Kremlin spies in the heart of the Balkans?" asks the author.
As the article notes, some Western NGOs and military analysts say the Russians have established a thinly disguised military base in Serbia, which is engaged in spying on American military interests in the Balkans. One of the arguments in favor of this conclusion, the author contends, is the fact that relief centers for the victims of natural disasters in Russia traditionally fall under the auspices of the Ministry of Emergency Situations, "a powerful semi-military outfit whose activities do include disaster relief, but it also carries out jobs for Russia's security services."
In addition, the author admits that during his visit to the "Russian-Serbian Humanitarian Center," he found very few visible signs that it's being used for anything other than dealing with floods, forest fires or other natural disasters. In particular, on hand was only one ambulance, one SUV «Niva», some tents, rubber rafts and mostly firefighting equipment.
Commenting on this, political analyst and economist, director of the SEAS Foundation, Vencislav Buyich said in an interview with Krym Realii that, at the present time, most likely, the humanitarian center near Nis is being used primarily for its intended purpose, but that doesn't mean that in the near future Russia's "partners" won't be able to convert it into a fully operational military base.
"I have already mentioned meeting Sergey Lushch from the pro-Kremlin organization "Rus' molodaya" (Minsk) in Belgrade in the spring.
During that meeting he spoke quite openly about his plans to destabilize Serbia. In particular, Lushch said that he needs to have his own people in every Serbian city that has population over twenty thousand.
The main task of these people and organizations is to gain the trust of the locals, mostly through active social work and land improvement projects. Lushch emphasized that these activists should never outwardly demonstrate their pro-Russian orientation, and definitely shouldn't ever speak publicly against the pro-western development of the country," says Buyich.
Buyish states that pro-Kremlin organization functionaries planned to prepare their own "sleeping agents" throughout Serbia, who, at a given moment, would be able begin anti-Western uprisings in all of their respective cities.
"The same principle is being used at the 'Russian-Serbian Humanitarian Center.' Its main task, at least right now, is also gaining society's trust. For example, if floods begin, or simply the water level is high, television would show harsh scenes of people drowning, homes with water up to their roofs. Then, miraculously, Russian rescuers show up all of a sudden! The next frame would then show how Russians risk their lives, bravely rescuing homes, people and animals. Such scenes would be shown on every pro-Russian channel in Serbia: Look how brave are these heroes sent to us by the Kremlin. Subtitles would be added to make clear that such beneficial acts are the opposite of NATO, who bombed us and killed civilians.
And then, when the circumstances were favorable, the Kremlin could send its army to that same 'humanitarian' base, which at that point would automatically obtain its military status, in full accordance with the Lushch plan.
"That won't be hard to accomplish, considering that the base is now practically on the territory of  the Nis Airport. And, as soon as Russia's 'little green men' show up, Serbia can become a new 'Donbas,'" claims the Serbian expert.
Vencislav Buyich is making reference to the suggestions of some experts about where Moscow might start its next favorite "frozen conflict." In Belarus, Armenia and Georgia, analysts are seriously concerned for the future of their country. Vencislav believes that his country is at no less in the risk than any of these other countries.
"There is evidence for this conclusion.
"First, Putin and Erdogan recently signed an agreement on the "Turkish stream," which implies that Gazprom gas pipeline will pass through the territory of Greece, Macedonia, Serbia, on its way to Europe. That means that the Kremlin will try its best to have the pipeline not enter the territory of NATO countries, and it will try to control those countries through which it plans to carry out gas transit.
"Secondly, Putin has noticeably increased his intervention in the affairs of the independent countries of the Western Balkans. In particular, he supported the referendum in the Republic of Srpska (which is a part of Bosnia and Herzegovina)  in September 2016, which dramatically increased tensions in that region," says Buyich.
At the same time, according to Vencislav Buyich, Serbian authorities are still not aware of the extent of the Russian threat, and are still heading in the direction of a conflict with NATO.
"Recently, NATO General Petr Pavel stated that the situation in the Balkans is far from stable, and as a result, the Alliance's army is paying attention to the region.  He also noted that he is afraid not only of Islamic extremism, but also of Russia strengthening its influence in the Bosnia and Herzegovina region. General Pavel didn't mention Serbia by name. However, Serbian President Tomislav Nikolich and Prime Minister Aleksandar Vuchich voiced opposition to the NATO generals, stating boldly, 'NATO should not threaten us.' This means that they took negative remarks about Russia personally against themselves, and that's a very alarming sign. Add to this the fact that a few days ago, while opening the General Consulate in St. Petersburg, Nikolich made a point of saying emphatically that 'Serbia will forever be grateful to Russia and Putin.' I believe those words are unacceptable about the country who would force the Serbs into a conflict with NATO," notes Buyich.
Moreover, the expert warns that flirting with Moscow could end very badly for Serbia. We've already seen the results of this form of cooperation, in the ruined and war-torn region of Donbas in eastern Ukraine.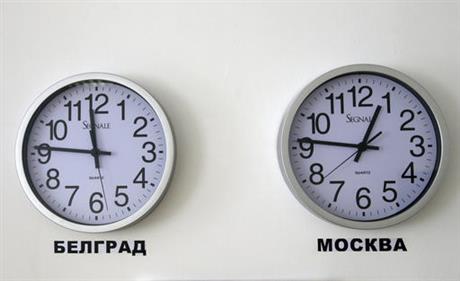 "The next three months will be dangerous for Serbia and for the Western Balkans in general. Putin has really pushed himself into a corner, and as a result, he is prepared to take dangerous steps. Moreover, if he starts a new frozen conflict in that region before the New Year, he will be determined to maintain instability as long as possible, simply because it is suitable for Moscow to have "The Turkish Stream" pipeline remain under its control for many years. That signifies a further decline of the Western Balkans and a constant source of conflict in Europe. For its own security, Serbia needs to join NATO as soon as possible," concludes Buyich.
---
Related:
Tags: Buyich, Donbas, espionage, Europe, Frozen conflicts, gas pipeline, Gas transit system, International, Lushch, Military analysis, NATO, Nis, Russia, Russian influence, Russian propaganda, Serbia, Spy Base, Turkish Stream gas pipeline