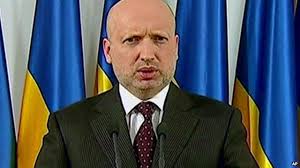 Verkhovna Rada Speaker Oleksandr Turchynov said Ukraine will not agree to Russia's control of the Donbas and that Ukraine may need to declare martial law if peaceful means fail to settle the situation in the area. He shared his views in an interview with Focus, September 11, as reported by the press service of the Verkhovna Rada.
Turchynov stated that he does not trust "either Putin or Russian militarism." "I am very skeptical that they want to get out of Ukraine peacefully. I think they will do anything to disrupt the peace talks and continue their aggression against Ukraine," he said.
According to Turchynov, the presence of Russian troops in the Donbas and the invasion of the territory of an independent state have no legal justification and represent direct military aggression. "Any agreement regarding future events must require the immediate withdrawal of all military troops and equipment of the armed forces of Russia from the territory of Ukraine as well as the complete disarmament of the terrorist gangs. Only then will the peace talks have any meaning," he said.
When asked how Ukraine would act if Russia does not withdraw its soldiers from Ukrainian territory, even with the truce agreement, Turchynov said that Ukraine must regroup and strengthen its armed forces, change its tactics for liberating the cities in the Donetsk and  Luhansk oblasts from Russian forces, and set up an active defense along the border with the Russian Federation. "I hope that this truce will be used for the defense and liberation of Ukraine," he said.
Turchynov rejected the idea that the seized areas of the Donbas could be declared occupied territories. "We should not be making any announcements, but we should be liberating territory. Our task is to prevent the Donbas from being turned into a frozen conflict zone. This is the only way to view any action in the East. This is why I reject any agreement whereby Ukraine would agree for Russia to control a part of the territory of the Donetsk and Luhansk oblasts," he said.
"If peaceful means for clearing out the Donbas fail, then we have no alternative but to introduce martial law and again mobilize all the resources of the country to clear it from invaders," he said.  "Additionally, I'm convinced that if Russian aggression does not end, we may see the effect of sanctions by the West that would lead to the economic collapse of the Russian Federation."
Turchynov added that the Constitution provides for the introduction of martial law.
When asked if there are sufficient votes in Parliament for declaring martial law, Turchynov said that "only the president presents this issue for discussion in the National Security and Defense Council, after which he signs the decree on the introduction of martial law, which then needs to be confirmed by  a majority vote in Parliament. "If the President decides to issue such a decree, the Parliament will always support him," he said.
rada.gov.ua, translated by Anna Mostovych
Tags: News, Russian invasion, Turchynov