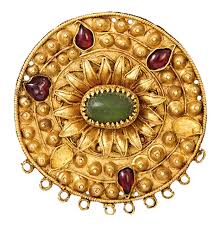 Liudmyla Strokova, Director of the Museum of Historical Treasures of Ukraine in Kyiv announced that the Allard Pierson Museum in Amsterdam has returned the collection of Scythian gold to Kyiv. The exhibits were brought to the Dutch museum from Crimea before the peninsula was annexed by Russia.
Strokova added that 19 exhibits, comprising 22 gold items, have been returned to Kyiv and will be featured as of September 9 in the exhibition "Crimea – the Golden Island in the Black Sea" at the Museum of Historical Treasures.
She also stated that more than 500 artifacts from Crimean museums still remain in the Netherlands, and it is not known where they will be returned.
The controversial collection of Crimean Scythian gold was brought to the Allard Pierson Museum in Amsterdam at the beginning of February 2014. After the annexation of Crimea by Russia, authorities in the Netherlands could not decide where to return the artifacts, so the exhibition was extended until the end of August.
The collection, worth 11.5 million euros, includes 22 gold, silver and bronze items, made from the 4th century BC to the first century AD. These items were organized into 19 exhibits, which include a gold helmet, a gold sword with scabbard and Sarmatian treasures.
Source: 
tvrain.ru,
  translated by Christine Chraibi
Tags: Crimea