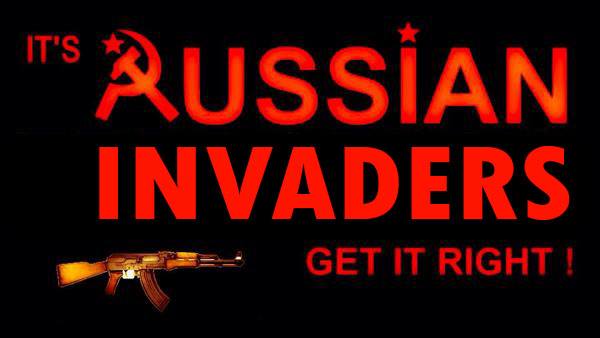 I am surprised that some media call Russian terrorists in eastern Ukraine "rebels." There is enough evidence that Kremlin had planned and sponsored covert (not anymore) operations in Ukraine, had supplied troops and armory, and keeps spreading lies about events in Ukraine… I wrote an official complaint to a major UK newspapers and the editors were attentive and tactful in their responses.
My complaint in relation to a publication mentioning "rebels"
There are no "rebels" in eastern Ukraine. There are only armed groups led by russian terrorists. Kremlin prepared all covert operations because they cannot just take ukrainian land without an excuse. Look at the situation with the so-called "convoy" – Putin does not care that Red Cross and UN clearly prohibited Russian intrusion. Annexation of Crimea and unrest in Donbas were planned by Kremlin and you know it. There are no "rebels".
1st Editors' response
While it may indeed be the case that there is Russian involvement in the rebellion in eastern Ukraine, I do not think it is in dispute that those fighting against the Ukrainian government include people who are native to the relevant area in Ukraine. I think it is absolutely legitimate to refer to them as rebels.
My reply
Thank you for your prompt response to my complaint related to the coverage of events in eastern Ukraine. People involved in fighting against the Ukrainian government include locals, but it is not a reason to call them rebels and Kremlin's prepared covert operations in order to take Ukrainian land to call rebellion. The leaders of this so-called "rebellion" are Russian citizens who are specialists in creating separatist states (like Transnistria, Ossetia, and Abkhazia). Ukraine was not involved in any wars since former USSR fell apart. And look at Russia starting conflicts against former Soviet republics!
Ex-KGB agent Putin started a hybrid war against Ukraine and information war is a part of it. Normally, there are two sides of the story and you think that the truth is in the middle. There is a Ukrainian side (as any other country's or political party's) and there is a twisted reality by Kremlin's media and the army of social KGB-paid trolls. The truth is far from the middle of these two sides. Some local Eastern-Ukrainian people were blinded by Kremlin's propaganda and followed Russian terrorist leaders.
During many years "Great Russian" chauvinism suppressed cultures and languages of other former USSR republics and people used to speak Russian. Now they watch Russian TV (even in western Ukraine which joined former USSR only after Molotoff-Ribentrop pact in 1940. I am a native Russian-speaker from that area).
Kremlin's propaganda is so strong that my grandfather had a picture of Stalin in his room until his death in 2008. He was keeping the picture after being in Stalin's camp for 11 months and having his chest broken during tortures there. Putin has a strong control of Russian media, putting now in place stricter and stricter laws for more control including use of Internet.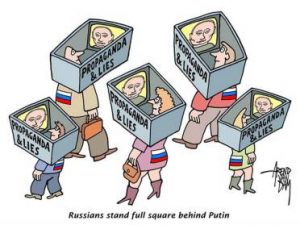 The KGB was working in former USSR countries for years. I could disassemble and re-assemble a Kalashnikov in 1 minute with closed eyes at the age of 15. And I was not a big exception – everyone had to pass this test (with open eyes) in our military preparation course. We were ready for the time when "fascist snake picks up it head again" and Putin invented this snake years later in order to annex Crimea and get eastern-Ukrainian land.
When my husband and I went to EuroMaidan at the time when ex-president of Ukraine Yanukovych was running away to Russia, Ukrainian people gratefully greeted us "thanks that you came and did not believe we were fascists." I was surprised – of course, Ukrainian people are not fascists! But my husband (he is French) explained that I haven't heard Putin's propaganda and some people got affected (extreme right in France helped to spread Putin's lies in French community). Look at the results of elections to the EU parliament: extreme right party in France – 25%, while in Ukraine extreme right candidates for President gathered less than 2% for both extreme right parties, only ones that could be associated with fascism.
EuroMaidan stood against the corruption that was nurtured in Ukraine (like in other former USSR republics including Russia) for years. Imagine that you need to bribe police for looking into your case, can drive away from a crime scene after bribing a policeman, being ready with a bribe when you go to a doctor, or anything else, everywhere. People felt like they could not make any difference in society and were quiet. EuroMaidan gave them a hope for a better future. Still there are many of people "at the feeder" who were happy in the old rotten society, who switch sides as soon as they smell money. My uncle who lives in south-eastern Ukraine was told that he would lose his job as a doctor if he doesn't go to a protest in support of separatists.
Look at the independent report by Gallup survey company that shows only 33% of locals in Crimea were interested in joining Russia in 2011 and 23% in 2013. Then Russia reported completely different numbers for their referendum (which should have been done by Ukrainian government to be legitimate).
Of course, there is a small fraction of people in Donbas who really wanted to join with Russia (and these are probably ones who moved to Russia by now). There are some that were affected strongly by "Great Russian" chauvinism, who were genuinely confused by Kremlin's propaganda, who switched for money – but these people were manipulated, they are not rebels. This conflict is NOT a "civil" war, it was brought onto Ukrainian people by Kremlin.
All eastern Ukrainian territories freed from terrorists return to their normal functioning. And Russia is openly firing now, bringing troops and ammunition into Ukraine.
2nd Editors' response
I do take on board what you say about the role of the Russian government and it is something we will continue to highlight in the reports in our publications.
What should I reply to this?
Editor's note: we will be glad to hear of your experiences with contacting media outlets, please submit them in the comments! If the topic of rebels, terrorists, and invaders bothers you, it's just the right time to join Euromaidanpress's
#Get it right
campaign and send out tweets to the media's that haven't yet understood that #RussiaInvadedUkraine.
PS. On August 25, 2014, 
 New Zealand Herald, a very popular newspaper in New Zealand had described war in Ukraine as a "civil war". Thanks to people from 
Ukrainian Association of New Zealand (UANZ)
 and Kiril Yuschenko especially, the next day the newspaper made a clarification on the article signed off by foreign section editor Nicola Lamb. So activism pays off.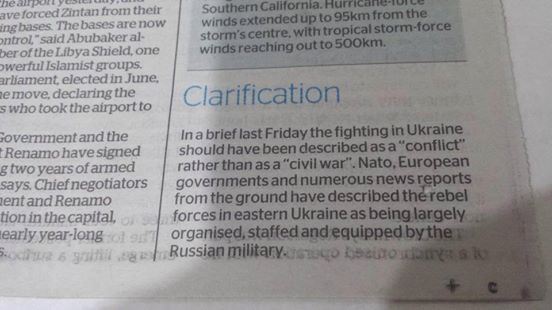 Tags: International, RussiaInvadedUkraine, Russian mercenaries, Russian propaganda, Ukraine