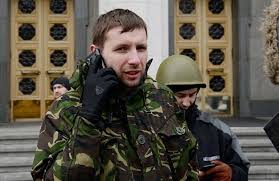 Parasiuk was the young man who got up on the Maidan stage in February and spoke out vehemently against any negotiations with Yanukovych and Co. The next day, Yanukovych fled the country…..
Dear Mr. President! Please excuse my language but what kind of shitty truce is this? What do you mean by 72 hours more? Your experiments with the truce this week have cost us 22 lives. These men were someone's husbands, fathers or children. What are you waiting for? Even those bandits Gubarev and Hirkin have stated that they don't want to make peace with Ukraine, but you continue to wait. I wonder… if your son were sitting in a trench in an eastern region, would you have declared a truce? I think that's unlikely. Instead, you would've sent in all our forces to defeat the enemy. Are the lives of ordinary Ukrainian citizens less precious? While you draw up fairy-tale plans in government offices and organize negotiations, people are dying over here. But, how can one negotiate with gangsters? Don't you understand that you're humiliating Ukraine by pursuing these negotiations? After all, you're putting a large independent state, which has been recognized by the whole world, on the same level as a gang of terrorists. There's nobody to negotiate with.
Perhaps you can't see this from Kyiv, but all of us here see who's fighting to join the "rasha pederation" (Russian Federation – Editor) and all those DPRs-LPRs ("Donetsk People's Republic"/ "Luhansk People's Republic" – Editor). Putin's brought in his gangsters, given them a stock of weapons and now they're doing whatever they want. Such individuals as Gubarev, Strelkov, Pushylin and other evil creatures don't give a damn about your peace. They want war and devastation because then they can kill, rape, steal and no one will do anything about it. They've also stirred up the "local" elite – the homeless, alcoholics, drug addicts and other dregs of society; not only do they not understand the meaning of the word "federalization", but they probably don't even know how to write the letter "Ф" (F). Then there are all those grannies who see Stalin waving at them from the world beyond; they're very eager to create a "pederation" as their "ultimate dream is to die in Rasha". Can you name at least one decent terrorist with whom you can negotiate in eastern Ukraine? No, you can't, because they are simply not there.
This is no time for delay and useless talk; it's time to act and act quickly. If you don't know what to do, talk to the soldiers, and not those fat armchair generals who're taking money and letting terrorists cross our borders, who're selling army rations and building country homes with money stolen from the army. Talk to the military officers who are now fighting in the eastern regions, those who have no bulletproof vest to protect them and walk around in worn-out army boots. They know exactly how to win this war.
I firmly believe that the following measures should be taken:
Declare martial law in the Donetsk and Luhansk Oblasts.
Dismiss all the generals. They're useless, but we're still feeding them. Appoint real military officers in their place.
Seal the border with the "pederation", but do it properly, and not just with empty words.
Create a single coordination centre for all military divisions involved in ATO operations
Assign to senior positions only persons who are not afraid to take responsibility for our country's destiny.
Suspend all negotiations with the terrorists.
Do what it takes to clothe and arm the army. Our people are doing everything they can. 70-year-old grandmothers carrying bulletproof vests for our soldiers cross the Polish border every day, so couldn't our deputies and ministers also donate a month's salary just once?
Bring order to the police in the eastern regions. This area is teeming with corrupt cops, prosecutors and SBU agents. We detain separatists, hand them over to police officers, and they go and release these bastard. Dismiss all the policemen in Donbas. Bring in police from other areas of Ukraine. If they don't agree, fire them! There are too many of these parasites in Ukraine.
Mr. Poroshenko, you either do something or get the hell out and continue selling your chocolates. If you fail to act, you'll witness such a Maidan that there will be no place in the world for you to hide!
translated by Christine Chraibi
Source: Volodymyr Parasiuk's FB
Tags: Parasyuk, Petro Poroshenko