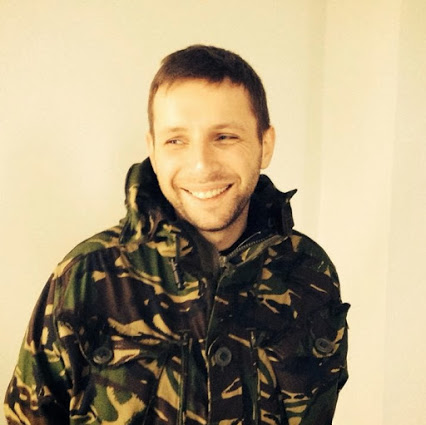 Volodymyr Parasyuk is the young man who took to the Maidan stage in February and berated Ukrainian politicians for negotiating with Yanukovych (Editor)
The President has decided to suspend the truce. Thank you, Mr. Poroshenko for taking such an important step. Together we will win and cleanse our land from the evil (terrorists, separatists, etc.) that has spread throughout the eastern regions.
Mr. President, I would advise you to listen less to Europe and Russia and more to the opinions of the Ukrainian people. Foreign politicians express their indignation through empty words and promise to help, but actually they only act in the interests of their country. However, you and I live in Ukraine… and we do not have another homeland. The people have put their trust in you and have elected you as their leader. Listen to the voice of the people for it will never betray you. We will fight to the very end, just as we did on the Maidan. We have enough resources and strength to build a prosperous nation and not dance to the tune of either Europe or Russia.
I also appeal to my countrymen. Dear Ukrainian! ATO continues. You should use all your energy and resources to help our soldiers fighting in the eastern regions. There can be no such thing as people fighting and using their own money to buy ammunition, while others carry on as if nothing is happening. If we don't do our best and drive out the enemies on our eastern borders, they will soon be in our western regions. If you want a peaceful sky over your head, and you do not wish to be felling trees in the Russian taiga, I ask you not to spend your money on restaurants and nightclubs, but do everything you can to help the army.
The whole country must stand together; then we will overcome our enemies and win quickly. The government should finally realize that we are a free and independent country, that decisions should be made in the interests of the people, that we shouldn't look over our shoulder to hear what our neighbour has to say. The people must unite and forget that popular saying "moya khata z krayu" (it's none of my business). Everything that happens in our country concerns us all; after all, we hold the power here. While some men continue fighting, others in the rear lines should help in any way they can. As for our soldiers… the very best, the bravest and most fearless patriots are fighting here in the East. We will not let them down. We will lay down our lives, but we will not betray our homeland.
Wise and independent decisions and orders from our leaders + help and support from our people + coordinated actions of all ATO divisions = VICTORY FOR UKRAINE.
God is with us and Ukraine!
translated by Christine Chraibi
Source: Facebook/ParasyukFB
Tags: Eastern Ukraine, Parasyuk