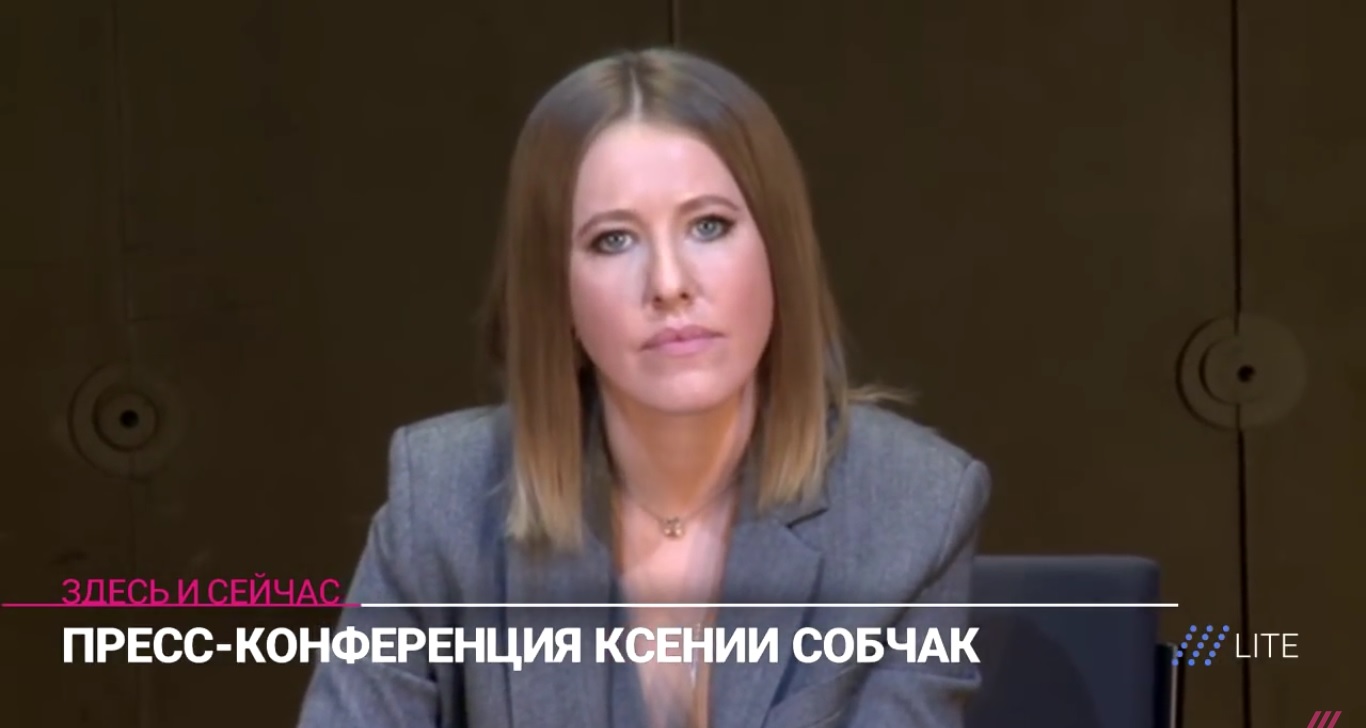 Kseniya Sobchak's first press conference after her announcement to run against Vladimir Putin in 2018 presidential elections. October 24, 2017 (Image: Youtube video capture)
Kseniya Sobchak's statement that Crimea is Ukrainian under international law may not matter too much in the short term, Vitaly Portnikov says. On the one hand, it may all be part of a Kremlin game to appear tolerant. And on the other, she won't have the chance to implement it because she isn't going to be elected Russian president.
Those twin realities have led many to dismiss her words, but that is a mistake, the Ukrainian commentator says, because by making them, Sobchak has returned the discussion of the status of Crimea to open political discussion in Russia, something that had previously been impossible because of a legal ban on call for changes in Russia's external borders.
She has found a way to express something that no one could before. Admittedly, Portnikov continues,

her position "will not influence the majority of Russians" at least not today. "But what is important is not the number of people" who support her or this position. What matters is that it is now again in Russia's public space.
Most opposition leaders, including Alexei Navalny, have felt that they cannot challenge the "Crimea is Ours" majority head on even if they are so inclined; and Navalny, by all the evidence, isn't. Instead, he is quite prepared to play to the imperialist majority because that is a way to get votes now.
But "sooner or later," Portnikov says, "with Putin or without this aging ruler, Russian society will be forced to come to an understanding of the necessity of normalizing relations with Ukraine, with the return of the territories it has seized, with a final rejection of an expansionist foreign policy, and with a condemnation of chauvinism and aggression."
Sobchak's words, however little they affect Russia right now, help bring that day closer, the analyst says, because "Russia is a country in which three percent support for this or that position can easily be transformed into 73 percent by actions of the authorities or television. That is something that must always be remembered."
Related:
Edited by: A. N.
Tags: #CrimeaIsUkraine, 2018 Russian presidential elections, Alexei Navalny, annexation of Crimea, Crimea, international, Kseniya Sobchak, Navalny, Russia, Russia's Anschluss of Crimea, Sobchak