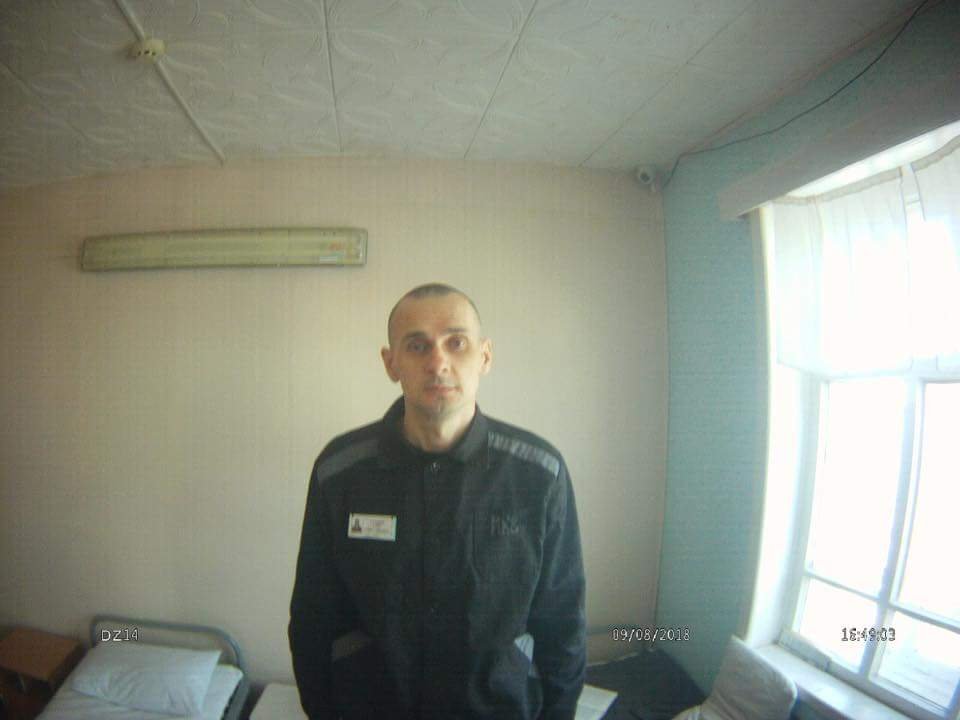 Russian Ombudswoman Tatyana Moskalkova sent this photo, claiming that it was made on the 88th day of Oleg Sentsov's hunger strike. Photo: https://www.facebook.com/denisovaombudsman 
One of Vladimir Putin's greatest advantages has been the willingness of others to accept his definition of what is occurring rather than describe things honestly be it the invasions of Georgia and Ukraine, the Anschluss of Crimea, or the crimes he has inflicted on his own population.
That pattern is continuing in the case of Oleh Sentsov, the Ukrainian now near death after nearly three months of hunger strike in a Russian prison. Media in Moscow and the West have offered many descriptions, but the most honest, according to Ilya Milshteyn, is this: "Putin is killing Sentsov."
Had Putin not invaded Ukraine and taken hostages, Sentsov wouldn't be in prison; and had Putin not decided on his death, he wouldn't be facing it, Milshteyn writes. Sentsov, his lawyer says, is in a catastrophic state and is "preparing himself for death." But "the most horrific thing is that Vladimir Putin apparently had taken a more or less final decision to kill Oleh Sentsov."
Putin's ombudsman has done nothing, and Putin himself has said he can't get involved in a Russian court decision, a statement echoed by his underlings but one so absurd given his past practices that it is impossible to take seriously, the Russian commentator says. Unfortunately, all too many do.
Some argue that Putin is killing Sentsov because he doesn't like to give way to pressure; but that position is without much foundation given that the Kremlin leader has done so in the past with others like Khodorkovsky, Lebedev, Alekhina and Savchenko, Milshteyn continues.
"It isn't excluded that Dmitry Dinze is right when he suggests that by killing Sentsov, Putin wants once and for all to solve the problem of political hunger strikes." Or it may be that "the goal of the old man in the Kremlin is to worsen relations with the West while spreading fear within the country."
Putin may calculate that he can get away with killing Sentsov in both places, the former because it has been willing to overlook many of his past crimes, including "mass murders," and the latter because it is used to putting up with whatever he does given its fear that opposing him will lead to horrific consequences.
But whatever the explanation for Putin's action in this case, Milshteyn concludes, everyone must remember that he doesn't have to kill Sentsov and so if he is doing so, he is a murderer and must be identified as such even if no immediate punishment other than that appears available.
Read More:
Tags: #CrimeaIsUkraine, #LetMyPeopleGo, Annexation of Crimea, Crimea, Crimes of the Russian occupation regime in Crimea, International, Oleh Sentsov, Political prisoners, Putin, Russia, Russia's Anschluss of Crimea