What was Euromaidan?
With Euromaidan, Ukrainian society made a choice to definitely leave the Soviet era behind and become part of the free and democratic world. The rebellion against tyranny was guided by a dream of a society governed by law and justice. On this page, we offer you a taste of the revolution and what it means for Ukraine and the region.
Experience what it was like to be part of Euromaidan with our collection of insider materials about the protests.
Some of the best analysis about Euromaidan and its significance.
Many films have been created about Euromaidan. Here is a selection of our favorites, many available online
Drones capture bird's eye view of Euromaidan
The Maidan square in Kyiv gathered up to a million people at one time. Drones captured it all - during protests in the day and a concert in the night. Watch this footage to get a feeling of the spirit of Euromaidan.
---
Spreading inspiration
Maїdan Inferno - a play about Euromaidan. The first Ukrainian play to make it to the French stage was about Euromaidan. 
Preserving the memory
Maidan oral history project gathers testimonies of witnesses of Euromaidan events.
Teaching about Euromaidan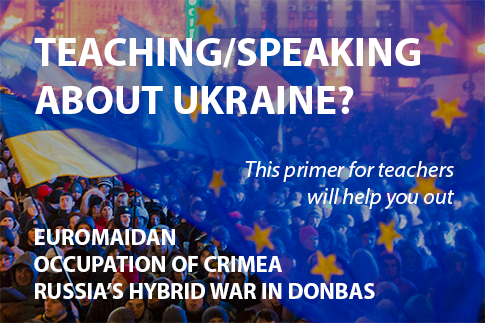 A primer composed by physics teacher Borislaw Bilash II contains everything you need to give a lecture or presentation about Ukraine's newest history.
---
The Heaven's Hundred

107 Euromaidan activists were shot dead by Yanukovych's regime in 2014. Here is what we know about the culprits. Separating myth from reality: 6 facts on the shooting of the Euromaidan protesters
Confused about events in Ukraine? We don't blame you. The protests started when then-President Yanukovych declined to sign the Association Agreement with the EU at the end of November 2013 and escalated into a de-facto revolution that left a hundred dead. Immediately after, Russia started a stealthy annexation of Crimea and takeover of South-Eastern Ukraine. The latter, being unsuccessful, has led to a frozen conflict in Donbas with which Russia hopes to continue to destabilize Ukraine. Here is the a short yet comprehensive guide through the chronicle of newest Ukrainian history - the Euromaidan revolution and subsequent Russian occupation and hybrid war. By Borislaw Bilash II, author of Primer about Russia's hybrid war.
---
Euromaidan as a formative element of the Ukrainian nation
Euromaidan,
rebirth of the Ukrainian nation,
and the German debate on Ukraine's national identity
A brief glance into history reveals what a definitive role Euromaidan has played in the formation of the Ukrainian nation. This article by Winfried Schneider-Deters explores how Ukraine's recently won independence is under threat, how Putin became a midwife of the Ukrainian nation, bilingualism and the war of secession in Donbas, delves into issues of Patriotism/'positive nationalism' in Ukraine, and contributes to the recent German debate on Ukraine being an 'artificial nation'.
Read: Euromaidan, rebirth of the Ukrainian nation, and the German debate on Ukraine's national identity
Follow Euromaidan Press

We are an independent voice of Ukraine building a bridge between Ukraine and the world by providing news and analysis from professionals and enthusiasts. Founded in January 2014 as the Public Relations Secretariat of the Headquarters of National Resistance of Euromaidan.