Since November 2013, the normally quiet and peaceful Ukraine has been all over the headlines. Riots, the capital city burning, Russian tanks, terrorists, and so on. Unless you have been reading all the news articles since the start, it is likely a bit confusing. So, what exactly is going on in Ukraine?
Intro
Ukraine's former President Yanukovych was elected in 2009. Once in the presidential chair, he began consolidating power for himself and acted very controversially. For instance, he declared that the Soviet genocide of millions of Ukrainians in 1933 was not actually a genocide. This would be similar to the president of Israel claiming that the Holocaust was not a genocide.
Furthermore, he took steps toward making Russian an official language, which would have further endangered the preservation of the Ukrainian language. He imprisoned Yulia Tymoshenko, his main political opponent, on trumped-up charges. He allowed the Russian Navy to keep its base on the Crimean peninsula despite the post-Soviet transitional period expiring. He even reverted the constitution to an older version which gave himself much more power. This was accomplished by declaring the newer constitution unconstitutional.
The last straw was when Yanukovych cancelled preparations for the European Union Association Agreement in November of 2013. Ukraine was working toward integration into the European Union. This process has stiff requirements for anti-corruption and government transparency. Ukrainians tolerated many of Yanukovych's actions simply because they believed things would get better so long as steps continued to be taken toward joining the European Union.
Once preparations were halted, people, especially students, were very upset. Mustafa Nayem, a Ukrainian journalist of Afghan origin, posted on Facebook asking people to come out to the Independence Square in Kyiv to protest.
"Okay, let's be serious. Who here would be ready to go to Maidan today by midnight? Party-poopers will not be taken into consideration. Only comments on this post with the words "I'm ready." Once there are over a thousand, we will organize ourselves."
Early Days
These first protests were on November 21, 2013. This was the start of Euromaidan, which earned its name from a hashtag used on Twitter on that first day. The name stems from 'Euro,' as in Europe, and 'Maidan,' the Ukrainian word for 'square.'
Just over a week later, on November 30, Berkut, the Ukrainian riot police, violently dispersed protesters on the square. This use of violence on protests was unprecedented in independent Ukraine and never occurred during the Orange Revolution.
The Euromaidan protests primarily consisted of students up until this point, but suddenly older generations came out onto the square in order to protect the rights of their children. While Euromaidan retained its original name, the actual goal of the revolution gradually began to shift from European integration to protection of fundamental rights. Riots broke out the next day, on December 1, and Berkut responded with an even more brutal crackdown.
The protesters, no longer feeling safe on the square, constructed barricades in a very Les Mis turn to the protests.
Dictatorship Laws and Hrushevskoho Riots
On January 16, what became known as the dictatorship laws were "passed" in the Ukrainian parliament. In reality, the vote occurred much too quickly to actually be counted and was done with a raise of hands, despite Ukrainian law mandating the use of electronic voting machines. Many of the laws were not even made public until after the vote.
The laws were essentially clones of Russian anti-protest laws. They included a ban on distribution of extremist materials, which was broadly defined. The government also claimed permission to censor or shut off the internet altogether, and could now find people guilty without them being present in court. Most notably, all mass disruptions became illegal, effectively rendering the Euromaidan illegal.
Three days later, on January 19, the Hrushevskoho Street Riots broke out between protesters and riot police. The first deaths of the revolution occurred as violence intensified on both sides. Improvised weapons were used, including Molotov Cocktails and fireworks. The Berkut riot police often wrapped noise grenades with bolts and duct tape to create shrapnel.
Starting on January 23, Ukrainians began taking over Regional State Administration buildings in many oblasts, effectively ending central government control over many of them. In 3 of the regions, Volyn, Lviv, and Ternopil, a new government structure called Narodna Rada, or the People's Council, came into power. Sergii Gorbachov chronicled the takeovers as they occurred by posting maps on Facebook. [The Party of Regions is the ruling party under then-President Viktor Yanukovych.]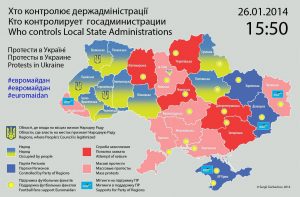 Revolution of Dignity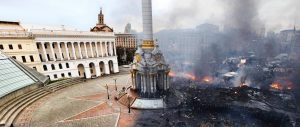 On February 18, there was a peaceful march toward parliament. Unbeknownst  to the protestors, snipers were positioned on rooftops. They fired at the crowds in what was to become the largest bloodbath Kyiv had seen since the second World War. Riot police closed in on the square in an attempt to squeeze the protesters out. However, instead of running away, protesters held their ground and fought back with whatever they could find, going so far as to tear up the road and hurl hunks of it as police with guns closed in.
After 3 days of violence, the riot police retreated from the unyielding crowd.
Yanukovych fled the country and was impeached. The revolution succeeded. Those who died were immortalized with the name "Nebesna Sotnya," which translates roughly to "Heavenly Hundred" or "Heavenly Battalion."
The interim government was left with a mess of a country, economically destroyed, greatly in debt, and filled with corruption in all ranks. They had a massive task of rebuilding before them.
Less than a week later, Russia would invade Crimea and create the artificial Pro-Russian Crisis in Ukraine.
Click here to read Part 2: Pro-Russian Crisis.