Intro
In an era when memes often dictate internet culture, Ukrainian maritime drones continue to make the rounds. Yet, these drones aren't just fodder for online humor; their continued appearance in the Russo-Ukrainian war is showing that Russia's navy, once dominant, has found itself outmaneuvered and pushed into retreat by a country with no navy.
At the beginning of Russia's full-scale invasion in early March 2022, the Ukrainian Navy sank their flagship frigate, the seasoned Hetman Sahaidachny, to prevent Russian possession. Scuttling this ship left Ukraine with only a handful of riverine patrol boats and limited capability to engage Russia on the open sea.
Meanwhile, Russia had its full Black Sea Fleet at its disposal, including ships captured and reflagged from the Ukrainian Navy when Russia invaded and illegally annexed Crimea in 2014. As a result, Ukraine lost over 80% of its naval capabilities after Russia's invasion of Crimea.
Russia's navy dominated the Black Sea, until now
However, over the past year, Russia, boasting the world's second-largest navy, has been forced to relocate a significant portion of its Black Sea Fleet, including all its Kilo-class submarines, from Sevastopol in occupied Crimea to Novorossiysk farther east on the Black Sea coast in Russia – more than 570 kilometers away from Odesa and other targets in Ukraine.
In May 2023, a Ukrainian maritime drone struck the Russian reconnaissance vessel Ivan Khuprirs in the Black Sea. Initially, Moscow asserted they had successfully repelled the attack. However, by June 2023, Ukraine intensified its offensive, deploying six remote-controlled maritime drones to target the Russian intelligence vessel Priazovye, approximately 300 kilometers from Sevastopol, challenging Russian naval dominance beyond Crimea.
Ukraine's growing maritime abilities were once again underlined when their drones incapacitated a Russian warship and an oil tanker in early August.
Following the attacks, Former United States Navy Admiral James George Stavridis remarked, "We're at a juncture in military evolution akin to the game-changers like Agincourt or Pearl Harbor. Expensive manned surface warships now face existential threats from affordable drones."
Ukrainian marine drones are improving, recent attack on Novorossiysk shows
Oleksiy Danilov, the secretary of Ukraine's Security and Defense Council pointed out that "With each new combat mission, Ukrainian combat UAVs and maritime drones become more accurate, operators more experienced, combat coordination more effective, and manufacturers get the opportunity to improve tactical and technical characteristics."
During this attack, the Russian oil tanker "SIG," built in 2014 with a 5,000-ton capacity, was targeted with 450 kilograms of TNT while ferrying fuel for the Russian military. This tanker was integral to fueling Russian operations in Syria and was under US sanctions.
The maritime drones could change the complexion of the war by forcing Russia to commit more resources to protecting its ports, warships, and cargo ships that it uses to transport weapons, fuel, and other supplies for its military.
Ukraine further issued a stern warning, deeming six Russian Black Sea ports, Taman, Anapa, Novorossiysk, Gelendzhik, Tuapse, and Sochi in a "war risk area." On August 5th, Ukraine's Defense Ministry said, "There are no more safe waters or peaceful harbors for you in the Black and Azov Seas."
Kyrylo Budanov, chief of Ukraine's military intelligence, emphasized that domestically-produced sea drones have paralyzed Russia's Black Sea Fleet and are now being mass-produced. He noted that approximately 30-40% of these drones successfully strike their targets, causing Russian ships to avoid venturing north of Sevastopol due to the risk of drone attacks.
Ukraine spymaster: Even 30% of naval drones that reach targets problem for Russia
Crimean bridge and the Black Sea
Nearly two months into Russia's full-scale invasion, Ukraine sank the Moskva – flagship of the Russian Black Sea Fleet, using Neptune anti-ship missiles. While a morale boost for Ukraine, it didn't shift the power dynamics in the Black Sea. That shift would begin as Ukraine introduced maritime drones later on.
On 17 July 2023, the Crimean bridge, a prime symbol of Putin's imperial ambitions in the Black Sea region, sustained significant damage in a drone assault. This marks the second such attack on this crucial bridge after Ukraine's first strike in October 2022, underscoring the challenges Russia faces in protecting the bridge against cheap Ukrainian drones.
Apart from its important symbolism for Putin, the bridge is a vital resupply route for Russia's war effort in Ukraine.
The head of the Ukrainian Security Service (SBU), Vasyl Maliuk, highlighted that the drone used in the recent attack against the bridge is called "Sea Baby." Maliuk proudly emphasized, "These sea drones are a groundbreaking innovation by the Security Service of Ukraine. They're exclusively ours, with no private entities involved."
He also explains how these drones were recently deployed to target the Crimean bridge with a massive 850 kilograms of explosives to deliver maximum impact against the bridge's support pillars. Additionally, the drones were utilized to strike a Russian warship, the Olengorsky Gornyak, as well as the SIG tanker.
Ukraine's western allies have paid close attention to how Ukraine has been successfully conducting these maritime drone attacks and wants to learn from Ukraine's experience.
Despite that Western interest, Maliuk stated, "They do not participate in our operations or provide us with any equipment or anything else. These drones are produced at an underground production facility in the territory of Ukraine. The targets I've mentioned are legitimate targets according to the Ukrainian and international laws."
Mykhailo Podoliak, an advisor to President Zelenskyy also commented on the situation, asking "What is happening in the Black Sea? #Drones are changing the rules of the game, returning the waters to full-fledged foreign jurisdiction, and ultimately destroying the value of the Russian fleet. In fact, they are returning everyone to the international law of the sea…"
What is happening in the Black Sea? #Drones are changing the rules of the game, returning the waters to full-fledged foreign jurisdiction, and ultimately destroying the value of the Russian fleet. In fact, they are returning everyone to the international law of the sea……

— Михайло Подоляк (@Podolyak_M) August 4, 2023
Scrappy tech development that rewrites naval warfare playbook
Ukraine's rapid development of maritime drones, technically termed "uncrewed surface vessels" (USVs), has resulted in vessels replete with state-of-the-art features like integrated explosives and real-time cameras. These subaquatic drones are designed to broadcast riveting visuals straight to their human handlers.
The Ukrainian government recently revealed the cost of a maritime drone with an economical price tag of $250,000. For reference, the cost of each HIMARS long-range missile is $150,000, and a full launch costs $1,000,000.
Yet, the drones' capabilities don't stop at being cost-effective. These drone marvels can blaze across the ocean at speeds of 80 km/h and boast a remarkable travel range of over 800 km. Enhanced with infrared vision, these drones carry a formidable 350 kilogram warhead (in some cases, up to 850 kilograms) and can sustain operations for a whopping 60 hours. Satellite-controlled versions, armed with day-night vision cameras and explosive fuses, make for silent yet potent surface water assassins.
Scott Savitz, a senior engineer from the US think-tank Rand Corp, pointed out the inherent challenge in countering these drones, especially when deployed in swarms. The low profiles of small drones make them elusive targets. Multiply their presence, and the challenge to stop them only grows.
Such rapid advancements haven't gone unnoticed. The Pentagon's chief weapons buyer Bill LaPlante has pointed out Ukraine's effective use of technology in the war as a "wake-up call."
Former Google CEO Eric Schmidt is optimistic about Ukraine's homegrown drone industry. Along with other investors, he has pledged $10 million to D3, a Ukrainian accelerator focusing on drones and related defense tech, as he believes that Ukraine has consistently demonstrated superior innovation against adversaries. Schmidt wrote in the Wall Street Journal that "The future of war will be dictated and waged by drones."
Ukraine is on the pathway to becoming a leader in global drone production, according to Ukrainian Vice Prime Minister Mykhailo Fedorov. Fedorov also pointed out that "we have removed the majority of industry blockers to ease the running of a business. We help Ukrainian UAV manufacturers to receive all kinds of required approvals, we contract their developments and supply them directly to the frontline."
Through the "Army of Drones" initiative, initially bolstered by President Zelensky's UNITED24 fundraising drive, Ukraine has electrified its native unmanned weapons industry, also leading to the creation of unmanned maritime drones that continue to wreak havoc on Russia's Black Sea Fleet.
Ukraine is also making headway with uncrewed underwater vehicles (UUV). The newly-revealed Toloka TLK-150, is an underwater drone smaller in size compared to previous generations of Ukrainian naval kamikaze drones used against Russian ships in Crimea. It can also remain in standby mode for up to 3 months. The drone doesn't go deep, but swims near the surface.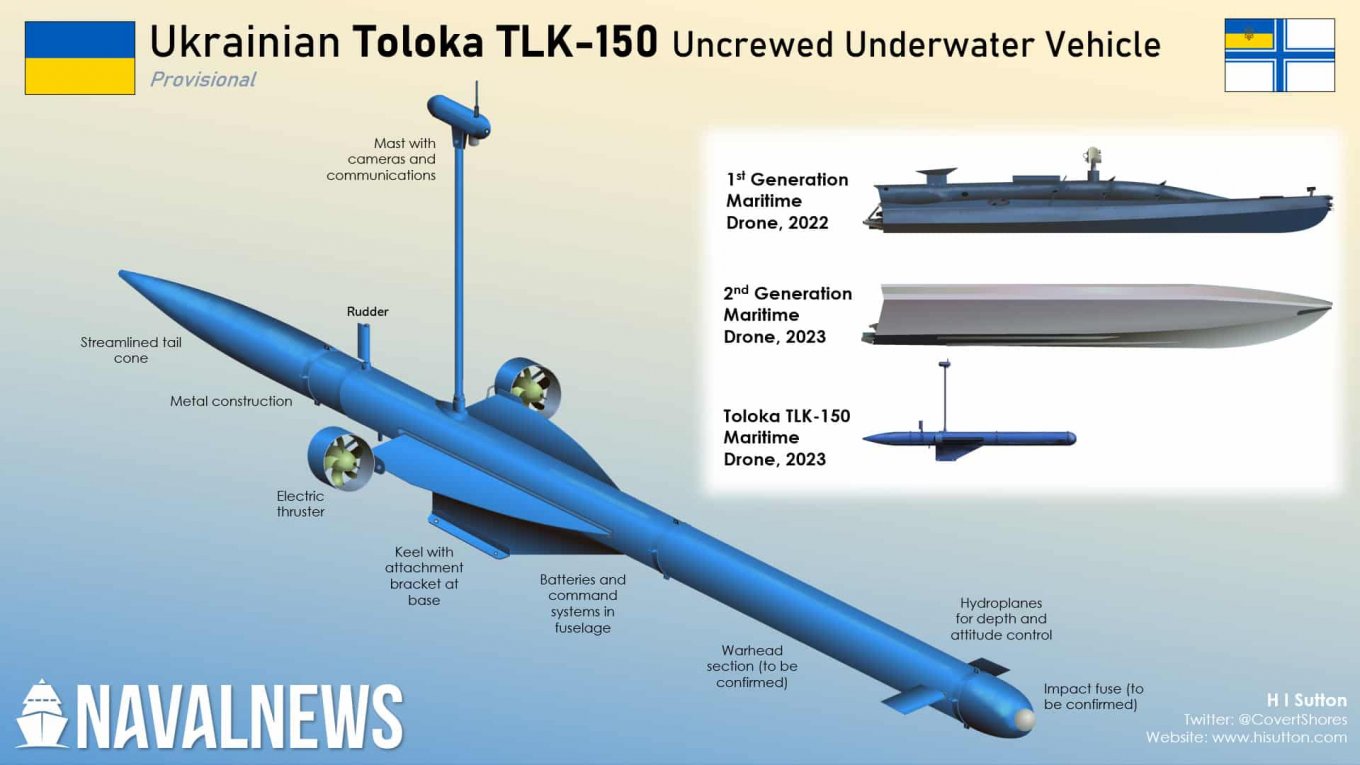 The innovation behind this drone is being driven by BRAVE1, a key Ukrainian defense tech initiative, and the Toloka is set to be production-ready soon. BRAVE1, established in 2023, streamlines collaboration between the government, military, and private tech firms. This type of public-private partnership represents the scrappy tech development that Ukraine has so successfully employed in the war. This has sped up the process for tech companies to work with the military, reducing wait times from two years to just six weeks.
Ukraine's scrappiness in tech development also extends to its fundraising efforts. For instance, through United24, the official fundraising platform of the Ukrainian government, the Ukrainian government turned to crowdfunding to help fund the development of more drones. The online community of "NAFO Fellas" pooled together $250,000 to purchase a drone, cheekily dubbing it "Raccoon's Revenge" – a nod to the raccoon Russian soldiers stole during their retreat from Kherson.
How naval warfare is changing
Vice-Admiral Oleksiy Neizhpapa, Ukraine's navy chief, stated that after the war, Ukraine will write a textbook on naval warfare and distribute it to NATO military academies. He remarked that "The warfare of the future is a warfare of drones" and no other country can match Ukraine's experience with naval drones.
In August 2023, for the first time in its history, the Ukrainian Navy established a specialized brigade dedicated to unmanned maritime drones.
Ukraine's effectiveness and the scaled use of swift and nimble boats is influencing the landscape of naval warfare. However, using small boats to detonate bombs is not a new strategy.
According to the Economist, the United States tried using drone boats as far back as the 1940s. But in October 2000, Al-Qaeda suicide bombers maneuvered explosive-laden boats into the USS Cole, which resulted in the deaths of 17 American sailors in Yemen's Aden port.
Yemen's Houthi rebels also weaponized what seem to be uncrewed vessels. In 2017, they successfully attacked a Saudi warship by using a boat filled with explosives, killing two Saudi sailors.
Nations like China and Taiwan are undoubtedly monitoring the situation in Ukraine closely. Considering Ukraine's ability to develop and deploy these drones to traverse the vast expanse of the Black Sea, Taiwan has already been looking to invest in similar technology to disrupt any maritime aggression from its more powerful neighbor, the People's Republic of China.
Cheap naval drones, being cost-effective and efficiently mass-produced, have proven their mettle against Russia, offering a hint of what might be an effective counter-strategy by Taiwan against China's navy.
Ukrainian drones' cost-effectiveness combined with their stealthy nature — low water-level cruising and reduced noise emissions — makes them a formidable asset. Despite lacking a significant naval fleet, Ukraine's use of these drones has been instrumental in preventing Russia from dominating the maritime battlespace and achieving naval supremacy in the Black Sea.
---
Related: