War ravages entire families and generations, yet it paradoxically serves as a remedy for wounded and grieving souls. The story of Yaryna Chuchman-Mynio, a resident of Lviv, attests to this truth.
In the war, warrior Yaryna suffered the loss of her dear father and beloved fiancée, both of whom served in the Armed Forces of Ukraine. Determined to confront her grief, she made the decision to enlist in the army and continue defending her homeland. To achieve this, Yaryna completed her studies at the National Defense University of Ukraine, attained the rank of officer, and underwent specialized training to become an operator of strike UAVs (unmanned aerial vehicles).
Yaryna undertakes this mission in honor of her cherished men, her father Mykhailo and her beloved fiancé Ivan.
"I joined the army as a means to survive through my personal tragedy. The military environment provides healing and solace," she affirms.
Ivan Mynio pursued a profession in dentistry and was steadily advancing in his medical career. He aspired to establish his own dental clinic in Ukraine. To validate his diploma, he temporarily practised dentistry in the Czech Republic, with the intention of accumulating funds to fulfill his dream. At the time of the impending full-scale invasion, Ivan, 28 years of age, was on the verge of departing for the Czech Republic.
"He had all the necessary documents prepared, but he kept dragging his feet about leaving. It was evident that something was holding him back." Yaryna reminisces.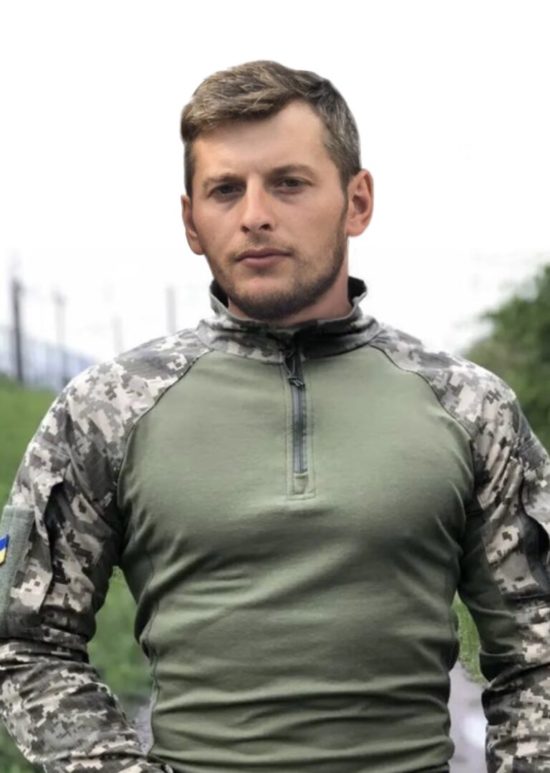 One morning, Yaryna received news of Russia's full-scale invasion through a knock on the door. Two military enlistment officers were standing on the doorstep.
"I was alone at home as my parents were away on business. The sound of the doorbell woke me up. When I opened the door, I saw two women standing before me, inquiring, 'Is Mykhailo Ihorovych Chuchman home?' I responded, 'No, he's not'. They informed me that he'd been summoned. I found it surprising. My father had participated in the ATO and served in 2015 as part of the initial mobilization wave. I refused to accept the draft notice on his behalf and asked, 'Why have you brought him another draft notice?' One of the women replied, 'What do you mean? The war has begun'. 'But, it's been going on for a while now,' I retorted."
Ultimately, they left the draft summons for Mykhailo Chuchman at the  doorstep. Yaryna made the decision not to show it to her father and instead kept the document hidden in a drawer. She then called Ivan.
"I said, 'Listen, Ivan, I'm not sure if I did the right thing. I don't want my father to go to war again!'There was a long pause and he responded, 'Well, if I receive a draft notice, I'll go too."
When Yaryna's father arrived, he promptly began packing his bag. Yaryna approached him, inquiring about his destination. Her father replied, "What do you mean, where? To the military enlistment office, of course!" Yaryna turned and retrieved the draft notice, which indicated that her father was required to report on February 25-26. He did not even notice that his daughter had concealed it from him. On February 25, Mykhailo Chuchman embarked on his journey to the war zone.
Ivan Mynio also chose not to stay at home. He joined his friends and headed to the territorial recruitment center. Following a month of training, he attained the rank of senior sergeant in the 110th Brigade of the Defense Ministry, which is now known as the 110th Major General Marko Bezruchko Brigade.
"And as fate would have it, he spent only a few days on the front… Sometimes I think it was for the best. He witnessed less of that horror and didn't endure that hellish existence for long. He loved children. I can't imagine his reaction reaction if he'd learned about the atrocities the Russians committed in Bucha and Irpin…"
It happened on April 2, 2022. Ivan was killed in a mortar attack.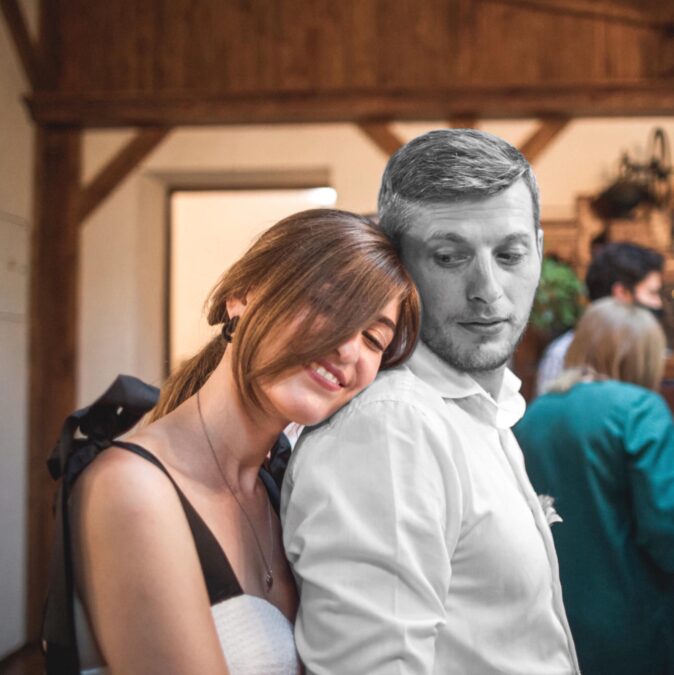 Yaryna admits that she would rather not explain how she discovered the tragic news or how they searched for him for ten days while his body lay on the battlefield. She accompanied his mother and brothers to the identification process but refused to enter the morgue. She did not want to see her beloved in that state and wanted to preserve her memories of him.
"When I close my eyes and think about him, he always wears a smile and crinkles his nose. That's how Ivan will forever reside in my heart."
It was a most difficult period for Yaryna. She claims to have no recollection of that phase in her life.
"You simply go somewhere, do something without knowing why or what it is. I had a fear of being alone for an extended period, going to bed, or even switching off the light. I needed to distance myself from my beloved Lviv, where every corner reminded me of Ivan. I came to realize that I had to move forward, to find a way to live somehow. I needed to change everything."
It was during that time that Yaryna, who had no prior affiliation with the military (having trained as an architect and pursuing a business course before the Russian invasion), made the decision to join the army. She began searching for voluntary units, considered joining Pravy Sector because she believed they would accept a girl more readily than the Armed Forces.
"Simply going to the military recruitment office seemed like a futile idea. How could I convince them that I should be in the army? How could I demonstrate that I really could be useful? After seeking advice from other mobilized women, I realized that I needed to attend a military academy. Graduating from the academy with an officer's rank and mindset would make it easier… pave the way for a different conversation," Yaryna recounts.
Yaryna finally chose the Ivan Cherniakhovsky National Defense University of Ukraine in Kyiv. Initially, she was afraid that she would not pass the medical examination due to being underweight, as there were certain restrictions. However, she was accepted. Upon returning home, she proudly presented her father with a copy of her certificate, stating that she was fit for military service. Mykhailo simply stared at her and asked her pointedly where she had got "that fake document". Her father was deeply worried about her, considering how she was coping with Ivan's death. Eventually, he came to terms with her decision to serve, as he knew deep down that he could never dissuade his daughter.
Over 60,000 Ukrainian women are defending their country – Ukraine's Defense Ministry
Mykola Chuchman, Yaryna's father was a professional electrician. He was first mobilized in 2015 and spent a year fighting as a member of the 79th Separate Air Assault Brigade of the Armed Forces of Ukraine. After the start of the Big War, he served in the 80th Air Assault Brigade in Lviv, initially as the chief sergeant of the battery and later of the company.
"After the loss of Ivan, it was difficult for me when my father came home on leave. My mom was happy, and I was happy to see him, truly happy! But I couldn't fully rejoice. Dad's here, but my Ivan will never come back. It's just as painful to watch videos of women meeting their loved ones from the war. You're happy for them and you hurt at the same time," Yaryna explains.
Senior Sergeant Mykhailo Chuchman was killed on March 25, 2023, at the age of 51.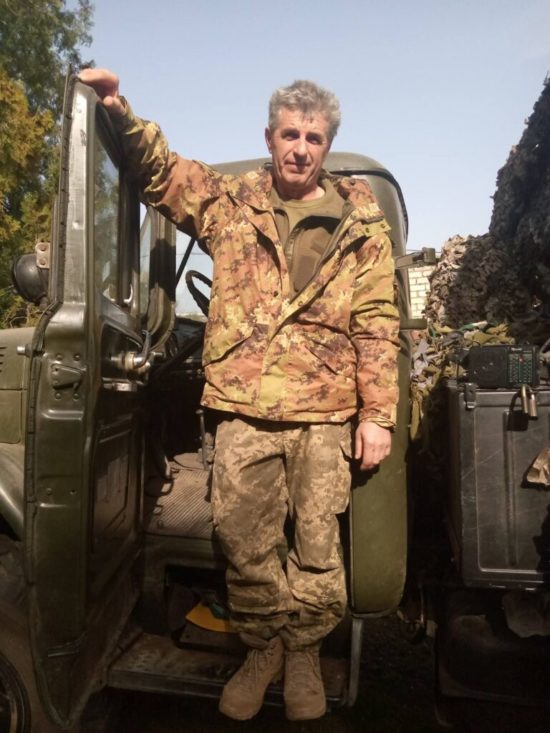 Mykhailo's unit was located in the gray zone, not far from Bakhmut, when an artillery strike occurred. He sustained injuries to his head and back from a fragment. Although Yaryna had mentally prepared herself for any bad news, this marked the third loss in their family within a year. Her mother's cousin, who had also fought in the ATO like her dad, was recently killed in the war.
"When they informed me about my father's passing, I was at home. Fortunately, I happened to be there and could provide support to my mother. I answered the phone, went to the morgue for identification, and assisted with the necessary paperwork. I believe in God, so my thoughts give me strength. Every day, I witness the loss of other young men. They may share similarities, yet each one has unique qualities. They're all remarkable individuals, incredibly kind and generous, just like my Ivan and my dad. Truly the best." recounts Yaryna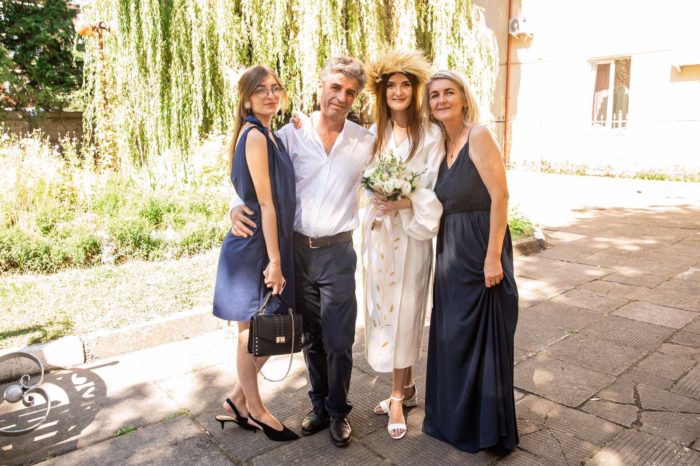 At the age of 24, Yaryna recently completed her studies at the military university and was granted the rank of junior lieutenant in the Armed Forces. Currently, she is undergoing training at a school dedicated to unmanned aerial vehicle (UAV) piloting. Once her training is complete, she will return to her unit as the leader and warrior of a UAV strike team's platoon, while also sharing her piloting knowledge with the personnel.
Today, Yaryna finds herself on the front line, embarking on a new chapter in her life – a war without her beloved men by her side.
"I took my fiancé's surname as my second name. It was a matter of principle for me: if I'm going to fight, I want to do it bearing Ivan's name. I felt the need to do this so that I could always remember him and ensure that Ivan's death wasn't in vain. Chuchman is my father's surname, my maiden name. Mynio is Ivan's surname. Now, I proudly carry the names of two heroes who protect us from above, from the heavens," says Yaryna Chuchman-Mynio.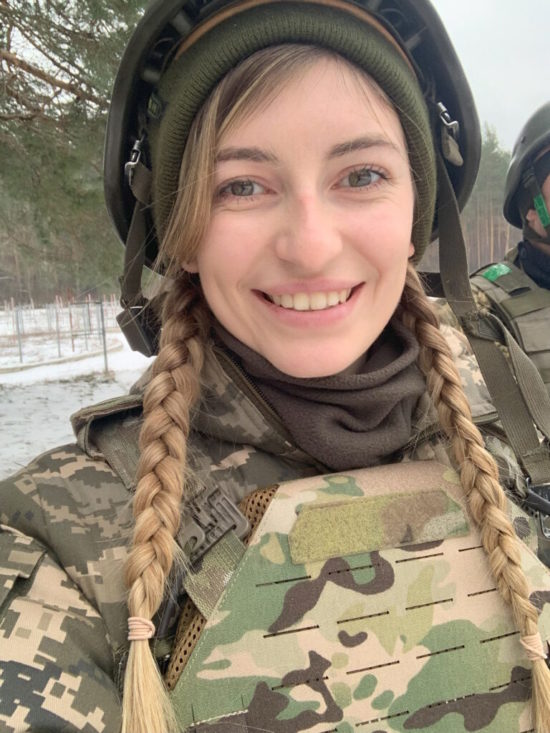 Yaryna has also become skilled in off-road driving. The Ukrainian warrior manages a large vehicle, which she affectionately named "Varvara. She says that the military environment has a healing effect on her; she feels at ease in the army, surrounded by her comrades.
"Unless you've experienced the loss of someone dear to you, I don't think you'll ever truly understand me. But then, a part of me wishes that no one could understand me, that no one has to go through the pain of losing loved ones. I wouldn't wish that upon anyone, not even my worst enemy. It's even difficult for me to hear the numbers of Russians killed because I know that behind those numbers are countless lives lost from our own side."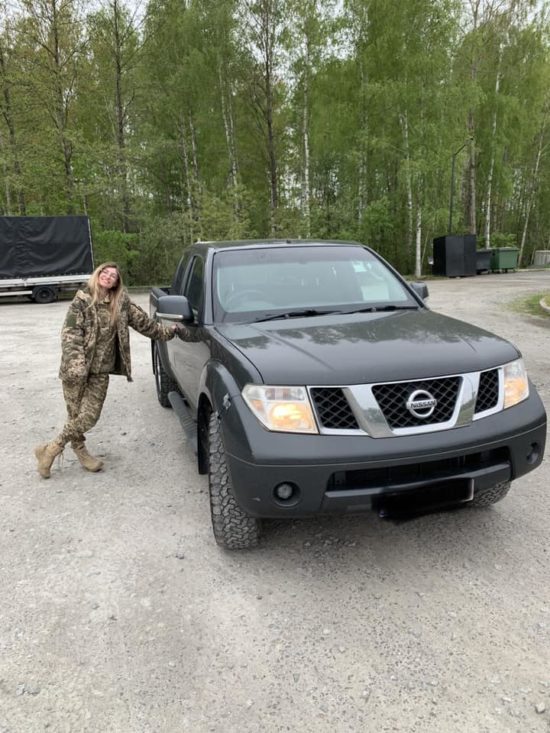 After victory and the end of the war, Yaryna dreams of returning to the mountains where Ivan and she found love. Her dream is to purchase a small house in the Carpathians. However, the first thing she plans to do after Ukraine's victory is to visit the graves of her fiancé and father. She will not partake in any celebrations, as the war has exacted a heavy toll on the Ukrainian people. She believes that it is enough to visit the departed, light a candle, offer a prayer, and most importantly, never forget.
"The Russians wanted to clothe me in mourning black, but instead they dressed me in army pixels. Such is the strength and bravery of our people. That's why their plans will never succeed," concludes Yaryna Chuchman-Mynio.