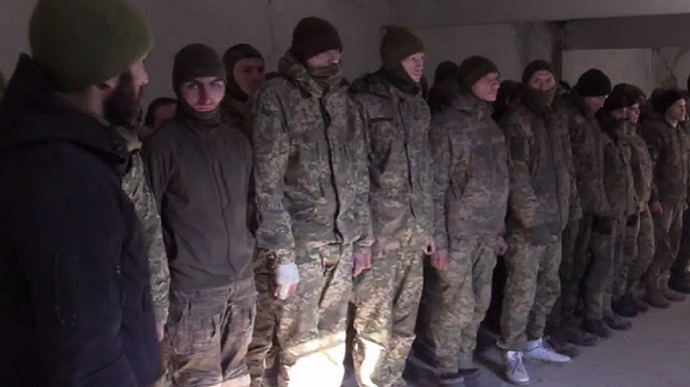 Marines of Ukraine's 501st battalion in Russian captivity in Sartana near Mariupol. Screenshot: Russian media, via UP 
Ukraine's State Bureau of Investigation (DBR) served a notice of suspicion of high treason to the logistics chief of the 501st Marine Battalion, who reportedly deceived 277 marines into surrendering in Mariupol in April 2022. The agency doesn't name the suspect, but Ukrainska Pravda claims it is Kostiantin Bezsmertnyi, referring to its sources in law enforcement agencies, and notes that the notice was served in absentia.
The investigation revealed that the head of the battalion's logistics service colluded with Russians and persuaded the commander to surrender during the defense of Mariupol, leading the soldiers to be misled and transferred to the so-called "Donetsk People's Republic" instead of relocating as ordered.
"The soldiers were deceived and therefore did not and could not realize the unlawful nature of the order or the surrender directive," the DBR's statement reads,
Following the findings, the DBR has closed the proceedings against the 277 servicemen on suspicion of desertion, enabling authorized bodies to initiate measures to restore the rights of the captured marines and provide payments to their relatives.
The investigation also uncovered that the suspect "continued his treacherous activities" in his hometown of Berdiansk, Zaporizhzhia Oblast, by enticing Ukrainian military personnel to defect and providing information on the deployment of defense forces to the enemy for personal gain.
The Battle of Mariupol started in the first days of Russia's full-scale invasion of Ukraine in late February 2022 and lasted until late May, when the Ukrainian defenders were ordered to surrender,
Read also:
Tags: marines, Mariupol defenders, Ukrainian prisoners of war (POWs)