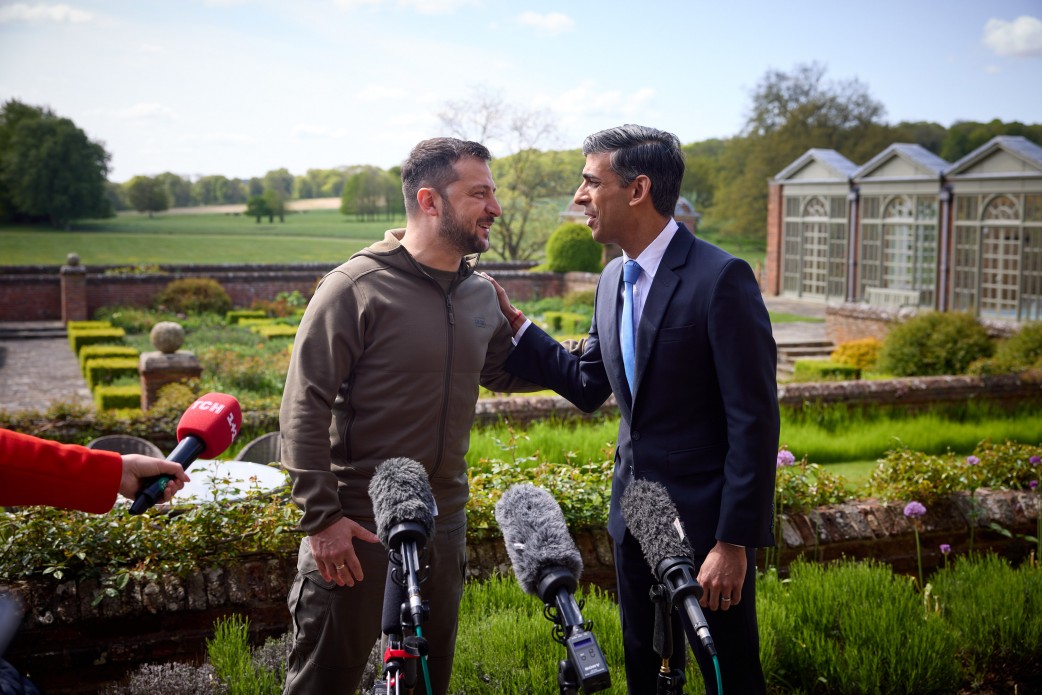 Ukraine's President Volodymyr Zelenskyy and UK Prime Minister Rishi Sunak during their meeting in Britain on 15 May 2023.
Credit: Ukraine's presidential office. 
On 15 May, Ukraine's President Volodymyr Zelenskyy arrived in the United Kingdom and met with British Prime Minister Rishi Sunak.
Rishi Sunak warmly welcomed Volodymyr Zelenskyy at Chequers, the country house of the Prime Minister of the United Kingdom.
https://twitter.com/EuromaidanPress/status/1658119795429048323
According to BBC, President Zelenskyy held two hours of talks with British Prime Minister Sunak at Chequers. Rishi Sunak told President Zelenskyy that he was his first foreign leader to visit Chequers since becoming prime minister in October 2022. Sunak compared the Ukrainian leader with the former British Prime Minister, Sir Winston Churchill.
"There is a lot of great history here. In fact, Winston Churchill made many of his famous speeches during World War II from this room we are standing in. And, in the same way, today, your leadership, your country's bravery, and fortitude are an inspiration to us all," Rishi Sunak said, welcoming President Zelenskyy at Chequers.
The British Prime Minister said that the UK is ready to play a crucial role in creating an aviation coalition to help Ukraine strengthen its Air Force. Following the meeting with President Zelenskyy, Rishi Sunak announced that the UK would open a new flying school for Ukrainian pilots to give them the training they need to handle different types of aircraft and enable them to defend Ukraine against Russian aggression better.
The UK Prime Minister announced that the new military aid package for Ukraine would include hundreds more air defense missiles and new long-range attack drones. The UK will also host a recovery conference in June 2023 to drive international investment in Ukraine's reconstruction.
UK pledges long-range attack drones, air defense missiles, training for Ukrainian pilots (updated)
Zelenskyy expressed gratitude for British support and thanked the Prime Minister, the UK government, and Great Britain's people for standing with Ukraine in this critical moment of its modern history.
Following the talks with the UK Prime Minister, President Zelenskyy mentioned the upcoming Ukrainian counteroffensive and stressed the importance of British military aid.
"In this time of challenges, in this difficult, decisive moment for our people, in particular for our soldiers, when we are preparing for counteroffensive steps, and we need success, you are with us, you are helping, the whole of the UK. This is very important to us. Thank you very much for this," the President of Ukraine said.
During the joint press conference with the UK Prime Minister, President Zelenskyy said he discussed with Rishi Sunak the issue of providing Ukraine with fighter jets.
"This is a very important topic for us, because we cannot control the sky… We are partners, and Rishi knows all the details of what is happening at the front. We want to create a coalition of fighter jets. We have talked about it. I am extremely positive about it. And I think you will hear about important decisions in the near future. But first, we have to work a little bit," President of Ukraine said.
However, the UK later confirmed it was not sending jets to Ukraine, as it does not have the F-16s that Ukraine requested.
Rishi Sunak said that Ukrainians today defend common values of freedom, democracy, and the rule of law on the battlefield. According to the British Prime Minister, the UK will continue to provide Ukraine with the support it needs to repel the Russian invasion. He noted that the UK was the first country to provide Ukraine with long-range weapons and would also strengthen Ukrainian air defense and provide long-range attack drones.
"And the Kremlin should know that we are not going anywhere. We will continue to do so. We remain steadfast in helping Ukraine defend itself," the British Prime Minister said.
Furthermore, Rishi Sunak said that Ukraine must not only restore its territorial integrity but also be able to defend itself in the future.
"Another topic of our talks today was the security arrangements that we should put in place amongst allied countries for Ukraine for the long term," Rishi Sunak added.
Volodymyr Zelenskyy said that the priority of his visits to European capitals was to prepare for active actions of the Ukrainian Armed Forces at the front to liberate the occupied territories. President Zelenskyy emphasized the negotiations with the UK leader and other Western allies of Ukraine primarily concerned the creation of a coalition of fighter jets for Ukraine and preparations for the NATO summit in Vilnius this summer.
Related: