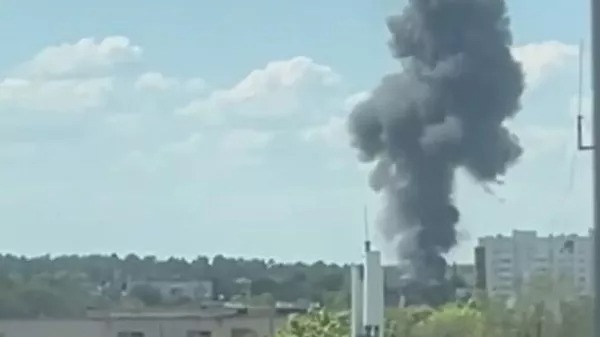 Smoke in Klintsy, Bryansk Oblast, after the crash of one of the Russian Mi-8 military helicopters. Screenshot from video via TASS 
Five Russian military air assets crashed in Russia's Bryansk Oblast on 13 May, including two fighter jets and three helicopters, according to the spokesperson for Ukraine's Air Force Command, who said Russia's own air defenses were behind the crashes. Previously, media reports mentioned four crashes.
Russia lost two aircraft and two helicopters in one day over its own territory – media
On 14 May on the national telethon, Yurii Ihnat, the spokesman of the Air Force Command of the Ukrainian Army, commented on the possible reasons for the multiple crashes of the Russian aircraft and helicopters:
"It's not [a question] for me to address here. The Russians have already commented on everything, acknowledged, mourned because of the "black day of aviation," and so on. About what was going on there, they have written too. To paraphrase in simple terms, helicopters, an air strike group were attacking Ukraine from the north, from Bryansk Oblast. They are doing this on a daily basis, in fact, conducting strikes with guided air bombs. We're already talking about a third helicopter there as well. So five in total, apparently, they ran into some trouble." noted Ihnat, according to UNIAN.
When asked whether it is possible that Russia's own air defense forces shoot down their own helicopters and planes, he replied:
"It turns out so," he said, adding that  "There's already an analysis there of who's to blame, who they're going to be fired for this, punished for this ongoing mess. It's nice to read such news by the enemy."
On 13 May, multiple Russian news sources reported four crashes of the Russian air assets in Bryansk Oblast on 13 May.
Frontline report: Ukraine hits targets far behind frontline with cruise missiles; Russia loses four military air assets
Tags: Bryansk, combat aircraft, Russian losses