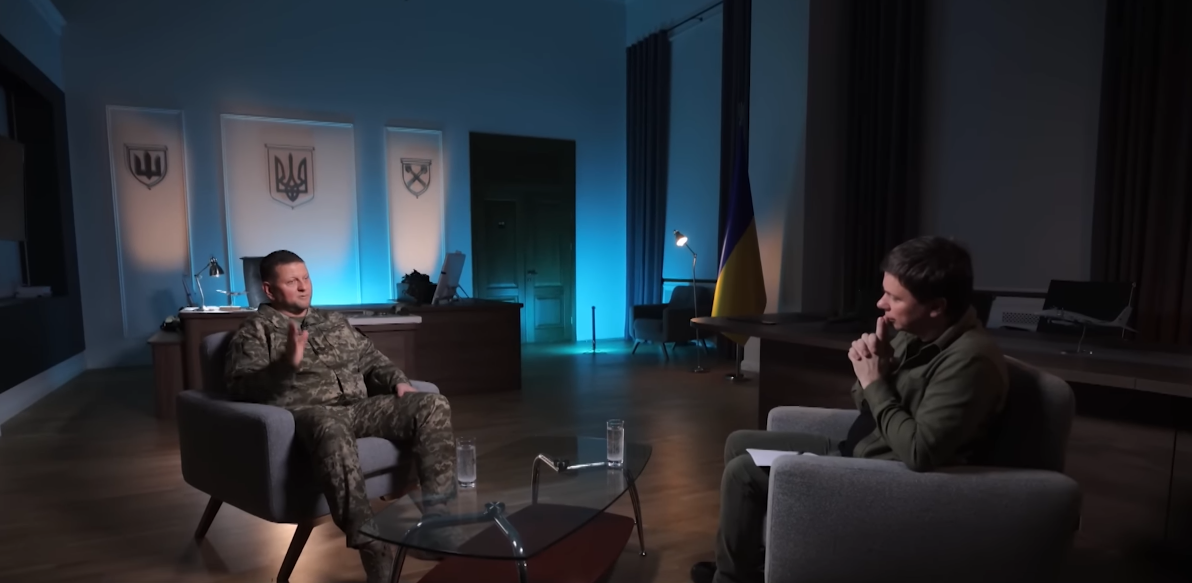 Editor's Note
In his first video interview since the beginning of the full-scale Russo-Ukrainian war, Ukraine's Commander in Chief General Valeriy Zaluzhnyi said that victory means liberation of all Ukrainian territories but also the Armed Forces strong enough to ensure such a war wouldn't happen again. He said he sees the path clearly, although it is long and difficult, and the enemy shouldn't be underestimated. He also confessed there was a moment when he cried during the war. The worst thing about the war is that children are living through it and suffering.
"Our victory is definitely the liberation of the entire occupied territory of Ukraine," General Valeriy Zaluzhnyi said to Ukrainian journalist Dmytro Komarov in a video interview (which includes English subtitles).
However, this is not enough, he added.
"Ukraine, as a state, must do everything to ensure that everything that happened would never happen again. It must be a rebuilt and reformed military institution that will never allow the Russians to repeat everything all over again. Thus, for us victory means liberated territory and powerful, ultra-modern, perhaps large, combat-ready Armed Forces of Ukraine that will not allow the Russian Federation to repeat what happened. Then, I can call it a victory."
Speaking about the question of how Ukraine withstood the invaders, Zaluzhnyi said that for him, as a serviceman, "this question is a bit unusual, perhaps even a bit unpleasant."
"Why you might ask? Because, as I had said this very often… my main experience happened in the summer of 2014, the time when the war started for me personally. That was the time when the war started for the professional military personnel, with whom we engaged in this let's say, a more large-scale war. But for us, the war lasted exactly 8 years till February 24th, when its scale changed. Therefore, I guess I cannot say that something was unusual. There was more work, more responsibility, and more tension, of course. But we had been doing it for 8 years, for 8 years we fought, for 8 years we were at least mentally and emotionally ready to kill the enemy."
After Russians understood that Ukrainians were not welcoming them in Ukraine, they started coming from Russia to kill Ukrainians deliberately.
"They come precisely to kill. And the essence of this war is that if we do not annihilate this enemy now, we will be annihilated. There is no other way. It's simple." Zaluzhnyi says clearly.
Yet, despite being called an iron general, Zaluzhnyi remains an ordinary person with his own feelings. When asked whether he ever cried during the war, he confessed that yes.
"Well, I will say this. Being the commander-in-chief, I don't want to admit to any weaknesses, but again, I am a human, after all. I once cried when a mother was looking for her son. He was a helicopter pilot and was flying to Mariupol. Even at the time, while I was corresponding with her, I had hope that he was still alive and everything would be fine. And at one point, I was informed that, unfortunately, he was killed, he was gone."
Zaluzhnyi refused to say the name of this warrior, saying that he would have to name a lot of them because they all deserve it. Every day he faces many more names of people he knew personally and who, unfortunately, were killed. Zaluzhnyi says he doesn't have the strength yet to delete their names from a phone list.
"First of all, I am a normal human being, my heart responds as a heart of a normal human being. And all normal people perceive it very, very badly. War is a very bad endeavor…"
Zaluzhnyi is cautious about underestimating the enemy. He says that Russians were preparing for the invasion thoroughly by planning the campaign in detail.
"I believe that the Russian Federation is a country where military science is developed at a fairly high level. Trust me, I am sure of this. This operation was planned in great detail."
Russians changed the groupings of troops that were preparing for offensive operations several times, which was confusing for Ukrainian generals and allowed Russians to get the most effective result, Zaluzhnyi says. He also adds that the only person from Russia whom he reads is their Chief of General Staff general Valery Gerasimov, who should be respected as a good professions "for the sake of our own victory," Zaluzhnyi says.
The moment when the full-scale invasion started on 24 February 2022, the first thing he did, he called every commander who was responsible for a particular area. He either told them that it had started or they reported to him that some actions had already been taken and that they were working. According to Zaluzhnyi, "it was very brief. And I said, 'Hold on there, you know what to do.'"
Regarding Ukrainian strategy, he says Ukraine had the only viable option — to inflict maximum losses on the enemy in the shortest period of time, to bleed the enemy out so that he would refuse to continue his actions on the larger territory of Ukraine. And it worked.
"We were forced, even by the price of abandoning some territories, to draw the enemy inside, draw his rear, draw his reserves, and simply burn him in those places where the equipment stopped and waited for the refuel for two days."
Zaluzhnyi says he sees clearly what needs to be done now for Ukrainian victory but it is still a very long way to go.
"I hope that God will be on our side and that victory will be ours. But again, I have to repeat myself that as of today it is the Ukrainian people that make things happen, the Ukrainians are the reason we are still holding on. It is our Ukrainian people, who were put in such conditions when the whole nation clearly understood that people from the territory of the Russian Federation or Belarus deliberately came to kill their wives, to kill their kids. They came to destroy their house. And these people, overwhelmed by the idea of protecting their relatives, their loved ones, and their land, they did it."
Russians act like a horde and losses don't mean anything to them, Zaluzhyi says.
"It's true. Human life is worthless to them. You see, even based on what we observe in terms of the number of their losses… Such losses would stop any country from continuing to act… 15 thousand losses in Afghanistan actually brought the Soviet Union to its knees. Now the number of Russian losses is much, much higher, and it does not stop them. And there is only one conclusion for that: perhaps a human life is the cheapest thing in Russia."
Perhaps the worst thing about the face of war is that children are facing it.
"And this again returns us to the question of why the Russians came to our land. Forgiving or making any kind of concession to the enemy, we should not. Because now those who must not suffer are suffering the most, those who even theoretically cannot defend themselves. It's unbearable, heartbreaking… it doesn't fit into any theory. And again, all of this impels us to do our best and fight, to kill the enemy."
Kids who write Zaluzhnyi in their letters, "I will definitely return to my home. I will definitely help rebuild my school," motivate him to work hard and fight until victory. Interesting letters are written by children who lived in Lysychansk, whose city is now occupied, as well as by children from Mariupol, Zaluzhnyi mentions. He remembers the most the letters that were addressed to St. Nicholas "but in a miraculous way were delivered to me."
"And how pleasant it was for me to be St. Nicholas for this small group of children… But they are not children anymore. They are so mature, so serious… Right next to this table, a boy, I think his name was Illia, he was probably 4 years old, and he took me by the hand, and said 'I want to talk to you privately.' He was about 4-5 years old. He said 'Bend over, I'll whisper it in your ear.' He says 'Are you sure we will return to Mariupol?' I say 'Yes.' He asks 'When?' I reply 'This year. You asked St. Nicholas for this, didn't you?' He says 'Then please do.'"
Tags: Zaluzhnyi