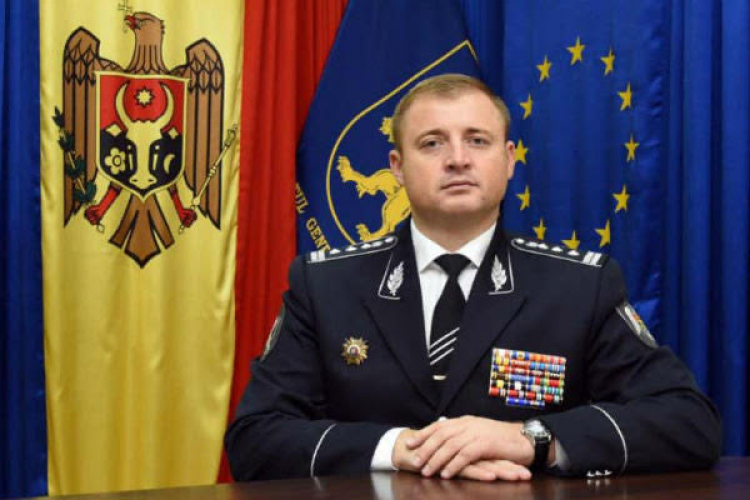 UK-based Moldovan police chief Gheorghe Cavcaliuc,is accused of leading a plot to topple the Moldovan government. Photo: IPN.md 
From London, a former Moldovan police chief stands accused of masterminding a Russian plot to destabilise Moldova's pro-Western government
A Russian plot to topple Moldova's pro-Western government is allegedly being directed from the UK by former Moldovan police chief Gheorghe Cavcaliuc, according to a report provided to the British Foreign Office. The Times, which saw the document, reports that the Moldovan government endorses these claims and has requested Cavcaliuc's extradition.
Cavcaliuc refuted the allegations, insisting, "The accusations against me are totally false in all respects."
Radu Marian, an MP from Maia Sandu's PAS Party and chairman of the parliamentary UK-Moldova friendship group, told The Times, "He [Cavcaliuc] has used his connections from the past to recruit former police officers to a paramilitary group 'protecting' fake demonstrations against the government."
Cavcaliuc argued that he was a victim of political persecution, stating, "After I started criticizing Maia Sandu and PAS, they fabricated a criminal case against me."
In London, Cavcaliuc, a former police colonel with 20 years of experience in Moldovan law enforcement, currently heads his own Moldovan political party, PACE. The party, formed in 2020, received 1.28% of the votes in the 2021 parliamentary elections.
In response to questions about his source of income, Cavcaliuc mentioned working as a security chief for an international company and showed documents demonstrating a series of bonus payments from his police career for "conscientious behavior." He also declared a $200,000 income in 2021 from Komet Group SA, a British Virgin Islands-registered oil and gas company, reportedly linked to Russia, a connection he has denied.
A delegation of Moldovan parliamentarians visited the UK in April, urging British action against Cavcaliuc, The Times reported. Tobias Ellwood, chairman of the Commons defense committee, expressed his bafflement at the UK's failure to provide more assistance to Moldova, stating, "I find it baffling that Gheorghe Cavcaliuc has still not been extradited back to Moldova despite so many requests."
Mark Galeotti, a University College London's School of Slavonic and East European Studies professor, criticised the UK government's inaction as "inexplicable." He said, "The British government has failed to take Moldova seriously and missed an opportunity to support a democratically elected government under threat from Russia."
The document detailing the request for sanctions, partly based on reporting from Rise Moldova, suggests that Cavcaliuc is part of a complex network of Kremlin proxies run by Russia's FSB security service and its Wagner group of mercenaries.  It accuses Cavcaliuc of acting in tandem with Ilan Shor, an MP already convicted in Moldova for his role in a billion-dollar bank fraud and sanctioned in the UK, to work "for the benefit of the government of Russia."
The Foreign Office responded, stating, "The UK stands with the people of Moldova in defending their democratic choice to pursue a path of freedom, independence and sovereignty. We have placed sanctions on a number of individuals who have attempted to undermine this through their involvement in serious corruption, frozen their assets, and banned them from traveling to the UK."
Moldova in the crosshairs of the Kremlin
According to an international consortium of journalists and the Dossier Centre, a London-based investigative journalism organization founded by Russian opposition figure Mikhail Khodorkovsky, Russian special services contemplated invading Moldova and opening a second front in Transnistria after their full-scale invasion of Ukraine in 2022. Russia eventually discarded this plan, opting for economic pressure by exploiting Moldova's reliance on Russia for gas.
Russia planned to take control over Moldova by 2030 – investigation
The investigative team analyzed a strategy devised by the Russian presidential administration for the "political and economic subjugation of Moldova," which was developed by the same team that created the strategy for Belarus. The document was reportedly prepared by the Russian Presidential Office for Border Cooperation, in cooperation with Russian special services and the General Staff. The unnamed source who passed the document to journalists was fully confident in its authenticity.
The strategy delineated 2030 as the deadline for gaining political control of Moldova and alienating it from its Western partners. The objectives included countering NATO and EU influence on Moldova, involving Moldova in the CSTO and other international projects under Russia's auspices, settling the Transnistrian conflict through Russian mediation, and strengthening pro-Russian sentiment in society.
The investigative report finds striking similarities between this strategy and the Kremlin's plan to subjugate Belarus by 2030. Both strategies reportedly aim at increasing the dominance of the Russian language, adjusting local legislation to Russian law, subjugating socio-political life, increasing military presence, and granting Russian citizenship to locals.
Russian attempts to destabilize Moldova through pro-Russian protests
Russia has been trying to destabilize Moldova's pro-Western government and keep it within its sphere of influence, using various political, economic, religious and military means. One of the most visible and dangerous means that Russia has used is to support pro-Russian protests in Moldova and use them as a basis to foment a manufactured insurrection against Moldovan President Maia Sandu, who was elected in 2020 on a pro-EU platform.
The spectre of the FSB haunts Moldova, next target of Russia's hybrid war
Pro-Russian protests in Moldova have been organized and financed by Russian actors, some with current ties to Russian intelligence, according to the White House. The protests have been coordinated with pro-Russian parties and groups in Moldova, such as the Socialist Party, the Our Party and the Patria Party. The protests have also involved Russian citizens and residents of Transnistria, a breakaway region of Moldova that declared its independence in 1990 with the support of Moscow.
The protests are reportedly orchestrated by Ilan Shor, a fugitive Moldovan oligarch with substantial ties to Russia. As per the report, Shor's party activists hire residents from Orhei, a small town in Moldova, offering them monetary compensation to participate in the protests.
Investigations by various sources, including Moldovan outlet RISE, suggest a deep-seated connection between Shor and the FSB. The Washington Post revealed that Shor is a leading figure in the Kremlin's efforts to manipulate this former Soviet republic.
The main demands of the pro-Russian protesters have been to stop Moldova's integration with the EU and NATO, to restore friendly relations with Russia, to recognize the independence of Transnistria, and to hold early parliamentary elections. The protesters have also accused Sandu of being a puppet of the West and of Romania, which they claim wants to annex Moldova. The protesters have used violent and provocative tactics, such as blocking roads, storming government buildings, clashing with police, and attacking pro-Western activists and journalists.
Moldova's intelligence service has confirmed that it has received information about Russia's plan to destabilize the country through pro-Russian protests from its Ukrainian partner, as well as from its own operative activities.