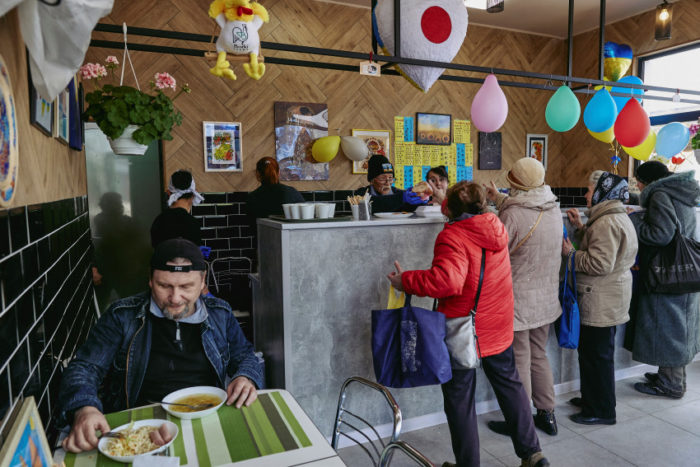 Fuminori Tsuchiko, 75-year-old humanitarian volunteer from Japan, hands out free meals to people at his cafe in Kharkiv. Photo: Reuters/Viktoriia Yakymenko 
Against the backdrop of a war-torn Kharkiv, Fuminori Tsuchiko gives up his comfortable life in Japan to open a free cafe serving hot meals to those in need. Not only has he sold his home to finance his mission, but he's also rallied his fellow Japanese citizens to donate and support his cause. Read the heartwarming story of a man who transcends borders and proves that kindness knows no bounds.
75-year-old Japanese volunteer Fuminori Tsuchiko was travelling through Ukraine as a tourist when the Russia launched its full-scale invasion of Ukraine. He left the country after the Japanese Embassy warned of Russian attacks and shelling. He travelled to the Polish capital Warsaw only to return two months later.
"I saw how strongly Poles supported refugees from Ukraine. I joined them in Warsaw, and a week later I continued to volunteer and help out in Rzeszów," Tsuchiko says.
He did this for a while and then decided to go back to Ukraine. He explains that in his conversations with the refugees, he found out that many people, and especially many children were hiding and literally starving in the Kharkiv metro.
"Everyone should eat at least once a day. So I came to Kharkiv to help the people,"  says the Japanese volunteer philosophically.
For many months, he lived in the Kharkiv Metro supporting locals who were hiding there from Russian shelling and missile attacks. He also prepared hot breakfast meals and delivered them to needy Kharkiv residents.
"June, July, August, September, October, November, December – for seven months I stayed in the metro, underground, sleeping and eating, and together with many, many Ukrainian people," Tsuchiko recounts in his simple English.
Eventually, he decided to sell his house in Japan and move to Kharkiv permanently.
"I will live in Kharkiv even after the victory. I no longer have a home in Japan. I sold everything. That's why I'm here forever! And I will help the people of Kharkiv," says Tsuchiko.
Tsuchiko met a Ukrainian volunteer, Natalia Hrama, in the metro station where people were forced to hide from shelling for several months. For six months, they provided Kharkiv residents with food, medicine, and hygiene products.
After spending months distributing food supplies, Tsuchiko teamed up with Natalia Hrama to plan a better way to help the affected residents. He also established contact with and engaged Tendo Children's Diner from Osaka, Japan. Tendo Children's Diner was destroyed by fire in November 2017. Everything burned down and the staff were left on the street, but with the support of the local community and many others, they were able to rebuild in November 2019. The Diner promotes Tsuchiko's enterprise in Japan, and searches for and collects donations.
Finally, when the bombings and missile attacks in Kharkiv subsided a bit – although they are still there and haven't gone anywhere – Tsuchiko opened a free cafe serving hot lunches, tea and sweet buns.
FuMi Caffe serves about 500 people a day. It is located in Saltivka district, near the Heroiv Truda metro station, where locals were forced to hide from shelling for several months. Tsuchiko rented a space at the market and hired several Ukrainians as cooks and helpers. The FuMi Caffe is supported financially by philanthropists and the Japanese people who care about the situation in Ukraine.
"Everyone has to eat every day. And at least once a day I want to feed people, because most of them have difficulties with money," Tsuchiko explains with a big smile.
Makoto Adachi, a 55-year-old volunteer who came from Japan to support his fellow countryman, helps Tsuchiko with his work. He is a carpenter by trade and, in Tsuchiko's words: "He's a dedicated craftsman who can do everything." When working at the café, Makoto wears a ninja costume and entertains children by handing out sweets and toys.
The elderly Japanese volunteer says he is determined to stay in Kharkiv forever, and intends to help Kharkiv residents for as long as possible. He is especially attentive towards children and young people, and has organized a play area and boxes of toys and stuffed animals. Despite not speaking the local language, Tsuchiko has managed to create a unique connection with the children in the community. Through gestures, laughter, and games, he has built strong relationships with the kids, who always greet him with smiles and excitement. Despite the communication barrier, Tsuchiko's warmth and kindness have helped him transcend cultural and linguistic differences, bringing joy to the children's lives and creating a sense of belonging for himself in a foreign place.
Fuminori Tsuchiko was recently awarded the Honourary Citizens Award by the Kharkiv Regional State Administration.
"Now that we have received a note from the city authorities, overseas support organizations, local individual volunteers and supporters, and foreign media people are coming to the store every day. This award belongs to all the Japanese supporters. Thank you! We appreciate your continued support." Tsuchiko wrote on Facebbok.
In Japanese philosophy, there is the
concept of igikai (生き甲斐)
, which means finding happiness and a sense of purpose in life.
Ikigai is based on very simple principles. Start small. Do what you love. Love what you do. Serve people. Be satisfied with what you have, but strive for more. Basically, ikigai is the convergence of four areas of life: what you love, what you're good at, what the world needs, and what you can be paid for. In fact, this is the same "kindred work and cordocentrism" that Ukrainian philosopher and wanderer Hryhoriy Skovoroda propagated in his travels.
Tsuchiko does not ask the Kharkiv authorities for assistance and does not seek funds from his Ukrainian customers. However, he has placed a small box on the counter where those who wish may contribute a few hryvnias.
Fuminori Tsuchiko knows that he has nowhere and no one to go back to. His wife died long ago, and he sold his house in Japan to help Ukrainians. He was left alone in the world, but is now a free man and a respected member of the Kharkiv communuity.
And he has found his ikigai.
Tags: bombings, humanitarian aid, Japanese volunteer, Kharkiv, metro, Russo-Ukrainian war, Starvation