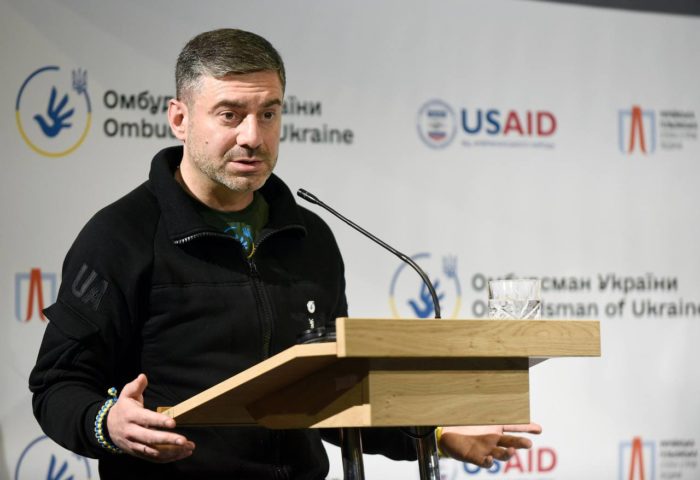 The Ukrainian Parliament Commissioner for Human Rights (Ombudsman), Dmytro Lubinets, an illustrative image/ Source: Telegram, @UkraineMediaCenterKyiv 
Russia holds over 20,000 Ukrainian civilians hostage; this number is likely to increase significantly after the de-occupation of Ukrainian territories.
Ukrainian Parliament Commissioner for Human Rights (Ombudsman), Dmytro Lubinets, supposes that after the liberation of the Russia-occupied Ukrainian territories, it will become apparent that Russia is holding hostage far more than 20,000 Ukrainian civilians, as reported by Ukrinform, citing the Ombudsman Lubinets during a press conference in Kyiv.
"According to our rough estimates, Russia is holding more than 20,000 civilian hostages. I provide these figures on the basis of personal appeals to me from relatives whose relatives and friends have been detained by the Russian military. Why I say approximately and that this number is much higher is because I am fully aware that those who are currently in temporarily occupied territories do not contact me, or contact me in small numbers, because even an appeal to the Ukrainian Ombudsman is considered espionage by Russia. After we return all Ukraine's territories, the number will increase significantly," stated Lubinets.

The Ombudsman noted that the Coordination Center for the conduct with the POWs had established a separate working group to deal with civilian hostages. It is led by Oleksandr Kononenko, the Ombudsman's representative in the security and defense sectors. The center has successfully returned home 2,279 Ukrainian citizens, including 142 civilians.
Lubinets emphasized that a centralized register of missing persons was launched in Ukraine this week. This register will take some time to complete. The information will gradually be transferred from the National Information Bureau and other agencies, including intelligence. This register will contain every detail.
Lubinets recalled that on 13 January 2023, he personally delivered the first list of civilian hostages to Russian Ombudsman Tatyana Moskalkova in Ankara. It included the names of 2,000 individuals.
"The list was compiled using the criteria of age 65 or older. Those who suffer from serious illnesses. Following this, we received confirmation from Russia that they were working on the list. And that was it," concluded Lubinets.
Read also:
86% of Ukrainian POWs returning from Russian captivity were physically tortured – Ombudsman
Ukraine's ombudsman, Council of Europe Secretary General discuss human rights challenges amid war
Russia arranges fake prisoner exchanges for Ukrainian POWs – Ombudsman
Tags: Human rights, Russian war against Ukraine, Ukraine civilians, Ukrainian prisoners of war (POWs)