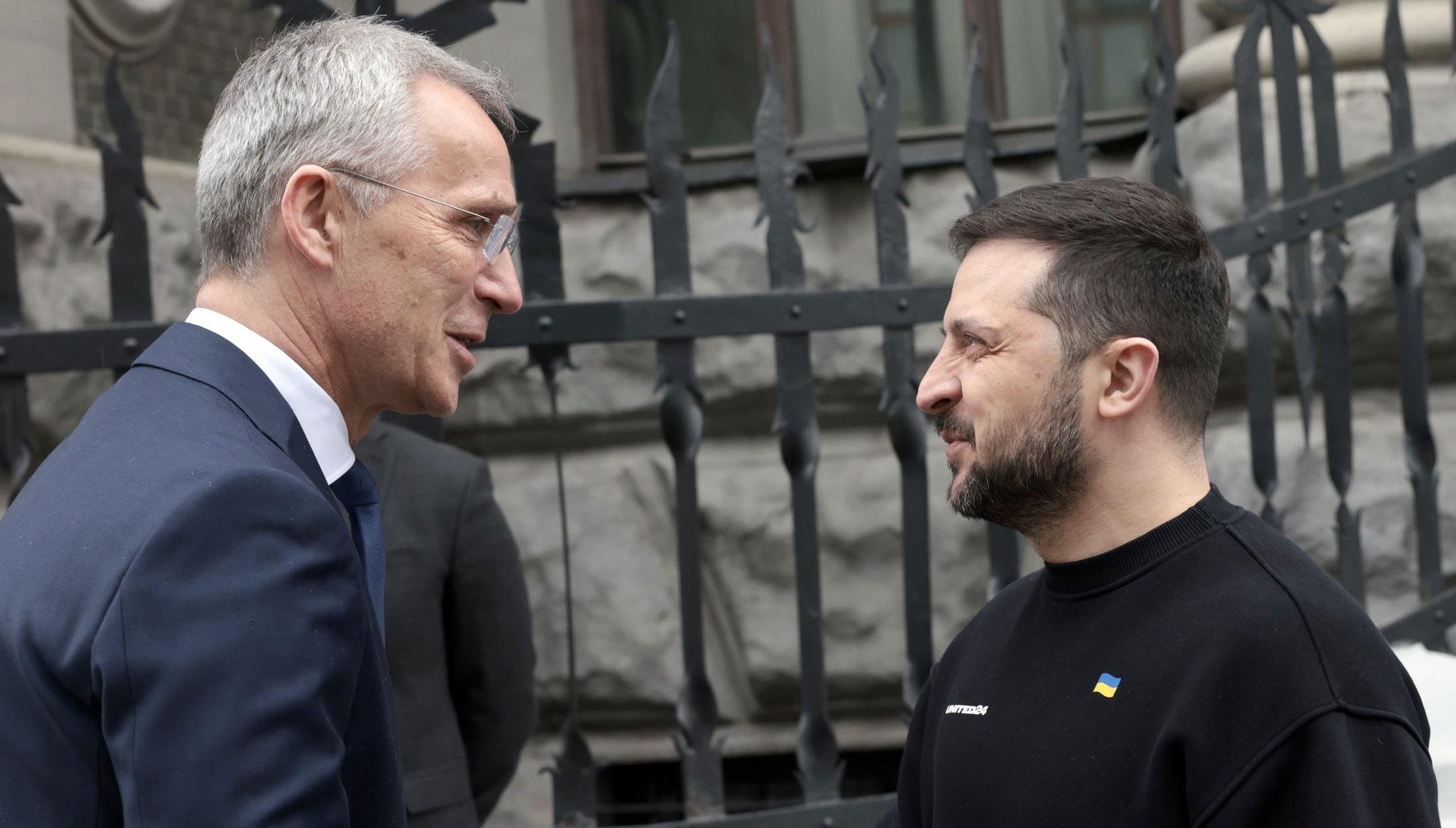 NATO Secretary General Jens Stoltenberg meets with Ukraine's President Volodymyr Zelenskyy in Kyiv on 20 April 2023.
Credit: Jens Stoltenberg/Twitter 
Ukraine's hopes for a more concrete perspective on NATO membership during a July summit in Vilnius are currently under threat of disruption, as countries like the US and Germany do not want to take on specific commitments yet, according to RND, citing the German Press Agency (DPA).
According to DPA, the US and Germany recently made it clear behind closed doors that they "do not want to make any commitments for the time being that go substantially beyond a vague NATO declaration from 2008."
At that time, the heads of state and government agreed that Ukraine and Georgia should join NATO. However, there was no specific schedule for this.
The publication recalls that Ukrainian President Volodymyr Zelensky recently called on NATO to clear the path for his country to join the Alliance at the summit in July.
He explained that neither in Ukraine, nor in Europe, nor in NATO would most of the population understand if Kyiv did not receive the deserved invitation during the summit in Lithuania.
Zelensky emphasized that now hardly anyone contributes more to Euro-Atlantic security than Ukrainian soldiers. Therefore, his country has done everything for Kyiv's application to be approved.
It is noted that the President of Ukraine receives support for his demands from Central and Eastern European countries, in particular Lithuania.
"However, it is currently extremely unlikely that they will be able to persuade NATO partners such as the USA to change course. According to diplomats, opponents of a concrete prospect of accession explain their position by saying that this goal is currently not realistic and could distract from the much more important support for Ukraine. In addition, there is a risk that new NATO commitments could provide Russia with arguments for even more aggressive warfare," the publication writes, citing unnamed diplomats.
As reported by DPA, citing discussions in NATO circles, real progress in negotiations on Ukraine's membership prospects is likely to occur only if Ukraine succeeds in the war against Russia.
It is noted that then NATO countries would not have to fear becoming a direct party to the war by accepting Ukraine.
At the request of journalists, the US government did not comment on the internal negotiations before the summit in Lithuania. However, the source indirectly confirmed that it considers further arms supplies and other assistance to Ukraine in the current situation more important than NATO membership plans.
A senior official said it is now also being considered what can be done in the long-term to strengthen Ukraine's ability to resist and deter aggression.
Regarding Ukraine's NATO membership prospects, the source made it clear that the US does not question the NATO declaration of 2008 but "the question is not whether Ukraine will join the Alliance, but when."
Earlier, NATO Secretary General Jens Stoltenberg stated that Ukraine's place is rightfully in NATO, so the Alliance promises to do everything to make this possible.
In addition, the US State Department recently supported the open-door policy when commenting on Ukraine's NATO membership issue.
In turn, Lithuania calls on NATO member countries to find specific mechanisms that would allow Ukraine to quickly integrate into the Alliance's space and finally get rid of clichéd phrases about membership.
Related:
Tags: NATO