On 20 April 2023, the Secretary General of NATO, Jens Stoltenberg, came to Kyiv with an unannounced visit. It is the first visit of NATO's chief to Ukraine since the beginning of the full-scale Russian invasion.
NATO Secretary General visited Saint Michael's Square in Kyiv to commemorate the fallen Ukrainian heroes in front of a memorial dedicated to Ukrainian soldiers killed by Russian invading forces.  Jens Stoltenberg met with Ukraine's President Volodymyr Zelenskyy and discussed the NATO-Ukraine cooperation. Stoltenberg assured that there are no obstacles for Ukraine to join NATO in the future after the Russo-Ukrainian war is over.
"An honor to be back in Kyiv and meet with President Zelenskyy. Ukraine's rightful place is in NATO, and over time our support will help to make this possible. We stand by you today and for the long haul," Stoltenberg wrote on Twitter.
Volodymyr Zelenskyy told Jens Stoltenberg that it was time for NATO to offer Ukraine membership in the Alliance and urged NATO's chief to intensify military support of Ukraine.
"I welcome NATO Secretary General Jens Stoltenberg to Kyiv. We interpret this visit by Jens Stoltenberg as a sign that the Alliance is ready to begin a new chapter in relations with Ukraine, a chapter of ambitious solutions," Volodymyr Zelenskyy said.
NATO Secretary General said that at the July summit in Vilnius in 2023, NATO member states are preparing to discuss Ukraine's membership and security guarantees for Ukraine.
Record 82% of Ukrainians want to join NATO, 85% support joining the EU
"President Zelensky raised the issue of membership and security guarantees for Ukraine. And this will be an important element of the agenda at this meeting, and NATO is preparing for it. Ukraine is choosing its future in the Euro-Atlantic family. Ukraine's future is in NATO, and NATO members agree with this," the NATO Secretary General said during a press conference with President Volodymyr Zelenskyy in Kyiv.
Furthermore, Stoltenberg noted that NATO countries focus on supporting Ukraine, particularly in military terms. These issues will be discussed in the Ramstein format at tomorrow's meeting and the Vilnius NATO Summit, Ukrainska Pravda reported.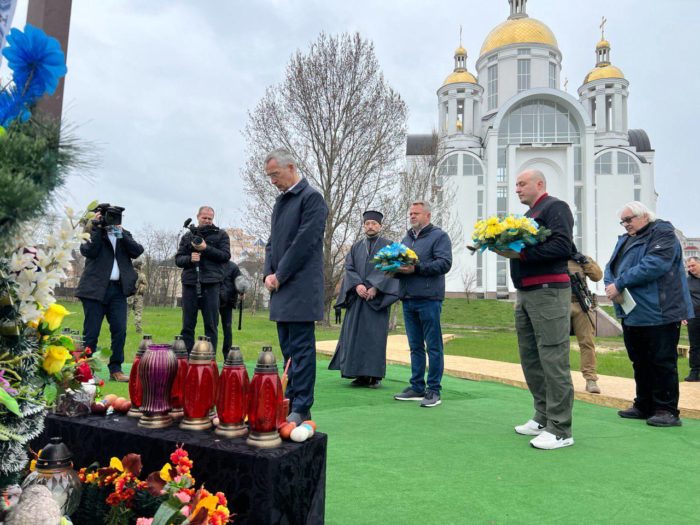 After the meeting with Ukraine's President, Jens Stoltenberg visited Bucha, where the Russian army killed around 700 Ukrainian civilians in February and March 2022.
Related: