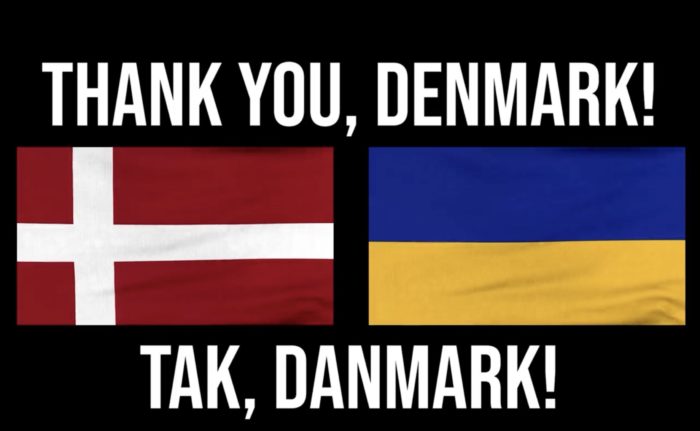 Ukraine's Defense Ministry expressed gratitude to Denmark on its social media, a video screenshot/ Source: Twitter, @DefenceU 
Denmark provides Ukraine with a new military aid package worth almost $250 million, Denmark's Defense Ministry reported.
The assistance of the Danish government is intended primarily for purchasing air defense systems.
The package also includes:
armored repair and evacuation vehicles;
mine clearance vehicles;
mine clearance hoses:
ammunition for the Carl Gustaf anti-tank grenade launchers;
portable field bridges;
night vision equipment, etc.
"We know that the Russians have entrenched themselves in the occupied territories of Ukraine and prepared fortifications, minefields and other obstacles to stop a Ukrainian offensive. The equipment in the donation package is important in paving the way for Ukrainian tanks and frontline armored infantry. At the same time, we are strengthening our efforts to maintain key capabilities," the Acting Minister of Defence Troels Lund Poulsen said. "Denmark is helping to create the best possible conditions for Ukraine to succeed with a future offensive and, in the long term, a successful Ukrainian defense struggle," Troels Lund Poulsen added.
The military aid package includes armored vehicles built to withstand mines and equipment that can assist with mine clearance. In addition, the package consists of mine clearance hoses that can be used for breaking through minefields. Demark also donated special vehicles designed to salvage tanks and break through fortified obstacles.
"The Ukrainian fighting spirit is impressive. Ukraine is fighting for the security of the whole of Europe, and the need for military support remains acute. Last week, I felt this when I met my Ukrainian Foreign Minister colleague in Odesa," Denmark's Foreign Minister Lars Løkke Rasmussen said mentioning his visit to Ukraine in April 2023. "The new military donation package is our largest to date. Denmark is certainly shouldering our share of the responsibility," Lars Løkke Rasmussen announced.
Apart from the lethal weaponry, the Danish military aid package includes financial contributions in support of air defense, as well as fuel, bridge equipment, first aid equipment, and field rations for Ukrainian troops.
Earlier before, Denmark provided Ukraine with 19 French-made CAESAR self-propelled howitzers. On 28 April, Ukraine's Defense Minister Oleksii Reznikov announced that all CAESAR howitzers that Denmark handed over to Ukraine were already on combat duty.
Related:
Tags: counteroffensive, Denmark, military aid to Ukraine, NATO, Russian invasion of Ukraine, Ukraine, Ukraine-Denmark relations