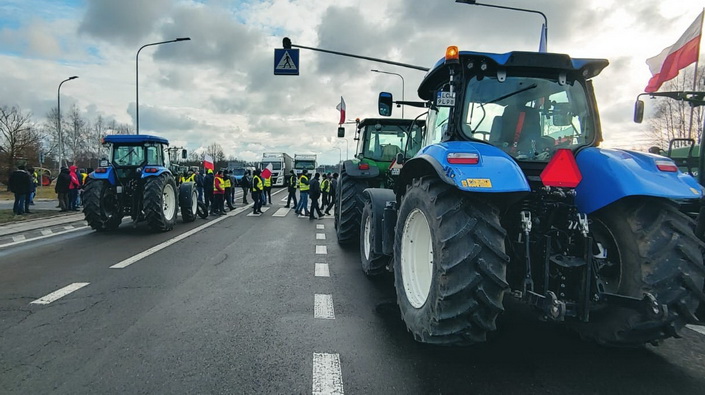 Poland's farmers protesting against grain imports from Ukraine on 3 February 2023. Photo from Oszukana Wieś  
On 28 April, the Embassy of the Republic of Poland in Ukraine and the EU Delegation to Ukraine received the Ukrainian Foreign Ministry's notes on the categorical unacceptability of the situation regarding trade restrictions on imports of Ukrainian agricultural products. Ukrainian Foreign Ministry spokesman Oleh Nikolenko stated this in a Facebook post dated 29 April.
"Such restrictions, whatever their reasons, do not comply with the EU-Ukraine Association Agreement and the principles and norms of the EU Single Market," Nikolenko wrote.
He says there are "all legal grounds for the immediate resumption of exports of Ukrainian agricultural goods to Poland, Romania, Hungary, Slovakia, and Bulgaria," as well as for the continuation of unimpeded exports to other EU member states and, in general, unimpeded transit of all Ukrainian products to other countries both within and outside the EU.
Ukraine's MFA called on its partners to "find a balanced solution based on EU legislation, the Association Agreement, and in the spirit of solidarity."
"This is the only way to successfully counteract Russia's full-scale aggressive war against Ukraine and strengthen the EU Single Market, which Ukraine will become a member of," Nikolenko wrote.
Poland suspended imports of Ukrainian grain on April 15, Hungary on April 16, Slovakia on April 17, and Bulgaria on April 19. On 18 April, Ukraine and Poland reportedly agreed to resume the transit of Ukrainian grain through Poland, and on 22 April, Bulgaria and Ukraine reached an agreement to "unblock and unload trucks" carrying agricultural products at the border.
On 19 April, the European Commission underlined the importance of following "a common EU approach rather than unilateral solutions," and offered the five countries a package of agricultural financial support to affected farmers.
Read also:
Tags: Ukraine-EU relations, Ukrainian exports, Ukrainian grain