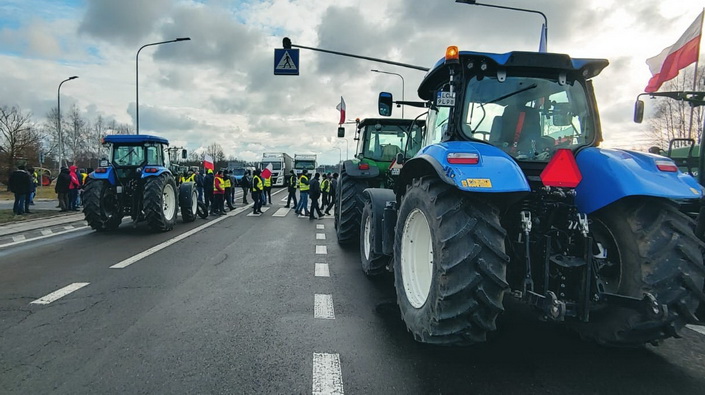 Poland's farmers protesting against grain imports from Ukraine on 3 February 2023. Photo from Oszukana Wieś  
The Polish government has decided to ban the import of grain and other agricultural products from Ukraine in an effort to protect the Polish agricultural sector. The Polish Minister of Economic Development and Technology, Waldemar Buda, announced the decision. He also published the governmental resolution, which bans imports until 30 June 2023.
Zgodnie kierunkową decyzją Rady Ministrów właśnie podpisałem Rozporządzenie w sprawie zakazu przywozu z Ukrainy produktów rolnych.@MorawieckiM @pisorgpl @MRiTGOVPL@MRiRW_GOV_PL @MF_GOV_PL pic.twitter.com/vHjhFCeOek

— Waldemar Buda (@waldemar_buda) April 15, 2023
The list of banned products includes grains, milk, eggs, poultry meat, and dozens of other products. In 2022, the EU canceled quotas for imports from Ukraine to support Ukrainian economy for the time of war with Russia. However, so far the decision wasn't prolonged for 2023.

As was reported, Poland faced problems associated with the inflow of agricultural products from Ukraine after the beginning of the Russian invasion, when imports from Ukraine to the EU were liberalized to help the Ukrainian economy during the war. In March 2023, Poland farmers were massively protesting over the flow of agricultural products from Ukraine.
Also, on 17 April 2023, the Ministers of Agriculture of Ukraine and Poland are expected to meet on the territory of Poland to sign an agreement on the further export of Ukrainian grain to third countries through the territory of Poland.
"We wanted to say our position and believe that such things are best to be done through negotiations on a bilateral basis. Given our strong and constant cooperation with the Polish side, I hope we will reach an agreement at the beginning of next week," said the Ukrainian Minister of Agriculture Mykola Solskyi.
Tags: Ukraine-EU relations, Ukraine-Poland relations, Ukrainian economy