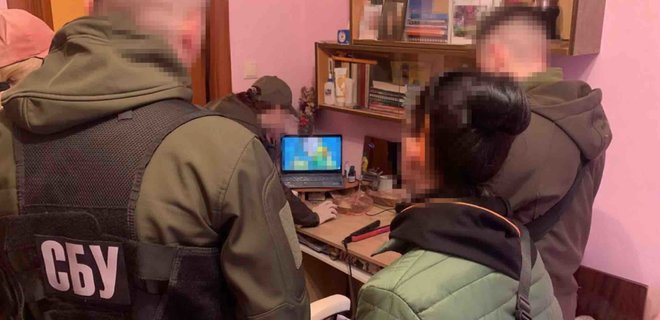 Credit: SBU 
According
to the Security Service of Ukraine (SBU), a Russian FSB agent was arrested in Cherkasy Oblast for collecting information about Ukrainian defense forces' locations and movements. The agent was also attempting to infiltrate a local government office for espionage and sabotage activities. The information obtained about the Ukrainian forces was transmitted to the aggressor via an encrypted chat in the form of coordinates and detailed descriptions of objects, reports the SBU.
In addition to her espionage activities, the suspect was spreading fake news about the war in Ukraine and justifying the actions of the occupiers on Russia's social network Vkontakte (banned in Ukraine). The SBU claims that the Russian agent later received another task: to infiltrate a local government office for espionage and sabotage activities within the institution. If she were to obtain a position, she was tasked with collecting data about the technical state and functioning of critical infrastructure facilities in the region.
However, the SBU thwarted the agent's plan, documenting her criminal actions in stages and arresting her. The suspect, a local resident, was remotely recruited by the Russian special service at the beginning of the year. The occupiers promised her a high financial reward for successfully completing tasks. During a search at her residence, a mobile phone she used to communicate with the FSB representative was found.
The SBU has informed the suspect of her suspicion of state treason committed during wartime and justifying the Russian armed aggression against Ukraine. The suspect is currently in custody as a preventive measure.
Recently, the SBU has arrested and detained multiple individuals involved in espionage and collaboration with Russian forces.
In one case, the SBU arrested a former "railway chief" in the city of Kherson for assisting Russia in transporting military equipment [2]. This individual was apprehended for collaborating with the invading forces and undermining Ukraine's security efforts.
In March 2023, the SBU neutralized a branch of FSB agents who were preparing missile strikes on Ukrzaliznytsia facilities and selecting staff in the administration of the occupation authorities.
In a high-profile case, the SBU detained a Russian agent who had previously commanded a special operations center of the Ukrainian Army. The individual was apprehended for collaborating with the enemy and jeopardizing national security.
Additionally, the SBU detained three informants last summer and fall who were found guilty of espionage against Ukraine. Courts sentenced them to prison terms of eight to twelve years based on the evidence presented.
Tags: FSB, Russian agents, SBU