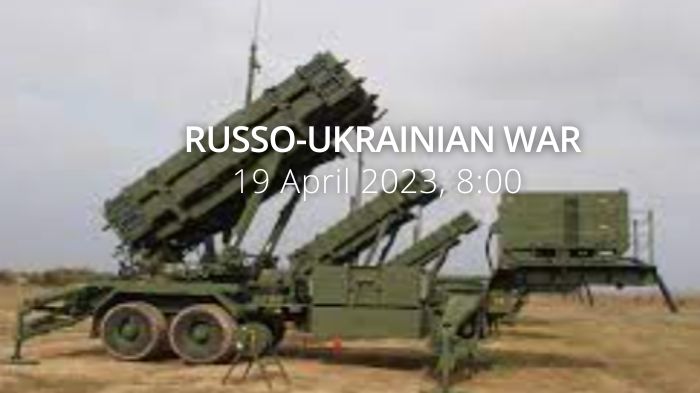 "Ukrainian forces are already conducting some counteroffensive actions." – Ukrainian Deputy Defense Minister Hanna Malyar. Russians are using guided bombs en masse. Patriot missile defense systems arrive in Ukraine.
https://twitter.com/EuromaidanPress/status/1648767420247711744
Daily overview — Summary report, April 20
A map of the approximate situation on the ground in Ukraine as of 00:00 UTC 05/03/23.

There have been no notable changes to control since the last update. pic.twitter.com/zUjmipIpuw

— War Mapper (@War_Mapper) March 5, 2023
The General Staff's operational update regarding the Russian invasion as of 18.00 pm, April 20, 2023 is in the dropdown menu below:
Day 421 of the full-scale russian military aggression has begun.
Over the past 24 hours, the enemy launched 3x missile and 57x air strikes, including 26x Shahed-136 type UAVs. 21x of them were destroyed by our defenders. Also, the russian aggressors fired 69x rounds from MLRS at the positions of our troops and populated areas. There are dead and wounded among the civilian population, destroyed and damaged private residential buildings and other civilian infrastructure.
The threat of launching missile and air strikes on the entire territory of Ukraine remains high.
The enemy, at the cost of heavy losses, continues to wage a war of aggression. The main efforts are focused on conducting offensive operations in the Lyman, Bakhmut, Avdiivka, Mar'yinka, and Shakhtars'ke axes. Over the past 24 hours, units of the Defense Forces of Ukraine repelled more than 55x enemy attacks on the specified areas of the front. The fiercest battles are fought for Bakhmut and Mar'yinka.
Volyn', Polissya, Sivershchyna and Slobozhanshchyna axes: the operational situation has not changed significantly. A comprehensive check of the combat readiness of the Armed Forces of the republic of belarus is underway.
Over the past day, the enemy shelled the settlements of Shalygine, Boyaro-Lezhachi, Iskryskivshchyna, Bilopylla, Volfyne, Katerynivka, and Kindrativka in the Sumy Oblast, as well as Strylecha, Ohirtseve, Vovchansk, Petropavlivka, Karaichne, Zemlianka, Ustinivka, and Odradne in the Kharkiv Oblast.
Kupyansk axis: Krasne Pershe, Novomlynsk, Dvorichna, Zapadne and Berestov of Kharkiv Oblast were hit by enemy shelling.
Lyman axis: the enemy tried to improve the tactical position, conducted unsuccessful offensive actions in the areas of the southern outskirts of the settlement of Kreminna and Serebryansk Forestry. Stelmakhivka, Nevske, Dibrova, Kuzmine and Bilogorivka in the Luhansk Oblast and Ivanivka, Torske, Verkhnokamianske and Spirne in the Donetsk Oblast were hit by artillery fire.
Bakhmut axis: the enemy continues to conduct offensive actions. Heavy fighting continues for the city of Bakhmut. Also, during the past day, our defenders repelled enemy attacks in the area of the Khromov settlement. Fedorivka, Vasyukivka, Minkivka, Orikhovo-Vasylivka, Novomarkove, Hryhorivka, Bakhmut, Ivanivske, Chasiv Yar, Stupochki, Predtechine, Kostyantynivka, Druzhkivka, Oleksandro-Shultine, Bila Gora, Druzhba and Zalizne of the Donetsk Oblast were affected by enemy shelling.
Avdiivka axis: the enemy carried out offensive actions in the Avdiivka, Vodyanny and Pervomaisky districts, without success. Shelled, in particular, Novokalynov, Avdiivka, Tonenka, Severna, Netaylov, Pervomayske and Nevelske of the Donetsk Oblast.
Mar'yinka axis: our defenders repelled numerous enemy attacks in the areas of Mar'yinka and Pobieda settlements last day.
At the same time, Krasnohorivka, Georgiivka, Mar'yinka, and Novomykhailivka of the Donetsk Oblast got under enemy fire.
Shakhtars'ke axis: the enemy conducted unsuccessful offensive actions in the area of Vugledar. In addition to the latter, Novoukrainka, Prechistivka and Velika Novosilka of the Donetsk Oblast were shelled.
Zaporizhzhia and Kherson axes: the enemy continues to conduct defensive operations. At the same time, during the day, more than 35x settlements were shelled. Among them are Olhivske, Malynivka, Orihiv, Novodanilivka and Novoandriivka of the Zaporizhzhia Oblast; Dudchany, Kachkarivka, Zmiivka, Ivanivka, Inzhenerne and Dniprovske of the Kherson Oblast and the city of Kherson.
In the units of the russian "volunteer" formation "Nevsky", who take part in hostilities in Donetsk Oblast, russian servicemen have a low level of morale and psychological state. It has been established that the main factors of this are due to large losses in manpower during hostilities, untimely provision of ammunition to the occupiers, uncertainty regarding the terms of replenishment of the personnel of the units that suffered combat losses. The number of those wishing to leave their units and withdraw from the areas of hostilities to the russian federation is increasing.
In the settlement of Iziumivka in the temporarily occupied territories of the Autonomous Republic of Crimea, about 400x conscripts of the russian occupation forces, who are quartered at the recreation base "Scythian Valley", are scheduled to be moved to defensive positions in the area of the settlement of Volodymyrivka of the Autonomous Republic of Crimea.
During the day, the Ukrainian Air Force carried out 7x strikes on areas of concentration of personnel, and units of missile and artillery troops hit 2x areas of concentration of manpower, weapons and military equipment and 2x warehouses of enemy ammunition.
Military Updates
Rocket motor scarcity in the US hampers weapons for Ukraine – WSJ. The rocket engine shortage in the US is hindering the production of rockets for HIMARS for Ukraine. Supply chain issues are impeding efforts by American arms manufacturers to produce more weapons for Ukraine and replenish stocks for the US and its allies, particularly with regards to GMLRS rockets and HIMARS systems. According to The Wall Street Journal, large American arms manufacturers are increasing production longer than expected despite billions of dollars in support from the Pentagon. Defense companies plan to fulfill contracts by purchasing equipment abroad to produce more in-demand artillery shells.
Russia still relies on prewar stockpiles while its military capability declining due to sanctions, equipment losses – CSIS. According to a report by the US-based Center for Strategic and International Studies (CSIS), Russian military losses, including tanks, trucks, artillery pieces, and drones, have led to a decline in its military capability. The report notes that Western sanctions have caused shortages of high-quality foreign components, which has forced Moscow to use lower-quality alternatives.
Russian air strike on Ukraine's Vovchansk destroyed city market, killed at least two. On the night of 19 April, Russia conducted an air strike against Vovchansk, a city in the east-Ukrainian Kharkiv Oblast. The strike destroyed the city market. Nearly 60 trade pavilions burned down. During search and rescue operations, the bodies of 2 dead civilians were found. A 50-year-old man and a 44-year-old woman were killed by the Russian air strike in Vovchansk, Oblast head Oleh Syniehubov informed.
https://twitter.com/EuromaidanPress/status/1648608256439336964
Russians are using guided bombs en masse after running out of strategic cruise missiles. Having used almost all stock of strategic cruise missiles against the Ukrainian power grid, Russians started using older guided bombs on the frontline, Ukraine's spokesman of the Air Force, Yuriy Ihnat, said on TV air. Despite the older technology, guided bombs can be launched from Russian planes 50 kilometers behind the frontline, making it a relatively safe operation for Russian pilots. These bombs are deadly, causing large explosions and destroying Ukrainian fortifications.
Over 7,000 Ukrainian military personnel are currently missing in action, according to Oleh Kotenko, Ukraine's Commissioner for Missing Persons. "There really is such a figure, it is a little more than 7,000, and we are [hoping] that those people we are looking for as missing are still in captivity," Kotenko noted speaking on the national telethon. According to his estimate, about 60-65% of the missing are found alive and in captivity, while the rest have sadly perished.
Ukraine downs seven drones, including six Shaheds in Russia's evening attack. In Zaporizhzhia Oblast, the air defenses shot down seven Russian drones on the evening of 18 April, including six Iranian Shahed kamikaze drones, as reported by Ukrainska Pravda, referencing the communication by the head of Zaporizhzhia Oblast Military Administration, Yuriy Malashko, via Telegram.
According to British Defence Intelligence, (last 48 hours): 
https://twitter.com/DefenceHQ/status/1648990230962110464
On 18 April 2023, the Kremlin issued a press release on President Putin's visit to Russian-occupied southern Ukraine. Using the Russian spelling of Ukraine's Dnipro river, the release described the president as having visited the 'Dnipr Group of Forces'.
This is one of the first references to the existence of a Dnipr Group of Forces (DGF). Russia uses the term 'group of forces' in a specific way, indicating a large, task-organised operational formation.
Early in the invasion, the Russian force was organised into groups of forces each aligned to their home military districts in Russia, for example, the Western and Central Groups of Forces. The existence of an apparently new DGF suggest that the original force organisation has evolved, probably due to heavy losses.
Losses of the Russian army 
Russia's daily losses in Ukraine are approximately 20 times greater than the US's losses in Vietnam or Russia's losses in the First Chechen War as per Volodymyr Dacenko, an analyst and former Forbes Ukraine columnist. https://t.co/oZJshBs79K pic.twitter.com/ar8iQUeXQ0

— Euromaidan Press (@EuromaidanPress) April 20, 2023
Humanitarian 
Ukrainian police unit "White Angel" evacuated an elderly man from the frontline city of Avdiyivka in Donetsk Oblast. Russian troops have been shelling the city, destroying residential buildings and killing civilians
Photo by Kostiantyn Liberov & Vlada Liberova pic.twitter.com/mUqcYhr3GR

— Euromaidan Press (@EuromaidanPress) April 20, 2023
Ukrainian stand at London Book Fair focuses on stories of frontline experiences and non-fiction. The Ukrainian stand at the London Book Fair focuses on non-fiction books and showcases stories from the literary and publishing community on the frontlines or reflecting on their experiences of exile. The stand also features views on Ukrainian history from world intellectuals, historians, and philosophers, as well as books on propaganda and fakes. Ukraine has the opportunity to showcase the quality of its literature and book publishing once again at the London Book Fair, according to Minister of Culture and Information Policy, Oleksandr Tkachenko. The battle between good and evil for democratic values of humanity is currently taking place in Ukraine, said Tkachenko, quoting Ukrainian writer Yuriy Andrukhovych. The development of Ukrainian literature and its recognition worldwide can help Ukraine defeat the world's evil called Russia, according to Andrukhovych.
https://twitter.com/EuromaidanPress/status/1648793340819935233
Legal 
Thousands of #Ukraine citizens called 'foreigners' and stripped of their property rights in #Russia occupied #Crimea#StandWithUkraine #StopRussiahttps://t.co/prQgbobJ3C pic.twitter.com/zXNIr9821G

— Euromaidan Press (@EuromaidanPress) April 20, 2023
Political prisoner returns home after 7 years. Political prisoner Arsen Dzhepparov has returned home today after being 7 years in Russia's prison. His daughter Evelina was only 6 years old at the time of his arrest and was getting ready to start school. She will soon be 13, having spent 7 years of her childhood without her father. There are hundreds of children like Evelina in Crimea. They are united under the "Crimean Childhood" movement, whose fathers are imprisoned for their beliefs and position.
Political prisoner Arsen Dzhepparov returned home today after being 7 years in Russia's prison

His daughter Evelina was only 6 years old at time of his arrest & was starting school.She will soon be 13. There are hundreds of children like Evelina in Crimea https://t.co/u59k1nnirF pic.twitter.com/kRwYuLFnnF

— Euromaidan Press (@EuromaidanPress) April 19, 2023
How can Ukraine make anti-corruption institutions more effective?  The process of establishing anti-corruption institutions in Ukraine is going well, but it could be even better, says Mykola Khavroniuk, a Ukrainian lawyer, former head of the legal department and deputy chief of staff of the Supreme Court of Ukraine.
Support
Patriot missile defense systems from two more countries arrive in Ukraine. The First Deputy Minister of Defense of Ukraine, Oleksandr Pavliuk, announced in a Telegram post that Patriot missile defense systems from the US, the Netherlands, and Germany have arrived in Ukraine. These systems are expected to help protect against Russian cruise missiles and UAV attacks. Pavliuk thanked the partner countries for significantly strengthening Ukraine's air defense capabilities.
Delivered Patriot systems will allow Ukraine "to do the things we've been talking about for a long time". The sooner the Patriot anti-aircraft missile complex handed over to Ukraine by Germany starts its combat duty, the more quickly Ukrainian defenders will be able to start performing a number of important tasks, the spokesman of Ukraine's Air Force Yuriy Ihnat said in the TV air. Patriot systems, having the ability to shoot down Russian planes at a distance of 150 kilometers, will significantly decrease Russian possibilities of attacking Ukrainian troops with guided bombs, at least in some sections of the frontline.
Germany handed over to Ukraine the second of four promised IRIS-T air defense systems. In the summer of 2022, Chancellor Olaf Scholz approved the delivery of four IRIS-T air defense systems to Ukraine. The first Iris-T was handed over to Ukraine in October 2022. The ground-based air defense system has proven itself in the winter in the Kyiv area, making an important contribution to protecting civilian infrastructure from Russian missiles. The Iris-T SLM anti-aircraft system consists of three vehicles:
a launch pad on a military truck with space for eight missiles

a radar vehicle

and a command vehicle.
South Korean president named conditions for the military aid to Ukraine. Ahead of his state visit to the US, president of South Korea Yoon Suk Yeol said for the first time that his government may send military aid to Ukraine "if there is a situation the international community cannot condone, such as any large-scale attack on civilians, massacre or serious violation of the laws of war." He said this in the interview for Reuters. A key US ally and major producer of artillery ammunition, South Korea has so far tried to avoid antagonising Russia due to its companies operating there and Moscow's influence over North Korea.
Germany delivered its SAM Patriot to Ukraine. The German Government's website has updated the page featuring a list of the military aid items supplied to Ukraine. There are one new and two updated items on the list:
air defense system PATRIOT with missiles
76 Mercedes-Benz Zetros trucks (previously: 60)
124 border protection vehicles (previously: 122)
The trucks and border protection vehicles are marked as deliveries from industry stocks financed by German funds for security capacity building.
New Developments
Up till 1721, Russia was known as Moscovia. Only after conquering Ukraine did it steal the name of Kyivan Rus

25,000 Ukrainians signed the petition to Ukraine's president, advocating for officially renaming imperial Russia to its historical name Moscovia https://t.co/n7nvNEq2QW

— Euromaidan Press (@EuromaidanPress) April 20, 2023
Ryanair has plans for 30 routes and multiple bases in Ukraine once it is safe. Ryanair's CEO, Michael O'Leary, announced that the company has hired Ukrainian pilots and cabin crew and is ready to resume operations in Ukraine once it becomes safe again to fly in the country. Ryanair plans to create 30 routes and have several bases in Ukraine within 12 months after returning.
Ryanair has plans for 30 routes and multiple bases in Ukraine once it is safe, its CEO says

Ryanair has hired Ukrainian pilots and cabin crew and is preparing to return to the market it was the second-largest in before Russian invasion https://t.co/CFBvj2osnR pic.twitter.com/4QhpAcTRxu

— Euromaidan Press (@EuromaidanPress) April 19, 2023
Ukrainian national team won European Girls' Mathematical Olympiad, beating 150 teams. The Ukrainian national team for mathematics has emerged as the winner of the European Girls' Mathematical Olympiad held in Slovenia this year, according to the Olympiad's official website. A total of 213 participants and 151 teams from various European countries took part in the competition. Among them, the Ukrainian girls' team earned the title of the best European team in the Olympiad.
Western technology goods end up in Russian missiles, bypassing sanctions — NYT.
The United States and Europe have imposed sanctions on Russia to prevent it from obtaining technology for its military. However, chips and other electronic components, critical to the development of weapons, have been sold to Russia through countries such as Armenia, Kazakhstan and China, NYT
found
. Despite the trade restrictions, Russia's chip imports are increasing. The illicit trade in chips is difficult to police given the ubiquity of semiconductors. The Russian military appears to have been relying on a large stockpile of electronics and weaponry it accumulated before the invasion of Ukraine.
Bulgaria introduces ban on food imports from Ukraine, with the exception of transit goods.
Bulgaria's caretaker Prime Minister, Gylyb Donev, announced at the beginning of a government meeting that a temporary ban on food imports from Ukraine would be introduced, except for transit goods. Donev said that over the past year, despite intentions to the contrary, a significant amount of food products had remained in the country and disrupted food supply chains. "If this trend continues or worsens, the consequences for Bulgarian businesses could be extremely serious. We stand in solidarity with Ukraine, but the bankruptcy of Bulgarian farmers does not help Ukraine," he said.
Assessment 
On the war. 
The Institute for the Study of War has made the following assessment as of  April 20, 2022:
The Russian Federal Security Service (FSB) appears to be conducting a large-scale overhaul of domestic security organs. Russian state-controlled outlet TASS reported on April 19 that the FSB and the Main Directorate of the Security Service of the Ministry of Internal Affairs (MVD) have been conducting mass checks at the Moscow Central District Internal Affairs Directorate and several Moscow district police offices for the past several weeks due to "the leakage of data from Russian security forces at the request of Ukrainian citizens."[1] Another Russian source noted that the FSB and MVD have already detained police officers as part of this investigation.[2] Russian outlets reported that the suspected police officers leaked personal data on Russian security forces to external individuals, some of whom are Ukrainian citizens.[3] The reported FSB and MVD raids on the Moscow police departments are occurring against the backdrop of a series of arrests and dismissals of prominent members of Rosgvardia (Russian National Guard) leadership.[4] The Kremlin may be pushing for such arrests and investigations in order to conduct an overhaul of the domestic security apparatus to oust officials who have fallen out of Kremlin favor and consolidate further control internal security organs.
Ukrainian Deputy Defense Minister Hanna Malyar reported on April 19 that Ukrainian forces are already conducting some counteroffensive actions. Malyar stated that Ukrainian forces will never preemptively announce when the counteroffensive starts and reiterated that Ukrainian forces aim to liberate all Ukrainian territory.[5] Malyar also reported that Russian forces are concentrating on offensives in the Lyman, Bakhmut, Avdiivka, and Marinka directions and that Russian forces have concentrated weapons, equipment, and all professional units – including Wagner Group forces, Spetsnaz, and airborne forces (VDV) – around Bakhmut.[6] Malyar noted that Ukrainian counteroffensive actions will be both offensive and defensive in nature given the complex nature of the battlefield.
Russian forces continue to use Shahed drones and other lower-precision systems to offset the degradation of Russia's precision munition supply. Russian forces launched 12 Shahed-131/136 drones at southern Ukraine from the Sea of Azov on the night of April 18 to 19, 10 of which Ukrainian air defense shot down.[7] Ukrainian United Coordination Press Center of the Southern Defense Forces Head Nataliya Humenyuk noted on April 19 that the Shahed strike was a deliberate attempt to find and destroy Ukrainian air defense systems.[8] Russian milbloggers have recently discussed the importance of targeting Ukrainian air defense capabilities in advance of any potential Ukrainian counteroffensives, and the Shahed strikes were likely intended in part to set conditions to do so.[9] Ukrainian Air Force Spokesperson Colonel Yuri Ihnat noted that Russia has used almost all of its strategic missile stockpile since September 11, 2022, and that Ukrainian forces have shot down 750 of the total 850 missiles that Russian forces have launched at Ukrainian during this period.[10] Ihnat noted that Russian forces have switched to cheaper and shorter-range options such as guided aerial bombs and have removed Kh-50 type missiles from storage for restoration.[11] Ihnat was likely referring to Kh-55 Soviet-era air launched cruise missiles, as Russia is slated to begin production on newer Kh-50 cruise missiles in summer 2023.[12] Russia may be removing Kh-55 cruise missiles from storage to refit them for future strikes on Ukraine.
Key Takeaways
The Russian Federal Security Service (FSB) appears to be conducting a large-scale overhaul of domestic security organs.
Ukrainian Deputy Defense Minister Hanna Malyar reported on April 19 that Ukrainian forces are already conducting some counteroffensive actions.
Russian forces continue to use Shahed drones and other lower-precision systems to offset the degradation of Russia's precision munition supply.
Russian forces conducted limited ground attacks near Kreminna.
Russian forces continued ground attacks in and around Bakhmut, along the Avdiivka-Donetsk frontline, and in western Donetsk Oblast.
Russian sources claimed that Ukrainian forces conducted limited ground attacks in Zaporizhzhia Oblast.
Russian officials continue to prepare to send electronic summonses and establish a digital registry for those eligible for military service.
A State Duma deputy proposed a bill that would expand contract conditions for the OMON and SOBR units of Rosgvardia and set conditions for the mobilization of Rosgvardia reservists.
Russian officials and occupation authorities continue efforts to further integrate occupied territories into the Russian economic system.
Tags: Russian invasion