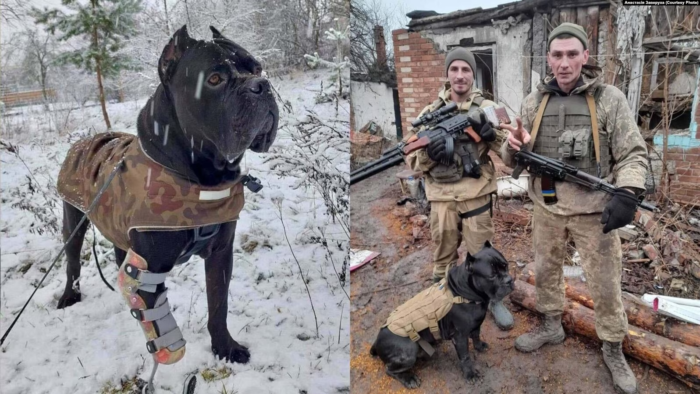 Left: Vasya after prosthetic fitting and rehab; right: Vasya with Roman and friend in the Donbas before. Photo: courtesy Anastasiya Zaverukha/Radio Liberty  
Ukrainian military dog Vasya gets a new lease on life after losing a limb in a harrowing journey and struggle for survival.
Vasya is a Ukrainian military dog, a Cane Corso dog (Italian breed of mastiff) who has dedicated his life to serving with the Ukrainian military in the Donbas. Vasya and his owner, Roman Zaverukha, served in the 503rd Separate Marine Battalion in 2016 and were engaged in reconnaissance, but Vasya did not perform any combat missions. However, his presence alone uplifted the spirit of the soldiers, and they were so fond of him that they even made him a bulletproof vest.
Service in the Armed Forces and a well-deserved dog pension
In November 2021, Vasya disappeared while their brigade was stationed near Mariinka, Donetsk Oblast. The marines used reconnaissance drones to find him and discovered that Vasya had fallen into a trap and got tangled in barbed wire near the demarcation line. Vasya managed to free himself, limp halfway, and then the soldiers provided first aid and carried him on a stretcher to the nearest village. After they were convinced that the dog's life was not in danger, Vasya was transported home to Ternopil.
"Vasya got so tangled in the barbed wire that his neck and paws were severely injured. He must have been trying to get out with his paws. At first, the marines flew a drone to assess the situation, and even planned to launch a rescue operation. My husband wanted to go in alone, but his comrades wouldn't let him. But Vasya managed. He chewed off one of his paws and limped and crawled back halfway towards his comrades. His neck was bloody and torn." recalls Anastasiya, Roman's wife.
Vasya was treated and evacuated to his home in Ternopil, where he took a well-deserved dog pension and recovered at home for almost a year.
How a Ukrainian reconnaissance dog escaped from Russian hybrid forces
But his story doesn't end there. His owner, Anastasiya Zaverukha, Roman's wife, searched high and low for a suitable prosthesis for Vasya's missing paw. Finally, they found help in a Polish woman who runs an animal rehab clinic Paws Up and creates prostheses and orthoses (braces) for animals from thermoplastic materials and who also looks for owners for stray animals from Ukraine. Anastasiya and Vasya travelled to Poland for rehabilitation, and Vasya underwent surgery and was fitted with a prosthesis for his missing leg and an orthosis for his other front leg, as he had joint problems. He underwent physiotherapy at the animal rehabilitation center, and after his treatment, Vasya lost 12 kilograms.
Prosthetics and rehabilitation for injured animals
Vasya's prosthetics were made by Ewelina Sabarna, a Polish national who creates prostheses and orthoses for injured animals. According to her, the price of prosthetics for one limb ranges from 500 to 1000 euros. After Vasya's rehabilitation, he returned home to Ukraine with his new prosthesis.
Ewelina Sabarna recalls that she made a promise on social media to aid five dogs from Ukraine a year ago, and Vasya was one of the fortunate ones. His condition improved in Poland, but he required daily exercise, training, and guidance to adjust to his prosthesis. Simply purchasing or acquiring a prosthesis is insufficient; one must also teach the dog how to walk with the new limb.
Ewelina is also assisting Corby, a dog that lost all four limbs during shelling and was rescued in the streets of a destroyed city of Ukraine.
"Animals can lead a regular and fulfilling life after receiving prosthetics, but only if they are trained to use their new limbs. Puppies adapt to prosthetics more quickly and effectively. After they receive a prosthesis, they begin running around within two minutes. The only catch is that the prosthetics must be changed monthly." Ewelina clarifies.
Returning home to new realities
Anastasia Zaverukha and her five-year-old son were looking forward to Vasya's return. Roman, who continues to serve in the Ukrainian Armed Forces, misses his furry friend, but knows that Vasya is in good hands.
Upon his return to Ukraine, Vasya faced a new challenge – adapting to the air raid sirens and explosions. Due to the ongoing missile attacks in Ukraine, it may take Vasya longer to get used to his prosthesis, as the constant noise can affect an animal's ability to learn something new.
"Stress works in animals the same way it does in humans. If we feel nervous and agitated, it's more difficult for us to learn new things." says Ewelina.
However, with time and training, Vasya, the Zaverukha's military dog, will hopefully be able to adjust to his new limb and continue to live a normal and full life.
Like humans, it is amazing how much military dogs (and animals in general) can endure and how much love and loyalty they can give. Vasya's journey is a true testament to the bond between humans and their furry friends.
Tags: animals, Armed Forces of Ukraine (ZSU), military dog, prostheses, rehabilitation, Russia-Ukraine war