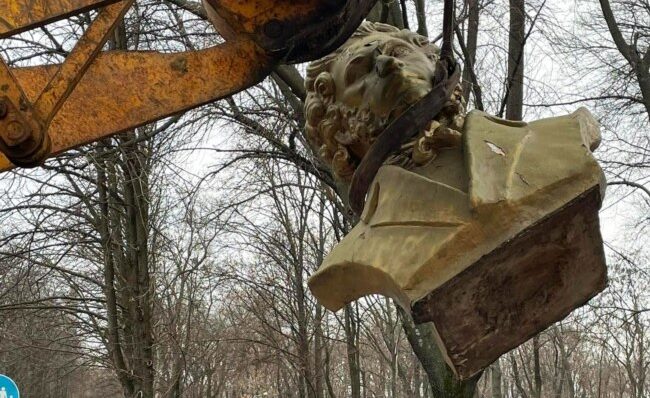 Following Russia's full-scale invasion of Ukraine, ubiquitous monuments to Russian writers were dismantled throughout Ukrainian cities, decried as symbols of imperialism. Here, a monument to Russian poet Aleksandr Pushkin in Kramatorsk is taken down, 30 December 2022. Credit: Oleksandr Honcharenko 
Russian culture, "full of hubris and arrogance," is replete with colonization and imperialism and thus carries ideological responsibility for Russia's neocolonial wars. Meanwhile, Ukrainian literature is finally emerging from the destructive Soviet era and obtaining its burlesque and dialogic self, says literary critic Tamara Hundorova in a conversation with South Korean journalist Youn Youngho.
Over the past thirty years, Ukrainian literature has embarked on a new path, turning its face away from Russia and looking increasingly and more eagerly toward the West. A new generation of writers has emerged, brought up on world literature and open to the world. Today, Ukrainian-language literature and culture are more available, more widely translated, and has become more visible and more popular among foreign readers.
In her interview with South Korean writer and journalist Youn Youngho for Medici Media, Ukrainian literary scholar Tamara Hundorova talks about post-colonialism and the post-Soviet man, describes the consequences of the collapse of the Soviet Union and the formation of a new, independent Ukraine.
"Putin turned many Ukrainians into conscious patriotic citizens. When they destroy your land, kill your children, despise your right to freedom, you begin to see your identity and your language in another way," says Tamara Hundorova.
Post-colonialism and the post-Soviet man
In the former Soviet Union, the late 1980s and 1990s were a change-making period, when ideas, worldviews, desires, and values swirled around society, when the Soviet republics gradually opened their doors to the outside world. But, it was also a time of crisis, when many people lost their values and jobs and had to adapt to new living conditions. Interesting changes occurred in the cultural sphere, especially in writing, social themes, and literature. There was a great interest in modernism, the avant-garde, and world culture.
The end of the Soviet Man: How ex-USSR states forged their national identities | 30 Years of Freedom, p.3
"Personally, it was important for me to integrate into the Western cultural and scientific community. In 1991, I left Ukraine and spent almost a year in Australia, discovering a whole new world," notes Tamara Hundorova.
Then, the post-totalitarian man appeared, which is more than evident in Ukrainian literature, continues Hundorova.
For example, Serhiy Zhadan, born in 1974, one of the leading writers in Ukraine today. Zhadan began writing in the 1990s, recreating the uprootedness of the last Soviet generation, to which he belongs. His main protagonist is usually a disappointed teenager who refuses to grow up, enter the adult world and take responsibility; he has no home and lives in railway stations and temporary shelters. Such is the figure of the post-Soviet man who is constantly migrating.
Next, Zhadan analyzes how this teenager grows up and learns to take responsibility for his history, his country and memory. In his novel Internat, Zhadan describes how this teenager enters adulthood and begins defending his "last territory" in the Donbas war, which began in 2014.
Serhiy Zhadan: No one can protect his country by accepting conditions dictated by the invader
Famous Ukrainian writer and essayist Oksana Zabuzhko draws attention to Ukrainian self-identification, post-colonial issues, and feminism. In her books, she shows how colonial trauma influences the personal history of female intellectuals.
Yuriy Andrukhovych — another leading Ukrainian writer of the independence period – writes about a generation of middle-aged men, who are thrown into an unexpected world of freedom. His protagonist is a gambler and a performer, a bohemian and an adventurer, in other words, a man of many faces. He escapes from colonial trauma, moving through space and time, but at the same time realizes that he is not whole, and that he is infected with loneliness and betrayal.
Ukrainian literature and culture in Russia's shadow
In her analysis, Tamara Hundorova points out that many foreign readers do not always understand Ukraine, the ups and downs of its history, and the specifics of its cultural development. Since the 17th century, when Ukrainian territories were annexed to Russia, and especially during the reigns of Peter I and Catherine II, any signs of autonomy were eliminated and Ukrainian culture became a mere shadow of Russian culture.
Assimilating new lands and a new people, the Russian Empire erased Ukraine's history and appropriated its culture, which became part of the all-Russian imperial culture and history.
As in every colonized territory, it was profitable and prestigious to resemble, act, and speak like an imperial person. Under influence of Russian imperialism, Ukrainians switched to the Russian language in official usage; writers and poets, competing for success, began writing in Russian. The Ukrainian language was classified as lowly, rude, and vulgar. Russian literary critics, particularly
Vissarion Belinsky
, labeled the Ukrainian language a regional peasant dialect.
A classic example of the dominance of Russian culture can be found in the works of Ukrainian-born and bred Mykola Hohol (Nikolai Gogol).
Hundorova states that Gogol is known as a Russian writer. However, he should be called a Russian-Ukrainian author, as he wrote many stories in the Ukrainian language and began his career by creating a vivid and exotic image of "Malorossiya,", as Ukraine was called at that time.
Gogol admitted that he had two souls: Russian and Ukrainian. He acknowledged his love for Ukraine and, in the end, could not find his true place in Russian society and took to traveling the world. The grotesque of his St. Petersburg stories, the theme of the simple little man, the pact with the devil, as in Dead Souls – all reflect his personal drama as a man from a small Ukrainian province (Sorochyntsi, Poltava Governate) who sympathized with his Ukrainian compatriots and perceived the Russian empire as evil incarnate.
The impact of the 2022 Russian invasion on Ukrainian literature 
When questioned by Youn Youngho about the full-scale Russian invasion of February 2022 and the ensuing war, Tamara Hundorova admits that she had to leave Kyiv and become a refugee in Munich, Germany.
"The invasion and war have had a great impact on my life. First of all, it traumatized me and my family, plunged me into a depression from which it's very difficult to emerge. And of course, it has affected Ukraine's future, as well as mine. It has also generated a feeling of immense hatred towards Russia and unconditional love towards Ukraine."
In a way, the Russo-Ukrainian war has opened a new era of neocolonial wars that threaten to become global. Russia's imperial mindset has fully revealed its true nature: Putin proclaims that Ukraine has no territory, no history, and that it does not have a culture, language, or history. Having proclaimed his so-called "special operation," he intends to wipe Ukraine and Ukrainians off the face of the earth.
However, the full-fledged war has given a new impetus to Ukrainian literature, especially poetry. Since the war in the Donbas in 2014, a great number of books, poems, and essays have been published, such as Internat by Serhiy Zhadan and The Length of Days (Довготa днів) by Volodymyr Rafeienko.
Both authors are from the Donbas. Volodymyr Rafeienko wrote in Russian and was awarded prestigious titles and honors in Russia, but the war changed everything. Not only did he leave occupied Donetsk, but he also began writing in Ukrainian. His novel Mondegreen: Songs about Death and Love explores how memory and language construct Ukrainian identity. Writing in a beautiful, experimental style, he describes the difficulties encountered by an IDP in his own country – Ukraine.
As he immerses himself in another language, IDP Gabriel "Haba" Habinsky, a refugee from war-torn Donbas and Rafeienko's alter ego, escapes to Kyiv, where he willfully adopts the Ukrainian language, all the while realizing that it has been buried deep within his being, hidden in childhood memories and fairy tales, in sounds and images, and in his unconscious.
Ukraine's 30: prominent Ukrainians who changed the country and the world. Part 3: Literature
Today, many Ukrainian writers refuse to work in Russian, underlines Hundorova.
The Russian language has become synonymous with Russia's ideological dominance of power and the so-called "Russian world."  It is not about the language of everyday life or intimate communication but about the Russian language as a dominant power, as a signifier of the symbolic and powerful Other, which destroys, appropriates, and kills.
Iya Kiva, a Russian-speaking Ukrainian poet who fled the Donbas war in 2014 and now, in 2022, is forced to flee the Russian army again, says that the war killed her mother tongue. Where the Russian language inhabited her, there is now a decaying evil beast. She states that she simply cannot write in Russian anymore.
"I know that today the number of people who want to read Ukrainian books has increased. Putin turned many Ukrainians into conscious patriotic citizens. When they destroy your land, kill your children, despise your right to freedom, you begin to see your identity and your language in another way." confirms Tamara Hundorova.
The importance of Chornobyl in Ukrainian literature
In her literary works, Tamara Hundorova often evokes the post-Chornobyl writers, as she calls them, and the literature that was born after Chornobyl (Chernobyl).
Chornobyl was not only a technological accident but also an event of global geopolitical, cultural, and environmental significance. It led to the collapse of the Soviet Union, gave birth to an apocalyptic perception of time, and demonstrated that borders do not matter much for an atom. Chornobyl also launched the beginning of the nuclear culture era, based on the idea of decay and threat that permeates our existence. Thus, all humanity and the entire cultural world are threatened by destruction and, perhaps, extinction.
Chornobyl nuclear disaster was tragedy in the making, declassified KGB files show
In Ukrainian literature of the 1990s, this sentiment is closely linked to the destruction of Soviet identity and the call for different hybrids and heterotopias.
Man emerges from the Soviet era totally deformed; national culture is colonized and looks incomplete, has its voids and taboos, and therefore must be rewritten.
It becomes a dialogue, a carnivalization, an ironic game. Such was the group "Bu-Ba-Bu," whose name evokes a world of burlesque, babble, and buffoonery (Бурлеск-Балаган- Буфонада). Its members, including writer Yuriy Andrukhovych, raised serious questions about the plurality of identity, the need for warm friendly contact, and the return of lost history and memory.
Russian literature full of imperialism, carries ideological responsibility for the war
Some people and experts affirm that Russian literature is an accomplice to Putin's war crimes, says Youn Youngho. Tamara Hundorova agrees. She argues that Russian culture is not only about aesthetics and style but also about ideology and the social unconscious, and thus is responsible for the past wars launched by Russia and the current war in Ukraine.
Colonization and imperialism are inscribed in Russian culture.
Former empires, such as the British and the French, are still analyzing and deconstructing colonization images and labels inscribed in their culture, but Russia, on the contrary, refuses to look at and explore its colonial and imperial past.
"In Russia, there are no public discussions about such topics. First, imperial Russia, then Soviet Russia, and today — Putin's Russia — worked and are still working to create the image of a 'great power' and its 'great culture.' For example, no one in Russia analyzes why Aleksandr Pushkin's narrative poem 'Poltava' glorifies Peter the Great and does not touch on the trauma that Russia suffered at the same Battle of Poltava in 1709 due to the betrayal of its ally, Ukrainian Hetman Ivan Mazepa, much less discusses the reasons why Mazepa betrayed. On the contrary, we see in 'Poltava' an imperialistic melodrama and an ode to the Russian tsar," specifies Hundorova.
Neither Tolstoy nor Dostoevsky have ever been idolized in Ukraine, maintains Hundorova. Their works are known, of course, but only those assigned in the school curriculum. The cult of Tolstoy was developed throughout the Soviet Union mainly through films based on War and Peace and Anna Karenina. Dostoyevsky's novel Crime and Punishment was studied in Ukrainian schools before the Russian-Ukrainian war, although it is clear that such works are psychologically difficult and even harmful due to Raskolnikov's moral experiments on himself and other people, whereas the Christian idea of repentance is not at all convincing in the novel.
Dostoevsky's work reveals the dark side of the Russian soul. Raskolnikov, an "underground man," cannot decide whether he is a "useless worm" or a "has a right." For many readers in the West, and in Korea and Japan, Dostoevsky embodies the mysterious Russian "soul." However, Hundorova maintains that he turns the soul into a receptacle of evil. Dostoevsky's "underground man" embodies resentment and self-destruction.
Hundorova states that in the search for the path to the divine, it is worth comparing Dostoevsky to Ukrainian writer and philosopher Hryhoriy Skovoroda. Skovoroda was an 18th-century Ukrainian philosopher close to Neoplatonism, who believed that the "inner man" is a vessel that can be filled with divine essence and saw the way to the divine through self-knowledge. When a person recognizes the "inner man," he sees God, Skovoroda argued. Skovoroda does not have the self-deprecation and world-weariness that Dostoevsky's man manifests.
"When reading Dostoevsky, you cannot help but feel that he draws you, along with his characters, into the irrational world of evil."
Russian culture is based on the cult of hubris and arrogance
Tamara Hundorova underlines that Russian culture is rooted in the cult of pride.
Symbolically speaking, Russian authorities forbid laughter.
Dostoevsky spoke of the universality of Russian culture, but actually, it is imperial in nature; Russian imperialism is the foundation of Russia's national character. The imperial concept of the all-Russian
"soul"
was formed in the first half of the 19
th
century, which Sergei Uvarov summarized in the formula
"Orthodoxy, Autocracy, Nationality,"
 and which was later developed by Russian imperial historian
Mikhail Pogodin
.
It is worth underlining that this version of "all-Russian culture" lacks laughter and self-irony. On the other side, humor and the ability to laugh at oneself largely determine the development of Ukrainian cultural consciousness from the Baroque era to the present.
Humor in culture is the opposite of sadomasochistic humiliation and pride. A person who laughs gets rid of fear and knows how to live in the world and reality that he is ridiculing rather than trying to dominate it.
The 2004 Orange Revolution and the 2014 Revolution of Dignity in Ukraine had many elements of humor and self-derision, and a carnival atmosphere was a means of overcoming authoritarianism and helping Ukrainians win back their freedom. This is impossible in today's Russia. Symbolically speaking, Russian authorities forbid laughter.
Returning to Dostoevsky, the Russian writer considered "universal compassion (otzyvchivost)" typical of Russians in general. We have a case of this "compassion" today in Moscow's "special operation" in Ukraine, says Hudorova.
"Putin and Russia present it as a manifestation of boundless care and love, because they come to save us, Ukrainians, from ourselves. They offer their 'love' and kill us in the name of this 'love'… Dostoevsky is undoubtedly an interesting and complex writer. But, he's also an ideological author, precisely because he contributed to the creation of the idea of a unique Russian 'soul'."
Russia has been building this imperial discourse for centuries, attempting to infantilize conquered nations and cultures and show them as irrational and unreasonable.
This is true of Ukraine as well. Since the late 18th century, Russian culture has been developing a traditional orientalized image of Ukraine: it is an exotic province associated with beautiful "khokhlushki" and silly, cunning "khokhly" (khokhlushki (fem) and khokhly (masc) are derogatory Russian terms for Ukrainians).
Of course, remarks Hundorova, Russian literature should not be ignored as it is very different and interesting in its own way. But, readers should be aware of what lies behind the mysterious Russian "soul" and Russia's universal form of "love and care." These notions were created by the culture of Russian imperialism, especially during the second half of the 19th century. They are based on Russia's "universal compassion," which meant an ambitious desire to oppose the West, competing for world fame, readers, and spheres of influence.
Pushkin monuments disappear from Ukrainian streets following Lenin, as decolonization is underway
Thus, the strategy of Russia's worldview is to fascinate, subdue, and manipulate. This applies to both Europe and Asia. The Russian-Ukrainian war puts everything into perspective: both Ukrainians and the world at large need to rid themselves of this myth.
In the thirty years of independence, Ukrainian literature and culture have changed dramatically. Ukraine's new generation of writers, poets, filmmakers and cultural players have become more visible and globally renowned. Ukrainian writers are welcome guests at festivals and events, and many works by Ukrainian authors have been translated into different languages. The Russian language, which for a long time claimed to be an intermediary between Ukraine and the world, has irrevocably lost this role.
"We speak to the world in our own voice and language. And we have something to say to the world. My Ukraine is fighting today for the right to be visible, the right to speak and the right to exist!" concludes Tamara Hundorova.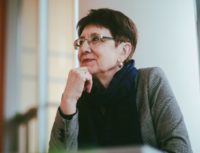 Tamara Hundorova, Kyiv
Literary critic, professor, corresponding member of the National Academy of Sciences of Ukraine, associate fellow at the Ukrainian Research Institute of Harvard University, executive director of the Institute of Criticism, head of the Department of Literary Theory at the Shevchenko Institute of Literature, member of the National Council of Ukraine for Science and Technology, deputy chairman of the Taras Shevchenko National Prize Committee. She specializes in postcolonial and gender analysis, literary theory, literary modernism and postmodernism, popular literature, and kitsch. Her essay – Mykola Khvyliovy's Asian Conquistadors and Proletarian Messianism – was published in the New Literary Review (6 (166)/2020).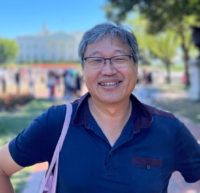 Youn Youngho, London
Writer, journalist, author of four books. His book – We can't be silent – includes different interviews about the Russian-Ukrainian war. For 15 years, he worked as a financier in Kazakhstan, Russia, and Belarus. He resides in London and writes for the Korean edition of Medici Media.
Read more:
Tags: decolonization, language and culture, Russian imperialism, Ukrainian literature