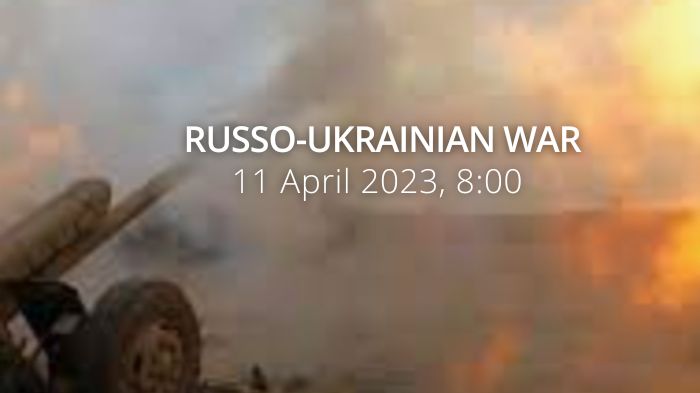 Russians adopt scorched-earth tactics in Bakhmut. Egypt secretly planned to supply weapons to Russia. Ukraine brings back 100 more soldiers from Russian captivity in a major exchange.
Ukraine's forces say they have so far thwarted Moscow's efforts to sever supply lines around Bakhmuthttps://t.co/oXh04mz1dT

— Euromaidan Press (@EuromaidanPress) April 10, 2023
Daily overview — Summary report, April 11
A map of the approximate situation on the ground in Ukraine as of 00:00 UTC 11/04/23.

There have been no notable changes to control since the last update. pic.twitter.com/IApEtroFzr

— War Mapper (@War_Mapper) April 11, 2023
The General Staff's operational update regarding the Russian invasion as of 18.00 pm, April 11, 2023 is in the dropdown menu below:
Over the past day, Russian forces launched 39 air strikes and 7 missile strikes, 4 of which were from the S-300 air defence system, against the peaceful city of Kramatorsk. They carried out 47 rounds from MLRS on the positions of our troops and the civilian infrastructure of populated areas.
The Russian Federation continues to disregard the laws and customs of war, so the probability of launching missile and air strikes remains high throughout the territory of Ukraine.
Despite numerous losses in equipment and manpower, Russian forces do not give up waging a war of aggression. They continue to focus their main efforts on conducting offensive operations on the Lyman, Bakhmut, Avdiivka and Maryinka axes. Last day, our defenders repelled 52 enemy attacks on the indicated axes.
Volyn', Polissya, Sivershchyna and Slobozhanshchyna axes: the operational situation has not changed significantly. Certain units of the territorial troops of the armed forces of the Russian Federation continue to be on the territory of the Republic of Belarus. Russian forces continue to maintain a military presence in the Kursk and Belgorod regions bordering Ukraine and continue to carry out engineering equipment in the area. During the past day, Russian forces shelled the settlements of Gremyach and Kamianska Sloboda of Chernihiv Oblast; Katerynivka, Volfine, Andriivka, and Popivka in the Sumy Oblast, as well as Veterinarne, Strelecha, Staritsa, Gatishche, Vovchanski Khutory, Okhrimivka, Mala Vovcha, and Vilkhuvatka in the Kharkiv Oblast.
Kupyansk axis: the settlements of Kam'ianka, Kolodyazne, Krasne Pershe, Novomlynsk, Dvorichna, Vilshana, Kindrashivka, Kislivka and Berestov of the Kharkiv Oblast were hit by enemy fire.
Lyman axis: during the past day, the adversary conducted unsuccessful offensive actions near the settlements of Makiivka, Chervonopivka, and Bilogorivka. Novoyehorivka, Makiivka, Nevske, and Belogorivka in the Luhansk Oblast, as well as Torske, Spirne and Berestov in the Donetsk Oblast, were hit by artillery fire.
Bakhmut axis: Russian forces continue to conduct offensive actions, and tries to take full control of the city of Bakhmut, fighting continues. During the past day, Russian forces conducted unsuccessful offensive actions near the settlements of Hryhorivka and Khromov. Vasyukivka, Zaliznyanske, Minkivka, Orikhovo-Vasylivka, Bakhmut, Khromov, Ivanovske, Predtechine, Chasiv Yar, Ozaryanivka, Druzhba and New York of the Donetsk Oblast were affected by enemy shelling.
Avdiivka and Maryinka axes: the adversary carried out offensive actions in the areas of Avdiivka, Severna, Nevelske and Mar'yinka settlements of the Donetsk Oblast, which was unsuccessful. The fiercest battles continue for Avdiivka and Maryinka. At the same time, the settlements of Avdiivka, Novokalynove, Pervomaiske, Krasnohorivka, Gostre, Georgiivka, Mar'yinka and Pobyeda of the Donetsk Oblast were subjected to enemy shelling.
Shakhtarske axis: during the past day, Russian forces did not conduct offensive operations. They shelled the settlements of Novomykhailivka, Vugledar, Bogoyavlenka and Velyka Novosilka in Donetsk Oblast.
Zaporizhzhia and Kherson axes: Russian forces continues the defence. During the past day, they shelled settlements near the frontline. Among them is Vremivka of Donetsk Oblast; Novodanilivka, Orykhiv, Novoandriivka and Kam'ianske of the Zaporizhzhia Oblast.
The Russian occupiers continue to increase pressure on Ukrainian citizens in the temporarily occupied territories. Recently, in Snizhny, Donetsk Oblast, employees of the city hospital who did not receive Russian passports were dismissed.
In the city of Energodar, Zaporizhzhia Oblast, local residents must obtain permission to move around the Oblast. Those who applied for passes are subject to increased checks by the occupiers for involvement in the defence forces of Ukraine. In some places, the invaders even search human dwellings.
Over the past 24 hours, the Ukrainian Air Force has carried out 8 strikes on areas of concentration of personnel and military equipment of the occupiers, as well as a strike on a Russian anti-aircraft missile complex.
[Russian occupiers maintain a counter-intelligence regime in the temporarily occupied territories. The number of roadblocks and patrols increased in and around the town of Starobilsk (Luhansk oblast).]
[There is a similar situation in the town of Tokmak (Zaporizhzhia oblast), where fearing the leak of information about the locations of the occupying units, the invaders began to restrict movement for local taxi drivers.]
During the past day, an enemy Mi-24 helicopter was shot down, as well as 9x unmanned aerial vehicles of various types.
Units of missile and artillery troops struck the area of concentration of manpower, weapons and military equipment, as well as a Russian ammunition depot.
Military Updates
https://twitter.com/EuromaidanPress/status/1645462535565373441
Russians in Bakhmut adopt "Syrian" scorched-earth tactics, Ukrainska Pravda reports, citing the Military Media Center of the Defence and Security Forces of Ukraine. "The Russian invaders in Bakhmut have begun to use scorched-earth tactics; the situation in the city is difficult, but it's under control, said Oleksandr Syrskyi, Commander of the Ground Forces of the Ukrainian Armed Forces. […] They are destroying buildings and positions with airstrikes and artillery fire. The defence of Bakhmut continues."
Syrskyi emphasised that the Ukrainian soldiers have exhausted the Wagner PMC mercenaries with their actions, so the Russians are now forced to involve Special Forces and airborne assault units in the battles for Bakhmut. The commander emphasised that the fighting is tough on both sides."
Russian official claims 75% of Bakhmut seized, Reuters reports. "The Russian-installed head of the Moscow-controlled part of Ukraine's Donetsk region said on Monday that Russian forces controlled more than 75% of the besieged city of Bakhmut. The battle for Bakhmut has been one of the bloodiest of the 13-month war, drawing comparisons with World War One due to massive casualties on both sides.
Russia says the capture of Bakhmut will open up the possibility for future offensives across Ukraine, while Kyiv and the West say the now smashed city has only symbolic importance."
Russians retreat to a distance beyond the reach of Ukrainian Armed Forces' weapons, Ukrainska Pravda reports, citing Natalia Humeniuk, Head of the joint press centre of the Defence Forces of Ukraine's south and Krym,Realii. "Russian troops in the south are retreating from the contact line to a distance beyond the reach of Ukrainian weapons. They continue to move away from the contact line to ensure a distance that will be beyond the reach of our weapons.
But we are trying to maintain fire control over the transportation routes so that they cannot use them, even to retreat that far. That is, we are tracking their advance, trying to stop their movement, to stop not only the columns of equipment and manpower pulling up to the front line but also the retreat. According to her, a "powerful preparatory stage" is currently underway, when the Ukrainian Armed Forces are destroying the capabilities of Russian troops."
Russia holds one missile carrier with four Kalibrs in the Black Sea, Ukrinform reports, citing the Ukrainian Navy. "Russia keeps four of its warships on combat duty in the Black Sea, including one Kalibr cruise missile carrier with a total volley of up to four missiles. The Navy said that there was one Russian ship in the Azov Sea.
Meanwhile, Russia keeps about seven warships in the Mediterranean Sea, including three missile carriers, with a total volley of up to 20 Kalibrs."
According to British Defence Intelligence, (last 48 hours): 
As of 03 April 2023, Russian media reported the transfer of TOS-1A thermobaric multiple launch rocket systems to Russian airborne forces (VDV).
The highly destructive TOS-1A, which Russia designates as a 'heavy flamethrower', is typically operated by Russia's specialist Chemical, Biological and Radiological Protection Troops in Ukraine, and has not previously been formally associated with the VDV.
The transfer likely indicates a future role for the VDV in offensive operations in Ukraine. It is likely part of efforts to reconstitute the VDV after it suffered heavy casualties in the first nine months of the war.Over the last seven days, Russia has likely increased its armoured assaults around the Donetsk Oblast town of Marinka, 20km southwest of Donetsk city.
Marinka has been fought over since 2014 and has been largely destroyed by artillery exchanges. It commands the approaches to Donetsk and the key H15 road.
Russia continues to give a high priority to resourcing operations in the broader Donetsk sector, including the Marinka and Avdiivka areas, expending significant resources for minimal gains.
Losses of the Russian army 
As of Tuesday 11 April, the approximate losses of weapons and military equipment of the Russian Armed Forces from the beginning of the invasion to the present day:
Personnel – about 179320 (+500)
Tanks – 3644 (+7)
Armoured combat vehicles – 7038 (+10)
Artillery systems – 2765 (+15)
Multiple rocket launchers –MLRS – 535 (+1)
Air defence means – 282 (+0)
Aircraft – 307 (+0)
Helicopters – 293 (+1)
Automotive technology and fuel tanks – 5620 (+13)
Vessels/boats – 18 (+0)
UAV operational and tactical level – 2332 (+9)
Special equipment – 316 (+5)
Mobile SRBM system – 4 (+0)
Cruise missiles – 911 (+0)
Egypt secretly planned to supply weapons to Russia – WP, Ukrinform reports, citing, citing The Washington Post. "President Abdel Fatah El-Sisi of Egypt in February planned to produce 40,000 rockets to Russia and instructed the officials to keep the production and shipment of the rockets secret "to avoid problems with the West," according to a leaked US document. […]
A US government official, speaking on the condition of anonymity to address sensitive information, said: "We are not aware of any execution of that plan," referring to the rocket export initiative. "We have not seen that happen," the official added.
According to the article, providing arms to Russia for its war in Ukraine would represent a potentially explosive gambit for Egypt, a nation that, despite deepening ties with Moscow, remains deeply invested in its partnership with the United States, which for decades has provided the country more than $1 billion a year in security aid."
Humanitarian 
https://twitter.com/EuromaidanPress/status/1645487818595004416
Ukraine brings back 100 more soldiers from Russian captivity, Ukrainska Pravda reports, citing Andrii Yermak, Head of the President's Office of Ukraine. "We managed to conduct another big PoW swap with Russia. We are bringing home 100 of our people – the military, navy, border guards, and members of the National Guard of Ukraine.
There are the defenders of the city of Mariupol, the Azovstal plant and the city of Hostomel. Some people have been seriously injured and are suffering from illnesses. We will do everything necessary for each of them to receive all the help they need."
Ukraine hands over five seriously wounded POWs to Russia, Ukrinform reports, citing Ukraine's Coordination Headquarters for the Treatment of Prisoners of War. "According to the norms of the Geneva Conventions, the Ukrainian side repatriated to the territory of the aggressor state five more seriously wounded POWs of the occupiers, including the only woman who was in Ukrainian captivity, the report reads. The condition of the POWs was stabilized so that they could be transported.
The coordination headquarters noted that the repatriation, as stipulated by international humanitarian law, took place without any conditions for the Russian side. […] The Coordination Staff said that there are now significantly more wounded Ukrainian POWs held in detention facilities in Russia and in temporarily occupied territories, whom the aggressor state must immediately return unconditionally in accordance with the Geneva Conventions."
Ukraine says only 1,800 civilians still living in 'ruins' of Avdiivka, Reuters reports. "The civilian population of the embattled eastern Ukrainian city of Avdiivka has dwindled to 1,800 people from 32,000 before the war, as Russian forces bear down on the city to try to capture it, the local governor said on Monday. Avdiivka has been one of the main targets of a Russian winter offensive that Moscow hoped would reinvigorate its Feb. 2022 invasion and which has only been able to make small territorial advances in the east.
The Russians have turned Avdiivka into a total ruin, said Pavlo Kyrylenko, Donetsk's regional governor. He said the city was hit by an air strike on Monday that destroyed a multi-storey building. Fortunately, there were no casualties as all the residents of the building evacuated in time, he said. In total, around 1,800 people remain in Avdiivka, all of whom risk their lives every day."
Ukraine exported almost 39 million tonnes of grain in current marketing year, Ukrainska Pravda reports, citing  Ministry of Agrarian Policy and Food of Ukraine. "Ukraine has exported 38.8 million tonnes of grains and legumes since the beginning of the current marketing year (July 2022). Specifically, from July to 10 April, 22.85 tonnes of corn, 13.3 million tonnes of wheat, 2.3 million tonnes of barley and 17,700 tonnes of rye were exported.
For comparison, from July 2021 to 15 April 2022, 45.2 million tonnes of grains and legumes were exported abroad, among them 20.6 million tonnes of corn, 18.45 million tonnes of wheat, 5.6 million tonnes of barley and 161,900 tonnes of rye.
In addition to this, in the current marketing year Ukraine has exported 120,100 tonnes of flour, which is almost two times higher than the export in the 2021/2022 marketing year – 68,400 tonnes."
https://twitter.com/EuromaidanPress/status/1645434437117640705
Legal 
Russia is thought to have deported roughly 1 million Ukrainians from territories they occupied, including 16,000 children. We talk to the human rights activists who collect evidence of this war crime and help deported Ukrainians escape. https://t.co/gpialJO9nq

— Euromaidan Press (@EuromaidanPress) April 10, 2023
Occupiers in Crimea to strengthen cooperation between schools and military enlistment offices, Ukrainska Pravda reports, citing the order of Sergey Aksionov, so-called Head of the Russian administration in occupied Crimea. "The (Russian) Ministry of Education of Crimea, other ministries and institutions must facilitate an 'educational and material base for giving students basic knowledge in the defence sector and their training in the basics of military service', 'conducting military-patriotic work with citizens of pre-conscription age, familiarisation with military rituals, museums, military glory rooms' etc.
The occupiers should also organise military patriotic events, such as Conscript Day, Open Day, Ready for Labour and Defence, with the obligatory involvement of the All-Russia "Young Army" National Military Patriotic Social Movement Association.
Last year, the occupiers decided that, starting in September 2023, the basic military training of children will become a mandatory part of the school curriculum. Students will have to learn to put on a gas mask, assemble and disassemble a machine gun, throw a grenade, pull the bolt of a rifle, bandage the wounded on the battlefield and put on a splint, as well as know the algorithm of actions in case an air-raid siren is activated.
The Crimean Human Rights Group reported that the occupiers are already preparing for the implementation of these measures."
Support
https://twitter.com/EuromaidanPress/status/1645399608791650306
Denmark to donate 100 Leopard tanks to Ukraine, Ukrinform reports, citing Denmark's Acting Defense Minister Troels Lund Poulsen. "We will start delivering Leopard 1 tanks to Ukraine before summer. And then, hopefully, looking half a year ahead, it will be possible for us to donate about 100 Leopard 1 tanks, and that, I'll say, would be a substantial thing for Ukraine's army, Poulsen said.
He also noted that next month Ukraine might receive Caesar artillery pieces, on which the Ukrainian military is already training at the training facilities in Denmark."
Another defence support package from Germany, the Ukrainian General Staff reports. The package includes 1 armoured engineer vehicles DACHS, 8 trucks Zetros, 8 mobile antenna mast systems, 8 reconnaissance drones, and 23,520 rounds ammunition 40mm.
"The Federal Government supports the Ukrainian military in close coordination with its partners and allies. This list provides an overview of lethal and non-lethal German military support for Ukraine. It includes deliveries from the Federal Armed Forces, as well as supplies from German industry financed from the Federal Government's funds for so-called security capacity building."
Leaked Pentagon classified files won't affect support for Ukraine – State Department, Ukrinform reports. "The leak of documents from the US Department of Defense about situation in Ukraine, including those with classification stamps, won't prevent the United States from providing all types of necessary assistance to Ukraine. Deputy Spokesperson for the US Department of State Vedant Patel said it on Monday during a briefing in Washington, D.C.
We're going to continue to support Ukraine, in the wake of Russia's brutal aggression for as long as it takes, the State Department spokesman said in response to a request to comment on how the leak of classified data could affect ongoing operations in Ukraine.
He also emphasized that the Ukrainian leadership makes decisions on planning and conducting military operations independently."
US aims to rally allies to up pressure on Russia, shore up Ukraine support, Reuters reports. "The US government will seek to rally allies this week to ratchet up economic pressure on Russia over its invasion of Ukraine, and shore up support for Kyiv, a top US Treasury official is slated to say on Monday. Treasury Undersecretary Jay Shambaugh will underscore the United States' unwavering commitment to Ukraine in a speech at the Brookings Institution as global finance officials gather in Washington for the spring meetings of the International Monetary Fund and World Bank, according to excerpts obtained by Reuters. […]
The United States is redoubling our efforts to rally our global coalition of allies at the Spring Meetings on Treasury's two lines of effort as part of the United States' unwavering commitment to Ukraine, he said in the prepared remarks. That means shoring up economic support for Ukraine's government and people, and … continuing to deny (Russian President Vladimir) Putin the revenue and military equipment he needs to further his illegal war.
Shambaugh said the United States had provided close to $50 billion in assistance – including over $23 billion in budget support – to Ukraine over the past year, and would continue to stand with the war-torn country for as long as it takes. He said it was essential to help Ukraine provide government services and keep economic activity going, while laying the groundwork for the immense near-term recovery and long-term reconstruction needs.
Shambaugh highlighted the four-year $15.6 billion IMF program approved for Ukraine on March 31 as another key form of support, and a way to underpin Ukraine's efforts to strengthen good governance.
Looking ahead, Ukraine will need support from a broad set of donors as its recovers and rebuilds. As an international community, we can coalesce around meeting the most urgent and concrete needs — high-impact areas that can help Ukraine restart its economy and bring home displaced Ukrainians as conditions permit, he said.
Treasury was also renewing its focus on enforcing sanctions aimed at denying Putin the revenue, technology and inputs he needs to fuel this illegal invasion. Shambaugh said Western sanctions, embargoes and a price cap on Russian oil had seen Moscow post record deficits, while its oil and gas revenue fell by nearly half from a year earlier."
Rada exempts imports of defence goods from customs duties and VAT, Ukrinform reports, "The Verkhovna Rada of Ukraine passed two laws temporarily exempting imports of goods from VAT and customs duties to ensure that defense needs are met more quickly. This is for the country's defense forces to respond to Russian war of aggression in an effective and timely manner. The relevant bills No. 9061 and No. 9062 were supported by a total of 317 and 316 MPs, […]
The documents exempt goods from import duty and value added tax if they belong to the Ministry of Defence, the Armed Forces of Ukraine, and other military formations. The laws will improve foreign economic projects to meet the critical needs of the Defence Forces in weapons, military equipment, and ammunition.
As reported, in March 2023, the Cabinet of Ministers of Ukraine adopted a resolution that simplified the procedure for importing components for drones into Ukraine during martial law."
New Developments
https://twitter.com/EuromaidanPress/status/1645497844319625242
Assessment 
On the war. 
The Institute for the Study of War has made the following assessment as of  April 12, 2022:
Russian forces conducted limited ground attacks along the Svatove-Kreminna line on April 9 and 10. The Ukrainian General Staff reported that Russian forces conducted unsuccessful offensive actions northwest of Kreminna near Makiivka and Chervonopopivka (within 21km northwest of Kreminna), and south of Kreminna near Kuzmyne, Dibrova, Bilohorivka, and Verkhnokamianske (all within 3 to 18km south of Kreminna). A Russian milblogger claimed that Russian forces conducted unsuccessful ground attacks near Yampolivka, Torske, Nevske, and Makiivka (all within 14 to 21km west or northwest of Kreminna). The milblogger also claimed that Russian forces gained new positions in the Serebrianska forest area (10km south of Kreminna). Ukrainian Eastern Group of Forces Spokesperson Colonel Serhiy Cherevaty stated on April 9 that seven engagements occurred in the Kupyansk-Lyman direction. Chechen Republic Head Ramzan Kadyrov published footage on April 8 that purportedly shows Chechen "Akhmat" Special Forces and elements of the 4th Brigade of the 2nd Luhansk People's Republic (LNR) Army Corps operating near Kreminna and Bilohorivka (10km south of Kreminna). A Russian BARS (Combat Reserve)- affiliated source published footage on April 9 that reportedly shows the BARS-14 Battalion operating on the Svatove-Kreminna line. Several Russian milbloggers posted footage on April 8 and 9 that claims to show Russian Airborne (VDV) units operating near Kreminna.
Russian forces continued to make territorial gains in and around Bakhmut on April 9 and 10 but likely continue to suffer significant casualties. Geolocated footage posted on April 9 and 10 shows that Russian forces made marginal advances northwest of Khromove (2km west of Bakhmut), in southwest Bakhmut, and north of Sacco i Vanzetti (15km north of Bakhmut. Ukrainian Spokesperson for the Eastern Group of Forces Colonel Serhiy Cherevaty stated on April 9 that Russian Airborne (VDV) forces began to appear in Bakhmut likely to reinforce conventional, rather than Wagner Group, forces. Ukrainian Ground Forces Commander Colonel General Oleksandr Syrskyi stated on April 10 that Ukrainian forces have exhausted Wagner forces so much that the Russian military command has had to send SPETSNAZ and VDV elements to Bakhmut. Russian milbloggers claimed that Russian forces made advances in northwestern Bakhmut and in central Bakhmut near the railway on April 9 and 10. A milblogger claimed on April 10 that Russian forces made advances in central and southern Bakhmut. Donetsk People's Republic (DNR) Head Denis Pushilin claimed to visit Bakhmut and presented DNR awards to Wagner Group fighters. The Ukrainian General Staff reported that Ukrainian forces repelled Russian ground attacks in Bakhmut and near Bohdanivka (6km northwest of Bakhmut) and Khromove.
Russian forces continued to conduct ground attacks along the Avdiivka-Donetsk City line on April 9 and 10. The Ukrainian General Staff reported that Ukrainian forces repelled Russian ground attacks near Avdiivka, Novokalynove (9km north of Avdiivka), Berdychi (7km northwest of Avdiivka), Sieverne (6km west of Avdiivka), Pervomaiske (10km southwest of Avdiivka), Vodyane (6km southwest of Avdiivka), and Marinka. Russian milbloggers claimed that Russian forces made marginal advances near Krasnohorivka (5km north of Avdiivka), Novokalynove, and Novobakhmutivka (9km northwest of Avdiivka). Other Russian milbloggers claimed that fighting continued near Keramik (10km north of Avdiivka), Sieverne, Pervomaiske, and Pobieda (5km southwest of Donetsk City). Geolocated footage posted on April 9 shows that Russian forces made a marginal advance in southwestern Marinka.
A Ukrainian official indicated that the tempo of Russian offensive operations in the Donetsk direction is slowing, and that Russian forces are engaging in defensive preparations. Ukrainian Joint Press Center of the Tavriisk Direction Head Colonel Oleksiy Dmytrashkivskyi stated on April 9 that the tempo of Russian ground attacks has decreased in this sector of the front and that Russian forces are now shelling at a rate one third less than that of February 2023. Dmytrashkivskyi also reported that Russian forces have concentrated 205 battalion tactical groups (BTGs) in the Donetsk direction out of fear of a Ukrainian counteroffensive. These BTGs are unlikely to be at full strength, however.
Russian forces did not conduct any confirmed ground attacks in western Donetsk Oblast on April 9 and 10. A Russian milblogger claimed on April 9 that Ukrainian forces conducted an unsuccessful ground attack near Novosilka (42km northwest of Vuhledar).
Wagner Group financier Yevgeny Prigozhin is reportedly advancing his political aspirations by seeking to gain control of a Russian political party. Russian opposition outlet Meduza reported that Wagner Group financier Yevgeny Prigozhin's growing cooperation with members of the A Just Russia — For Truth party likely indicates that Prigozhin seeks to gain control over the party. Meduza noted that four members of the party left to form a new movement, with some members citing the rapprochement between party leader Sergey Mironov and Prigozhin as the reason for their exit. ISW has consistently reported on the growing relationship between Mironov and Prigozhin and assessed that Mironov's advocacy for recognition of Wagner in Russia could trigger further fractionalization within the Kremlin. Two Kremlin sources and one St. Petersburg government insider claimed that Prigozhin is pursuing a leadership position within A Just Russia — For Truth's St. Petersburg branch to compete with St. Petersburg Governor Alexander Beglov for influence in the city. Meduza's sources claimed that Prigozhin previously was interested in investing in the "Motherland" political party and may be interested in pursuing a position at the federal level. Mironov, in turn, is likely attempting to revive his political influence and use Prigozhin as a patron for his political ambitions. Meduza's interlocutors indicated that the Russian Presidential Administration is unlikely to allow Prigozhin to gain control of the A Just Russia — For Truth party due to Prigozhin's conflict with administration officials and with Beglov.
The Russian Foreign Ministry (MFA) directly responded to Wagner Group financier Yevgeny Prigozhin's criticisms of its agenda for Russia's presidency of the United Nations Security Council (UNSC), marking the first time that a Russian government institution has formally responded Prigozhin's criticism. Prigozhin criticized the MFA's work in Africa on April 7, claiming that the Russian MFA does "absolutely nothing" and that Wagner forces face "enormous difficulties" when interacting with the MFA and other government institutions in the region. The MFA responded to Prigozhin's criticism on April 9 and said that it is ready to cooperate with Russian businesses and entrepreneurs to promote Russian businesses abroad and that a number of upcoming events under Russia's UNSC chairmanship are dedicated to African issues. Prigozhin then responded to the MFA, questioning its ability to solve problems through the UNSC, and published a list of 15 issues that Prigozhin believes require urgent discussion at the UNSC, most of which relate to support for Russia's actions in Ukraine and Africa.
The Russian MFA's attack on Prigozhin is a continuation of the Kremlin's efforts to discredit and undermine Prigozhin. The MFA, other Russian government institutions, and Kremlin affiliates likely seek to shut down any attempts by Prigozhin to garner public or political support. The Russian Ministry of Defense (MoD) refused to name Wagner forces as participants in the battle of Bakhmut, referring instead to "assault detachments." Kremlin Spokesperson Dmitry Peskov indirectly accused Prigozhin of deliberately exposing conflicts between the MoD and Wagner. Russian political scientist Aleksey Mukhin — who contributes to the Kremlin-affiliated Valdai Discussion Club and Russian state media — criticized Prigozhin for pursuing political objectives that endanger Wagner forces in Bakhmut. Prigozhin likely criticized the Russian MFA agenda in the UNSC in an effort to portray himself as a capable statesman able to influence foreign affairs and to garner support from the Russian ultranationalist community. Prigozhin continues to attempt to aggrandize himself by exaggerating Wagner forces' role in Russian successes in Ukraine and using his prominence in the Russian nationalist information space to criticize the Russian government.
Russian milbloggers adamantly decried the charging of Russian military doctor and "Union of Donbas Volunteers" member Yuri Yevich for "discrediting the Russian armed forces," suggesting that the broad applications of this new law will likely be a growing source of discontent in the pro-war information space. Russian authorities reportedly charged Yevich under the discreditation law because of a lecture on tactical medicine he gave to Rosgvardia employees, which someone reported to the authorities as offering a "negative assessment" of Russian forces. Yevich fought with Donetsk People's Republic (DNR) militias in Donbas after 2014 and was a part of the "Union of Donbas volunteers" following the full-scale invasion in 2022. Yevich became popular in the pro-war Russian information space for popularizing and advocating for the application of tactical combat medicine on the battlefield. Several pro-war milbloggers and commentators seized on the news of Yevich's arrest and criticized Russian authorities for targeting someone whom they deem to be a true Russian patriot. Many milbloggers noted that Yevich's charging will become a carte blanche for Russian authorities to sanction every Russian soldier, volunteer, and patriot and questioned the legitimacy of both the case against Yevich and the law itself. Yevich likely presented an important truth regarding the state of Russian combat medicine to an internal audience and was arrested for it. If the Kremlin uses this law to shut down honest critiques of the performance of Russian forces or the Russian government even during internal discussions it runs a very high risk of repeating the kinds of fundamental errors that led to the failure of the initial Russian plans and campaign in February 2022.
The Russian State Duma will consider an amendment to the Russian Criminal Code increasing criminal penalties for high treason and terrorist activities on April 13. The Russian State Duma Committee on State Construction and Legislation approved amendments to the Russian Criminal Code that would introduce life prison sentences for high treason and increase prison sentences for terrorist activities, including conducting terrorist activities, aiding terrorist activities, sabotaging transport and health infrastructure and, organizing and participating in a terrorist society. The Russian Criminal Code's definition of treason is likely intentionally vague, including espionage, passing state secrets to foreign governments or their representatives, and providing financial, logistical, consulting, or other assistance to foreign organizations engaged in activities directed against Russian state security. Such legislative manipulations are part of a larger domestic effort to encourage self-censorship and codify conditions for domestic repressions, as ISW has previously reported. […]
Key Takeaways
Wagner Group financier Yevgeny Prigozhin is reportedly advancing his political aspirations by seeking to gain control of a Russian political party.
Putin may be unable to satisfy the role of a patron to loyalist figures to the same extent as he had been able to before the full-scale invasion of Ukraine.
The Russian Foreign Ministry (MFA) directly responded to Wagner Group financier Yevgeny Prigozhin's criticisms of its agenda at the United Nations Security Council (UNSC), marking the first time that a Russian government institution has formally responded to Prigozhin's criticism.
The Russian Foreign Ministry (MFA) attack on Wagner Group financier Yevgeny Prigozhin is a continuation of the Kremlin's efforts to discredit and undermine Prigozhin.
Russian milbloggers adamantly decried the charging of Russian military doctor and "Union of Donbas Volunteers" member Yuri Yevich for "discrediting the Russian armed forces," suggesting that the broad applications of this new law will likely be a growing source of discontent in the pro-war information space.
The Russian State Duma will consider an amendment to the Russian Criminal Code increasing criminal penalties for high treason and terrorist activities on April 13.
Russian Minister of Defense Sergey Shoigu met with Belarusian President Alexander Lukashenko in Minsk, Belarus, on April 10.
Russian forces conducted limited ground attacks along the Svatove-Kreminna line.
Russian forces continued to make territorial gains in and around Bakhmut, and continued ground attacks on the Avdiivka-Donetsk City line.
Russian forces continued defensive preparations in Kherson and Zaporizhzhia oblasts.
Wagner Group financier Yevgeny Prigozhin criticized Russian Ministry of Defense (MoD) prisoner recruitment efforts, likely in an effort to advertise ongoing Wagner volunteer recruitment campaigns.
Wagner forces are reportedly continuing to commit war crimes by beheading Ukrainian servicemen in Bakhmut.
Russian officials and occupation authorities continue to deport children to Russia under the guise of medical, rehabilitation, and voluntary evacuation schemes.
Leaked Documents Suggest Ukrainian Air Defense Is in Peril if Not Reinforced. The New York Times reports. "For more than a year, Ukrainian air defenses, reinforced by Western weaponry, have kept Russian planes at bay. But without a huge influx of munitions, Ukraine's entire air defense network, weakened by repeated barrages from Russian drones and missiles, could fracture, according to US officials and newly leaked Pentagon documents, potentially allowing President Vladimir V. Putin of Russia to unleash his lethal fighter jets in ways that could change the course of the war.
In the early days of the invasion, Russian aircraft flew hundreds of combat flights to bomb targets in Ukraine. But a combination of quick thinking by Ukrainian commanders and poor intelligence and bad aim by Russian pilots left many of Ukraine's warplanes and air defenses intact, preventing Moscow from gaining control of the skies above the battlefield and forcing Russia to keep much of its air force out of the fight.
Now Pentagon officials are worried that Moscow's barrage of attacks from afar is draining Ukraine's stores of the missiles it uses to defend itself. And a Pentagon assessment from late February contained in the trove of leaked documents that were discovered circulating online last week paints an even grimmer picture.
Stocks of missiles for Soviet-era S-300 and Buk air defense systems, which make up 89 percent of Ukraine's protection against most fighter aircraft and some bombers, were projected to be fully depleted by May 3 and mid-April, according to one of the leaked documents. The document, which was issued on Feb. 28, based the assessment on consumption rates at the time. It is not clear if those rates have changed.
The same document assessed that Ukrainian air defenses designed to protect troops on the front line, where much of Russia's air power is concentrated, will "be completely reduced" by May 23, resulting in strains on the air defense network deeper into Ukrainian territory. If that happens, officials say, Moscow could decide it is finally safe for its prized fighter jets and bombers to enter the fray and directly threaten the outcome of the war on the ground.
Senior Pentagon officials say that such a move would be a major challenge for Ukraine, particularly if Russian fighter jets and bombers are given freer rein to attack Ukrainian troop positions and essential artillery targets on the ground.
In a move to shore up Ukraine's air defenses, the Biden administration announced last week that it would send additional air defense interceptors and munitions as part of a $2.6 billion aid package, part of which will be used to help Kyiv prepare for a planned spring offensive against Russian troops. Whether that will be enough depends, officials say, on a number of factors, including whether NATO allies make their own deliveries, and whether Mr. Putin continues to decline to risk his valued warplanes. […] Russia still has considerable air capability, with about 900 fighter jets and around 120 bombers, according to the World Directory of Modern Military Aircraft.
The Russian Army has been mauled, Gen. Mark A. Milley, the chairman of the Joint Chiefs of Staff, said in an interview with MSNBC's Morning Joe in February. But the Russian Air Force has not.
Indeed, an assessment in another leaked Pentagon document puts the number of Russian fighter jets currently deployed in the Ukraine theater at 485 compared with 85 Ukrainian jets. Many experts expected the Russian Air Force, with its backbone of MIG and newer generation Sukhoi jets, to be a deciding factor in the first months of the war. But it has been marginalized against a much smaller Ukrainian force because of Kyiv's intact air defenses and Russian tactical and strategic blunders.
Ukraine reorganized its mobile surface-to-air missile batteries after the first three days of the war and shot down several Russian Su-34s and other attack planes last year. The Ukrainian batteries fired their missiles and then quickly scooted away to different locations, so that Russia would not detect their positions and return fire.
With his warplanes getting shot down, Mr. Putin pulled them back. For much of the war, these jets and ground attack aircraft like the Su-25 have concentrated on sorties along the front lines, lobbing rockets at Ukrainian positions, as well as long-range missile attacks carried out from Russian or Belarusian territory. […]
Since those early days, Ukrainian air defenses have held off an onslaught of Russian missile and drone attacks. But those systems, according to American military officials and the leaked documents, are rapidly depleting, potentially offering a window for Russian planes to do severe damage.
Air defenses are layered, with different types of weapons designed to intercept aircraft and missiles flying at different altitudes — from low-flying helicopters to high-altitude bombers and cruise missiles. In Ukraine, these defensive weapons have also been used to target drones and cruise missiles as Ukrainian forces have tried to defend their cities from Russia's campaign against the country's infrastructure.
They are like a Jenga tower: Once you take out one piece, the rest are vulnerable. If Ukraine's air defenses collapse or are significantly reduced, its ground forces, in particular its artillery, will be under immediate threat. And without artillery, the backbone of the war effort, Russian forces will have an opportunity to make significant gains on the battlefield.
Yurii Ihnat, a spokesman for Ukraine's Air Force Command, did not deny Ukraine was suffering from depleted stocks of air defense munitions, but said new systems delivered by Western partners could fully replace what had been used up. The question is numbers, he said in a text message. To fully replace them, we need many systems, and I won't tell you how many.
One US defense official said that the Pentagon was alarmed by Ukraine's current air defense degradation and that it had been a persistent concern for months. Another senior American military official said that reinforcing and replacing these systems would be crucial to helping Ukraine regain territory in the spring. […]
So as the United States and European countries rush tanks, fighting vehicles and ammunition to Ukraine, they have also stepped up efforts to reinforce the country's air defenses. They have provided not only missiles for Ukraine's existing systems, like its Soviet-era S-300s, but also new and updated systems. Pentagon officials say a key part of their quest to help Ukraine now is to make sure that it can continue to keep Russian pilots out of the fight. A senior military official said the administration and the West must convince Mr. Putin, by upgrading Ukraine's air defenses, that if he decides to go for broke, he will lose a pillar of his military.
Even without using his air force, Mr. Putin has launched so many missiles that Ukraine has depleted its air defenses shooting them down. US officials worry that Moscow might now decide the battlescape is safe enough to send its fighter jets and bombers to join the fight. […]
For the first months of the war, Ukraine relied heavily on the S-300 and the Buk, both mid- to long-range surface-to-air systems, to target aircraft, cruise missiles and ballistic missiles. Western countries have started providing Kyiv with more sophisticated systems. In October, Germany began sending IRIS-T air defense batteries, which each consist of a radar, a command-and-control system and three missile launchers, carrying a total of 24 missiles.
In November, Ukraine received its first shipment of NASAMS — for National Advanced Surface-to-Air Missile System — which is jointly produced by the United States and Norway. Each NASAMS includes a radar, sensors, launchers that can be loaded with six missiles each and a mobile command center where soldiers can monitor airborne threats.
And this month, several dozen Ukrainian soldiers are wrapping up their training on the Patriot missile system. The Ukrainian troops will be deployed to the front lines, armed with the most advanced American ground-based air defense system. The Patriot is mobile, in theory. But it comes with a pretty large footprint, and Russia has already promised that it will target it.
But Ukraine will need more — far more — than the Patriot in the coming months, military officials say, and Pentagon procurement officials have been scouring allied stockpiles."
Leaked Pentagon documents don't reveal data on AFU's counteroffensive, Ukrinform reports, citing Advisor to Head of Ukrainian President's Office Mykhailo Podoliak. "The Pentagon documents leaked to the public are more like analytical assessments and do not contain operational and tactical scenarios for a Ukrainian counteroffensive, as preparations for it are still underway.
I don't really understand why everyone says that this [the leak] is about a counteroffensive, because strategically everyone is talking about a counteroffensive, but operational-tactical data and scenarios are completely absent in the public space, they simply cannot be physically present, because the counteroffensive is still being prepared, the accumulation of reserves, resources, etc. And to say that someone already clearly understands where, what and how Ukraine will do directly on the battlefield looks strange, to put it mildly, Podoliak said.
According to Podoliak, the published documents "partially look like analytical documents" about the attitude to a particular problem, for example, that Ukraine lacks certain air defense equipment. At the same time, he emphasized that the Ukrainian side has already spoken publicly about the need for weapons.
The advisor to the Head of the Office of the President believes that these documents are an information component that is being managed by the Russian Federation and intended to discredit relations between Ukraine and other partners or between the United States and other partners, including Ukraine; to make people understand that Russia allegedly controls certain closed information flows, as well as to distract attention.
This [the leak] does not mix up any plans, because they are being developed and still mastered operationally and tactically. Together with our partners, we will make certain adjustments to the number of weapons we need, Podoliak added."
Ukraine changes military plans due to leaked classified Pentagon documents, Ukrainska Pravda reports, citing CNN. "The news outlet notes that secret Pentagon documents posted online in recent weeks show how the United States is spying on both allies and adversaries, which has deeply concerned American officials who fear that the revelations could jeopardise sensitive sources and compromise important international relations. Some of the original documents expose the extent of US wiretapping of key allies, including South Korea, Israel, and Ukraine. Others reveal the extent of US penetration of the Russian Defence Ministry and the Russian Wagner PMC, largely through intercepted communications and human sources that could now be cut off or jeopardised.
Others expose key weaknesses in Ukrainian weapons, air defence, battalion strength and readiness at a critical point in the war, when Ukrainian forces are preparing to launch a counteroffensive against the Russians, and just as the United States and Ukraine have begun to develop a more trusting intelligence-sharing relationship. Ukraine has already changed some of its military plans because of the leak, a source close to Ukrainian President Volodymyr Zelenskyy told CNN. […]
An interagency effort has been stood up, focused on assessing the impact these photographed documents could have on US national security and on our Allies and partners. Singh added that US officials spoke with allies and partners over the weekend regarding the leak, and informed relevant congressional committees"
According to officials, the leak has also forced the Pentagon to take steps to tighten control over the flow of such top-secret documents, usually available to hundreds of people in the government. The Joint Staff, which consists of the Department of Defense's top military leaders who advise the president, is examining its mailing lists to find out who is receiving the data, one defence official said. Many of the documents are marked to indicate that they were prepared by the Joint Staff's intelligence unit, known as J2, and appear to be briefing documents. Singh said on Friday that the department was continuing to look into the matter and had referred it to the Justice Department, which separately confirmed to CNN that it had launched an investigation into the source of the leak.
On 6 April, The New York Times reported that classified military documents detailing US and NATO plans to build up the Ukrainian army ahead of a planned counteroffensive had been leaked on Twitter and Telegram. […] US officials told Reuters on condition of anonymity that Russia or pro-Russian elements were behind the leak of several classified US military documents posted on social media that allegedly showed preparations for Ukraine's spring counteroffensive.
Later, a new batch of classified documents appeared on social media, allegedly detailing US national security secrets regarding Ukraine, the Middle East, and China. […]
Bellingcat investigators found that the recently posted US classified documents on the war in Ukraine were shared on 1 and 2 March on a Discord server called WowMao, but the original source perhaps even earlier."
The time is crucial for Ukraine as it prepares for a counter-offensive – Reznikov, Ukrinform reports, citing Ukraine's Defense Minister Oleksii Reznikov and Delfi. "The Russians have been using the 'creeping' offensive tactics there [near Bakhmut] for more than half a year, suffering huge losses. This means that, if it were not for those losses, they could have used their full potential against us on another defensive line or elsewhere on the front. In a less fortified and protected place. And now we are inflicting huge losses on them every day, holding them, in fact, in a vise… The dreams and plans of the Kremlin to reach the borders of the Donetsk and Luhansk regions as soon as possible are collapsing, Reznikov said, justifying the fact that the Ukrainian Armed Forces continue to defend Bakhmut.
According to him, the fact that the Russians do not manage to achieve success by the repeatedly announced dates for the planned offensive means that they lose psychologically, and there they lose not only manpower, but also equipment and ammunition. Reznikov said that now time is crucial for Ukraine as it prepares for a counter-offensive."
Consequences and what to do?
Pentagon comments on "leaks" of classified documents: severe security risk, Ukrainska Pravda reports, citing Chris Meagher, assistant to the head of the Pentagon, CNN and Bloomberg. "The US Department of Defence is still assessing the scale of the leak of classified information in recent weeks, which, in particular, contained information about the combat capability of the Ukrainian Armed Forces and the actions of American allies.
According to Meagher, US Defence Secretary Lloyd Austin was first informed about the "leak" on 6 April, and the next day began convening senior leaders on a daily basis. Over the weekend, US officials engaged with allies and partners – some of whom were also implicated in the document leak.
Meagher noted that due to the leak, extremely secret, classified information was made public, which poses a very serious risk to the national security of the United States. These are highly classified secret materials that people in the Department of Defenсe and, of course, in other US authorities use for their work, he said. 
The Department of Defense is working around the clock to look at the scope and scale of the distribution, the assessed impact, and our mitigation measures. We're still investigating how this happened, as well as the scope of the issue. He added that the US Department of Defence has taken steps to take a closer look at how this type of information is distributed and to whom.
Previously, in the US Department of Justice, an investigation has been launched into the leak of many documents American intelligence agencies have posted on social media in recent weeks. The investigation began after new documents were added on Friday, covering a wide range of issues – from US support for Ukraine to information about crucial allies of the United States."
How the Latest Leaked Documents Are Different From Past Breaches, The New York Times reports. "The cache of 100 or so newly leaked briefing slides of operational data on the war in Ukraine is distinctly different [from the WikiLeaks]. The data revealed so far is less comprehensive than those vast secret archives, but far more timely. And it is the immediate salience of the intelligence that most worries White House and Pentagon officials. Some of the most sensitive material — maps of Ukrainian air defenses and a deep dive into South Korea's secret plans to deliver 330,000 rounds of much-needed ammunition in time for Ukraine's spring counteroffensive — is revealed in documents that appear to be barely 40 days old.
It is the freshness of the "secret" and "top secret" documents, and the hints they hold for operations to come, that make these disclosures particularly damaging, administration officials say. On Sunday, Sabrina Singh, a Pentagon spokeswoman, said US officials had notified congressional committees of the leak and referred the matter to the Justice Department, which had opened an investigation.
The 100-plus pages of slides and briefing documents leave no doubt about how deeply enmeshed the United States is in the day-to-day conduct of the war, providing the precise intelligence and logistics that help explain Ukraine's success thus far. While President Biden has barred American troops from firing directly on Russian targets and blocked sending weapons that could reach deep into Russian territory, the documents make clear that a year into the invasion, the United States is heavily entangled in almost everything else.
It is providing detailed targeting data. It is coordinating the long, complex logistical train that delivers weapons to the Ukrainians. And as a Feb. 22 document makes clear, American officials are planning ahead for a year in which the battle for the Donbas is "likely heading toward a stalemate" that will frustrate Vladimir V. Putin's goal of capturing the region — and Ukraine's goal of expelling the invaders.
One senior Western intelligence official summed up the disclosures as a nightmare. Dmitri Alperovitch, the Russia-born chairman of Silverado Policy Accelerator, who is best known for pioneering work in cybersecurity, said on Sunday that he feared there were a number of ways this can be damaging. He said that included the possibility that Russian intelligence is able to use the pages, spread out over Twitter and Telegram, to figure out how we are collecting the plans of the G.R.U., Russia's military intelligence service, and the movement of military units.
In fact, the documents released so far are a brief snapshot of how the United States viewed the war in Ukraine. Many pages seem to come right out of the briefing books circulating among the Joint Chiefs of Staff, and in a few cases updates from the CIA's operations center. They are a combination of the current order of battle and — perhaps most valuable to Russian military planners — American projections of where the air defenses being rushed into Ukraine could be located next month.
Mixed in are a series of early warnings about how Russia might retaliate, beyond Ukraine, if the war drags on. One particularly ominous C.I.A. document refers to a pro-Russian hacking group that had successfully broken into Canada's gas distribution network and was receiving instructions from a presumed Federal Security Service (F.S.B.) officer to maintain network access to Canadian gas infrastructure and wait for further instruction. So far there is no evidence that Russian actors have begun a destructive attack, but that was the explicit fear expressed in the document.
Because such warnings are so sensitive, many of the "top secret" documents are limited to American officials or to the "Five Eyes" — the intelligence alliance of the United States, Britain, Australia, New Zealand and Canada. That group has an informal agreement not to spy on the other members. But it clearly does not apply to other American allies and partners. There is evidence that the United States has plugged itself into President Volodymyr Zelensky's internal conversations and those of even the closest US allies, like South Korea.
In a dispatch that is very reminiscent of the 2010 WikiLeaks disclosures, one document based on what is delicately referred to as signals intelligence describes the internal debate in Seoul over how to handle American pressure to send more lethal aid to Ukraine, which would violate the country's practice of not directly sending weapons into a war zone. It reports that South Korea's president, Yoon Suk Yeol, was concerned that Mr. Biden might call him to press for greater contributions to Ukraine's military.
It is an enormously sensitive subject among South Korean officials. During a recent visit to Seoul, before the leaked documents appeared, government officials dodged a reporter's questions about whether they were planning to send 155-millimeter artillery rounds, which they produce in large quantities, to aid in the war effort. One official said South Korea did not want to violate its own policies, or risk its delicate relationship with Moscow.
Now the world has seen the Pentagon's "delivery timeline" for sea shipments of those shells, along with estimates of the cost of the shipments, $26 million.
With every disclosure of secret documents, of course, there are fears of lasting damage, sometimes overblown. […]."
Hans Petter Midttun: The leaks of US assessments and intelligence are received with mixed feelings.
On the one hand, the leaks give Russia insight that potentially might assist its efforts to defeat Ukraine. It reveals both existing and upcoming critical vulnerabilities enabling it to redesign its strategy. The leaks even indicate a timeline depending on the West's ability to supply Ukraine with modern air defence systems. That makes the leaks utterly unacceptable. Recognising that the Ukrainian shortcomings have been announced and discussed in open sources for months already, the leaks might also indicate Western problems in securing sufficient supplies of both air defence systems and munition. That makes the leaks even more appalling.
The leaks also erode trust between the US and its international partners. That is in itself critical for NATO which has already proven unable to meet its own level of ambitions due to internal discord. It is, however, potentially more damaging for the relationship with partners outside the Alliance, knowing that NATO has become dependent on their ammunition supplies to support Ukraine in defending Europe.
On the other hand, the leaks lend credibility to Ukraine's increasingly urgent call for ammunition, air defence and Western multipurpose combat aircraft. After all, the critical vulnerabilities revealed in the classified documents should not come as a surprise to anyone.
In my 12 March report, I stressed that Ukraine's urgent need for Air Defence has been recognised – if not acknowledged – by NATO from day one of the full-scale war. Ukraine has been facing a vastly superior Russian Air Force (VKS) in both quality and quantity from the very start.
In early March last year, it was assessed that Ukraine was down to about 56 operational warplanes. Across Russia, the VKS presently maintains a largely intact fleet of approximately 1,500 crewed military aircraft.
Russian warplanes were flying 200-300 sorties during the initial phase of the full-scale war, grossly outnumbering the 5-10 a day by Ukraine. Russia flew about 20 times more missions than their Ukrainian counterparts. After suffering heavy losses in February and March, however, Russia was forced to revise its approach and has remained risk-averse in Ukraine. They have not operated over Ukrainian-controlled territory since March 2022 except at very low altitudes due to their inability to reliably suppress or destroy increasingly effective, well-dispersed and mobile Ukrainian surface-to-air missile systems. The combat aircraft no longer enter Ukrainian airspace, launching long-range missiles from inside Russia.
The Ukrainian Air Defence was simultaneously degraded during the phase of the invasion. That came in addition to the approximately 25% lost during the Russian occupation of Crimea.
The Ukrainian General Staff has reported daily attacks against 80-150 settlements, villages, and cities across Ukraine since 24 February 2022. Russia has utilised all weapons, ranging from mortars, artillery, MLRS, air, land and sea-launched cruise missiles to glide bombs and air defence missiles in a secondary role. The Russian Air Force is presently dropping up to 20 guided bombs on Ukrainian positions per day while keeping its fighter jets outside the effective firing range of the Ukrainian air defence. Several have been eradicated and have ceased to exist.
However, NATO members only started delivering medium-range air defence systems after the first massive missile attack on Kyiv on 10 October 2022. The first Western medium-range air defence system arrived in Ukraine 231 days after the full-scale invasion started.
Ukraine's call for Western-made combat aircraft has become gradually more pressing since the start of the year. The Ukrainian Air Force has tried to explain the operational requirement for modern Western combat aircraft in a manner that even a politician can grasp. Its argumentation is valid and ranges from the need to counter Russian quantity with Western quality; the urgent need to create the conditions for a counteroffensive by enabling air support; the importance of shaping the battlespace before a ground offensive, including the destruction of Russian air defence, field artillery, command and control nodes, logistical hubs and ground lines of communications; to the crucial importance of filling the many gaps in air defence due to the lack of ground-based air defence systems and the problems of integrating modern weapons and sensors into Soviet legacy aircrafts operating way beyond their expected lifespan.
"Russia outnumbers us […] by five to six times. This is the grouping that today is located at those 40 airfields around Ukraine and in occupied Crimea alone. In addition, technologically, they are several times better."
(Yuriy Ihnat, spokesman for the Ukrainian Air Force)
I will leave it to the reader to do the math. It is not in the favour of Ukraine.
According to a 30-year military aviator and analyst, Jeffrey Fischer, there is no operational justification for not sending Ukraine F-16s. General Christopher Cavoli, the current Supreme Allied Commander in Europe, has told American lawmakers that Ukraine needs advanced Western equipment — such as F-16 fighter jets, drones, and long-range missiles — to help rule the skies and bolster its own offensives against Russia. US senators from both parties argue that it could prove to be a game changer on the battlefield.
Did the cruise missiles and drones help exhaust the Ukrainian Air Defence? Undoubtedly. Along with the massive air raids at the start of the full-scale invasion, the continuous ongoing Russian attacks on Ukrainian settlements, villages, and cities close to the frontline as well as the Ukrainian land forces defending the frontline and not least, Russia's efforts to degrade the Ukrainian Air Defence system.
Did the depletion of Ukrainian USSR legacy air defence missiles, which are no longer being produced, come as a surprise? Hardly.
Did the West know about Ukraine's urgent need for air defence systems, ammunition, and combat aircraft? Loud and clear. It has been continuously and publicly stated as a top priority. On 7 November 2022, in the telling report "The Russian Air War and Ukrainian – Requirements for Air Defence", RUSI concluded that:
"The West must avoid complacency about the need to urgently bolster Ukrainian air-defence capacity. It is purely thanks to its failure to destroy Ukraine's mobile SAM systems that Russia remains unable to effectively employ the potentially heavy and efficient aerial firepower of its fixed-wing bomber and multi-role fighter fleets to bombard Ukrainian strategic targets and frontline positions from medium altitude, as it did in Syria.
It follows that if Ukrainian SAMs are not resupplied with ammunition, and ultimately augmented and replaced with Western equivalents over time, the VKS will regain the ability to pose a major threat.
The Ukrainian Air Force fighter force needs modern Western fighters and missiles to sustainably counter the VKS. Russian pilots have been cautious throughout the war, so even a small number of Western fighters could have a major deterrent effect."
IF – and it is a big IF – the West allows Ukraine to run out of air defence means the most crucial piece of the leaks might prove to be Western incompetence.
The assessments revealed by the New York Times, however, do not show that to be the case. They are meant to provide the facts and figures needed to ensure the timely decision needed to counter a long-warned potential critical vulnerability.
That said, the fact that it is still on the table at the end of February means that they left little time to fix a problem they knew was coming already on 24 February 2022.
Tags: Russian invasion