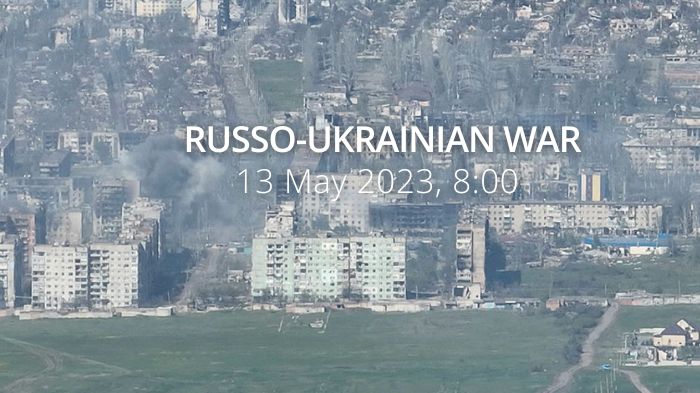 Ukraine made gains northwest of Bakhmut.  Ukraine, US Officials: Counteroffensive yet to start. Panic over impending counteroffensive in Russia.
Coming up: a meeting with Illia Samoilenko, the legendary commander of the Azov Regiment.
Euromaidan Press patrons can submit their questions or join the meeting on 18 May:
https://www.patreon.com/posts/your-chance-to-82892920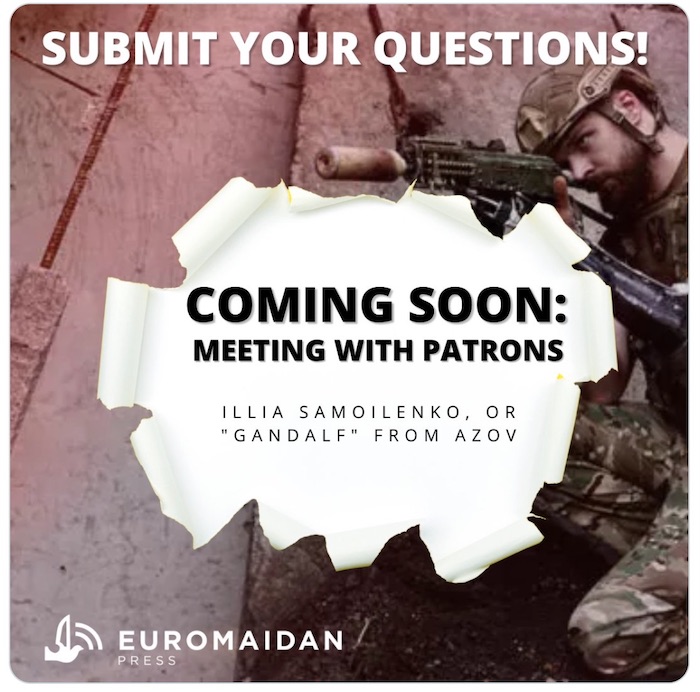 Daily overview — Summary report, May 13
A map of the approximate situation on the ground in Ukraine as of 00:00 UTC 13/05/23. pic.twitter.com/XOEEOfYucs

— War Mapper (@War_Mapper) May 13, 2023
The General Staff's operational update regarding the Russian invasion as of 18.00 pm, May 13, 2023 is in the dropdown menu below:
The Russian Federation does not abandon its plans to occupy Ukrainian territory and continues to wage its war of aggression. Russian forces do not stop launching strikes or shelling military and civilian targets alike.
On May 12, the adversary launched 7 missiles and 49 air strikes, 81 MLRS attacks. Russian forces once again used S-300 air defence systems to launch missile strikes on Kramatorsk, Druzhkivka, and Zaporizhzhia.
The likelihood of missile and air strikes across Ukraine remains high, as Russian forces continue to use terror tactics.
The adversary continues to focus its main efforts on Lyman, Bakhmut, Avdiivka, and Marinka axes. These areas of the frontline saw a total of 47 combat engagements on May 12, with Bakhmut and Marinka remaining at the epicentre of the fighting.
Volyn, and Polissya axes: no significant changes or signs of the formation of offensive groups were found.
Sivershchyna and Slobozhanshchyna axes: the adversary continues to maintain a military presence in the areas of Russia bordering Ukraine. The invaders fired mortars and artillery at Karpovychi, Medvedivka (Chernihiv oblast), Sokhany, Volfyne, Slavhorod, Popivka (Sumy oblast), Chervona Zorya, Veterynarne, Hlyboke, Lyptsi, Starytsya, Ohirtseve, Hatyshche, Vovchans'k, Nesterne, Velykyi Burluk (Kharkiv oblast).
Kupyansk axis: on May 12, the adversary attempted to improve the tactical situation and conducted offensive operations towards Masyutivka to no success. The adversary fired artillery and mortars at the settlements of Kam'yanka, Krasne Pershe, Mytrofanivka, Fyholivka, Novomlyns'k, Dvorichna, Zapadne, Kyslivka, Tabaivka (Kharkiv oblast), and Stel'makhivka (Luhansk oblast). On May 12, the invaders shelled settlements near the line of active combat, including Makiivka, Bilohorivka (Luhansk oblast), Serebryanka, Verkhn'okam'yans'ke, Spirne (Donetsk oblast).
Bakhmut axis: the adversary continues to advance. Incessant battles in the city of Bakhmut continue. In addition, Russian forces conducted unsuccessful offensive operations towards the settlements of Orikhovo-Vasylivka, Hryhorivka, and Stupochky on May 12. The invaders launched air strikes on the vicinities of settlements of Bohdanivka, Bakhmut, and New York. Vasyukivka, Fedorivka Druha, Orikhovo-Vasylivka, Bohdanivka, Bakhmut, Ivanivske, Chasiv Yar, Stupochki, Pivdenne, Toretsk, Druzhba, Pivnichne, and New York (Donetsk oblast) suffered from enemy shelling.
Avdiivka axis: the adversary launched air strikes in the vicinities of settlements of Avdiivka and Vodyane, shelled Stepove, Avdiivka, Netaylove, and Pervomais'ke (Donetsk oblast).
Marinka axis: Ukrainian defenders repelled numerous enemy attacks in the vicinity of the city of Mar'inka. At the same time, the settlements of Hostre, Heorhiivka, Maksymil'yanivka, Mar'inka, and Pobjeda (Donetsk oblast) were shelled by Russian forces.
Shakhtarske axis: Russian forces did not conduct any offensive operations on May 12. The invaders launched air strikes at the vicinities of the settlements of Prechystivka and Velyka Novosilka, shelled the settlements of Paraskoviivka, Kostyantynivka, Novomykhailivka, Vuhledar, Novoukrainka, and Prechystivka.
Zaporizhzhia and Kherson axes: the adversary stays on the defensive. The occupant forces launched an air strike near the settlements of Novopil (Donetsk oblast), Malynivka, Chervone (Zaporizhzhia oblast), and Kizomys (Kherson oblast). In addition, the invaders shelled settlements near the line of contact, including Vremivka, Novopil' (Donetsk oblast), Malynivka, Hulyaipole, Bilohir'ya, Novodanylivka, Novoandriivka, Novopavlivka, Mali Shcherbaky, Kam'yans'ke (Zaporizhzhia oblast), Kozats'ke, Ivanivka, Sadove, Antonivka (Kherson oblast), and the city of Kherson.
In order to replenish casualties, one of the Russian units operating in Svativs'kyi district (Luhansk oblast) was reinforced with the mobilized personnel. It is reported that among the newly arrived, there are servicemen who have undergone treatment and rehabilitation for mental disorders.
Recently, against the backdrop of significant losses, the Russian occupiers have been stepping up counterintelligence activities in the temporarily occupied settlements. In particular, the number of checkpoints and patrols in Yalta (Donetsk oblast) has increased. Representatives of the Russian commandant's office are looking for so-called "informants" and conducting searches.
[In addition to replenishing units that have suffered losses, Russia makes efforts to generate new units. For instance, Russian military authorities have initiated the formation of a new motorized rifle brigade in Stavropol Kray (Southern Military District) to reinforce occupation forces operating in Ukraine. The vast majority of those who signed the contract have no motivation to participate in combat, while at the same time, the invaders are eager to make money.]
On May 12, the Ukrainian Air Force launched 12 air strikes on the concentrations of troops and military equipment, as well as 5 air strikes on the anti-aircraft missile systems of the adversary.
Ukrainian defenders intercepted 22 enemy UAVs of various types on May 12.
The Ukrainian missile and artillery troops hit 2 command posts, 3 concentrations of troops, 7 artillery units at their firing positions, 1 ammunition depot, and 2 electronic warfare stations of Russian forces.
Military Updates
Blasts in Luhansk: Media report missile strike on a oil storage facility, Ukrinform reports, citing NEXTA. "Today, explosions were heard in the temporarily occupied Luhansk. As a result of the explosions, thick clouds of smoke rose over Luhansk. According to preliminary data, there was a missile attack on an oil storage facility. By the way, Turchak and Pasichnyk are in Luhansk, the report says."
https://twitter.com/EuromaidanPress/status/1656930259760033796
Russia abandons the idea of encircling Ukrainian forces in Bakhmut – ISW, Ukrainska Pravda reports, citing ISW. "The Russian Defence Ministry likely began a broader deprioritisation of the Bakhmut effort by January 2023 when the defence ministry cut off Wagner Group penal recruitment efforts, which likely prompted Prigozhin to ramp up the Soledar-Bakhmut effort in January and publicly complain about the lack of defence ministry support for his efforts starting in February 2023.
The Russian Defence Ministry briefly allocated more resources to the Bakhmut front line in March and April by sending T-90 tanks and Russian Airborne (VDV) forces to the Bakhmut area and assigning mobilised reservists to Wagner, however. Prigozhin claimed on 24 April that the Russian Defence Ministry only deployed irregular and degraded units to hold Bakhmut's flanks.
The inability of these units to fulfil even this limited mission indicates that Russian flanks in Bakhmut and other similarly manned areas of the front are likely vulnerable to Ukrainian counterattacks."
The ISW noted that the distribution of Ukraine's Defence Ministry forces, combined with changes on the battlefield also indicates that the danger of Russian encirclement of significant Ukrainian forces in Bakhmut has probably passed."
Ukrainian military doesn't lose any positions in Bakhmut this week, Ukrinform reports, citing Hanna Malyar, Deputy Minister of Defense. "Ukrainian troops did not lose a single position in Bakhmut this week and advanced in the Bakhmut direction. During the week, Bakhmut and events related to it remained the leading topic in Russian telegram channels and media. An analysis of the messages shows that this city is of utmost importance to the enemy. It is almost sacred, Malyar wrote.
She noted that the Russians, covering information about the fighting in Bakhmut, praise themselves and talk about their alleged success. The aggressor is also making up stories about the Ukrainian military command. At the same time, the enemy is giving false information about the lack of weapons, which probably aims to justify the real situation, added the Deputy Defense Minister.
Malyar said that the real situation over the past week is that despite the availability of weapons, the enemy failed to implement its plans. The aggressor suffered heavy losses in manpower. Our defenders advanced two kilometers in the Bakhmut sector, we did not lose a single position in Bakhmut this week, the Deputy Defense Minister emphasized.
As Ukrinform reported earlier, the enemy is misleading the Ukrainian Defense Forces about the lack of shells, while the number of Russian attacks on the Bakhmut and Lyman directions has increased significantly in recent weeks."
Russian forces are exhausted on Bakhmut front – Ukraine's Armed Forces spokesperson, Ukrainska Pravda reports, citing  Army Inform military news agency, quoting Serhii Cherevatyi, spokesperson for the East Grouping of Ukrainian Armed Forces. "40 combat engagements occurred here over the past 24 hours, following which 190 [Russian] soldiers were killed, 244 were injured, and 15 more were captured. Three tanks, an infantry fighting vehicle, three Msta-B howitzers and five ammunition supply points were destroyed. This proves that our defensive operation is successful, and the enemy is exhausted and bled out. Wagner [Private Military Company] has not met a single deadline, and the city of Bakhmut has not been captured.
Cherevatyi stated that Russian forces also fail to benefit from the fact that in some areas, the exhausted and defeated units of the Wagner terrorist and criminal group are being replaced by units of the Russian army's regular troops, rifle-motorised and air assault units. After all, they are also staffed mainly by conscripts with shallow motivation, and the advances of the Ukrainian Defence Forces do not add to their confidence and motivation.
The enemy has been defeated and driven back to a distance of 250 metres to 1.5 kilometres on various fronts following successful combat operations, and our defenders have been defeating the enemy and driving them back in some areas."
Russia tried to destroy Patriot system in Ukraine with hypersonic missile, Ukrinform reports, citing CNN. "Russia tried to destroy a US-made Patriot air defence system in Ukraine with a Kinzhal hypersonic missile, but the missile was shot down. According to US officials, the Ukrainian military intercepted the missile using the Patriot system, marking their first known successful Ukrainian use of the advanced air defence system only weeks after it arrived in the country. […]
US officials believe the Russians picked up on signals that are emitted from the Patriot. The Patriot missile system has a powerful radar to detect incoming targets at long-range, making it a potent air defence platform capable of intercepting ballistic missiles and more. But the radar emission necessary to spot threats at a distance also makes it possible for the enemy to detect the Patriot battery and figure out its location.
The Russian military was evidently able to figure out the rough location of the Patriot stationed outside of Kyiv. The interception took place there on the night of May 4.
'We'll get there': the Ukrainian drone unit quietly knocking out Russian targets

Col Roman Kostenko on how nightly tactical operations are crucial to Kyiv's preparation for a counteroffensivehttps://t.co/H5ES633Zfj

— Euromaidan Press (@EuromaidanPress) May 12, 2023
According to British Defence Intelligence, (last 48 hours): 
https://twitter.com/DefenceHQ/status/1656970060978696194
Over the last four days, elements of Russia's 72nd Separate Motor Rifle Brigade (72 SMRB) likely withdrew in bad order from their positions on the southern flank of the Bakhmut operation. Ukrainian forces regained at least a kilometre of territory.
The area has some tactical significance because it was a Russian bridgehead on the western side of the Donets-Donbas Canal, which marks the front line through parts of the sector.
72 SMRB is an element of Russia's 3rd Army Corps, a formation created in Autumn 2023 and dogged with allegations of poor morale and limited combat effectiveness. Its deployment to such a demanding and operationally important sector highlights Russia's severe shortage of credible combat units.
On the night of 08-09 May 2023, the Russian Navy's Black Sea Fleet vessels launched eight SS-N-30a SAGARIS land attack cruise missiles (LACMs) against Ukraine. This was only the second use of Russian Navy LACMs reported since 09 March 2023.
Up to March 2023, the Russian Navy frequently launched SAGARIS. Russia likely temporarily suspended using these weapons because it wanted to rebuild its reserve stocks. In the short-term, Russia likely sees LACM as a key capability to strike deep into Ukraine to disrupt anticipated Ukrainian counter-offensives.
However, more strategically, Russia also sees conventional SAGARIS and other LACMs as having an important role in any hypothetical conflict with NATO. How to use these scarce and expensive weapons is one of the numerous dilemmas Russian commanders face because the war in Ukraine has gone on much longer than they originally planned for.
Losses of the Russian army 
Russia's approximate losses on day 444 of its full-blown invasion of Ukraine pic.twitter.com/MejqWqdvjv

— Euromaidan Press (@EuromaidanPress) May 13, 2023
As of Saturday 13 May, the approximate losses of weapons and military equipment of the Russian Armed Forces from the beginning of the invasion to the present day:
Personnel – about 198260 (+590)
Tanks – 3751 (+6)
Armoured combat vehicles – 7307 (+12)
Artillery systems – 3095 (+27)
Multiple rocket launchers –MLRS – 561 (+2)
Air defence means – 314 (+2)
Aircraft – 308 (+0)
Helicopters – 294 (+0)
Automotive technology and fuel tanks – 6011 (+15)
Vessels/boats – 18 (+0)
UAV operational and tactical level – 2665 (+29)
Special equipment – 402 (+9)
Mobile SRBM system – 4 (+0)
Cruise missiles – 970 (+0)
Russia's irreversible losses may amount to more than 200,000, Cencor.net reports, citing Russian BBC service. "Russia's irreversible losses during the war with Ukraine may exceed 200,000 people. "Using open sources, journalists managed to establish the names of 22,644 Russian soldiers who died in the war in Ukraine. Based on data from the Center for Naval Analysis of the USA, the BBC assumes that Russia's irreversible losses (that is, killed, missing and maimed. – Ed.) may amount to 200,000 people. These data do not take into account losses among the fighters of the so-called LPR and DPR.
Almost half of those whose deaths could be accurately confirmed (10,230) died in the last five months, since December 1, 2022. More than half (5,522) are volunteers, mobilized and prisoners, that is, those who were not connected with the army in any way before the beginning of the invasion. Most of the losses in recent months have been in the squads made up of convicts. Since December, at least 3,100 of them have died in attempted assaults on Soledar and Bakhmut.
The BBC cites data that mobilized masses were used during the fighting in Donbas. Those who survived testified that they were thrown into frontal attacks on Ukrainian positions without preparation and necessary equipment. The publication notes several times that these data are the most conservative estimate, and real losses may be much higher.
We will remind, according to information from the General Staff of the Armed Forces, as of the morning of May 12, 2023, the losses of the Russian occupiers amount to approximately 197,670 people."
Humanitarian 
The Russo-Ukrainian War — turning points

Serhii Plokhy offers a compelling rejoinder to those who blame Putin's war on western provocationshttps://t.co/kVY1cr8tow

— Euromaidan Press (@EuromaidanPress) May 12, 2023
Russian armed aggression affects over 1,448 children in Ukraine, Ukrinform reports, citing the Ukrainian Prosecutor General's Office. "A total of 480 children have been killed and over 968 injured in Ukraine since the Russian invasion started.
As of May 12, 2023, over 1,448 children in Ukraine were affected by the Russian armed aggression. According to the data from juvenile prosecutors, a total of 480 children were killed and over 968 received injuries of various severity levels, the report states."
Slovakia cancels unilateral restrictions on imports of agricultural products from Ukraine, Ukrinform reports. "According to the TASR agency, the Slovak ban on imports of selected agricultural and food products from Ukraine, or originating in Ukraine, into Slovakia have been formally scrapped. Special regulations are being introduced for transporting Ukrainian agricultural products via Slovakia.
Only EU legislation now applies to this area, Andrej Wallner of the Agriculture Ministry's press department confirmed for TASR. The European Commission's measures took effect as of May 2 and will last until June 5. During this period, wheat, corn, rapeseed and sunflower seeds can be imported into all EU countries except Bulgaria, Hungary, Poland, Romania and Slovakia. Ukrainian products can still be transported through these countries' territories, however.
At the same time, five countries have pledged to cancel recently adopted unilateral measures on wheat, corn, rapeseed and sunflower seeds, as well as on any other products originating from Ukraine.
As reported by Ukrinform, the European Commission officially announced the introduction of "exceptional and temporary" preventive measures against imports from Ukraine, which limit the delivery of agricultural goods produced in Ukraine to five EU countries. The restrictions will apply to four agricultural products: wheat, corn, rapeseed and sunflower seed."
Envirnonmental
Occupiers destroy ecosystem of Mariupol: dead dolphins spotted on shore, Ukrainska Pravda reports, citing the Mariupol City Council. "Dead dolphins have been spotted on the shore of the temporarily occupied city of Mariupol in Donetsk Oblast. There are also a lot of illegal waste landfill sites in the city and no professional service that would control the pollution of the soil, rivers and sea. It is not the first time the residents of the city have spotted the bodies of dolphins washed ashore. It can be a result of the Russians destroying the natural ecosystem of the Azov Sea, the Mariupol City Council explains.
Earlier in April, the Russian occupiers started building a crossing over the river of Kalchyk. The construction is being conducted in barbarian ways with the use of slag. The slag entering the water may cause mass deaths of fish in the river, the City Council adds.
Since May 2022 the city of Mariupol has been under total occupation of the Russian forces. On 20 March, the defenders of Mariupol, who held the Azovstal plant, "the last fortress", left the territory of the plant. Over 90% of residential buildings in the city have been destroyed due to the Russian attacks. The occupiers caused a catastrophic situation with hygiene in the city as the residents of Mariupol were taking water from the puddles.
Last summer, mass deaths of fish and dolphins began in the Azov Sea. About 50,000 dolphins may have died in the Black Sea because of the occupiers' ships."
Energoatom preparing to change personnel at Zaporizhzhia NPP immediately after de-occupation, Ukrinform reports, citing Energoatom National Nuclear Energy Generating Company of Ukraine President, Petro Kotin. "Energoatom National Nuclear Energy Generating Company is conducting training for the personnel who will enter Zaporizhzhia Nuclear Power Plant (NPP) and start working immediately after the plant's de-occupation.
Now we are making preparations within the Ukrainian [-controlled – Ed.] territory. The staff members who had left Enerhodar are staying with us. They are working in other separate subdivisions, including nuclear power plants, but we support their readiness to go to Zaporizhzhia NPP on the first call, Kotin told. In his words, Energoatom is also preparing rotational shift teams at nuclear power plants, who might be needed in case of a personnel shortage at Zaporizhzhia NPP after its de-occupation.
According to Kotin, there are signs that Russian occupiers are getting ready for 'evacuation'. In particular, the Russian military and Rosatom's workers underwent a special training to promptly leave the plant. A reminder that Russian invaders are planning to 'evacuate' about 2,700 employees of Zaporizhzhia NPP and their families from the temporarily occupied city of Enerhodar."
Legal 
#Russia court helps prosecution fake evidence in 'trial' of #CrimeanTatar civic activist#Rustem_Taiirov #LetMyPeopleGo #StandWithUkraine #StopRussia #Ukrainehttps://t.co/BPmTOZ1kpF

— Euromaidan Press (@EuromaidanPress) May 12, 2023
G7 nations talk options for handing Russia's frozen assets to Ukraine, Ukrinform reports, citing The Japan Times. "The Group of Seven is discussing ways of transferring to Ukraine the Russian assets seized following the invasion by Moscow, with legal complexities and domestic restrictions making it difficult to do the transfers, a source familiar with the discussion said. According to JT, one of the approaches discussed at the meeting is to target the income generated from those assets, as a means of bypassing some legal hurdles.
A key factor is the US announcement that it first authorized the transfer of seized Russian assets to Ukraine, which led to certain shifts in the process. While this represents the United States' first transfer of forfeited Russian funds for the rebuilding of Ukraine … it will not be the last, US Attorney General Merrick Garland said Wednesday.
The joint REPO task force, consisting of finance, justice, trade, and home affairs ministers and European commissioners, has already frozen or blocked more than $58 billion worth of Russian assets. The REPO comprises G7 nations, Australia, and the EU.
A meeting of finance ministers and central bank governors is said to conclude on Saturday, but sanctions on Russia are expected to be a key topic of discussion at the G7 summit in Hiroshima next week.
As Ukrinform reported earlier, Jacob Kierkegaard, a senior researcher at the German Marshall Fund, stated during public hearings at the European Parliament's Foreign Affairs Committee that, provided adequate financial assistance is received, economic growth in Ukraine within 10 years after the end of the war will surpass that of China and other developing markets."
G7 finance ministers are discussing ways to support Ukraine and pressure Russia to end the war

Ukraine's finance minister, Serhiy Marchenko, was participating online in the first session of the G-7 talks in Niigata, a port city on the Japan Sea coast.https://t.co/lngllJwhoP

— Euromaidan Press (@EuromaidanPress) May 11, 2023
Zelenskyy approves law enforcement reform plan, Ukrainska Pravda reports, citing the President's Office. "Today [11 May – ed.], I approved a comprehensive strategic plan for reforming our law enforcement system, all law enforcement agencies and prosecutors. This is a detailed document, which is designed to be implemented until 2027.
Simply put, we must provide such a system of ensuring justice and law and order for our country, which will correspond to our goal of Ukraine's rapid accession to the EU; we add our readiness to realise this goal, and, no less important, we guarantee the foundations of a new social contract, which are obviously outlined now in the defence of our state. The president did not specify what stages and steps this strategic plan provides for."
Support
https://twitter.com/EuromaidanPress/status/1656721079195377669https://twitter.com/EuromaidanPress/status/1656721079195377669
Polish Senate approved resolution on Ukraine joining NATO: It is strongest army on continent, Censor.net reports.  "The Polish Senate passed a resolution calling on the Alliance to apply the same procedures to Ukraine as it did to Sweden and Finland. The resolution was adopted unanimously, Censor.NET reports with reference to the Polish Radio.
Ukraine today has the strongest army on the continent with an extraordinary combat record. The Ukrainian army is rapidly re-equipping with NATO equipment and using operational art and tactics developed over decades among Western allies. … The defenders need real support through closer political and military cooperation with NATO countries, the resolution says.
The senators emphasized that Ukraine should receive much more than previous statements about an open door policy at the NATO summit in Vilnius. They emphasize that Ukraine's accession to NATO should be a political decision – as in the case of Finland and Sweden – the result of a strategic analysis of the challenges and threats beyond the Alliance's eastern border.
If Russia defeats Ukraine, it will not stop at its western border. The Alliance identified this threat at last year's NATO Summit in Madrid. Poland, Lithuania, Latvia, and Estonia correctly assessed the Russian threat. The majority of European capitals are only now agreeing with us, the resolution says.
The senators recalled that Finland and Sweden had been invited to join NATO under a procedure that had never been used before. They called for the same emergency procedure to be applied to Ukraine.
Although Sweden is still outside the Alliance's structures, the Allies have decided that they will defend it. The Senate of the Republic of Poland calls on NATO member states to apply a similar emergency procedure to Ukraine, the document says.
The Senate also supported the demands of the states bordering Russia for strong security guarantees for Ukraine and for Ukraine to show the way to NATO membership."
Abrams tanks to arrive in Ukraine in early autumn, Ukrainska Pravda reports, citing the Voice of America. "US Secretary of Defence Lloyd Austin has said that Ukraine will receive Abrams tanks in early autumn. […] Austin has stated that the timing of the Abrams tanks delivery is explained by the fact that the US military is not only sending them to Ukraine and training the Ukrainian military to use them but also creating the infrastructure that will support the operation of the tanks, which are new equipment for Ukrainians.
This equipment is significantly different, in particular, due to the turbine engine and other rather complex systems. However, we are trying to transfer this equipment to Ukrainians as soon as possible. They will definitely have everything available by early autumn."
Kirby: US doesn't change its policy on providing Ukraine with long-range missiles yet, Ukrinform reports, citing US National Security Council Coordinator for Strategic Communications John Kirby. "Following the official announcement by the British side of the provision of Storm Shadow missiles to the Ukrainian forces, official Washington is still maintaining its approach to avoiding the transfer of long-range US missiles to the Ukrainian Armed Forces.
As for any other changes (in Washington's approaches – ed.) to long-range missile systems, our policy and our decisions in this regard have not changed in this regard, the Biden administration spokesman said. He emphasized that the United States is focusing on other military assistance requested by Ukraine. And now, according to him, much emphasis is being placed on providing Ukrainians with air defence, including Patriot systems. […]
At the same time, he expressed his deep gratitude to other countries, including the U.K., for helping Ukrainians. Kirby emphasized that the British had been with Ukrainians from the very beginning of the full-scale war with Russia and supported the country's ability to defend itself. As Ukrinform reported, UK Defense Secretary Ben Wallace on Thursday confirmed that London was transferring long-range Storm Shadow missiles to Ukraine."
Western weapons, growing experience harden Ukrainian air defenses against renewed Russian onslaught, The Washington Post reports. "By the time Kyiv residents hear the air-raid sirens signaling an imminent Russian attack, Ukraine's air-defense units are already on the move. From camouflaged positions, they dart out by truck to farm fields around the capital, ready to take down enemy drones or missiles. The scramble has become an almost nightly event since Russia resumed regular air attacks on Kyiv on April 28 after a nearly two-month lull. The units have intercepted every drone and missile fired at the capital since then. […]
With the help of Western weapons and growing experience, Ukraine's air defenses have made great strides in the past 14 months, saving infrastructure and lives and preventing Russia from achieving air superiority — a critical step as Ukrainians prepare for a counteroffensive. The bolstered defenses have deterred Russian aircraft from going deep behind the front lines and greatly shaped the course of the war, Ian Williams wrote this month in an analysis for the Center For Strategic and International Studies, or CSIS.
Since April 28, Russia has fired a total of 67 missiles and 114 drones at Ukraine, according to Ukrainian air force reports. Only seven missiles and 11 drones got through, and none hit Kyiv. Last week, Kyiv units reported they had shot down Russia's most advanced hypersonic missile, a weapon that was previously considered unstoppable by Ukraine. A newly acquired American-made Patriot battery made it possible.
On the first day of the invasion, Russia targeted Ukraine's ground-based air-defense systems, first with a wave of missiles, then with dozens of bomber sorties supported by electronic warfare measures that essentially blinded Ukrainian radar, wrote Justin Bronk in an April analysis for the Virginia-based Center for Naval Analyses. But Ukraine had received intelligence from allies ahead of the Russian attacks, allowing Ukrainian defenders to move mobile units out of harm's way, although some fixed positions were destroyed.
The units were scattered, and for a brief time Russia was able to fly in waves of helicopters, supported by fighter jets, and inflict heavy losses on Ukrainian aircraft sent to intercept them. But the Russians failed to follow up on their initial attacks, allowing Ukraine to regroup quickly, said Douglas Barrie, a defense aerospace specialist with the International Institute for Strategic Studies in London. They didn't go back and check: Did we destroy it? Disable it? Do we need to go back and do it again? Have they relocated? he said.
The brigade commander of air defense command "Center" is a colonel who could only be identified by his callsign, "Granite," in keeping with the Ukrainian military's policy of protecting soldiers' identities. During a visit by The Associated Press to his unit this week, he said his brigade was hit on the first day of the war with 20 Russian missiles, which took out barracks and command posts and killed people. After abandoning fixed positions, they now operate strictly as mobile teams that can quickly spring into action and just as quickly slip away — a tactic commonly referred to as "shoot and scoot."
After the initial setbacks suffered by Ukraine's air defenses, enough mobile units were back in operation by the war's third day that they were able to shoot down multiple planes, prompting Russia to pull back its attack aircraft and depriving it of a key advantage. But many of the Russian missiles were still getting through. Granite estimates in the early months that Ukraine was intercepting about 50% of incoming Russian missiles. The CSIS report suggested the figure might actually have been much lower.
With the arrival of new Western-made air defense systems in October and November, as well as the growing skill of the Ukrainian batteries, Ukraine reported intercepting some 80% of incoming Russian cruise missiles by December. Today, Granite said the figure is closer to 90%, and he said the defense systems around Kyiv have taken down 100% of missiles shot at the city since April 28. […]
Two key systems used by Ukraine since the start of the war have been the Soviet-era long-range S300 and medium-range Buk systems, also known as the SA-10s and SA-11s. Ukraine has gradually added new systems from Western allies, including IRIS-T batteries from Germany in October and the American and Norwegian-built NASAMS in November. It has also received European-built SAMP/T systems, and American-built HAWK missiles, and last month added two US-built Patriot batteries.
The air-defense teams are set up with overlapping range rings, starting from short, almost point-blank defenses using shoulder-launched missiles and anti-air cannons to greater distances. A single layer would not be enough to stop all strikes or even most of them, Barrie said. But the more layers you have, the greater the chances you have. […]
So far Ukrainian President Volodymyr Zelenskyy has successfully pressed allies for more air-defense supplies. The US on Monday announced $1.2 billion more in long-term military aid, including new HAWK systems, drones and air-defense munitions. […]"
90% of air defence effectiveness applies only to certain cruise missiles and Iranian drones, not to S-300, guided bombs, Iskanders – Air Force, Cencor.net reports, citing the Air Force spokesman Colonel Yuriy Ihnat in a commentary to UT. "We can only talk about Ukrainian air defence effectiveness in terms of percentage in relation to enemy air targets that it can shoot down. Talking about 90-100% of downing enemy targets is only about certain cruise missiles and Iranian kamikaze drones, which our air defence can really hit.
Yes, Kyiv is relatively well defended, but the enemy terrorizes the frontline regions every day with S-300 attacks and launches guided bombs from aircraft. The enemy also frequently uses X-22, X-31, Iskander, Onyx, and other missiles, against which Ukrainian air defence does not have sufficiently effective means of destruction. We also do not yet have the means to drive away Russian aircrafts that use anti-aircraft missiles on a daily basis from our borders," Ihnat said.
Ihnat reminded that modern F-16 fighters could become an effective "deterrent" to keep enemy aircraft away from the Ukrainian border. The Air Force spokesman noted that despite the receipt of more modern systems, the outdated S-300 and Buk M1 remain the basis of Ukrainian air defence.
Therefore, Ukraine continues to need the support of international partners. According to Ihnat, it will take years to fully modernize the air defense system and "cover" the entire Ukrainian sky with reliable protection."
New Developments
"Ukraine today has the strongest army on the continent with extraordinary combat experience," says the resolution calling to admit Ukraine by an extraordinary procedure, like Finland and Swedenhttps://t.co/iSn1OOsy0m

— Euromaidan Press (@EuromaidanPress) May 12, 2023
Undaunted by air raids, a Ukrainian duo gets ready for Eurovision

With a song inspired by the bravery of Ukrainian soldiers, the pop group Tvorchi sees the beloved, often campy global song competition as a serious opportunity to represent their countryhttps://t.co/JqVcrUsZvZ

— Euromaidan Press (@EuromaidanPress) May 12, 2023
Assessment 
https://www.understandingwar.org/backgrounder/russian-offensive-campaign-assessment-may-12-2023*
On the war. 
The Institute for the Study of War has made the following assessment as of  May 12, 2022:
The Russian Ministry of Defense (MoD) attempted to distract from and assuage information space paranoia over a potential Ukrainian counteroffensive on the Kharkiv-Luhansk front. The Russian MoD denied that Ukrainian forces broke through Russian lines in the Kupyansk and Lyman directions on May 11, instead claiming that Russian forces repelled Ukrainian sabotage and reconnaissance groups near Kotlyarivka, Kharkiv Oblast (25km northwest of Svatove), and Dibrova (5km southwest of Kreminna) and Kreminna, Luhansk Oblast. The MoD also posted footage on May 12 of Russian forces using T-90, T-80, and T-72B3 tanks, and BMP-2 infantry fighting vehicles conducting ground attacks near Spirne (26km south of Kreminna). Geolocation of the Russian MoD's footage indicates that Russian forces only made marginal advances west of Spirne.
Russian forces conducted limited ground attacks along the Svatove-Kreminna line on May 12. The Ukrainian General Staff reported that Russian forces conducted unsuccessful offensive actions in the Serebrianska forest area (10km south of Kreminna. A Russian milblogger claimed that Russian forces conducted unsuccessful ground attacks towards Stelmakhivka (15km northwest of Svatove), Terny (16km west of Kreminna), and Torske (14km west of Kreminna).
Ukrainian forces continue to target Russian rear areas in Luhansk Oblast, sparking some information space fear about Ukrainian long range strike capabilities. Geolocated footage shows the aftermath of explosions at the Luhansk Machine Building Plant in Luhansk City (roughly 80-100km behind the front line) on May 12. A Russian milblogger speculated that Ukrainian forces may have used a long-range weapon, such as a cruise missile or the newly delivered Storm Shadow missiles, in this strike. Other milbloggers claimed that it is too early to tell which weapon Ukrainian forces used but warned that the whole of the Russian rear in Luhansk Oblast is within range of Storm Shadow missiles.
Russian forces continued ground attacks in and around Bakhmut on May 12 against the backdrop of localized Ukrainian counterattacks. Geolocated footage posted on May 12 shows that Russian forces have advanced between Marshal Tolbukhin and Iryna Levchenko streets in northwestern Bakhmut. Russian sources claimed that Wagner fighters captured 220m of territory in Bakhmut and are attacking three main fortified areas in the northwestern sector of the city. Prigozhin claimed that Ukraine holds 2.18 square kilometers of territory in Bakhmut. The Ukrainian General Staff reported that Russian forces additionally conducted unsuccessful offensive operations towards Stupochky (11km southwest of Bakhmut just south of the T0504 Kostyantynivka-Chasiv Yar-Bakhmut road), Orikhovo-Vasylivka (11km northwest of Bakhmut), and Hryhorivka (9km northwest of Bakhmut). Ukrainian Eastern Group of Force Spokesperson Colonel Serhiy Cherevaty stated on May 12 that over 40 combat clashes have occurred in the Bakhmut direction over the past day and that the situation for Russian forces is overall worsening because Wagner is being supplanted by motorized rifle and paratrooper elements that are comprised of poorly trained and motivated mobilized personnel.
Russian forces continued ground attacks along the Avdiivka-Donetsk City frontline on May 12. The Ukrainian General Staff reported that Russian troops conducted unsuccessful offensive actions near Avdiivka and on the southwestern outskirts of Donetsk City near Marinka and Novomykhailivka. Geolocated footage posted on May 11 shows that Russian forces have made marginal advances within 2km southeast of Avdiivka. A Russian milblogger claimed that Russian forces have changed the direction of attacks on Avdiivka from the southwest to the east and are attempting to advance on Avdiivka from the Krutka Balka area.
Russian forces did not conduct any confirmed ground attacks in western Donetsk Oblast on May 12. Russian forces shelled the Vuhledar area (30km southwest of Donetsk City) but did not conduct any ground attacks towards the settlement. A Russian milblogger claimed that reports of Ukrainian activity in Hulyaipole-Polohy area in eastern Zaporizhzhia Oblast are false. A Russian milblogger posted footage reportedly of Russian airstrikes on the Hulyaipole area.
Ukrainian forces have made gains northwest of Bakhmut in localized counterattacks as of May 12. Geolocated footage posted on May 12 shows Russian forces fleeing Ukrainian artillery fire on the southern bank of the Berkhivske Reservoir, about 4km northwest of Bakhmut. This footage visually confirms claims made by a number of Russian milbloggers that Ukrainian forces made gains northwest of Bakhmut in the area between Bohdanivka and Berkhivka. One Russian milblogger claimed that elements of the 200th Separate Motorized Rifle Brigade (14th Army Corps, Northern Fleet) lost their positions in the area between Hryhorivka and Dubovo-Vasylivka (about 6km northwest of Bakhmut). Several Russian sources warned that Ukrainian forces may be attempting to encircle the Wagner Group within Bakhmut. Wagner Group financier Yevgeny Priogozhin emphasized that Ukrainian forces are approaching Berkhivka and claimed that Ukraine now holds positions within 500m of Bakhmut's northwestern city limits. Russian milbloggers additionally reported that Ukrainian troops are counterattacking towards Khromove (3km west of Bakhmut), Bohdanivka (6km northwest of Bakhmut), and Klishchiivka (6km southwest of Bakhmut). One Russian milblogger claimed that the situation southwest of Bakhmut near Mayorsk has stabilized following Ukrainian attacks on positions of the 1st Donetsk People's Republic Army Corps. […]
Russian milbloggers and other prominent voices in the pro-war information space continue to respond to recent Ukrainian counterattacks with varying degrees of caution and anxiety. Many milbloggers claimed that Ukrainian activity around Bakhmut marks the official beginning of the anticipated spring counteroffensive and speculated about where Ukraine's main effort will take place. Several prominent Russian voices, however, urged caution and restraint in responding to the counteroffensive, suggesting that some milbloggers are advocating for the application of certain lessons they took from the information space meltdown during Ukraine's successful Kharkiv and Kherson counter-offensives. Some milbloggers warned that reports about Ukrainian success could be a deliberate Ukrainian attempt to sow panic. Another milblogger warned against accepting all reports that Ukrainian activities are "psychological operations" at face value and voiced concern about Russian propaganda responses to the counterattacks. One milblogger suggested that credible reports of Ukrainian counterattacks do not mean that "everything is on fire," cautioning the audience against falling into despair. The milblogger remarked that telling the truth about Ukrainian operations does not amount to "sowing panic." The overall Russian information space response appears to be focused on the idea of avoiding spreading panic.
Ukrainian and American officials stated that Ukrainian forces have not yet started the planned counteroffensive. Ukrainian Deputy Defense Minister Hanna Malyar stated on May 12 that Ukrainian forces are still conducting defensive operations, which sometimes include counterattacks and other unspecified active actions. A senior US military official and a senior Western official stated on May 12 that Ukrainian forces have started conducting "shaping" operations in advance of the counteroffensive. Western reporting on this subject notably contradicts Russian sources, many of which have claimed the counteroffensive is officially underway.
Senior Russian officials proposed a series of domestic repression and censorship measures during the St. Petersburg International Legal Forum on May 11. The theme of the forum centered on the criminalization of "Russophobia," a measure that Russian Human Rights Council Chairperson Valery Fadeev proposed and Deputy Minister of Justice Andrey Loginov and Russian Ombudsman Tatyana Moskalkova supported. Moskalkova defined Russophobia as a "misanthropic ideology," and a State Duma deputy claimed that the International Criminal Court's arrest warrants for Russian officials for the kidnapping of Ukrainian children to Russia is an example of "Russophobia." Deputy Minister of Justice Oleg Sviridenko announced an expansion of the law against "foreign agents" to include a section penalizing "third parties" for aiding foreign agents in violating Russian law. Russian Investigative Committee Chairperson Alexander Bastrykin asked Russian Constitutional Court Chairperson Valery Zorkin to look into ways of establishing an unspecified state ideology in the Russian Constitution, which Bastrykin claimed would require the Duma to adopt a new constitution rather than pass an amendment. Russian Minister of Justice Konstantin Chuichenko supported Bastrykin's proposal, but Zorkin noted that the current constitution contains a set of values that can "allow civil society to connect." Senior Russian officials' introduction of such proposals indicates that the Kremlin may be gauging the information space reaction to increased repression measures and setting conditions for long-term strengthening of these measures.
Former Russian officer and ardent nationalist Igor Girkin's newly formed "Club of Angry Patriots" held a press conference on May 12 to discuss its discontent with the current Russian conduct of the war in Ukraine. Former self-proclaimed Donetsk People's Republic (DNR) "People's Governor" Pavel Gubarev emphasized that the goal of the "special military operation" should be the "elimination of Ukrainian statehood," and "Another Russia" political party coordinator Mikhail Aksel accused Russian authorities of not taking the steps needed to realize the goals of the war. Girkin himself reiterated his belief that the Russian military in its current state cannot achieve decisive battlefield results and criticized the inaction of Russian leadership. As ISW has previously assessed, the Club of Angry Patriots is using its platform to launch specific critiques at the inner circles of Russian leadership while protecting a pro-war faction within the Kremlin. The public format of this press conference is additionally noteworthy–Girkin and other members of the club typically use their individual Telegram channels to propagate their talking points, and a public press conference suggests that they have had some success in reaching broader audiences, potentially as domestic pro-war factions are increasingly discontent with the way Russia has been fighting the war thus far. The Club of Angry Patriots notably held the press conference during a period of high information space agitation about a future Ukrainian counteroffensive, which may inflame some factions' criticisms of senior Russian leadership for poor performance in the war.
US Ambassador to South Africa Reuben Brigety accused South Africa of loading a Russian ship with ammunition and weapons in December 2022, contradicting its proclaimed neutral stance on the war in Ukraine. Brigety stated on May 11 that a sanctioned Russian vessel containing weapons departed the Simon's Town naval base in Cape Town on December 9, 2022, and arrived in Novorossiysk on February 22, 2023. White House National Security Council spokesperson John Kirby stated on May 12 that these reports are a "serious issue" as the US has consistently and strongly urged other countries not to supply weapons to Russia. South African officials stated that there is no evidence to support US accusations and summoned Brigety on May 12 after criticizing his statements.
Key Takeaways
Ukrainian forces have made gains northwest of Bakhmut in localized counterattacks as of May 12.
Russian milbloggers and other prominent voices in the pro-war information space continue to respond to recent Ukrainian counterattacks with varying degrees of caution and anxiety.
Ukrainian and American officials stated that Ukrainian forces have not yet started the planned counteroffensive.
Senior Russian officials proposed a series of domestic repression and censorship measures during the St. Petersburg International Legal Forum on May 11.
Former Russian officer and ardent nationalist Igor Girkin's newly formed "Club of Angry Patriots" held a press conference on May 12 to discuss its discontent with the current Russian conduct of the war in Ukraine.
US Ambassador to South Africa Reuben Brigety accused South Africa of loading a Russian ship with ammunition and weapons in December 2022, contradicting its proclaimed neutral stance on the war in Ukraine.
The Russian Ministry of Defense (MoD) attempted to distract from and assuage information space paranoia over a potential Ukrainian counteroffensive on the Kharkiv-Luhansk front.
Russian forces continue limited ground attacks in and around Bakhmut.
Russian sources continue to speculate about potential Ukrainian counteroffensive preparations in southern Ukraine.
Russian forces continue to recruit convicts and establish volunteer battalions as a part of crypto-mobilization efforts.
Senior Russian officials are claiming that they are taking active measures to return displaced and illegally deported Ukrainian civilians, including Ukrainian children, to occupied Ukraine.
Ukrainian army starts preparations for counteroffensive, Ukrainska Pravda reports, citing CNN. "Ukrainian troops have begun "shaping" operations ahead of a long-awaited counter-offensive against Russian forces. "Shaping" includes strikes on targets such as ammunition storage points, command posts, armoured vehicles and artillery systems to prepare the battlefield for the offensive forces. This is a standard tactic used before major joint operations.
When Ukraine launched its counter-offensive last summer in the southern and north-eastern parts of the country, it was similarly preceded by airstrikes to prepare the battlefield for further offensive actions. According to a senior US military official, these operations of forming the battlefield could last for many days before the central part of any planned Ukrainian offensive. The "shaping" operations may also be aimed at confusing the Russians."
Zelenskyy says Ukraine needs more time to prepare for counter-offensive, Ukrainska Pravda reports, citing BBC News. "President Volodymyr Zelenskyy has stated that Ukraine needs more time to launch a counter-offensive against Russia, as the military still needs pledged Western aid.With [what we already have] we can go forward, and, I think, be successful. But we'd lose a lot of people. I think that's unacceptable. So we need to wait. We still need a bit more time.
Zelenskyy described the combat brigades, which have been trained in particular by NATO countries, as "ready" but said these forces still needed some things, including armoured vehicles, which are arriving in batches. Recently, the Ukrainian authorities have reportedly tried to reduce expectations of a breakthrough, both publicly and privately.
A senior government official, speaking on condition of anonymity, said that Ukraine's leaders understood that [they] needed to be successful, but this operation should not be seen as a silver bullet in the war. Zelenskyy also voiced confidence that the Ukrainian military would advance, warning of the risks of a frozen conflict, which, in his words, Russia was counting on.
For Kyiv, any outcome that disappoints the West could mean less military support and pressure on negotiations with Russia: Everyone will have an idea, [but] they can't pressure Ukraine into surrendering territories. Why should any country of the world give Putin its territory? […]
He also dismissed concerns about losing US support if President Joe Biden is not re-elected in 2024. Zelenskyy believes Ukraine enjoys bipartisan support in the US Congress and voiced confidence that the country will gain victory by then."
To repel Russia, Ukraine is preparing arsenal worth more than $30 billion, – Bloomberg, Censor.net reports, citing Bloomberg . "Ukraine is preparing for a counter-offensive that could push Russia to end the war or show that neither side has enough firepower to prevail. To win, Kyiv will use an arsenal of weapons from Western allies worth more than $30 billion. The newspaper notes that the aid Ukraine has received since December is worth more than any NATO member, except the United States, spends on weapons in a year.
A counter-offensive, according to Bloomberg, could help put an end to the Russian invasion. But this time, it may be harder for the Ukrainian armed forces to succeed than last year near Kharkiv, as a counteroffensive will no longer come as a surprise. Ukraine will have to conduct a complex combined arms operation without air superiority, coordinating infantry, armour, sappers and air defence.
The publication notes that if Ukraine achieves only minor successes, like the Russians near Bakhmut, it could lead to another winter stalemate and increased pressure on Kyiv to give up the seized territories as part of the ceasefire agreement.
The main targets of the counter-offensive are likely to be in the south. To break through the Russian defences, the allies will need special equipment for demining, blocking trenches and demolishing bunkers. Hundreds of trucks and transporters will also be needed to move heavy armoured vehicles into position faster than Russia can react.
The Kiel Institute's support tracker for Ukraine shows that since February 2022, allies have sent Ukraine more than $67 billion worth of arms, with a peak in December.
On 3 May 2023, the United States agreed to send Ukraine another $300 million worth of arms, including more ammunition, trucks, trailers and diagnostic equipment for repair, as well as howitzers and HIMARS missiles. The $1.2 billion US package announced on 9 May will include critical supplies of 155mm artillery shells and anti-aircraft missiles.
Ukraine is also concerned that important air defence systems, such as the Soviet-era Buk medium-range missile system, are running out of missiles. Ukrainian leaders are also calling for Ukraine to be provided with modern long-range ATACMS surface-to-surface missiles and aircraft, which Washington has been unwilling to provide so far.
Another question that remains unanswered is whether the Russians have enough troops to maintain the defences they dug in the occupied south of Ukraine during the winter. If not, they will have to guess where the Ukrainians will attack, giving Kyiv the opportunity to take them by surprise and outflank them.
If Ukraine succeeds in breaking through the front line, the number of troops and equipment could become critical, as reserves will be needed to break through any gaps."
Not only the heroism of Ukrainians but advanced technologies will lay the basis for victory – Commander-in-Chief, Ukrinform reports. "Ukraine still has a long and challenging path towards its victory over the occupiers. The relevant statement was made by Commander-in-Chief of the Armed Forces of Ukraine Valerii Zaluzhnyi in an interview with Dmytro Komarov's special project 'Year. Off-screen', an Ukrinform correspondent reports.
I can see what should be done to win, but I know for sure that there is still a very long and difficult path to victory. I hope that God will be on our side, and victory will definitely be ours. As of today, what is happening and what we are holding on to are the Ukrainian people. […]
In his words, Ukrainians were put in such conditions, when the invaders came from the Russian Federation and from the territory of Belarus to kill their wives, their children, destroy their houses. And these people, filled with the idea of protecting their loved ones, their land, went to defend them. We have lost many people so far, staff commanders. The war is started by military professionals but finished by teachers, engineers, accountants. This is what is happening now, Zaluzhnyi noted.
According to the Commander-in-Chief, not only the heroism of Ukrainians but also the use of advanced technologies and more effective equipment will lay the basis for Ukraine's victory. Zaluzhnyi expressed confidence that Ukraine would definitely win. But, for now, everything rests on the shoulders of ordinary people. […]
Meanwhile, Russia does not value human lives. Losses in Afghanistan brought the Soviet Union to its knees. Now, the number of Russian losses is much higher, and they do not stop. There is only one conclusion: the cheapest thing that this country has is human life. Instead, in our country, it is the most valuable thing, Zaluzhnyi stressed.
Consequences and what to do?
Since Russia's full-scale invasion, Ukraine falls short of 30% of the workforce, Ukrinform reports, citing the ConFederation of Employers of Ukraine. "Since Russia launched a full-scale invasion of Ukraine, the embattled nation has lost access to 5.5 million able-bodied Ukrainians, roughly 30% of its workforce. According to the association, before the war, the workforce in Ukraine amounted to 17.4 million people, of which 8.3 million were women and 9.1 million were men of working age.
With the outset of the war, 1 million citizens were mobilized to defend Ukraine. As of early 2023, there were 4.6 million Ukrainians outside the country, of which 3.2 million were women of working age. Another 3 million people lived in the territories temporarily occupied from the beginning of 2022, of which approximately 1.3 million are of working age.
That is, since the full-scale invasion, Ukraine has lost access to 5.5 million people of working age. This is a little more than 30% of the entire workforce, the report says.
As reported earlier, the IMF predicts a decrease in Ukraine's unemployment rate from 24.5% in 2022 to 20.9% in 2023, which is still considered a very high level for a country engulfed by war."
Hans Petter Midttun: US election in 2024 does not constitute a risk for Ukraine because it enjoys strong bipartisan support. The first lethal aid to Ukraine was not delivered on President Obama's watch. The US delivered the first batch of Javelins in the spring of 2018 during President Trump's administration. A Republican victory in the presidential election next year, would, therefore, most likely have no impact on the US commitment to support Ukraine "as long as it takes" (whatever that means).
A Republican win might, however, have a huge impact on NATO and the transatlantic link.
In April last year, The Washington Post pointed out that "in early 2019, several months after President Donald Trump threatened to upend the North Atlantic Treaty Organization during a trip to Brussels for the alliance's annual summit, House lawmakers passed the NATO Support Act amid overwhelming bipartisan support, with only 22 Republicans voting against the measure. But this month, when a similar bill in support of NATO during the Russian invasion of Ukraine again faced a vote in the House, the support was far more polarized, with 63 Republicans — 30 per cent of the party's conference — voting against it. The vote underscores the Republican Party's remarkable drift away from NATO in recent years, as positions once considered part of a libertarian fringe have become doctrine for a growing portion of the party."
A report published by PEW research on 10 May, concluded that most Americans have favourable views of Ukraine and NATO. However, over the past few years, there have been shifts in how they view the US's place in the world. A majority (55%) believe that the US should pay less attention to problems overseas and concentrate on problems at home.
"Republicans and independents who lean toward the Republican Party are more likely to want to pay attention to domestic issues, rather than be active in foreign affairs, and are more inclined to say the US should follow its own interests. […] About half (49%) of Republicans have a positive view of NATO, down from 55% in the weeks following Russia's invasion of Ukraine.
Democrats and Democratic-leaning independents are consistently more likely than Republicans and GOP leaners to hold a positive opinion of NATO. About three-quarters of Democrats (76%) have a favourable view of NATO, in contrast to 49% of Republicans."
This is partly because of an isolationist posture in line with the "America First" ethos. It is also in part connected to US frustration over Europe's unwillingness to invest in security and defence. As previously argued, there are more than eight signs of discord within NATO. The failure to meet the commitment to invest 2% of GDP in the defence budget nine years after the war started, is a ninth sign of discord. It has left most European countries incapable of providing any substantial military contribution to the Alliance as the latter is being challenged.
The US acceptance of a protracted war – or NATO's decision to not intervene militarily in Ukraine according to its late strategic concept – might soon become the basis for the tenth reason for discord within the Alliance. Several countries have been taking strategic risks emptying their stockpiles of some weapon systems and ammunition types, knowing that they will not be replaced for years for a lack of production capacity. The longer the war lasts, the greater the frustration and concerns.
A Republican win in the forthcoming US presidential election might, however, introduce yet another reason for discord. The return of Donald Trump to the White House or the election of a "DT-clone" could quickly invalidate President Biden's efforts to improve US/Europe relationships and build consensus. More importantly, this time the "DT effect" might be reinforced by a European political landscape under transformation.
In September, I argued that we might experience a complete change in the political landscape in both the USA and Europe. Food and energy insecurity, as well as higher costs of living, will leave voters increasingly frustrated. This is bound to be reflected in elections to come. President Biden, Chancellor Scholz, President Macron, Prime Minister Støre, Rutte, Sánchez, Costa, Trudeau, and more, will likely be held responsible for having failed to act resolutely when challenged.
While Russia bears full responsibility for the war, NATO's failure to intervene in Ukraine has enabled a Russian protracted war with escalating global ramifications. Nine years after the war started, Russia is still allowed to undermine the West. This might potentially, strengthen the power of right-wing, populistic political parties and, consequently, reduce unity across Europe.
According to the ECPS Report: The Impacts of the Russian Invasion of Ukraine on Right-Wing Populism in Europe:
"The many economic and international repercussions of the Ukraine war have dramatically changed European politics, both among the individual states and at the supranational level. It has changed public opinion and created new constraints and opportunities for political actors across the spectrum, both within and outside the mainstream. […]
The populist Radical Right inclination towards Russia is also informed by the Euroscepticism of these parties who favour Putin's Russia to symbolize their opposition to the centralized power of the "Brussels bubble", grabbing power from the national level of governance (Carlotti, 2023). […] While many of those parties have recently toned down their Eurosceptic stances (Taggart, 2019; Brack, 2020), essentially for strategic reasons, they still are the primary opponents to further European integration within the broader European political landscape. […]
The widespread economic insecurity caused by supply chain issues will likely increase dissatisfaction with national governments and motivate citizens to look for an alternative. In addition, the worrying increases in inflation, affecting food and energy costs, have caused parts of society to become more susceptible to radical political solutions. This context has been conducive for populist parties in the past (for example, the 2008 financial crisis, the war in Syria and the 2015 refugee crisis) as they have used these sources of frustration to gain popular support (Docquier & Morelli, 2022). Similarly, in the current situation, many populist Radical Right parties have exploited domestic socioeconomic issues, linking them to the war and the sanctions and emphasizing the cost of the war to domestic constituencies. On the other hand, parties that have explicitly condemned Putin still do not miss the opportunity to highlight domestic concerns and prioritize the national interest. Moreover, as the war drags on, popular support and enthusiasm give way to domestic discontent, making voters more susceptible to populist Far Right rhetoric."
While my arguments might come across as pessimistic, the sole purpose is to highlight risks that need to be addressed. More importantly, I remain optimistic in my belief that all of the abovementioned challenges can be solved.
The West needs, however, a new strategy.
I have previously argued that NATO Needs to reinvent itself or risk becoming irrelevant – it needs Ukraine. I hope the NATO summit in Vilnius on 11-12 July will produce some of the decisions needed to regain the initiative and alleviate the "tsunami of ripple effects" from the war.
Ukrainian NATO membership is the single most important issue that must be resolved.
At a time when the consequences of Europe's failure to invest in security and defence for decades are abundantly clear for all to see, accepting Ukraine as the 33rd NATO member would solve most of the challenges the West is presently facing.
While it would make NATO a party to the war (which it already is a party to), it would also allow the Alliance to end the war through a show of force; end the "tsunami of ripple effects" from the war; strengthen NATO by turning Europe's strongest military power into a member state and consequently, strengthen European security and stability. It would stop Russia's Western expansion, greatly alleviating the concerns of Eastern Europe presently defending itself in Ukraine.
Most importantly, after having taken US support for granted for decades, a decision to accept the Ukrainian membership bid will represent a clear breach of past complacency. A strong defence and security sector will be seen as more important than robust democratic institutions.
Especially bearing in mind that Ukraine is also one of the strongest and most vibrant democracies in Europe, defending the security and stability of Europe.
While being less than perfect in some respects, Ukraine is more than perfect in what really matters: It is a democracy safeguarding the freedom and security of NATO's member states.
It is rather absurd that the military "impotent", but institutionally strong countries deny Europe's most capable military power membership in a military defensive alliance over institutional shortcomings. Deterrence is based on military power. Not strong democratic institutions.
Tags: Russian invasion