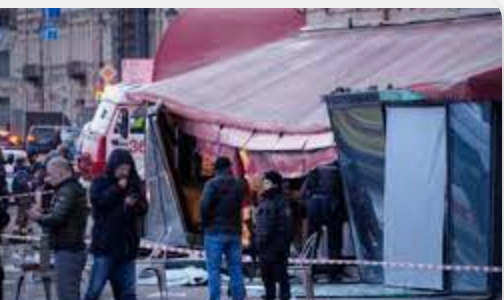 The assassination of prominent pro-war Russian military blogger Tatarsky in Russia. Russia continues attacks in Donbas. NATO is going to hand over six Leopard tank battalions to Ukraine.
https://twitter.com/EuromaidanPress/status/1642588608543457284
Daily overview — Summary report, April 3
A map of the approximate situation on the ground in Ukraine as of 00:00 UTC 03/04/23. pic.twitter.com/2aukC9Gsqq

— War Mapper (@War_Mapper) April 3, 2023
The General Staff's operational update regarding the Russian invasion as of 18.00 pm, April 3, 2023 is in the dropdown menu below:
Volyn, Polissya, Sivershchyna, and Slobozhanshchyna axes: no significant changes. During April 2, the adversary shelled Volfyne, Basivka, Ryasne, Mezenivka (Sumy oblast), Veterynarne, Hatyshche, Velykyi Burluk, and Kolodyazne (Kharkiv oblast).
Kupyansk axis: Kam'yanka, Petro-Ivanivka, Dvorichna, Kut'kivka, Zapadne, Masyutivka, Krokhmal'ne (Kharkiv oblast), and Novoselivs'ke (Luhansk oblast) came under enemy fire.
Lyman axis: during April 2, the adversary attempted to advance in the vicinities of Bilohorivka and Verkhn'okam'yans'ke, to no success. Nevs'ke, Bilohorivka (Luhansk oblast), Tors'ke, Spirne, and Rozdolivka (Donetsk oblast) were shelled with artillery
Bakhmut axis: the enemy does not cease its assault on Bakhmut in attempts to take it under full control. Ukrainian soldiers repelled over 20 enemy attacks. Also, Ukrainian defenders repelled the occupants' attacks in the vicinity of the settlement of Ivanivske. Vasyukivka, Orikhovo-Vasylivka, Novomarkove, Hryhorivka, Bohdanivka, Bakhmut, Ivanivske, Chasiv Yar, Kostyantynivka, Zalizne, and New York, (Donetsk oblast) suffered from enemy shelling.
Avdiivka and Marinka axes: the adversary conducted offensive operations in the vicinities of Avdiivka, Pervomaiske, and Maryinka. None of them was successfu On April 2, Ukrainian troops repelled over 15 enemy attacks near Marinka and Avdiivka alone. In addition, the invaders shelled Orlivka, Tonen'ke, Sjeverne, Netaylove, Krasnohorivka, and Heorhiivka (Donetsk oblast).
Shakhtarske axis: on April 2, the enemy shelled the vicinities of settlements of Pobjeda, Novomykhailivka, Vuhledar, Prechystivka, Velyka Novosilka, Vremivka, and Neskuchne.
Zaporizhzhia Battle Map. April 2, 2023. Source:
ISW.
Zaporizhzhia and Kherson axes: with no active operations, the adversary was improving defensive lines and positions. More than 30 settlements near the line of active combat were shelled by the enemy. Among them are Ol'hivs'ke, Hulyaipole, Bilohir'ya, Mala Tokmachka, Novoandriivka, Kam'yans'ke (Zaporizhzhia oblast), Zolota Balka, Tomaryne, Kozats'ke, Ivanivka, Zelenivka, Komyshany, Bilozerka, and Kherson.
The Russian occupiers continue to force Russian passports on the residents of the temporarily occupied territory of Zaporizhzhia oblast. In particular, the invaders are forcing schoolteachers in Melitopol' to renounce their Ukrainian citizenship and obtain Russian passports by June 1, 2023.
[The Russian invaders continue to suffer huge losses. In order to replenish them, military units of the Russian Federation's armed forces stationed in the temporarily occupied territory of the Autonomous Republic of Crimea are actively subjecting their conscripts to an outreach program. The conscripts are told about the need to sign contracts with the Russian Ministry of Defense and take part in combat in Ukraine.]
On April 2, Ukrainian Air Force launched 8 air strikes on the concentrations of the occupants, while the missile and artillery units hit 1 command post, 3 concentrations of manpower, 3 positions of air defence systems, and 6 other important targets of the enemy."
On April 3, the adversary launched 5 missiles, 32 air strikes, and more than 50 MLRS attacks.
The likelihood of missile and air strikes across Ukraine remains high, as the adversary continues to use its terror tactics.
The enemy is focusing its main efforts on the offensive operations on Lyman, Bakhmut, Avdiivka, and Marinka axes, where more than 70 enemy attacks were repelled. Bakhmut, Avdiivka, and Marinka remain at the epicentre of the fighting.
Military Updates
https://twitter.com/EuromaidanPress/status/1642503394794381312
Zelenskyy: Next week to be an important one on our way to victory, Censor.net reports. "The coming week will be especially important for our defence and our way to victory. We are already preparing for the planned events and decisions. The main thing now is to preserve our unity, take care of our defenders, help each other and the state, Zelenskyy said. The President noted that the situation in the Donetsk region remains difficult. It is "especially hot" near Avdiivka, Maryinka, and Bakhmut."
Heavy artillery blasts heard at Mariupol Port – Andriushchenko, Ukrinform reports, citing Advisor to Mariupol Mayor. Petro Andriushchenko. "Mariupol Port right now. Heavy artillery blasts. These are not explosions, but the work of artillery in close proximity to residential areas at the port, Andriushchenko wrote. In his words, six months ago, this area was used by the Kadyrovites for training purposes. What is happening there at the moment is yet to be checked."
Explosions in Melitopol affect depot used by Russians to repair military equipment – mayor, Ukrinform reports, citing Melitopol Mayor Ivan Fedorov. "Around 09:30 a.m., at least six explosions were heard in the temporarily occupied city of Melitopol. All of them occurred within a Melitopol-based depot, where the enemy had set up its military equipment repair base, as well as fuel and ammunition stocks, Fedorov told.
In his words, this is the second series of explosions that have occurred this week. The first explosions were reported on Monday. According to Fedorov, the earlier explosions completely destroyed the roof in one of the depot's production shops, having caused damage to the military equipment under repairs. This refers to dozens of military equipment units. Additionally, dozens of Russian soldiers were eliminated."
Ukraine's Defence Ministry says Armed Forces consider military expediency when making decision about Bakhmut, Ukrainska Pravda reports, citing Hanna Maliar, Deputy Minister of Defence of Ukraine. "The situation in Bakhmut remains very difficult. The enemy is making attempts to deploy not only Wagner Group fighters, but also professional air assault units. The enemy is not deterred by exorbitant personnel losses. Their decision-making is guided by emotions. Our defenders have to halt the enemy's advance in these circumstances.
But our every military decision and our every step are carefully considered. The command of the Khortytsia Operational Strategic Group is working in the combat zone and is fully aware of the circumstances on the ground. They are responding to the current situation with great competence, and by taking into consideration all circumstances, goals, and the principle of military expediency. We trust our military."
https://twitter.com/EuromaidanPress/status/1642633250484125696
According to British Defence Intelligence, (last 48 hours): 
The Russian MOD is likely running a deliberate information operation to revive the reputation of a brigade which has become synonymous with recent Russian failures in Ukraine.
Throughout March 2023, the activities of the 155th Naval Infantry Brigade were highlighted via some of the most extensive Russian helmet-cam combat footage yet released, as well as a televised visit by a prominent Russian TV host, Vladimir Solovyov. There were also public announcements that the formation is in 'high spirits [with] a strong determination to achieve the set goals', as well as images showing the 155th being re-equipped with modified tanks.
In reality, the 155th has likely been reduced to combat ineffective status at least twice in the last six months, due to being committed to tactically flawed frontal assaults near Vuhledar in Donetsk Oblast. The MOD's effort to revive the brigade's image likely reflects concern about the way in which its failures were being increasingly associated with Russian senior military leaders.
While Russia has suffered up to 200,000 casualties since its full-scale invasion of Ukraine, a significant minority of these have been due to non-combat causes.
On 27 March 2023, a Russian Telegram news channel reported there have been 'extremely high' numbers of incidents, crimes, and deaths linked to alcohol consumption amongst the deployed Russian forces.
Other leading causes of non-combat casualties likely include poor weapon handing drills, road traffic accidents and climatic injuries such as hypothermia. Russian commanders likely identify pervasive alcohol abuse as particularly detrimental to combat effectiveness. However, with heavy drinking pervasive across much of Russian society, it has long been seen as a tacitly accepted part of military life, even on combat operations.
/box]
Losses of the Russian army 
As of Monday 3 April, the approximate losses of weapons and military equipment of the Russian Armed Forces from the beginning of the invasion to the present day:
Personnel – about 175160 (+610)
Tanks – 3619 (+1)
Armoured combat vehicles – 6993 (+7)
Artillery systems – 2694 (+7)
Multiple rocket launchers –MLRS – 527 (+0)
Air defence means – 280 (+1)
Aircraft – 306 (+0)
Helicopters – 291 (+0)
Automotive technology and fuel tanks – 5553 (+16)
Vessels/boats – 18 (+0)
UAV operational and tactical level – 2262 (+13)
Special equipment – 298 (+2)
Mobile SRBM system – 4 (+0)
Cruise missiles – 911 (+0)
Humanitarian 
Children to be forcibly evacuated from Sloviansk, Ukrainska Pravda reports, citing Olena Sokolova, Head of the Children's Service of Sloviansk City Military Administration, quoted by Suspilne. "The city commission for protecting children's rights in Sloviansk has decided to forcibly evacuate children, and their guardians who refuse to leave will be deprived of their duties. The mandatory evacuation in Donetsk Oblast was approved by a resolution of the Cabinet of Ministers on 2 August 2022. Guardians are obliged to evacuate with their children outside Donetsk Oblast to safer oblasts of Ukraine.
The guardians and guardianship authorities are responsible for ensuring the child's safety. We are constantly contacting families, explaining that evacuation is free of charge and that we provide assistance. In December, we held a commission meeting and addressed the families, gave them a month or two, and then reminded them constantly. On 27 March, a minor was wounded during the shelling of Sloviansk. Therefore, we are again taking measures in a stricter form."
Russians attack the centre of Kostiantynivka, killing 6 and wounding 8, Ukrainska Pravda reports, citing Pavlo Kyrylenko, Head of Оblast Military Administration and Andrii Yermak, Head of the Office of the President. "The Russians attacked the central part of the city this morning. High-rise buildings and private residential buildings have been severely damaged.
Yermak said that 16 apartment buildings, eight private houses, a preschool institution, the building of the Kostiantynivka State Tax Inspectorate, gas pipelines, and three cars have been damaged. Eight people have been injured, and six more have been killed."
Four civilians were injured in Russia's shelling of Toretsk, Ukrinform reports, citing the Ukrainian Prosecutor General's Office. "At night in Toretsk, shells of the occupiers hit a multi-story building and damaged supply lines. As a result, one person was injured and three more were poisoned by carbon monoxide, the post said."
Ukraine insists that 4,396 orphans deported by Russia be returned, Ukrinform reports, citing Deputy Prime Minister – Minister for Reintegration of the Temporarily Occupied Territories of Ukraine Iryna Vereshchuk. "As many as 4,396 children were taken by the occupiers to the territory of Russia and temporarily occupied territories. This issue is the absolute priority for the President. An international coalition is being created to form a stable platform that will include available tools (through sanctions, other means, using the platform of the UN, OSCE and other international platforms) to put pressure on Russia to return our children, said Vereshchuk.
According to her, Russia deliberately call these orphans evacuees. The minister noted that Ukraine is ready to take away children from any EU country to which Russia will transfer them, as well as at the border with Russia. Through the mediation of UNICEF or the International Committee of the Red Cross, other international organizations, we are ready to go and take away our children. We insist that all children be returned, she added."
All power restrictions implemented as a result of the missile attack on 9 March are cancelled, Ukrainska Pravda reports, citing DTEK's press service. "DTEK Energo [the largest private investor in Ukraine's power systems – ed.] has cancelled all restrictions that were implemented due to equipment damage during a large-scale Russian missile attack on 9 March. […]
Accordingly, all restrictions on consumption that were introduced in Kyiv, Zhytomyr and Kharkiv oblasts due to equipment damage during a large-scale Russian missile attack on 9 March have been cancelled. Ukrenergo added that there are no restrictions in other oblasts that would lead to the need to limit consumption.
Three DTEK Energo thermal power plants were damaged by a missile attack by the Russian invaders on 9 March."
Thermoelectric power plant goes offline after Russian attacks, Ukrainska Pravda reports, citing DTEK. "The power plant's equipment was damaged in an attack. As a result, the thermoelectric power plant went offline, the DTEK message reads. DTEK added that power technicians will be able to repair the power plant's equipment and restore its power generation capacity after the shelling is over.
The firm also added that its thermoelectric power plants have been attacked a total of 30 times since Russia began targeting Ukraine's power system [in autumn 2022 – ed.]. Three DTEK power technicians have been killed in Russian attacks and 28 sustained injuries. DTEK suffered a total of nearly UAH 6 billion (approximately US$164 million) of direct losses from damage to and destruction of equipment at its power generating facilities as a result of Russian attacks."
Environmental
Ukraine has developed a concept to support distributed green generation, Ukraine Business News reports. "The Ministry of Energy has developed and will soon publish its concept of the state target program to support distributed generation from renewable energy sources (RES). The program's purpose is to construct small renewable energy facilities – solar and wind power plants together with energy storage to provide electricity for domestic consumption by critical infrastructure facilities and households for at least four hours and enable sales of surplus production on the market.
It is assumed that essential infrastructure facilities can install appropriate installations up to a 500 kW capacity together with energy storage capacity to provide service to centralized water supply systems, drainage, heat supply, medical facilities, and critical multi-unit apartment buildings. Private farms would be provided with up to 10 kW.
State and communal institutions can install small renewable energy facilities for their basic needs. In the first stage (2022-2025), it is planned to install 200,000 RES facilities together with storage facilities for consumers, and in the second stage (by 2030), up to one million such facilities."
Legal 
Court places Metropolitan Pavlo under house arrest for 2 months, Ukrainska Pravda reports. "The Shevchenkivskyi District Court in Kyiv has placed Metropolitan Pavlo (Petro Lebid) of the Ukrainian Orthodox Church of the Moscow Patriarchate (UOC-MP), the former abbot of the Kyiv-Pechersk Lavra, under round-the-clock house arrest until 30 May on suspicion of inciting sectarian hatred and condoning Russia's armed aggression against Ukraine.
According to the investigation, since the beginning of Russia's full-scale war against Ukraine, Metropolitan Pavlo has condoned Russia's armed aggression in his communications with believers and has spoken out negatively against the Orthodox Church of Ukraine (OCU), which may have led to aggressive attitudes towards the church."
Support
Hungarian foreign DM, Levente Magyar, visited Zakarpattia Oblast, Ukraine. Magyar delivered humanitarian aid including city buses. Edu language & Hungarian community were discussed. DM Magyar was reassured of no discrimination against Hungarian community.https://t.co/MRFKtgebz4

— Euromaidan Press (@EuromaidanPress) April 2, 2023
Russians tricking Ukrainian pilots into death traps, The Telegraph reports. "Russia is setting sophisticated "traps" to ambush Ukrainian fighter jets, one of Kyiv's top pilots has revealed. Major Vadym Voroshylov has told how every day it is becoming harder to keep the Russians at bay using outdated Soviet aircraft as he pleaded for the West to send F-16 fighter jets. Major Voroshylov, who in a rare break from the front line met with The Telegraph, warned: The Russians change tactics all the time, so the war isn't stable. They make traps. They will send up a Russian jet alone, tricking the Ukrainian pilot into thinking there is only one jet. Then, two or three more will appear either side of it, effectively swarming the Ukrainian aircraft.
As Ukrainian pilots continue to fly Soviet-era MiG-29s, he stressed they can do no more than "hold the battlefield". Wiping out the Russians, who fly the Sukhoi Su-35s modern air superiority fighter jets and Su-34 bombers, has proved difficult. Right now, we can only hold the enemy but with F-16s we could control the airfield, as well as the seas and the ground to protect infantry, he said. We need more modern aircrafts to be better than the enemy.
Ukraine has appealed to obtain the US-made F-16s, of which there are over 3,000 operating worldwide, before. The combat-proven, multi-role aircraft, has been upgraded and enhanced over the years, including some with fifth-generation technologies such as advanced radar. However, Joe Biden recently said he did not want to supply Ukraine with F-16 fighters for now, which prompted Volodymyr Zelensky to urge Rishi Sunak to give Ukraine RAF Typhoons. 
In February, the Prime Minister instructed the Ministry of Defence to investigate which of Britain's planes could be given to Ukraine, although Mr Sunak cautioned that it could take three years to train a pilot. This time frame is something Major Voroshylov and his colleague Colonel Volodymyr Lohachov, chief of the aviation department of the Ukrainian Air Force Command, dispute. Less than six months are required to train on such a jet, Col Lohachov said. As long as we continue to wait we will lose more pilots. We had a list of the most advanced pilots who could be trained on F-16s and unfortunately, some of them have already been killed in action.
In recent weeks, Eastern European Nato member states have begun transferring old Soviet fighter jets for the first time, with a promise from the West that newer models will be provided to backfill. […]
To be effective in the air, jets should have modern radars and air-to-air missiles, [Col Lohachov] explained. The radars on Russian jets are about four times better than what we have, and they can see much further. As well, the Russian missiles are significantly more capable than our Soviet ones. It is getting more dangerous. Sometimes we can't even see that the Russians have launched missiles, which is very dangerous for pilots.
He explained how Russia has the capability to launch an attack from 200km away from the front line, whereas Ukraine has to be much closer to the enemy in order to shoot, which is far more dangerous. The pilots' message is stark: Getting F-16s would help us survive and keep more people alive. […]
If we want to strike Russian jets we have to get much closer to the front line and fly at a low distance, which is very dangerous, [Major Voroshylov], said. The Russians have 40 air bases and over 700 aircrafts and helicopters altogether and they are more modern than our jets."
Poland says it is setting an example for others, particularly Germany, by sending MiG-29s to Ukraine, Ukrainska Pravda reports. "Szymon Szynkowski vel Sęk, Poland's Minister for the European Union, has said that the decision by Warsaw and Bratislava to send MiG-29 fighter jets to Ukraine should set an example of how to act for other countries. […]
 On 17 March, the Slovakian government decided at an extraordinary online meeting to supply 13 MiG-29 fighters to Ukraine. The first four have already been sent to Ukraine. Bratislava announced its decision a day after Polish President Andrzej Duda announced the provision of four MiG-29s to Ukraine in the coming days. […]
German Defence Minister Boris Pistorius, however, ruled out sending German fighter jets to Ukraine in February, but said the issue could be discussed in a few months."
NATO is going to hand over six Leopard tank battalions to Ukraine, – Pistorius, Censor.net reports, citing German Defense Minister Boris Pistorius, with reference to RBC-Ukraine. "NATO countries intend to transfer to Ukraine two battalions with German Leopard 2 tanks, as well as four battalions with Leopard 1. In total, the number of vehicles will be 160 units.
At the same time, he noted that it is unlikely to be possible to send more such weapons to the Ukrainians, since the allies' resources are limited and added that Germany cannot give everything, because there are reserves that cannot be spent. I don't see a scenario in which it will be possible to send additional Leopards to Ukraine beyond what was announced, Pistorius said.
At the same time, the minister said that Poland, together with its allies, will send two Leopard 2 battalions to Ukraine with 60 tanks. In addition, by the end of the year, 100 Leopard 1 tanks, assembled in four battalions, will be added to them. The head of the German Defense Ministry added that the USA and Britain also supply tanks."
Second group of Ukrainian artillery crews completes training on AS-90 self-propelled howitzers in UK, Ukrainska Pravda reports, citing UK Defence Ministry. "Another group of Ukrainian artillery crews, who mastered the 155-mm AS-90 self-propelled howitzers, has completed training in the UK. […] The AS-90 is a flexible, highly accurate, modern artillery system that provides armoured protection to its crew while allowing it to engage targets at long range.
On 15 January, the UK confirmed plans to send a squadron of 14 Challenger 2 tanks and about 30 155-mm AS-90 self-propelled howitzers to Ukraine. A group of Ukrainian military personnel arrived in the United Kingdom for training with AS-90 self-propelled howitzers in early February."
Ukrainian military received Swedish RBS-56 ATGMs, Mil.in.ua reports. "The Ukrainian Defense Forces received RBS-56 BILL portable anti-tank missile systems. A photo of this Swedish system and the Ukrainian military was shown by "Operatyvnyy ZSU'. RBS-56 BILL was previously produced by the Swedish industry and is in service with several armies.
A photo of the system was evidently taken during deployment or before launch: the tripod-type, height-adjustable launcher is set up, and a rocket in the launch tube is mounted on it. It is not known which country handed over RBS-56 to Ukraine. Such ATGMs are in service with various armies. Presumably, the systems could be transferred by Sweden, which developed, produced, and used such systems.
Sweden expressed its readiness to help Ukraine with anti-tank weapons at the end of February 2022. In October 2022, the Armed Forces of Ukraine received RBS-17 missile systems from Sweden. RBS-56 BILL is a portable anti-tank missile system designed to hit protected moving targets."
Armsmaker Rheinmetall sets up maintenance hub in Romania for Ukraine weapons, Reuters reports. "German armsmaker Rheinmetall is building a military maintenance and logistics hub in Satu Mare, Romania, expected to begin operation this month to service weapons used for the war in Ukraine, the company said on Sunday. The service hub should play a central role in maintaining the operational readiness of western combat systems in use in Ukraine and ensuring the availability of logistical support, a spokesperson for the company said.
The hub, located near the border with Ukraine, will service self-propelled howitzers, Leopard 2 and Challenger tanks, Marder infantry fighting vehicles, Fuchs armoured transport vehicles and military trucks. It is a key concern for us at Rheinmetall to provide the NATO forces and Ukraine with the best possible support, Chief Executive Armin Papperger said in a statement."
Ukraine will buy 100 Rosomak armoured personnel carriers from Poland, Ukrainska Pravda reports, citing Mateusz Morawiecki, Prime Minister of Poland. Ukraine will purchase 100 Polish-made Rosomak armoured personnel carriers. "Morawiecki wrote on Twitter that the Ukrainian army will purchase 100 Polish-made armoured personnel carriers, which are manufactured in the city of Siemianowice Śląskie. "Rosomak are top-class armoured personnel carriers. The payment for this purchase will be made from the funds of the EU and the US.
Rosomak is a licensed copy of the Finnish armoured personnel carrier Patria AMV 8×8. The main armament of the armoured personnel carrier is a 30 mm Mk44 cannon with a stabilisation system and a 7.62 mm UKM-2000C machine gun. The payload is contained in two compartments for 30 mm rounds and 700 cartridges of 7.62 mm calibre."
Ukraine starts producing new fragmentation ammunition for drones, Ukrinform reports, citing the Mayak plant. "Ukraine has started manufacturing new fragmentation ammunition for unmanned aerial systems. Fragmentation ammunition for unmanned aerial systems: OBP-23.1 weighing 1 kg, with a blast radius of 11 meters. OBP-23.05 weighing 0.5 kg, with a blast radius of 4.5 meters," the post reads."
New Developments
In Leeds, the UK, the 27-year-old Ukrainian strongman, Pavlo Kordiyaka, won Europe's strongest man competition, with 57.5 points, in 5 different sets. It is Ukrainian athlete's 2nd win in a consecutive competition. Fellow Ukrainian, Novikov, finished 2nd.https://t.co/CAAqzywFW7

— Euromaidan Press (@EuromaidanPress) April 2, 2023
Latvia's Ministry of the Interior intends to hold a psychological support course in Jūrmala for Ukrainian border guards. The program intends to involve 100 Ukrainian SBGS officers. The first 40-person group is expected to arrive in June 2023.https://t.co/aKYprArpct

— Euromaidan Press (@EuromaidanPress) April 2, 2023
Assessment 
On the war. 
The Institute for the Study of War has made the following assessment as of  April 2, 2022:
ISW is publishing an abbreviated campaign update today, April 2. This report discusses the assassination of prominent pro-war Russian milblogger Maksim Fomin (also known as Vladlen Tatarsky) in St. Petersburg on April 2. Fomin was one of the most significant Russian milbloggers with a Telegram platform of 560,000 followers and deep connections with the Wagner Group, the Kremlin, the Donetsk People's Republic (DNR), and the Russian nationalists who have been dominating the Russian information space since the start of the Russian full-scale invasion of Ukraine. Fomin's assassination at a Wagner-affiliated bar in St. Petersburg may reveal further fractures within the Kremlin and its inner circle. Fomin was a vocal critic of the Russian military command and the Russian Ministry of Defense (MoD). Fomin's death marks the first high-profile assassination of an ultranationalist milblogger in Russia since the start of Russia's invasion of Ukraine.
Unknown actors killed Russian milblogger Maksim Fomin in a deliberate and targeted attack during an event in a St. Petersburg bar reportedly belonging to Wagner Group financier Yevgeny Prigozhin on April 2. Social media footage showed Fomin receiving a statue as a gift from a female audience member who introduced herself as a sculptor moments before the explosion. Fomin was making a public presentation at the Street Food Bar #1 Café in downtown St. Petersburg. Russian authorities reported that the explosion killed Fomin and wounded 30 audience members who had gathered to listen to Fomin discuss his experience as a frontline correspondent. The event was advertised as open to the public and had approximately 100 attendees. Prigozhin confirmed that he had offered his Street Food Bar #1 Café to the Russian ultranationalist movement "Kiber Front Z," to hold Fomin's event and other nationalist gatherings. Witnesses stated that the woman who presented the statue to Fomin identified herself as Nastya and told the audience that the event's security asked her if there was a bomb inside the statue during a Q&A session.  Witnesses noted that there was no security when entering the event, however, and that the explosion occurred within three to five minutes after the exchange between Fomin and the woman. Russian Interior Ministry sources told Russian state media that the explosive may have remotely detonated and that the woman or other unknown individuals may have been responsible for this attack. Russian state media published unconfirmed information that Russian police detained St. Peterburg resident Daria Trepova, who had previously been arrested for anti-war protests in February 2022. Russian Interior Ministry sources also revealed that Russian special services had known about assassination plans against Fomin for a long time.
Russian officials and propagandists have accused Ukraine of staging a "terrorist attack" to assassinate Fomin. Russian Foreign Ministry Spokesperson Maria Zakharova accused Kyiv of Fomin's assassination and praised Russian milbloggers for their war coverage—seemingly ignoring the fact that Fomin and other milbloggers routinely criticize the Russian Ministry of Defense (MoD) and the Russian Foreign Ministry (MFA). Russian propagandist Tina Kandelaki stated that Russia needs to punish terrorists who still have "power, water, working railways, restaurants, and internet"—likely referring to Ukrainians who survived the Russian missile campaigns against the Ukrainian energy infrastructure during the fall of 2022 and the winter of 2023. Russian propagandist Margarita Simonyan echoed Kandelaki's calls for retribution against Ukraine for this assassination. Russian milbloggers claimed that Ukrainian agents have likely been attending similar milblogger events, blaming the attack on Ukrainian special forces and the failures of Russian security.
Prigozhin oddly stated on April 2 that he would not "blame the Kyiv regime" for the deaths of Fomin and Russian ultranationalist figure Daria Dugina, suggesting that Ukrainian agents were not in fact responsible. Dugina was assassinated on August 20. Prigozhin noted that a group of radicals unaffiliated with the Ukrainian government may be responsible for such attacks. Advisor to Ukrainian Presidential Office Mykhailo Podoliak stated that Fomin's death was a result of infighting and political competition among Russian actors.
Fomin was a prominent figure in the Russian pro-war nationalist information space, although not more so than some others. Fomin was a Wagner-affiliated convict who escaped from prison in Donetsk Oblast at the outset of Russia's invasion of Donbas in 2014. Fomin also claimed to have served in proxy armed formations, regularly expressed ultranationalist views, and balanced his allegiance to Wagner with remaining loyal to Russian President Vladimir Putin. Fomin attended Russian President Vladimir Putin's event announcing the annexation of four Ukrainian regions on September 30 where he stated: "We will defeat everyone, we will kill everyone, we will rob everyone we need; Everything will be as we like." ISW also uncovered that Fomin had been involved with Islamic jihadist propaganda, likely in order to expand Russian recruitment efforts. Fomin co-hosted a TV show with another prominent milblogger, appeared on Russian state media platforms, and participated in numerous Russian state broadcasts. Fomin had also led numerous crowdfunding and recruitment campaigns, promoted violent militarism, and supported Putin's ideology and maximalist goals to "denazify" and "demilitarize" Ukraine.
Fomin shared his ideology and activities with many other Russian milbloggers, however, and does not appear to have been a target worthy of special attention from Kyiv. A number of the milbloggers ISW regularly uses and cites are not only war correspondents, but also participants in efforts to fund, recruit for, and advance the Russian war effort through various parastatal and private organizations. This cadre of milbloggers not only speaks to but also represents a constituency critical for Putin's war effort. ISW has long assessed that the role these milbloggers play in all their capacities is a key factor explaining the surprising degree of tolerance Putin has hitherto shown them. Fomin's assassination could be evidence that Putin's tolerance toward these milbloggers, in general, is waning, but it could also have resulted instead from Fomin's proximity to Prigozhin.
Fomin's assassination at Prigozhin's bar is likely part of a larger pattern of escalating Russian internal conflicts involving Prigozhin and Wagner. Fomin had attended another event earlier in the day without incident, so it appears that the attack was deliberately staged in a space owned by Prigozhin. Advisor to Ukrainian Presidential Office Mykhailo Podoliak stated that Fomin's death was a result of antifighting and political competition among Russian actors. Some Russian political analysts also speculated that Prigozhin was supposed to attend Fomin's event, although there is no confirmation of that speculation.  
Fomin's assassination may have been intended as a warning to Prigozhin, who has been increasingly questioning core Kremlin talking points about the war in Ukraine and even obliquely signaling an interest in the Russian presidency, whether in competition with Putin or as his successor. Fomin's biography and behavior bear a resemblance to Prigozhin's as both became prominent ultranationalist figures after being imprisoned and receiving pardons.
Russian officials may be intending to use Fomin's assassination to drive the self-censorship of a growing Russian civil society questioning the progress of the war in bars. ISW previously observed FSB raids of bars in Moscow and St. Petersburg in March launched on the basis of accusations that individuals in those bars were providing financial assistance to Ukrainian forces and involving minors in "anti-social acts." Putin had instructed the FSB to intensify counterintelligence measures and crackdown against the spread of pro-Ukrainian ideology on February 28—an order that has been used to dismantle gatherings in Moscow and St. Petersburg bars. The Wagner-affiliated Kiber Front Z movement has been spearheading discussions about the war in Prigozhin-owned bars for months, and it is possible this high-profile assassination will discourage people from attending similar events. This attack may also be an effort to intimidate other Wagner-affiliated milbloggers.
The assassination is already deepening a divide within the Russian milblogger space, which may ultimately be beneficial to the Kremlin's efforts to consolidate control of the information space. Prominent Russian milbloggers exposed the identity of a smaller milblogger publishing under the handle MoscowCalling who joked that the woman involved in Fomin's murder was Dugina. The milbloggers claimed that former Donetsk People's Republic (DNR) fighter Andrey Kurshin has been accusing Russia of war crimes in Ukraine using the handle MoscowCalling while residing in Moscow. The milbloggers claimed that the Russian police and FSB have failed to prevent milbloggers such as Kurshin from fostering anti-government attitudes online, thereby allowing Ukrainian intelligence to stage attacks in Russia. The milbloggers also called for the arrests and executions of other milbloggers who have expressed similar views against Putin, his regime, and the conduct of the war. The Kremlin may use such divisions to justify censorship of certain milbloggers who are vocal critics of Putin.
Key inflections in ongoing military operations on April 2:
Russian forces continued limited ground attacks along the Svatove-Kreminna line. Russian sources claimed that Russian forces made marginal gains northwest of Kreminna.
Russian forces continued to attack Bakhmut and its environs. Russian forces likely seized the AZOM plant in northern Bakhmut as ISW has previously assessed. Ukrainian forces conducted a missile strike on the plant on April 2.
Russian forces continued to conduct ground attacks along the Avdiivka-Donetsk City line. Ukrainian Tavriisk Direction Forces Joint Press Center Spokesperson Oleksiy Dmytrashkivskyi stated that Russian forces retreated from unspecified positions in the Donetsk direction.
Ukrainian forces conducted a HIMARS strike against a rail depot in Melitopol, Zaporizhzhia Oblast, the third strike against the city in the past week.
The UK Ministry of Defense assessed that a significant minority of Russia's 200,000 casualties in Ukraine are due to poor discipline and training outside of combat, including due to excessive alcohol consumption and mishandling of small arms.
Former Luhansk People's Republic (LNR) official Rodion Miroshnik denied ISW's April 1 report citing Miroshnik that Russian authorities are deporting Ukrainian children to Russia under rest-and-rehabilitation schemes. Miroshnik claimed that mothers and children from Horlivka, Donetsk Oblast went to Russian sanitoriums for medical treatment. Miroshnik denied being closely affiliated with the current occupation regime, claiming that he has not served as advisor to the Head of the LNR for a year. LNR People's Militia Press Service called Miroshnik "advisor to the LNR Head" as recently as January 29, 2023, however. Miroshnik claimed on his Telegram channel that he served as LNR Ambassador to Russia as recently as November 13, 2022.
General Milley comments on the probability of Ukraine's victory this year, Ukrainska Pravda reports, citing Defense One. "The head of the US Joint Chiefs of Staff, General Mark Milley, said that Ukraine's victory in the war against Russia this year is unlikely, although he did not say that this cannot be done.
I don't think it's likely to be done in the near term for this year. Zelenskyy has publicly stated many times that the Ukrainian objective is to kick every Russian out of Russian-occupied Ukraine. And that is a significant military task. Very, very difficult military task, you're looking at a couple hundred thousand Russians who are still in Russian-occupied Ukraine. I'm not saying it can't be done. I'm just saying it's a very difficult task."
When asked about providing Ukraine with long-range ATACMS missiles, Milley said the United States would not supply them. But at the same time, they are considering other opportunities to help the Armed Forces of Ukraine. The range of ATACMS is bigger, but there are other systems that can provide the same range, the General said. Milley added that there are drones with similar capabilities and that the British have some systems [,too].
According to him, there are a few other things with which the United States could give the Ukrainian defenders some advantage."
"We are heading towards military defeat": ex-leader of Russian militants in Donetsk creates "club of angry patriots", Ukrainska Pravda reports. "Igor Girkin (Strelkov), FSB [Federal Security Service of Russia] saboteur and ex-leader of Russian militants in Donetsk, Pavlo Hubarev, a local Donetsk collaborator, propagandist Maxim Kalashnikov and others have announced the creation of the so-called "club of angry patriots" and posted their manifesto.
We are creating a 'club of angry patriots'… Unfortunately, the situation on the contact line, which the media glosses over in every possible way, has an extremely negative impact on the situation throughout the country. I'm not afraid to say that we are heading towards military defeat… We entered a long, protracted war for which our economy was completely unprepared. Our army and political system were not ready for it either, [Girkin said]."
National Security Council Secretary announces 12 steps for Crimea's liberation developed by the council, Ukrainska Pravda reports. "Oleksii Danilov, the Secretary of the National Security and Defence Council of Ukraine (NSDC), has announced 12 steps for the liberation of Crimea, which are being developed by the NSDC staff with the involvement of a wide range of specialists and experts. […] The NSDC Secretary has published 12 steps, [including] […]:
In addition to criminal prosecution for collaboration and treason, a lustration mechanism of personal assessment is being developed that, in particular, determines the level of responsibility and the degree of involvement of specific individuals, such as citizens of Ukraine and residents of Crimea, in supporting the activities of occupation administrations, which includes restrictions on the right to participate in elections: to elect and be elected
Regarding civil servants, judges, prosecutors, law enforcement officers, and other categories of persons who, as of 2014, were employed by the Ukrainian authorities, the Ministry of Internal Affairs, the Security Service of Ukraine (SSU), the Ministry of Defenсe, etc., and after February 2014 worked in the Russian occupation structures, the Ukrainian courts will determine whether they are subject to criminal liability. But if they are not, they will be deprived of state pensions, including a ban on further employment in state bodies and local self-government bodies of Ukraine.
Russia or another formation that will claim legal succession ensures the unconditional and complete extradition of all persons suspected of high treason and other criminal offences, both citizens of Ukraine and citizens of Russia, involved in war crimes (international crimes that do not have a statute of limitations – genocide, war crimes and crimes against humanity) committed on the territory of our state in general and Crimea in particular.
Propagandists – journalists, media professionals and various experts who contributed to the occupation, the militarisation of child education and the incitement of hatred against Ukraine, Ukrainians, Crimean Tatars, and other nationalities – are a group worthy of special attention, whose crimes will be investigated by Ukrainian and, if necessary, international law enforcement agencies.
Citizens of the Russian Federation who illegally came to reside on the Crimean peninsula after February 2014 must immediately leave the territory of Ukraine within the time limit determined by law.
Transactions made under non-Ukrainian legislation after February 2014, including real estate, are considered null and void – a law that has been in force for nine years. The right of ownership to the property remains with the citizens of Ukraine. If it is misappropriated or nationalised, the property is returned to the owners.
The transport crossing in the city of Kerch of the Autonomous Republic of Crimea is being dismantled to ensure complete freedom of navigation under the damage compensation programme.
A comprehensive programme of "detoxification" is being implemented to neutralise the consequences of the long-term action of Russian propaganda on the public consciousness of a part of the peninsula's population. […]
Creating a documentary database of facts about Russian crimes against Ukrainian citizens who resisted the occupation. Restoring the rights of Ukrainian and Crimean Tatar activists.
Immediate release of all citizens of Ukraine, Crimean Tatars, and Ukrainians who have been persecuted by the Russian Federation on politically motivated grounds since 2014, with compensation for moral damage caused. […]"
Consequences and what to do?
Germany's military gaps cannot be fully bridged by 2030, defence minister, Reuters reports. "Germany's military cannot completely fill its existing gaps by 2030, Defence Minister Boris Pistorius was quoted as saying, as Berlin seeks to revamp its armed forces after Russia's invasion of Ukraine following decades of neglect. We all know that the existing gaps cannot be completely closed by 2030… It will take years. Everyone is aware of that, Pistorius said in an interview with Welt am Sonntag newspaper published on Saturday.
Already worn down by decades of underinvestment since the end of the Cold War, the Bundeswehr is in even worse shape than a year ago given weapons and munitions donated to Ukraine have mostly not yet been replaced, say experts. Pistorius rejected further arms deliveries to Ukraine from the Bundeswehr stocks beyond the announced commitments. […]
The minister, who was appointed earlier this year, said increasing the defence budget to reach the NATO spending target of 2% of national output, from currently around 1.5%, was his highest priority. If that is then set in motion at the end of the (legislative) period, then I would be satisfied, he added."
Hans Petter Midttun: The head of the US Joint Chiefs of Staff, General Mark Milley, believes that a Ukrainian victory is unlikely this year.
"I'm not saying it can't be done. I'm just saying it's a very difficult task."
It is not difficult to agree, knowing that the US and its allies are defining the scale and scope of Ukraine's future military operations.
The West is presently not setting Ukraine up for a victory. It has enabled Ukraine to stop Russia from advancing and stabilise the frontline. The international community is, however, not providing Ukraine with the tools it needs to defeat and evict Russian forces.
The slow and incremental inflow of weapons has shaped the battlefield.
While Javelins were the first lethal aid to be delivered in the spring of 2018, it was first delivered en mass along with Stinger in February, followed by Starstreak in March, M777 Howitzers in April, Brimstone and Harpoons in May, HIMARS and M270s in June, HARM in July, IRIS-T in October, NASAMS in November, a pledge for Patriot in December, a pledge for Main Battle Tanks and SAMP-T air defence missile systems in January, Leopard 2 and a pledge for Ground Launched Small Diameter Bombs (GLSDB) and in February and, lastly, Joint Direct Attack Munition-Extended Range precision-guided bombs (JDAM-ER) and Marder infantry fighting vehicles in March.
Over 100 American Bradley fighting vehicles, 50 Sweden CV90 combat vehicles, and 40 French AMX-10RC light tanks are expected to arrive in Ukraine within weeks.
By the end of the year, several NATO countries intend to transfer two battalions with German Leopard 2 tanks, as well as four battalions with Leopard 1 (160 Leopard 1 and 2 in total). Additionally, the Ukrainian Armed Forces will be reinforced by 31 M1A2 Abrams and 28 Challenger 2 tanks.
While the numbers seem impressive, it is worth bearing in mind that Ukraine has asked for 300 tanks, approximately 700 infantry fighting vehicles and 500 howitzers just to conduct a major offensive. Not to defeat Russian forces.
Its call for ammunition has turned increasingly urgent. Ukraine is relentlessly calling for long-range fire as the Russian Armed Forces have long adapted to the arrival of HIMARS in the theatre.
Most of all, Ukraine is asking for western made combat aircraft. The Ukrainian Air Force has for the last few months tried to explain the operational requirement for modern Western combat aircraft in a manner that even a politician can grasp. Its argumentation is valid and ranges from the need to counter Russian quantity with Western quality; the urgent need to create the conditions for a counteroffensive by enabling air support; the importance of shaping the battlespace before a ground offensive, including the destruction of Russian air defence, field artillery, command and control nodes, logistical hubs and ground lines of communications; to the crucial importance of filling the many gaps in air defence due to the lack of ground-based air defence systems and the problems of integrating modern weapons and sensors into Soviet legacy aircrafts operating way beyond their expected lifespan.
Equally important, the delivery of F-16 would allow Ukraine to save the lives of the men and women needed to operate them: the experienced pilots needed to build an efficient, modern and NATO interoperable Air Force.
"We had a list of the most advanced pilots who could be trained on F-16s and unfortunately, some of them have already been killed in action."
To defeat what at the time was seen as the 4th strongest military power in 1991, the US alone deployed 2,780 fixed-wing aircraft, 460 attack helicopters, 1,900 M1A1 Abrams and more than 1,500 modern infantry fighting vehicles for Desert Storm.
None of the NATO members has provided Ukraine with western made 4th generation fighter jets. Nor have they provided it with attack helicopters or anywhere close to the number of tanks and infantry fighting vehicles needed to defeat Russian forces in Ukraine.
Partly because they cannot provide what they don't have in sufficient numbers (Europe). Partly because it does not serve their national interest.
Despite the numbers of F-6 in stock, the Biden administration has said, "No," and that "There's no need" in response to Ukraine's request for F-16 fighters.
According to a 30-year military aviator and analyst, Jeffrey Fischer, there is no operational justification for not sending Ukraine F-16s.
General Christopher Cavoli, the current Supreme Allied Commander in Europe (SACEUR), quietly told American lawmakers that Ukraine needs advanced Western equipment — such as F-16 fighter jets, drones, and long-range missiles — to help rule the skies and bolster its own offensives against Russia.
A group of senators from both parties argue that the F-16 could prove to be a game changer on the battlefield.
This is the reason we should trust the judgement of General Milley when he says that a Ukrainian victory is unlikely this year. The US is not planning to provide Ukraine with the tools it needs to defeat and evict Russian forces this year, even though its European allies are running out of heavy weapons they can provide Ukraine.
Tags: Russian invasion