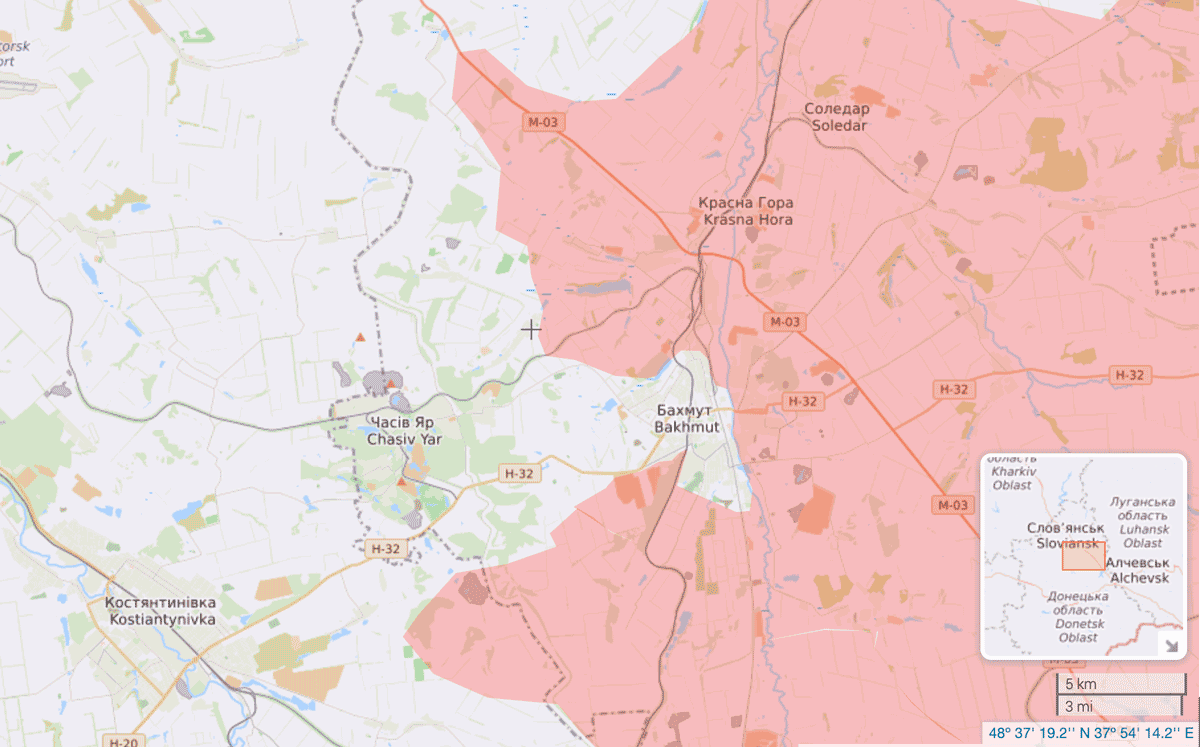 Situation around Bakhmut, Donetsk Oblast, as of 28 March 2023. Map: liveuamap.com 
According to Ukrainian Land Forces commander Gen. Oleksandr Syrskyi, Ukraine's main task in besieged Bakhmut, the hottest spot of the ongoing war for months, is "to wear down the overwhelming forces of the enemy and inflict heavy losses on him. This will make it possible to create the necessary conditions to facilitate the liberation of Ukrainian land and speed up our victory."
Gen. Syrskyi's address to Bakhmut defenders was published on his Telegram channel on 28 March.
The commander noted that the Russians are trying to focus their main efforts on the Bakhmut direction, not abandoning their attempts to surround and capture the city.
"Thanks to the heroism and professionalism of our military, skillful and coordinated actions, effective use of maneuver and weapon capabilities, we hold the Bakhmut fortress despite various deadlines and forecasts," he said, adding that "Knowledge of the enemy and oneself opens the way to victory. Therefore, we carefully study his vulnerabilities to make the most effective use of our forces.  A successful strategy always involves the ability to turn any situation to one's advantage."
Most intense phase of fighting for Bakhmut continues, says Ukraine Ground Forces commander
In a video, attached to the Telegram post, Syrskyi tells the Ukrainian soldiers that in a bid to capture Bakhmut, Russia "has thrown all its best units in to achieve victory," while Ukraine's task is to eliminate as many enemies as possible and create the conditions for us to launch an offensive.
"We have something to strive for, as we strive to reach the borders of Ukraine, we strive to break the enemy so that he dies – here, near Bakhmut, in other sectors. The main thing is that you continue to perform your tasks in such an exemplary way, and the main thing is that you return to your units alive and unharmed after completing them," Syrskyi told the soldiers.
Gen. Syrskyi visited the area of Bakhmut on multiple occasions over the last months. His most recent visit was reported on 27 March.
Read also:
Tags: Bakhmut, Donetsk Oblast