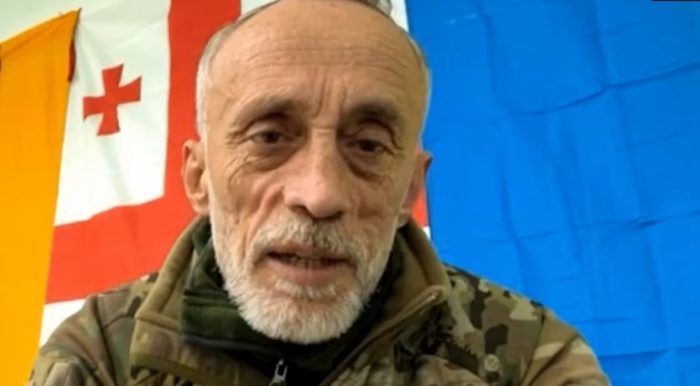 The Georgian Ministry of the Interior has confirmed Khmaladze's arrest for for disobedience and hooliganism, an illustrative image/ Source: Source: Radio Tavisupleba (Radio Liberty) 
During protests in Georgia, Nadym Khmaladze, who fought alongside the Armed Forces of Ukraine (AFU) in Ukraine, was detained, as reported by Georgian Service Radio Tavisupleba (Radio Liberty)
The Georgian Ministry of the Interior has confirmed Khmaladze's arrest.
On 8 March, at approximately 4:00 pm, he was arrested at Freedom Square in Tbilisi for disobedience and hooliganism.
Join us today in two hours (4pm Kyiv time) to find out about the protests in Georgia, their consequences and perspectives

We will be talking to journalists from Georgian media @real_politika based in Tbilisihttps://t.co/3psdvBDG3J

— Euromaidan Press (@EuromaidanPress) March 9, 2023
Criminal police officers detained Khmaladze, according to lawyer Tornike Bakradze.
"Neither he nor I have seen the detention protocol. He was told verbally that it involved verbal insults, which is difficult to prove, and he could not have committed a crime at the time of his detention because he was giving an interview to a journalist," said Bakradze.
Khmaladze was one of the first Georgian volunteers to go to Ukraine. There he actively took part in fighting against the Russians.
On 6 March, Nadym Khmaladze returned to Tbilisi.
According to Tornike Bakradze, Khmaladze was detained at the Georgian border for an extended period of time without explanation. Consequently, Khmaladze became aware that he was being followed in the city.
Read also:
Russia should withdraw from Abkhazia and Ossetia as part of Ukraine peace deal – Georgian President
Georgian Legion joined Ukrainian Army in fight against one enemy – Russia